This post may contain affiliate links. Please read the disclosure for more info.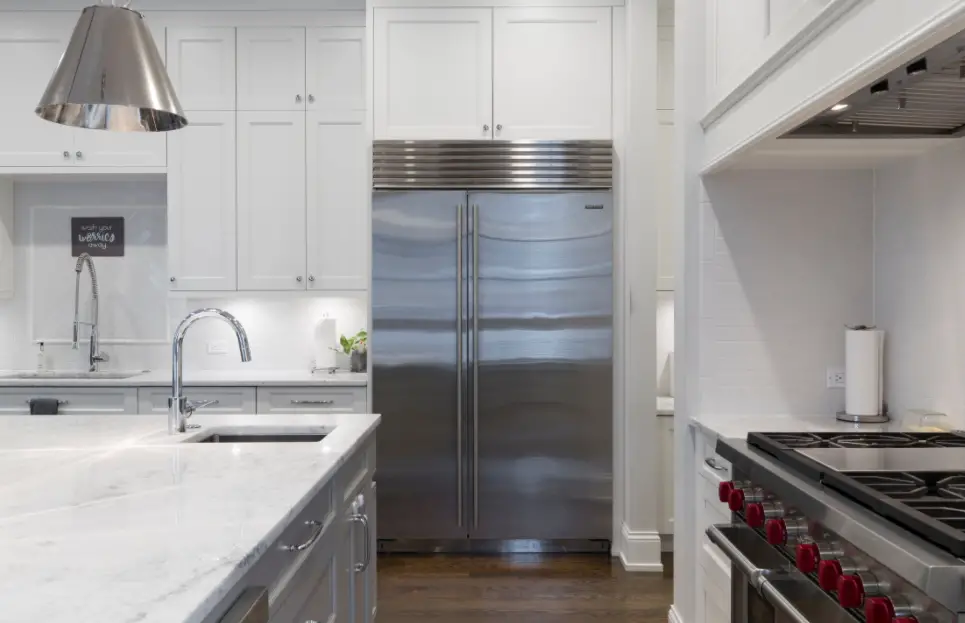 If you've recently moved into a home, or are simply upgrading your space, an all white kitchen can be beautiful, but can present some unique design challenges. When picking appliances, there's a lot to consider, especially when it comes to your refrigerator. 
Not only do you want it to look great on its own, but as the largest appliance in your space, you want to ensure that it will stand the test of time, and offer good resale value should the time to move come. Read on to find out how to navigate the fridge-picking-process, and what to consider before you make a final decision. 
Things to Consider:
Countertop Color
If your kitchen boasts black or very dark countertops alongside white cabinets and walls, then the name of the game is contrast, and your refrigerator should play along. In this scenario, dark countertops should signal towards a fridge that either matches the darkness of the counters, (black), or the brightness of the walls and cabinets, (white). This will create a more cohesive look for your space and a seamless finish.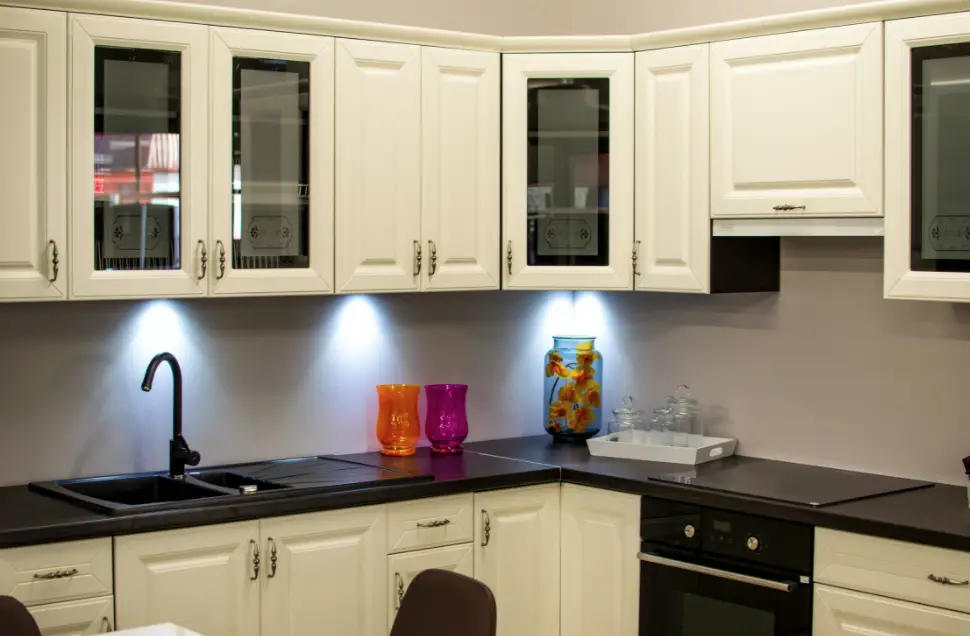 If your countertops run more neutral, and your walls and cabinets are white, you have more room for flexibility. White is still a safe, cohesive choice. However neutral, modern options like stainless steel or slate can also look great without standing out or looking dated.
When it comes to picking a fridge that will work in your kitchen, it's a good idea to consider the level of contrast your countertops play to the white of your cabinets and walls, and then choose your fridge accordingly. Higher contrast counters can support high contrast appliances, while more neutral colors may fare better with stainless steel or slate choices. 
Match Your Other Appliances
If you're looking to buy a new fridge for your space and are having troubles deciding on a color or finish, the answer may be right in front of you. As a good rule of thumb, matching the color of your fridge to the color of your other appliances is one of the most foolproof ways to ensure your kitchen looks great and well thought out. Mismatched appliances can create a kitchen aesthetic that looks pieced together, or patchworked.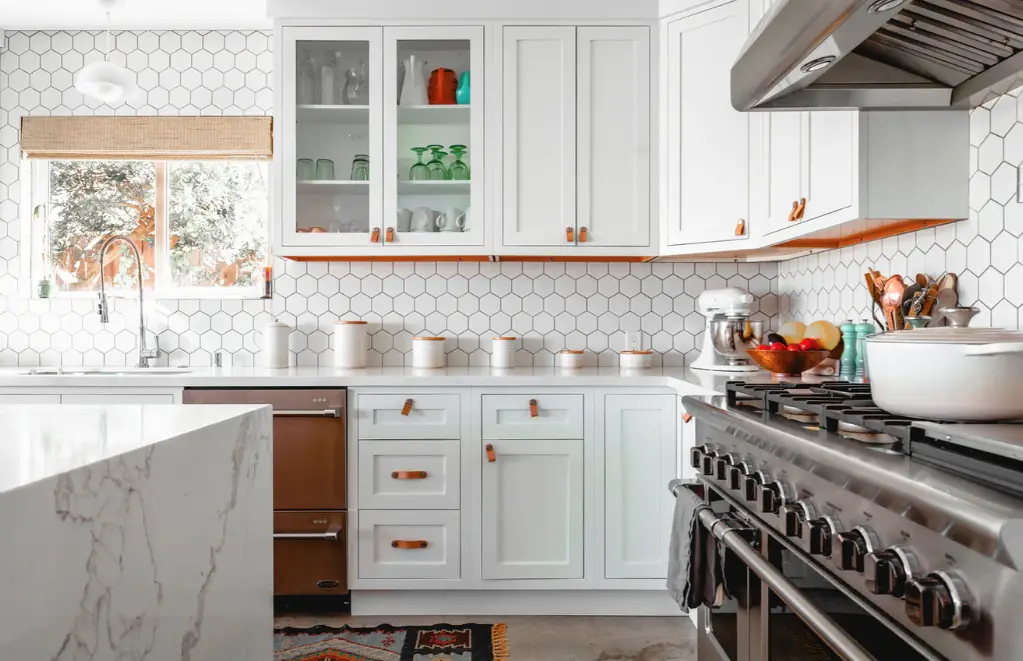 Of course, there may be some scenarios where this rule doesn't necessarily apply. If you're looking for a pop of color in an all white kitchen, you may be interested in looking into a colored fridge. This option works best when the other appliances in your kitchen are neutral in color, allowing the colored refrigerator to be the style star of the space.
Your Personal Style
A white kitchen allows you to use the space as a base to express your personal style. This is true not only for the decor you may choose to hang, but also for the appliances you use to furnish the space. The color of your appliances, and especially your refrigerator, can set the tone of your kitchen. Whether you're going for high contrast with black and white, retro with a colored choice, or modern with stainless steel, there's an option out there that you're sure to love. 
Finishes and Colors:
No matter what finish or color you choose to compliment your white kitchen, there are bound to be some pros and cons. From cleanliness, to cost, to overall resale value, no two fridge finishes are created equal. Read on for some of the biggest benefits and drawbacks to each option. 
White 
One of the simplest choices you can make when dealing with a white kitchen is to simply take the palette and run with it! This means choosing a white fridge to match. White refrigerators and white appliances, in general, can make an overall white kitchen look bright and clean, but they aren't without their drawbacks. 
Pros:
White refrigerators look clean and seamless in a white kitchen. They blend perfectly with white cabinetry and never run the risk of looking out of place. Where white appliances can look dated in other color palettes, they remain timeless in an all white color palette. In fact, a white kitchen is one of the only places a white fridge may truly work without looking outdated a few years down the line! 
Cons: 
From bedding, to carpets, to appliances, the color white in home decor has something in common no matter its manifestation- it gets dirty. White tends to show dirt and grime more than any other color or finish, so it's important to consider your lifestyle before committing. If your kitchen is frequented by kids, pets, or frequent spaghetti sauce splatters, it may be worth considering if upkeep is in the cards for you. Frequent cleanings and wipedowns can be necessary to keep a white fridge looking great. 
Almost important to consider is whether you see the color palette of your kitchen changing at some point. While a white refrigerator looks timeless on a white background, it can quickly look dated if the aesthetic of your kitchen changes. 
Stainless Steel
Classic, modern, and great in almost any configuration, a stainless steel refrigerator is one of the most popular finishes for not only the refrigerator, but for almost all kitchen appliances. Many classically remodeled kitchens will include a stainless steel refrigerator almost as a no-brainer. But as popular as they are, popularity doesn't mean perfection.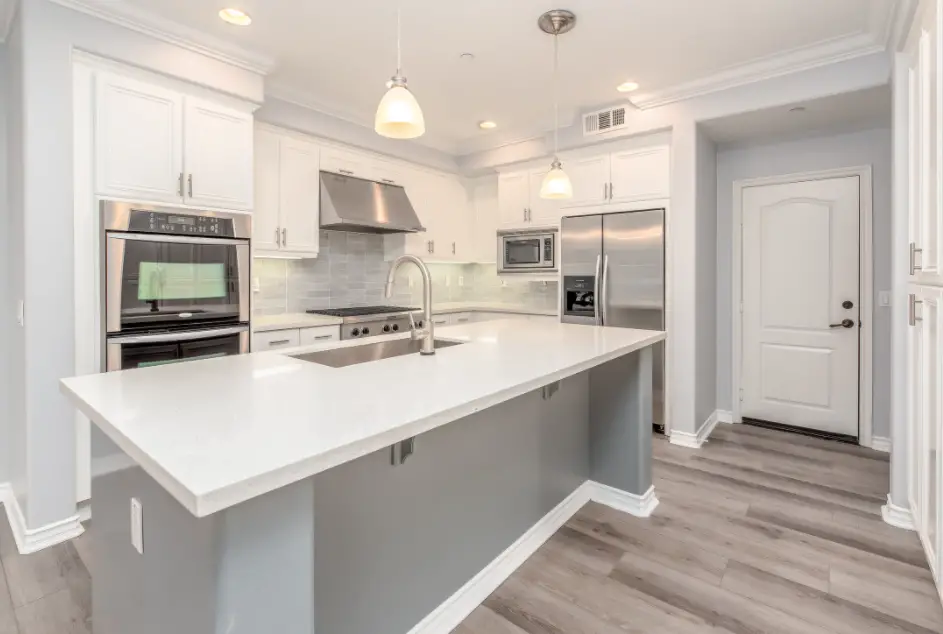 Pros: 
Stainless steel has remained one of the most popular choices for kitchen appliances for years, and for good reason. Its versatility is almost unmatched. It will look great in your currently white kitchen, but it will still look great if you decide to change your walls or cabinets down the line. This means you don't need to worry if your new paint color will clash with your refrigerator. Stainless steel is classic, clean, wear-resistant, and has great resale value. You're unlikely to worry about your fridge looking dated with a stainless steel model, making replacement of your fridge before moving unnecessary to maximize the value of your kitchen. 
Cons: 
Stainless steel can seem perfect, but there are notable drawbacks to the finish. For one, stainless steel is well known for its ability to highlight smudges and fingerprints. It's timelessness also comes at a cost, making it one of the more expensive finishes around. However, if you keep a cleaning schedule, fingerprints should be manageable, and you may make up the upfront cost of the appliance through its resale value later on down the line. 
Slate
Consider slate to be stainless steel's lesser known, slightly more modern counterpart. Similar to stainless steel in color, slate appliances offer a matte finish that can transform the look of a white kitchen from a blank slate to a modern, upscale space, all while remaining understated. 
Pros: 
Slate finish refrigerators boast all versatility and modernity of their stainless steel counterparts. In a white kitchen, they can elevate the space, making it look modern while also offering a unique finish that you can't necessarily find in most stainless steel models. One of the biggest benefits of the finish is its resistance to fingerprints and smudges. If you dread the idea of constantly wiping down your refrigerator handle, this may be the solution you've been looking for. 
Cons: 
There is a reason slate finish appliances aren't necessarily as popular as stainless steel. While they're beautiful, they're also expensive, as the rarity of the finish boasts a higher pricetag. Additionally, if you ever decide to change up your white kitchen canvas, you may run into problems. The matted finish of slate appliances can mean that certain paint or cabinet colors may clash or look washed out next to them.
Black
Black and white kitchens are a classic look that has come in and out of style for quite some time. If you've got a white kitchen with white dark countertops, this is a perfect opportunity to choose a black refrigerator to complement the space.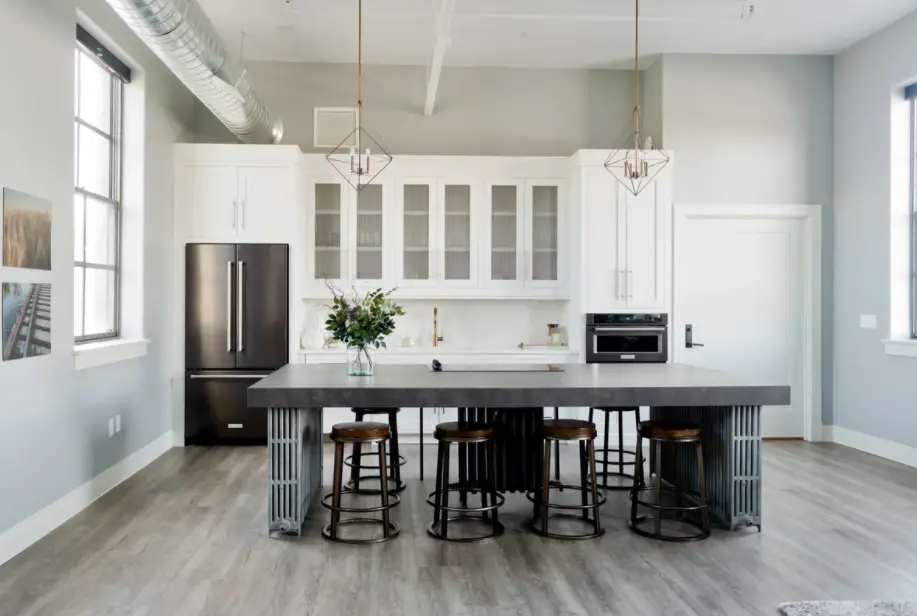 Pros: 
In a white kitchen, a black refrigerator looks modern and adds contrast. Black is also typically more affordable than stainless steel or slate finishes, and is good for creating a modern, cohesive look on a budget. One of the biggest benefits to a black fridge is it's incredible capability to hide dirt. Unlike white which shows everything, and stainless which highlights fingerprints, black fridges will stay clean for longer, making your cleaning regime less extensive. 
Cons: 
Unfortunately, though they are great in white kitchens for high contrast looks, a black fridge is not the most versatile option around. In the long run, they may not stand up against new cabinets or a coat of paint, and may end up looking dated or mismatched. Additionally, not everyone may be a fan of the look of a black and white kitchen. Though less important during your time in your home, it is notable to consider, as something that is not universally loved may end up affecting the resale value of your home later on down the line.
Colored Appliances
If you're looking for something more unique to add character to a white kitchen, you may find something that catches your eye in the world of colored appliances. Though not universally loved, and often forgotten, a colored refrigerator can be the pop of color you're looking for to add personality to an otherwise blank canvas.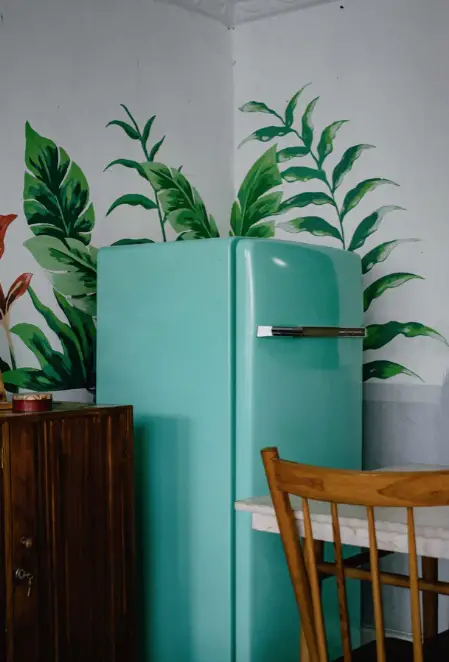 Pros: 
Unlike neutrals or popular choices such as stainless steel, colored appliances and refrigerators give you an opportunity to inject some personal style and fun into your space. A white kitchen is the perfect background for a pop of color, and different choices can bring a whole new feel to the room. A red fridge can be a bold, retro statement, while a pastel or blue can add calming interest to any home. 
Cons: 
While a colored fridge can be a fun way to inject some personal style into a white kitchen, or any kitchen, there are important points to consider before making the leap. Not only are colored appliances typically the most expensive option, but they are largely choices of personal taste. A red fridge may fit your style perfectly, but the next person to walk through the space could easily be put off. If you're not planning any renovations or resales soon, colored appliances may be a great choice for you. However, if the living situation is temporary, it may be a good idea to go with something a little more classic.