This post may contain affiliate links. Please read the disclosure for more info.
So, you're thinking about showing your kitchen some love. You're over the old stale look and feel. You've decided enough is enough! It's time to give your kitchen a slight makeover to make it feel high end and premium.
Let's look at seven items you can replace or purchase to get that premium feel without having to do a complete kitchen rehaul.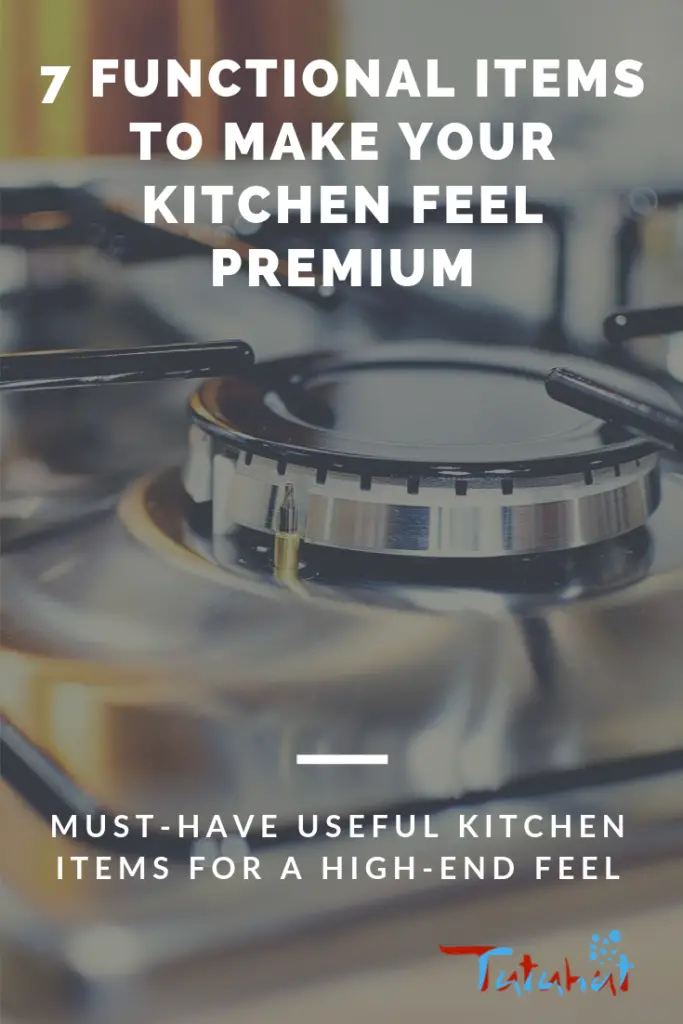 Garbage Bin
Let's start here. The garbage bin is one of those items that can easily set the tone for your kitchen. If you have an old filthy plastic garbage bin, this will not contribute to an aesthetically attractive kitchen. Your kitchen will feel far from premium.
We recommend picking up a clean, yet functional stainless-steel kitchen bin. This will drastically improve how premium your kitchen looks and feels.
One of the best stainless-steel garbage bins you can get for your kitchen is a Simplehuman garbage bin. These bins have exceptional quality and warranty. Even better, each bin is infused with their fingerprint-proof technology that actually works.
The founder of Simplehuman, Frank Yang, has expended a lot of resources towards R&D (research and development) of their products, and it shows. The design, quality, and fingerprint-proof technology continue to remain unrivaled.
You can pick up your own Simplehuman trash bin from Amazon!
Garbage Bin: Simplehuman Rectangular Step Can
Wine Rack
Wine racks are the epitome of luxury, elegance, and grandeur in a kitchen. Having a wine rack in your kitchen with bottles of wine you enjoy will, without question, contribute to creating a premium atmosphere in your kitchen.
Not only do wine racks look lavish, but they also make for excellent conversation starters as friends, guests, or family notice your taste for fine wine.
When going for smaller wine racks (1 to 15 wine bottle slots), try to keep a diverse selection of wine bottles stocked to help set the tone. Leaving a few empty slots will help build on asymmetric balance as well.
With larger wine racks (15+ wine bottle slots), aim for consistency. Of course, if you really love stocking a variety of different wines, no one can fault you for that.
Small Wine Rack: HB Design 9 Bottle Wine Rack
Large Wine Rack: Mango Steam 32 Bottle Wine Rack
Kitchen Knife Block Set
A well-placed kitchen knife block set will add a subtle yet noticeable premium finish to your kitchen.
A nice kitchen knife block set conveys an eye for detail along with functionality. It can really help tie the kitchen together. Bonus points if you enjoy cooking and whipping up great meals in the kitchen.
As a word of recommendation, we advise picking a knife block set that contrasts with the countertop. For example, if you have a light-colored countertop, choose a darker based knife block set and vice versa. You can also create a less contrasting set if you have quartz, granite, or marble countertop. Ultimately, it will come down to preference and the type of finishes that were used in your kitchen.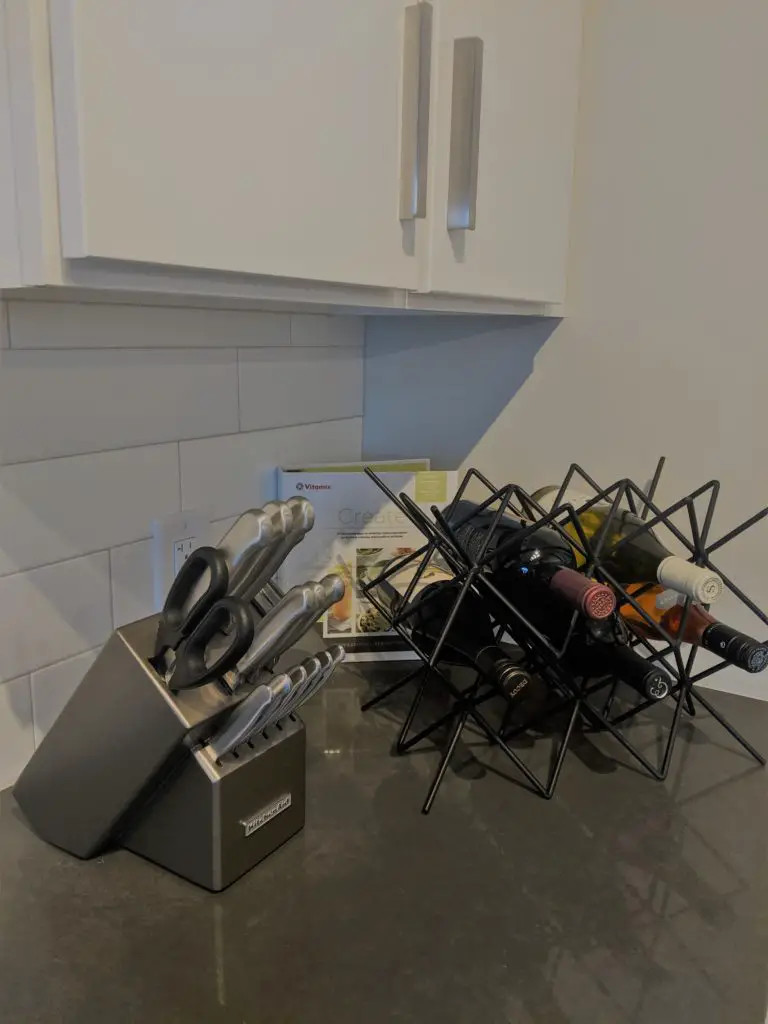 When it comes to affordable brands of kitchen knives, KitchenAid will work for most individuals. They are functional, reliable, affordable, and provide that premium finished look.
Tip: Always handwash your kitchen knives. This will extend the life of your blades and also helps prevent them from rusting. Many complaints of kitchen knives rusting after a few uses generally come from individuals that stick their knives in dishwashers after use. Do not do this as it will cause pitting, which leads to rusting. When possible, hand wash your knives shortly after using them then dry them with a kitchen towel immediately.
Knife Block Set: KitchenAid KKFSS16CS Architect Series
Nespresso or Espresso Coffee Machine
Everyone loves coffee, right? Well, most of us do. If you're a fellow coffee addict, a neatly placed Nespresso or Espresso machine in your kitchen can add a premium touch to your space while helping you caffeinate your morning.
These coffee machines come in a variety of different form factors, but they all tend to offer a sleek modern look for your kitchen.
There are a lot of different coffee machines, but you can't go wrong with Nespresso or Keurig. We're a fan of Nespresso.
Below is a combo that we love!
Coffee Machine: Nespresso ENV135S Vertuo
Coffee Machine Capsule Holder: Nespresso DecoBros Tempered Glass Drawer
Smoothie Blender
Smoothie blenders aren't only good for making smoothies. They help create a pleasant euphoria in your kitchen. A high-end blender can contribute to a premium minimalist feel.
A powerful blender we recommend is the iconic Vitamix E310 Explorian Blender.
This is a fantastic premium blender with high end finishing, quality, durability, and features. This blender has many more features than most smoothie blenders do.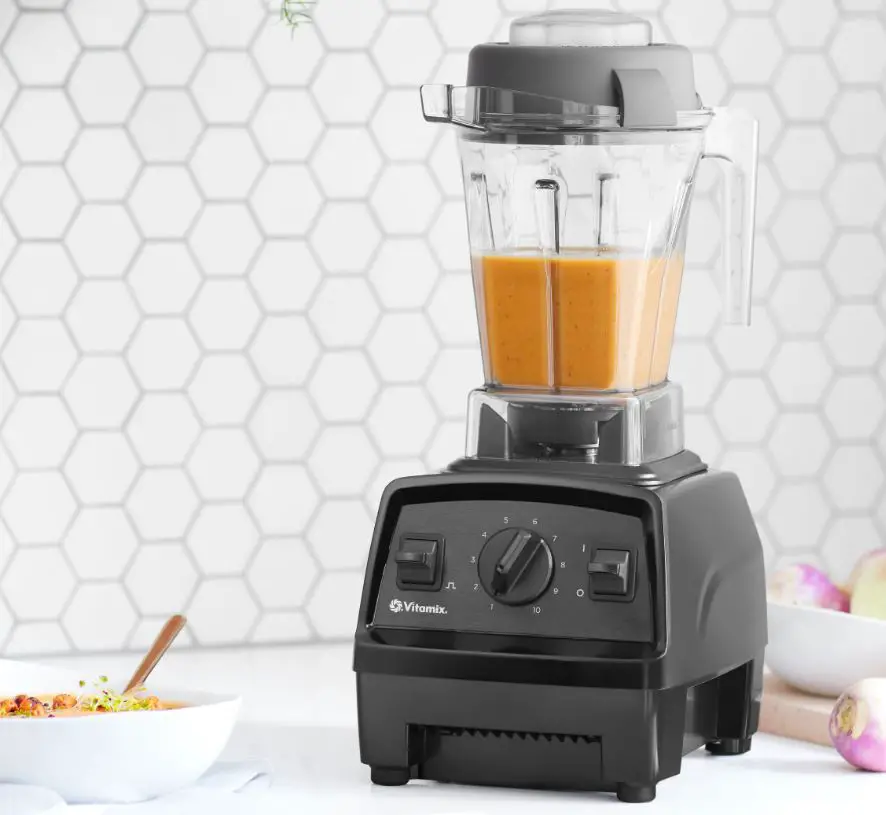 The Vitamix E310 Explorian can make hot soups, create frozen treats, grind nuts, and coffee beans, as well as mix batters and dough. The aircraft-grade hardened stainless steel blades provide maximum durability and longevity without the worry of the blades going dull.
Vitamix has been in the restaurant and hospitality business since 1921. They continue to set the benchmark when it comes to innovation and technology within the High-Performance Blending Equipment industry.
Blender: Vitamix E310 Explorion
Coasters
The most overlooked kitchen item separates the novice from the pros, coasters. Coasters do more than just protect the surface from scratches. Having a beautiful set of coasters when serving a classic cocktail or drink shows attention to detail.
Friends and family will take notice when you place a high-grade coaster in front of them before pouring a glass of their favorite beverage. Let's face it. Most people skip this piece, so use it to your advantage to stand apart.
When looking for coasters to give your kitchen a specific premium feel, we recommend a nice leather set with a solid metal rim. Some coasters come with a coaster holder, but if not, make sure to pick one up that fits the aesthetics of your kitchen.
Fun Fact: Coasters make great gifts for many types of occasions. You can't go wrong with these, especially if they are custom engraved coasters.
Luxury Coaster: YouShop Black Leather Luxury Coasters
Custom Luxury Coaster: Premium Leather Personalized Coaster
Fruit Bowl
When you think premium, a fruit bowl probably isn't the first thing to jump out at you. Yet, chances are, a well placed creative fruit bowl can add that bit of flair to your kitchen to make it feel premium.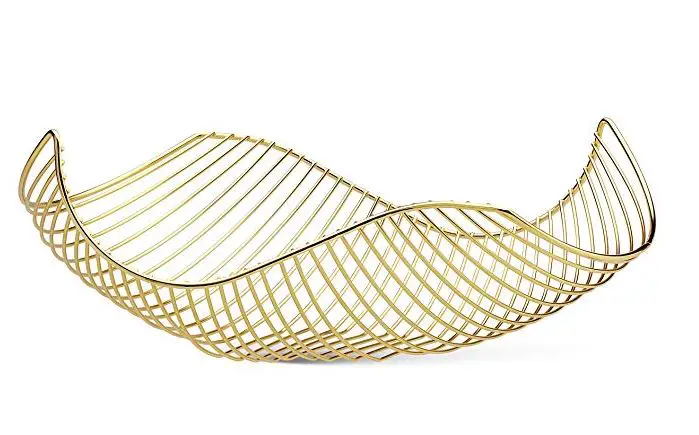 When it comes to picking the right fruit basket that will contribute to a premium kitchen feel, the design is everything. Odd shapes and free-forming designs invoke curiosity, balance, and elegance.
We also recommend staying away from bright saturated colors. Go for soft tones and neutral colors. In certain circumstances, you can get away with gold granted you have supporting accents throughout the kitchen.
We love the free-forming flow and creativity of the Vistella fruit bowl basket to add that premium touch.
Fruit Bowl Basket: Vistella Fruit Bowl Basket
Having a premium kitchen doesn't require a complete makeover. Merely upgrading a combination of these useful kitchen items can make a remarkable difference in helping your kitchen feel and look premium.
Happy kitchening!