This post may contain affiliate links. Please read the disclosure for more info.
Maximizing space in a small bathroom can be tough, regardless of whether you rent or own your home. Thankfully, we have options to help you maximize your space that doesn't require breaking out the sledgehammer. However, if you're a homeowner with the option to reroute plumbing or replace fixtures, you have a lot more options available. 
To maximize space in a small bathroom when you're renting, you need to think vertically for storage solutions. However, you also want to make the space look bigger with some strategically placed decorations. With a bathroom remodel, modern fixtures and zero-edge showers can really free up space. 
Without further ado, here are our tips and tricks for maximizing space in a small bathroom.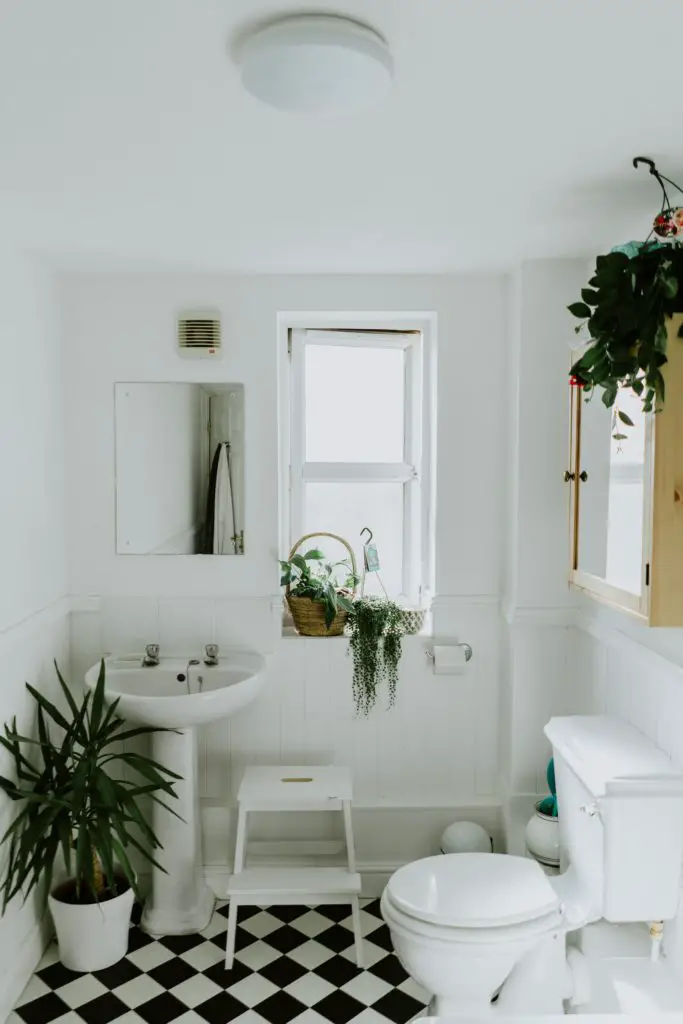 Maximizing Space in Small Bathrooms for Renters
People that rent an apartment with a small bathroom may feel cramped and out of luck. Check your lease agreement first to see what options are available to you. Typically, you won't be able to replace your sink, faucets, and definitely not your shower. As long as you can hang shelves, frames, or mirrors, or even paint, you can make your space look much larger. 
Vertical Storage
Vertical storage options should be a renter's first instinct in small spaces. Every bathroom should have storage for towels, toilet paper, toiletries, or other personal storage as needed.
Some bathrooms may already have a medicine cabinet or mirror over the sink. If you don't have one over the toilet, this is the first place to add one. A typical toilet is about 12-18" wide, so you should be able to fit a shelf at least that wide. 
A tall cabinet might be able to start just a few inches above the toilet and go all the way to the ceiling. Make sure you don't choose one too deep, such that you smack it with your back when you use the toilet. If you raise the bottom edge of the cabinet up, you can make it deeper to store larger items. 
When hanging shelves, make sure you screw your supports into studs. These studs frame the wall behind the finished surface. If you tap your knuckle on the surface, you should be able to hear the "hollow" sounds in between the studs, and a "solid" sound when you tap on a wall with a stud. Make sure you are hitting the stud, as there could be conduit, wiring, or piping behind the wall in between the studs.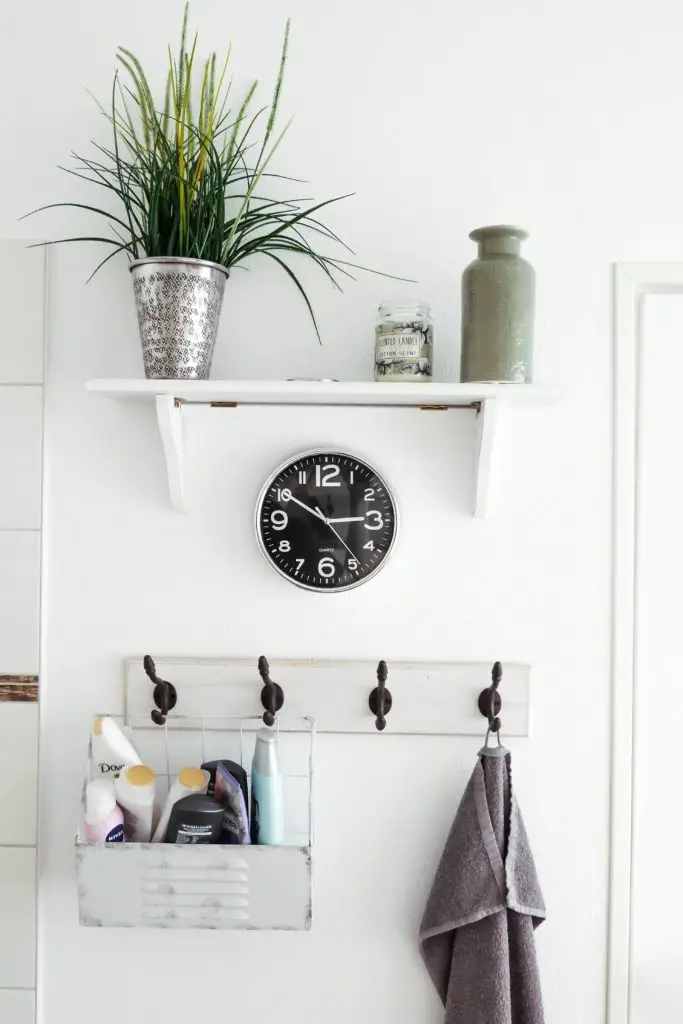 Don't forget inside the shower or tub, as well. Just make sure that any shelves you hang in the shower or tub area should be water-resistant or waterproof.
If you've ever lived in a small space with a Murphy Bed consider adding a folding shelf for your space. Small counters may make it frustrating and difficult to get ready in the morning, but with a folding shelf, you can have additional workspace when you need it, but fold it up and out of the way during the day. Bonus tip: add a piece of art, or a mirror, on the underside to be visible when the shelf is raised. 
Check out more floating, folding, and vertical shelf ideas here. 
Making Your Small Bathroom Look Bigger (or Better)
You can use optical illusions to make your small bathroom look bigger. If you can paint your bathroom per your lease, light colors make spaces feel bigger, while dark colors make spaces feel smaller. 
Hanging mirrors is the best way to make a space look bigger. Strategically place a second mirror on an opposite wall from the mirror over the sink. Offsetting the mirrors such that they aren't facing to face is ok too, or even adjacent wall, as long as the mirror is visible when you walk into the bathroom. This trick even works with shiny objects as well, such as a bronze starburst or crystal art piece. 
Try to avoid too many wall hangings, though, which can make space feel even more cramped. You may try, instead, to strategically use dead floor space, like a gap between the toilet and shower, or toilet and sink, to add a tall, skinny plant. Or, if floor space is at a premium, try hanging a plant from the ceiling (after you find the ceiling stud!), to draw eyes upwards. 
The Right Lighting is Cool (in Color)
Don't forget lighting, too. Cool, bright light can also make spaces look bigger. If you have old lighting in your space, try looking for replacement light bulbs with higher color temperatures. People usually consider ratings of 2700K a warm light, while 3000-4000K is much cooler. Avoid too cool of light though, which can make your space feel sterile or washed out. 
If you can't paint, and your space is a dark color, embrace the spa-like feel. Add incense or candles, plenty of plants, and warm lighting to truly create the ambiance. Here's a tip: dim lights also help hide bathroom dinginess, so add a warm lamp with just enough light and opt to forgo the overhead lights. If you have guests over, try adding a small speaker or radio playing a spa playlist.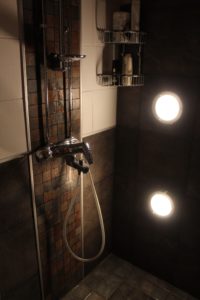 For more ideas, check out our article 23 Calming Stress Relief Products on Amazon to Help Anxiety for more spa-like ideas for your bathroom space. 
Cleanliness is Key to Maximizing Space in Small Bathrooms
Hate to say it, but the best way to make sure your small bathroom feels bigger and better is to keep it clean. People tend to want to avoid dingy and dirty spaces, so avoiding a mess is hard in a small space and may make you want to run away.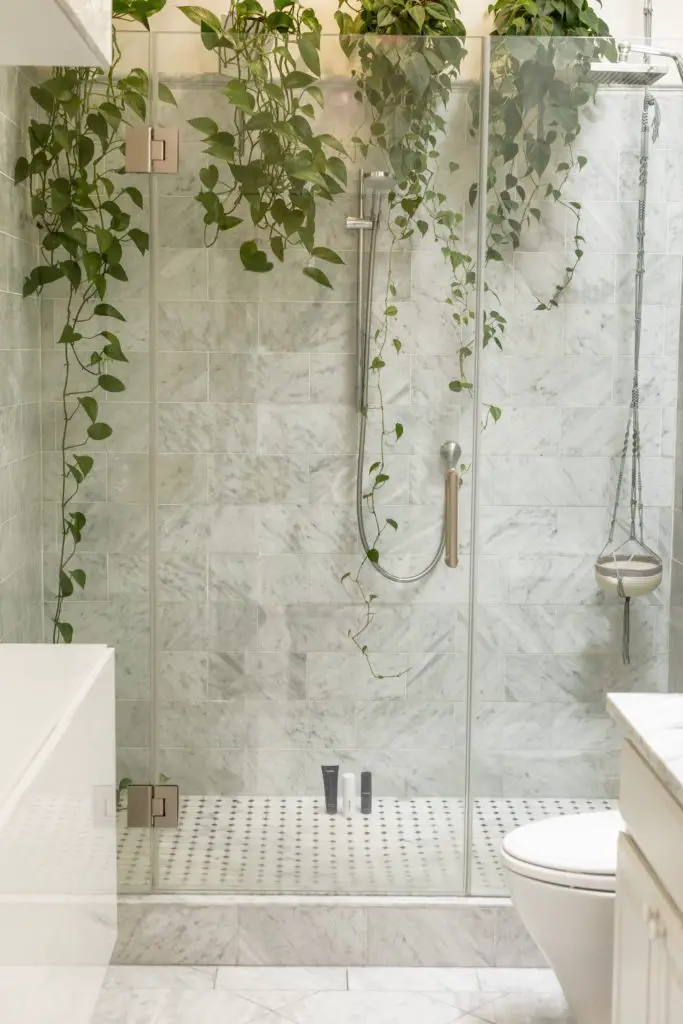 Make sure you have ample storage in your bathroom to get all your toiletries out of the way for the rest of the day. Keep a small dish wand filled with bathroom cleaner or pick up cleaning wipes to give your shower or tub a once over as you're stepping out. Get into the habit of wiping down the sink wherever you wash your hands. Don't forget a clean scented air freshener too – you can even grab one that double tasks as a decorative element. 
Check our other article, Make Your Bathroom The Oasis You Deserve, for more tips on your bathroom getaway. 
Maximizing Space in Small Bathrooms for Homeowners
Homeowners have a lot more options than renters. If you're watching your budget, you can follow our recommendations for renters. The average bathroom remodel costs around $10,000, but you can prioritize your budget to maximize space in your small bathroom. Replacing outdated fixtures with more modern, slimmer, or zero edge options can really help free up space.
Zero Edge Fixtures
Curbless showers really free up the visual appearance of the space. By removing walls separating the shower, or the edge of the tub, you visually open up way more room in your bathroom. Even if the dimensions don't change, you feel like you have more floor area.
Modern fixtures often have slimmer profiles as well. You can even get rid of the bulky cabinetry around the sink to free up more room.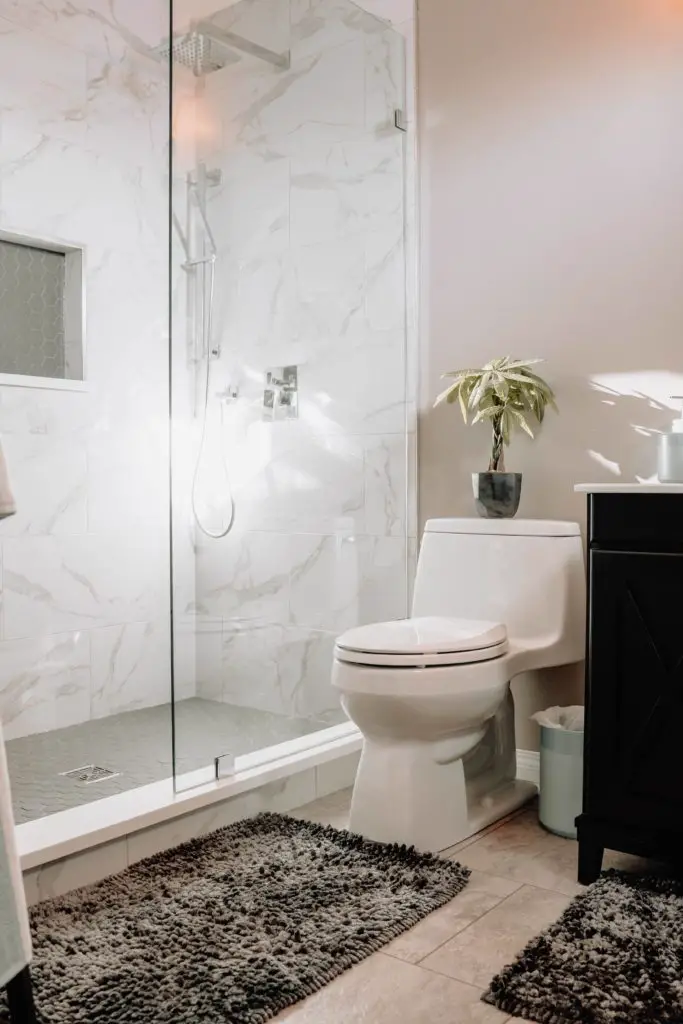 You can also mount your sinks or toilets on the wall, which gives the perception of more floor space. Wall hung toilets aren't typical in residences but are common in commercial spaces since they're easier to clean. Embracing the true modern aesthetic may help you feel like you have more room.
Homeowners can replace fixtures in place themselves without getting a building permit or inspection. However, if you need to reroute any of the piping to relocate a fixture, you will need to hire a contractor to get your building permit.
Bathroom Additions or Expansions
If you are cramped for space in your bathroom but have some floor area you can give up in an adjacent bedroom or linen closet, you might be able to move walls to add more area into your bathroom.
The easiest and cheapest wall to relocate would be one without plumbing fixtures. Home builders may try to locate bathroom fixtures on one wall. Look around your bathroom now, do you have a sink, toilet, and showerhead all on the same wall? If so, relocating the opposite wall may add a few feet, allowing space for you to actually fit two people in the restroom.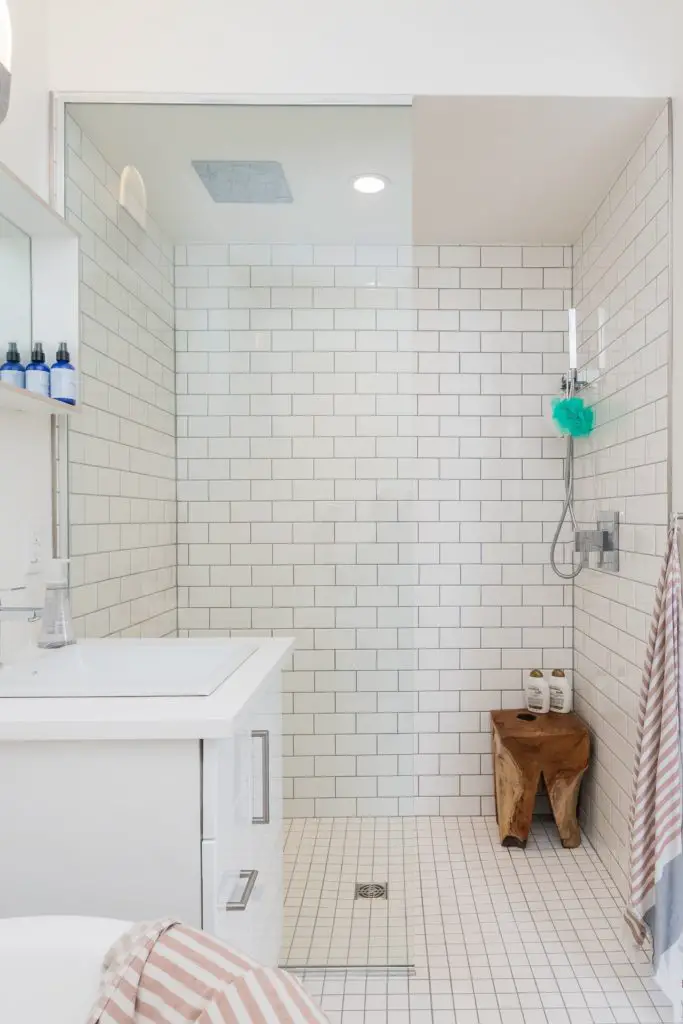 If you have to relocate a wall with a fixture on it, you will have to get a building permit. Plumbing contractors can help you prepare drawings and calculations, or help get inspectors to approve the installation.
Finishes Help Lower Your Costs in Small Bathrooms Renovations
If you don't have the time or money to replace fixtures, replacing finishes can help your space seem bigger Though many landlords won't let renters even paint their walls, homeowners can do whatever they want.
If your walls or flooring are covered in dark tiles, replacing them with lighter colored options can help make the space bigger. Refinishing cabinetry with lighter color paints and stains can be fairly cheap as well. You may need to sand the finished wood, but you can also cover over the cabinet doors with a shrinkwrap like cover.
Summary
Small bathrooms can be difficult and frustrating to live with, whether you live alone but especially with roommates or a significant other. Thankfully, with some strategic organization and updating your bathroom colors, you can make the space feel like a dream – not a nightmare.