This post may contain affiliate links. Please read the disclosure for more info.
We have all struggled with the dilemma of a messy bathroom.  Your bathroom can be a place of complete frustration and stress or it can be a private oasis that brings you joy. We will show you easy ways to maximize space to make your bathroom an organized, maintainable, clutter-free happy place.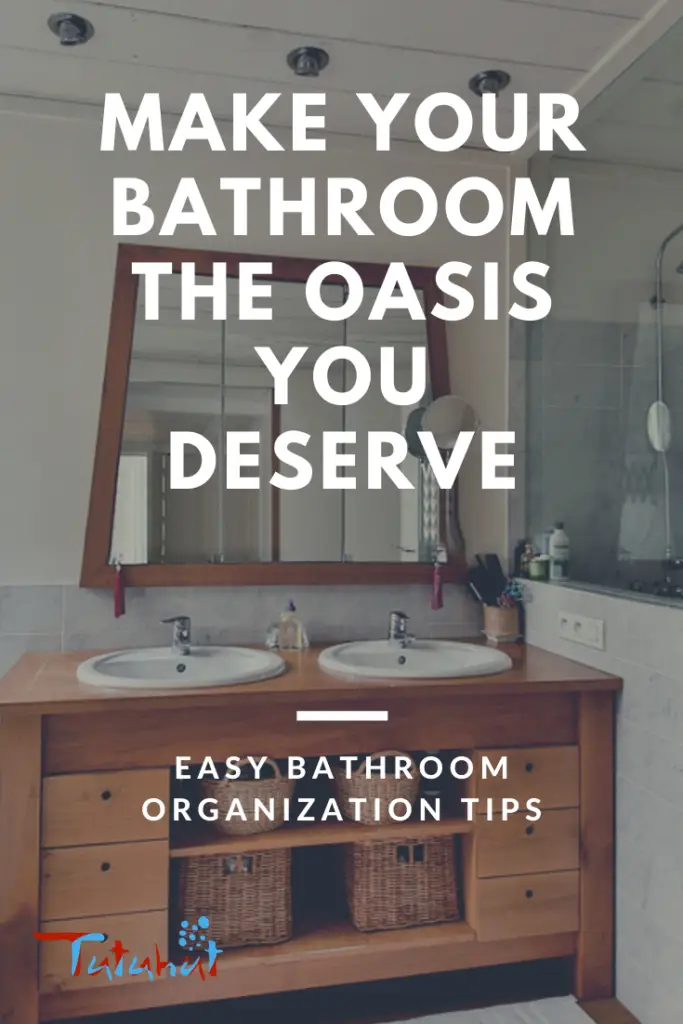 If It Doesn't Have a Place, Make a Place
When you organize areas like drawers and cabinets you will be surprised how much space you actually have.  There are several products that will take the things that would otherwise be stored on your countertop and keep them organized in a functional out of sight way.
Drawer Inserts
Clear plastic drawer inserts will keep your toiletries in order.  They will also keep things out of view and free of the germs that hover in bathrooms. 
Plastic Drawer Storage: STORi Clear Plastic Vanity and Desk Drawer Organizers 
Use them to organize anything from cotton swabs to make-up, as well as, brushes, first-aid supplies and whatever other things you may store in the bathroom.
Cabinet Organization
Smaller bathrooms with limited storage space require more creative options to maximize their potential.
For a place to keep your blow dryer, flat iron, brushes and other hot tools, consider hanging or adhesive cabinet organizers.  This one by Home Intuition has compartments for three tools, room for hairstyling products and hangs inside your cabinet.
Hanging Organizer: Home Intuition Station Organizer
Baskets can be used on the counter to hold washcloths or soaps and lotions.
Affordable easy to assemble floor or wall shelving will add a bit of space as well as functional décor without adding clutter.
Shelf Organizer: SODUKU Floating Shelves
It's All About Attention to Detail
Paying attention to how and where things are placed on a shelf can make all the difference.  Certain items are designed to be displayed in a specific way, such as towels. 
Learning how to properly fold or roll towels is especially important if you don't have in-closet storage.  When done correctly, it can make your bathroom look and feel more like a personal spa.
Objects should be placed in a balanced manner which will improve the aesthetic.  Avoid clumping too many things right next to each other.
Pick things with purpose and practicality so they will be both aesthetically pleasing and useful.   
Simple pops of analogous colors here and there do the trick.  No need to go overboard. If you start adding too many things it looks cluttered and disorganized.  It makes the area harder to clean and maintain. 
Little things like getting a decorative soap dispenser can add fun décor while also being functional.  Focus on a few key decorations. Something as simple as the hand towels can make a big impact. Light neutral colors keep things looking fresh and clean but if you want to liven things up you can choose a color to add some flare. 
Bath Towel: Premium Turkish Towel 
Soap Dispenser: JASAI Glass Soap Dispenser 
If you have a bathroom with a substantial amount of light you can add a small live plant to bring a bit of life to the room. Even if you don't get much light, you can opt for an artificial plant.  Either way, it will create a relaxing tone.
Let's Talk About that Shower
Showers, in general, don't have a ton of space so it's essential to utilize the little space as creatively as possible.  This can be easily done with a corner shelf. Check out this one on Amazon. It has great reviews and looks like something straight out of a spa.
Shower Corner Shelf: ALATEAK Corner Teak Wood Shelf
For very small showers with a tub, we recommend a hanging shower caddy like this one by iDesign (good news it comes in 6 different colors!).
Hanging Shower Caddy: iDesign York Metal Wire Hanging Shower Caddy 
Do yourself a favor, save your toes from avalanching bottles and pick up one of these great shower organizers.
When it comes to decorating simplicity is your friend.  Focus on these few basic tips and decorating will be a breeze.  You'll be relaxing in your private oasis in no time!