This post may contain affiliate links. Please read the disclosure for more info.
Maybe you've seen them on a TV show or movie- magical beds that seemingly pull down from nowhere. Sometimes they serve as a hiding spot for a character to set up a wacky punchline, or simply turning an otherwise cramped, boring bedroom into a multifunctional space. What you may not know is that those beds really exist.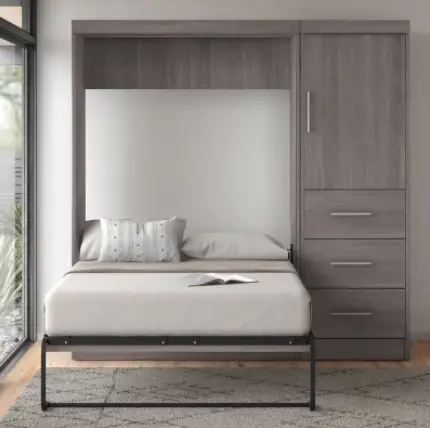 They're called Murphy beds, sometimes known as "wall beds," and you can actually have one in your home! Once popular during the '20s and '30s, they have quickly begun regaining popularity as people move back into cities, and saving space becomes a greater consideration.
Below, we've compiled all the information you've ever wanted to know about these cool contraptions. We've also added some pros and cons to help you determine whether or not a Murphy bed could be the right fit for your space. 
What is a Murphy Bed?
A Murphy bed, sometimes casually referred to as a "wall bed" is a bed that can fold upwards, leaving you with more floor space. They take their name from their inventor, William Lawerence Murphy, who designed the bed as a practical solution for his small studio apartment in the early 1900s. 
Sometimes these beds can be built into the wall, as built-ins for closets. However, in modern times, they are more often built into stand-alone containers that are secured against the wall and hold the folded up bed during the day. This makes them a more practical solution for renters looking to maximize space without losing their deposit. 
Many Murphy beds operate with a steel spring mechanism built into the bed frame. However, some new modern versions have begun using a piston system that relies on air pressure to keep the bed in place. Both provide secure functionality, but the piston system leaves less room for adjustment once you stow the bed.
Murphy beds come in plenty of styles and can be a great way to transform any room into a multifunctional space.
Do They Fit Your Aesthetic?
Deciding on a Murphy bed is a choice that hinges largely on the space you are considering putting them in. Because many Murphy beds do not stow flush to the wall, choosing the right one to fit the aesthetic of your space is important. From cabinets to bookshelves, to simply fold away boxes meant to blend into the environment, different Murphy beds are best for different spaces. 
For a living room, looking for something that can easily convert from bed to sofa is great for turning a family room into a comfortable place to sleep guests, in lieu of a guest room.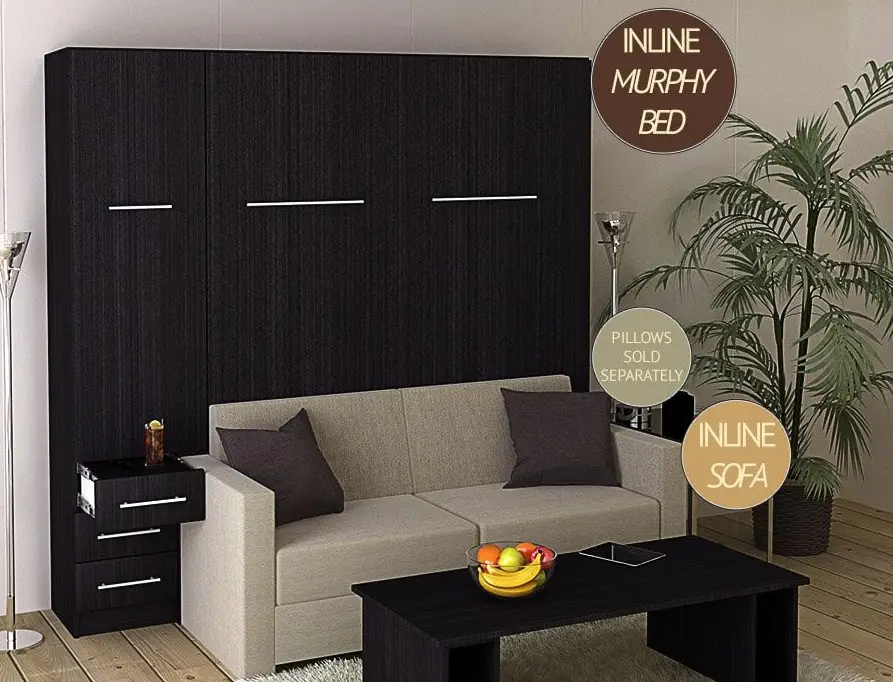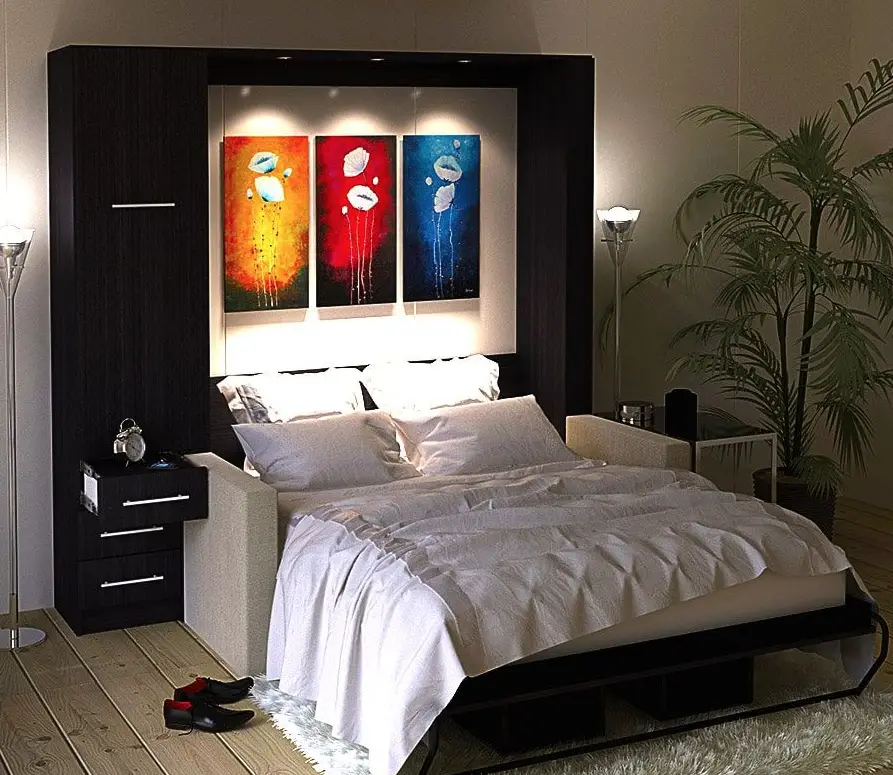 A smaller studio, however, may find their best fit in something simpler and more streamlined, which allows them the freedom to use the space as they please during the day. Compact, no-frills options that also provide storage, such as this simple folding design, are great for saving space and blending right into a room.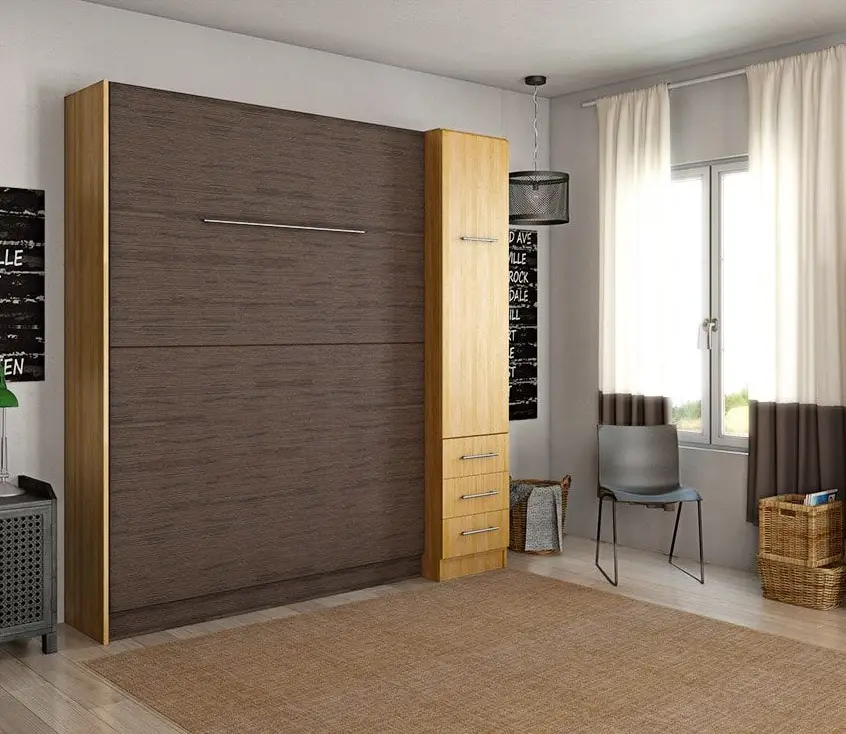 Whatever space you're working with, there's likely a style of Murphy bed available to fit your style and aesthetic.
Space Savers
As you've probably noticed, Murphy beds are expert space solutions, especially when trying to make the most of a small living area. If you're short on square footage, having a bed that only needs to be a bed when you're ready to hit the hay can be a lifesaver. And, in expensive cities like NYC or LA, saving square footage means saving money. Being able to downsize without compromising your comfort is a huge benefit.
Murphy beds also come in all sizes, from twin to king, even bunk beds, so you're likely to find a model that best fits your needs.
Durable & Customizable
Quality Murphy beds made in all kinds of materials are available. One of the best, and often most aesthetically pleasing options are those made from hardwoods, which look amazing in your space, and can hold up to years of use, not to mention kids.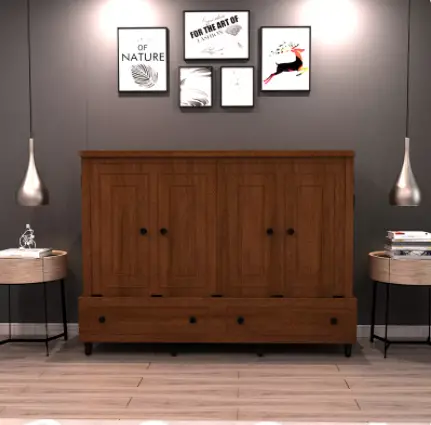 Many companies that specialize in Murphy beds will give you the option to help design your bed to fit your needs. Whether you're looking for something discrete and simple, or a version that serves multiple purposes, you can have it made for your space. Shelves, cabinets, drawers, and even desks are possible customizable options.
Great for Guests
If you're the kind of host that harbors guilt when your friends and family have to sleep on an uncomfortable pull out bed, a Murphy bed could be a better option. Though perhaps not the same as a standard mattress, a Murphy bed is leaps and bounds more comfortable than an air mattress, pull out couch, or even a trundle bed. If you don't have a guest room, but love to have mom and dad stay the weekend, a Murphy bed could be an excellent solution.
Multi-Purpose
One of the biggest benefits of a Murphy bed is the way that they can turn one room into a multi-purpose space. With a folding bed, you can quickly transform a bedroom into a home office, or turn your usual office into a guest room in the blink of an eye. You can convert a family room into a place to sleep additional guests. 
Murphy beds often offer not only the bed but attached practical storage solutions. Many models that are more fitted to bedrooms will include small attached wardrobes or drawers. Those more suited to home offices or living rooms may come with bookshelves or media cabinets.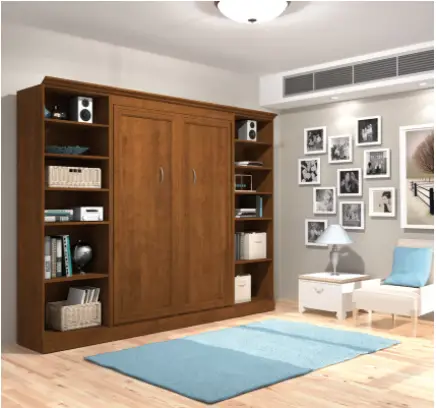 The functionality of a Murphy bed is truly one of its greatest assets. It provides a strong argument for their ability to fit into at least one room in anyone's home.
Now, all this isn't to say that there aren't drawbacks to replacing your traditional bed with a Murphy bed. There are multiple points to consider when making a decision.
Difficult Installation
Installing a Murphy bed can be a bit of a process. Unlike traditional beds, there is quite a bit of assembly required, and some of it may be a little confusing. Regular bed frames, which just stay flush to the floor, are missing the hinge and hydraulic system that can complicate the experience. 
These beds can also be notoriously heavy so that transport may present some issues. Many people live in high rise apartment buildings, or worse, a high rise without a large elevator. Being aware of the difficulty to transport before you make your purchase is essential. There's nothing worse than buying something and realizing you can't fit it through the front door of your building, much less get it into your apartment.
Moving Woes
Keep in mind that moving your bed from one residence to another may present these same problems. So, if you're someone who is planning on moving often, maybe skip the Murphy bed until you settle somewhere a little more permanent.
This considered you might want to enlist a few strong, patient friends to help you with the process of transporting and getting your new bed all set up. Maybe buy a bottle of wine or two to take the edge off of any mounting frustrations.
Mattress Limitations
Murphy beds have a different form and functionality compared to traditional floor bed frames. You may find yourself limited in the kinds of mattresses you can make work. Many Murphy beds will come as an entire unit, mattress included. If this is the case, it's important to be able to test the mattress before you commit to the purchase.
Due to their folding nature, the mattress base of many Murphy beds can be thinner than regular box springs. They utilize wire mesh for support instead. There may be a period of adjustment as you transition from sleeping on a conventional mattress to your new Murphy bed. This isn't to say they are inherently uncomfortable. Rather, you should do some shopping around. Ensure the style of bed you choose has a mattress you can see yourself easily sleeping on each night.
Are Murphy beds dangerous?
In the media, Murphy beds have been used many times as punchlines. You know the scene. The actor sitting on a bed when suddenly it folds up into the wall, trapping them inside for hours. Or a character looking for a place to hide simply folds themself up into the wall.
But is this a potential real-life scenario? Long story short- no. Murphy beds are not dangerous if they are bought from a reputable shop and used correctly. 
The design of these beds is a specific hydraulic system that locks the bed into place once pulled down. Additionally, the weight of your body on the bed is too great to allow the bed to fold up. Once the bed is pulled down, and you are under the covers for the night, it's almost impossible for the bed to fold upwards.
Even if you wanted to hide in a Murphy bed, the way it stows makes this a nearly impossible feat. The design of Murphy beds is to sit completely flush inside of their storage space, with no room between the wall and the back of the container. This makes your dream hiding spot unlikely to become a reality.
The Pinching Problem
All this being said, the greatest danger of a Murphy bed is often the reality of pinched fingers. Because these beds operate around a series of hydraulics and hinges, the possibility of catching a finger between the mechanics is real. However, you can avoid pinching by using careful hand placement when folding and unfolding the bed.
Fun Facts
Believe it or not, the Murphy bed is over 100 years old and has quite a fun, interesting history.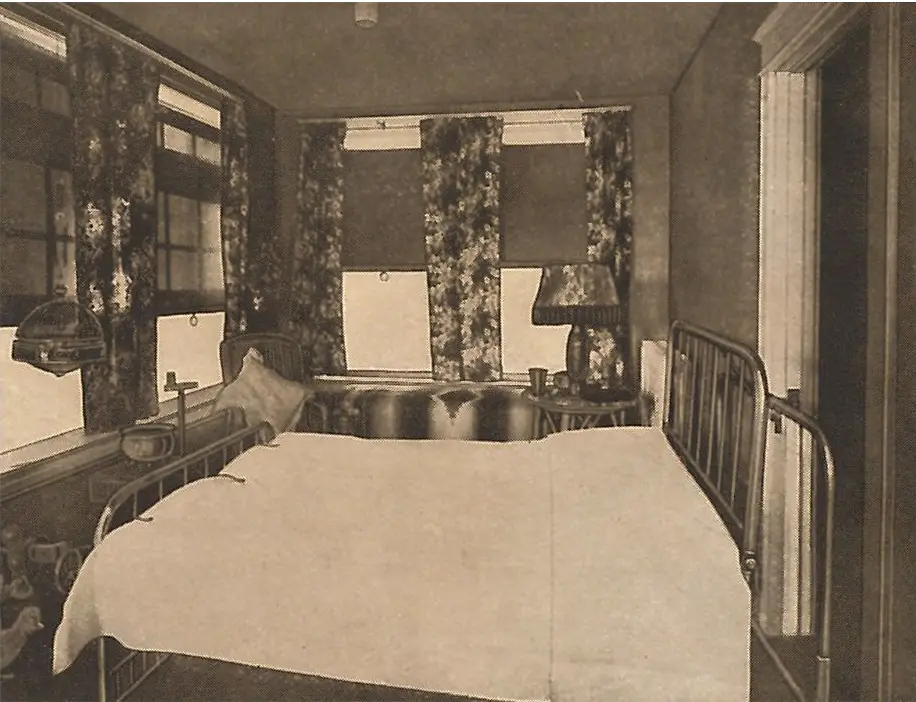 As mentioned, the Murphy bed was invented by William Lawerence Murphy, who designed the bed as a practical solution for his small studio apartment in the early 1900s. But there's a little more to the story. 
According to Smithsonian magazine, "Murphy was falling for a young opera singer. The courting customs at that time would not permit a lady to enter a gentleman's bedroom. His invention allowed him to stow his bed in his closet. Transforming his one-room apartment from a bedroom into a parlor." It must have worked because the pair later married.
In the '20s, Murphy beds were sought after as status symbols, especially for those staying in hotels. Rooms with Murphy beds were desirable to the upper class for their ability to transform the room from a place to sleep into a parlor to entertain guests. Today, you'll be hard-pressed to find any hotel that has a wall bed accommodation.

William Lawerence Murphy did not actually name his invention the "Murphy Bed." Instead, he called his company "In-A-Door" bed. Regardless, his surname name is the one that stuck and is how the fold-up bed is marketed widely across nearly every company that sells updated versions of his inventions.
So, should you get a Murphy bed?
Every home or apartment is different. What may work for one individual may become a hassle for another. It depends mainly on how you'd like to use your space, and what your specific aesthetic goals are. 
Murphy beds are incredible space savers and come in a huge variety of sizes and styles. They can turn any room into a multi-purpose space, but they have their list of drawbacks. These include the difficulty of installation, a limited mattress selection, and poor movability. 
These considerations aside, if you are looking for ways to maximize your small studio apartment, or just find more convenient and comfortable ways to accommodate your weekend guests, a Murphy bed may be right for you.