This post may contain affiliate links. Please read the disclosure for more info.
In our last article, we discussed whether or not popular antique collectible dishware known as Franciscan Ware in the pattern "Desert Rose" is still available for purchase. We also talked about where to get your hands on some of the original pieces. 
Desert Rose is beautiful dishware, however, not all of these antiques are worth the same amount of money, and some may not be worth very much at all. 
Here, we'll explore how Desert Rose pieces are valued and how to determine the make and age of Desert Rose China and dishware.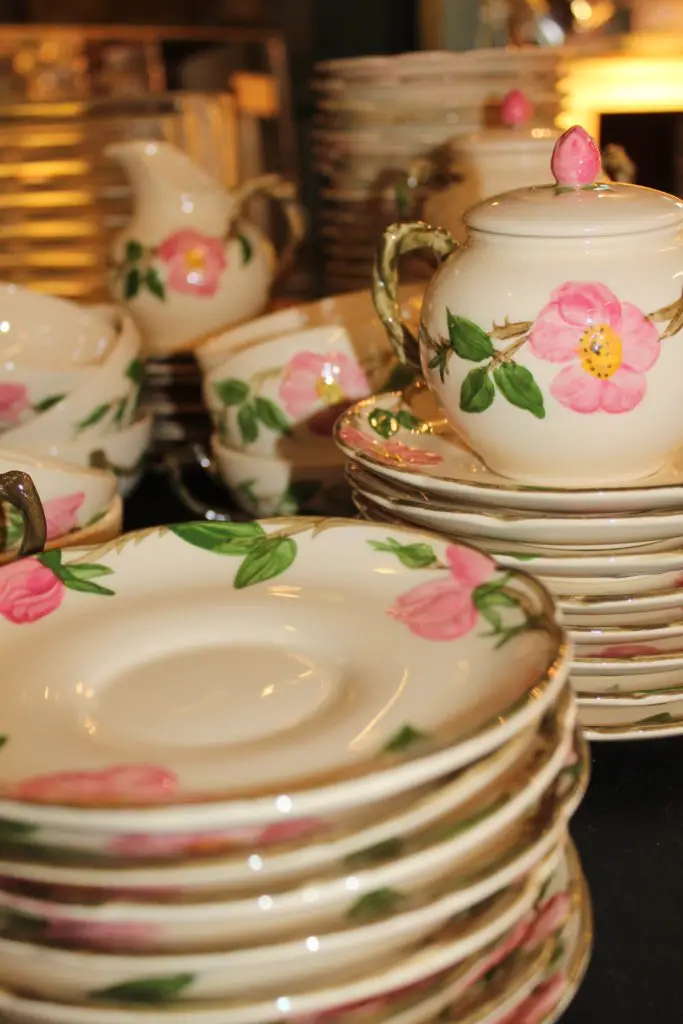 Value
When assessing the value of a Franciscan Ware piece, it's important to consider a few factors. Not all of the dishware and ceramics are created equally, and when hunting for new items to add to your collection, you're bound to run into price discrepancies. The two most important factors that determine the value of the piece you're buying, or selling, are age and rarity. 
Desert Rose was a pattern produced by Franciscan Ware in California beginning in 1934. Since then, however, the company has gone through many iterations in regards to production and location of production over the years. From 1934 to 1984, the dishware and ceramics were produced in California. In 1984, production moved across the pond to England, and then to China after the year 2000. But what does all this mean for the value of pieces?

Well, original ceramic and dishware made in the USA, especially that which was made early in Franciscan's history in the 40's and 50's, will sell for a far higher price point than the dishware produced recently overseas. Not only does the age give it vintage value, but the quality is much higher than that recently produced in China. California and even England-made wares featured raised-relief and hand-painted patterns, something that cannot be said for the modern-day equivalents. 
A simple dinner plate that is aged between the 40's and 50's can easily sell to collectors for up to $20 apiece, whereas modern sets made in China will charge just a few dollars a plate. Whether you're a collector or a seller, it's important to recognize the age of your piece, as it will go a long way in determining its worth.
As is seen with most antiques, rarity plays a huge part in the going price set for an item. With Desert Rose ware, common sets or dishes are unlikely to sell for more than $10-$20 apiece or over $100 for a set. However, if you are looking to buy or sell rare pieces, you will see market values increase remarkably. 
Rare pieces of Franciscan Desert Rose are usually determined by the length of the run in production. In other words, items that were produced for a shorter period of time are harder to come across, and therefore rarer. These items include, but are not limited to, candlesticks, ashtrays, bells, and various pitcher sizes, all of which had a far more limited production run than plates, cups, or saucers. These rare pieces often sell for more than $100 apiece.
Verifying Dates and Authenticity
Because there are so many different eras of Franciscan Ware, it's important to know what you're looking at if you're trying to buy or sell Desert Rose dishware. Thankfully, there are a few indicators that let you know if what you're looking at is from the 40's, 50's, 80's, or today.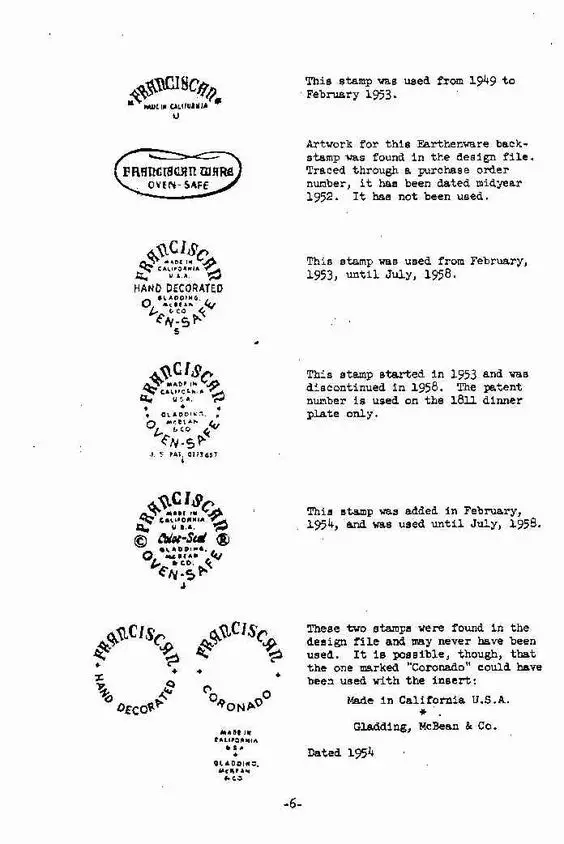 41'-58

': Pieces from this era will be marked with a stamped black ink. Some pieces that are larger may include "California" in the stamping as well, and the stamp will generally include "made in the U.S.A."

58'-76'

: Pieces from this era are typically stamped with a logo that looks like a rounded rectangle, sometimes referred to as the "TV Screen". Until the 70, pieces were stamped in brown ink, changing back to black ink again in the early 1970s.

76'-84

': Pieces from this era are stamped with black ink, and the word Franciscan including the trademark "Flying F"

85'-early 2000's

: These pieces are part of the English production, and will be stamped accordingly.

2004-present

: These pieces are made in China and will likely be void of any real identifying marks as to the location of production. You may see a pink flower stamp on the back of the piece.
It's important to keep in mind that knock-offs will not include this signature stamping. Looking for inconsistencies in quality and design is also key to spotting an unoriginal Desert Rose piece. Before purchasing or selling, be sure you have dated your piece as accurately as possible, as it will reflect the true value of your item.  
When purchasing more expensive pieces, especially from individual sellers on resale sites such as eBay, knowing the dating and history of the dish or ceramic you are buying can help ensure that you are not an upcharge. Alternatively, it will prevent you from undervaluing the collection you may already own. 
Desert Rose dishware that is not either particularly old, or particularly rare can be purchased for affordable prices in consignment stores, sites such as Replacements.com, and eBay. Whether you're looking to create an entire collection or fill in gaps in the set you've inherited from Grandma, a little digging can almost always pay off.