This post may contain affiliate links. Please read the disclosure for more info.
For those with infants and young children, the bathroom is a hub of activity and learning. From bathtime, to potty training, to brushing teeth, you're bound to spend a great deal of time in the bathroom. 
Unfortunately, bathrooms also present hazards to small children and infants in the form of chemicals, accidental drowning, and other potential injuries. It's a good idea to remind yourself of some basic safety tips so that bathroom time can remain a fun, safe place for your child. 
Supervision
One of the most important aspects of child safety, not only in the bathroom but in many areas, is careful supervision. Children can drown in only three inches of water, so it's crucial that you don't leave infants or small children alone in the bathtub. Bathing seats and rings are not safety devices and will not fully prevent accidents or drowning. When it comes to preventing accidents in the bathroom, there is nothing more effective than a present and watchful eye.
Check Temperatures
A child's skin is more sensitive than that of an adult. Therefore, it is important to check water temperatures before putting your child in the bath. Water can scald, and hot water can feel uncomfortable for a small child. Most water heaters can be outfitted to prevent water from exceeding temperatures of 120 degrees Fahrenheit. If you're having trouble controlling the temperature of your water, this may be an option to look into implementing. 
Teaching your child about the temperature controls for your sink or bath can help prevent potential injuries when they are old enough to turn the faucet on themselves. Instilling instructions to begin with cold water is good practice and can be effective in preventing future burns and discomfort.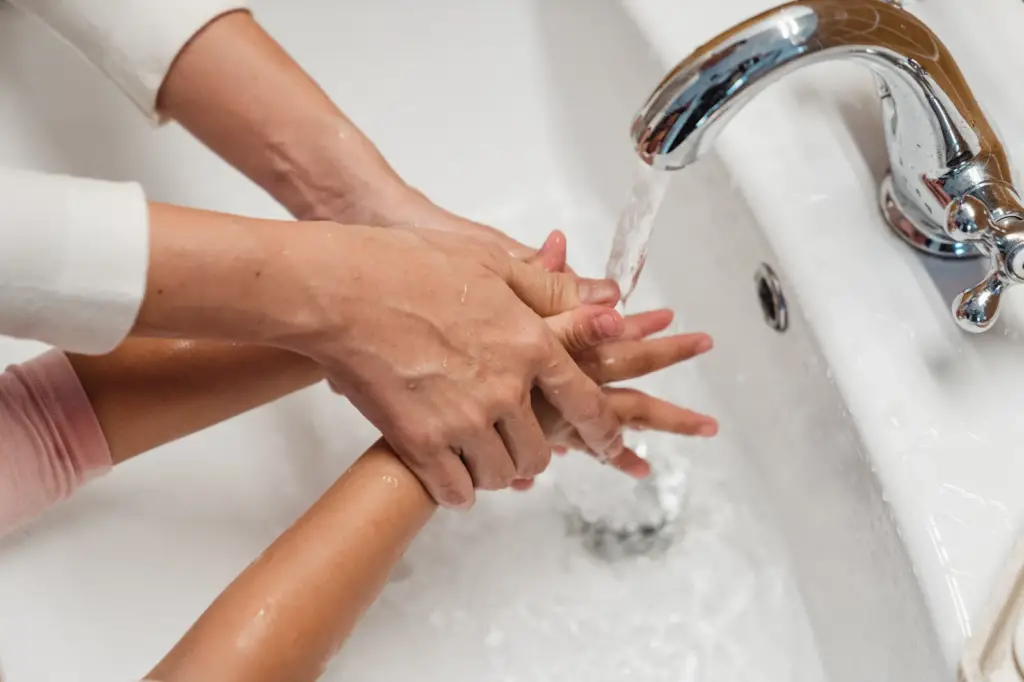 Keep Things Organized
Equip your bathroom with the essentials. Then be sure that they are organized and easy to locate, making leaving the bathroom during bath time or toilet training less necessary. Leaving the room to hunt for a necessity can lead to an unsupervised child, which makes accidents in the bathroom more likely.  
Lock It Up
Cleaners, makeup, and medications can all be harmful if spilled or ingested. Many babies and children tend to explore by putting things in their mouths. However, ingesting a cleaner, or medication can have grave consequences. Sharp objects such as razors can severely cut babies and children with curious hands. Thankfully, these types of injuries are fairly easy to prevent.
Designating a high shelf space out of reach, or a locked cabinet will thwart infants and children from getting their hands on potentially harmful materials. If you do not have a locking cabinet or closet, consider investing in child-safe locks. They are widely available and effective at keeping young children's curious hands away from items that may be dangerous.
Slips and Falls 
The bathroom is one of the highest risk rooms in the house when it comes to potential slips and falls. Young children are always on the move. Whether it be in the tub itself, or water on the floor by sinks or showers, children are even more prone to sudden falls than adults.
Prevent in-bath falls by installing non-slip grips on shower and bath floors. These are cheap and effective for children and parents alike. Laying down mats and rugs next to high-risk areas to soak up water is also useful in preventing in-bathroom slips and falls, and will last many years as your child grows.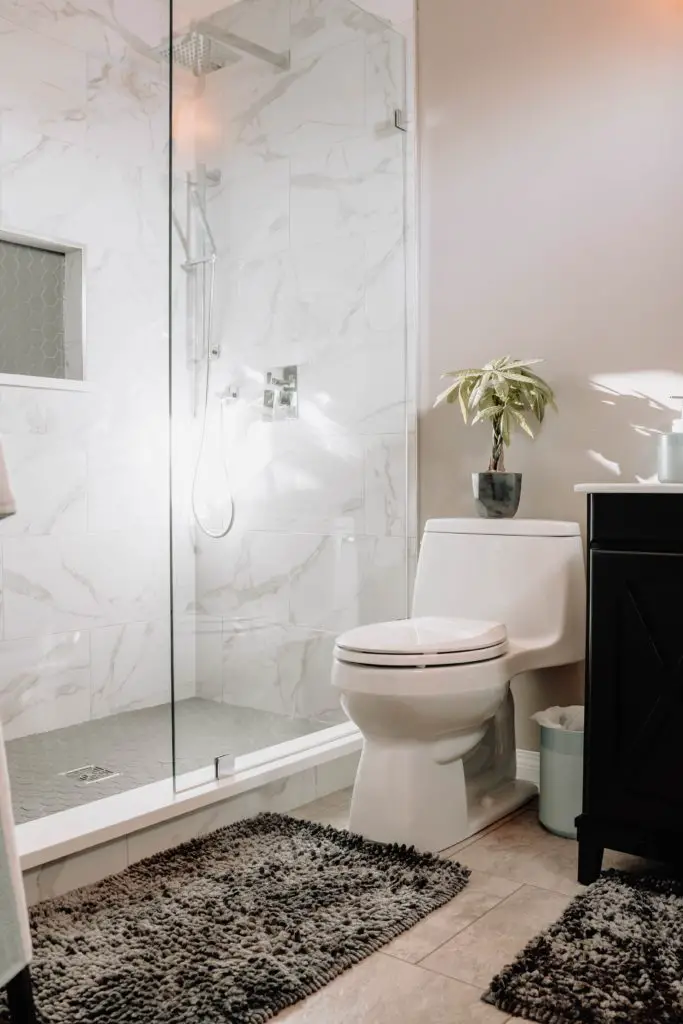 Put the Lid Down
Leaving the toilet seat up is not only an annoying habit but can be harmful when small children are present. Curious toddlers may be inclined to reach inside toilets. This is not only unsanitary but increases the potential for falls into the toilet. Prevent accidents by getting in the habit of shutting the lid after use. If your child likes to open the lid, consider a toilet seat lock, which prevents children from opening the top altogether.
Safeguard Faucets and Corners
Sharp edges present danger to children throughout the home, and the bathroom is no exception. Both faucets and countertops have corners and edges that can be hazardous to small children who may be prone to hitting their heads or other areas of their bodies. These kinds of edges can lead to bumps, bruises, and other more serious injuries. You can prevent these accidents with the purchase of soft guards. 
Child Gates and Closed Doors
One of the most proactive ways to prevent accidents in the bathroom is to block the passage of children when they are not supervised. Locking the bathroom door when it is not in use, or installing simple child gates can be easy deterrents to toddlers and babies on the move. This can give you peace of mind that your child isn't getting into things while you are preoccupied. 
Clear Electronics
Water and electricity don't mix. Children, however, do not yet understand the danger of mixing cords and water. Prevent accidents by stowing any hair tools or charging cables away from the hands of babies and toddlers when they are not in use. When your child is able to grasp a simple understanding, talk to them about the dangers presented by mixing water and electrical cords. Preventative learning is one of the most effective ways to prevent accidents as children continue to get older.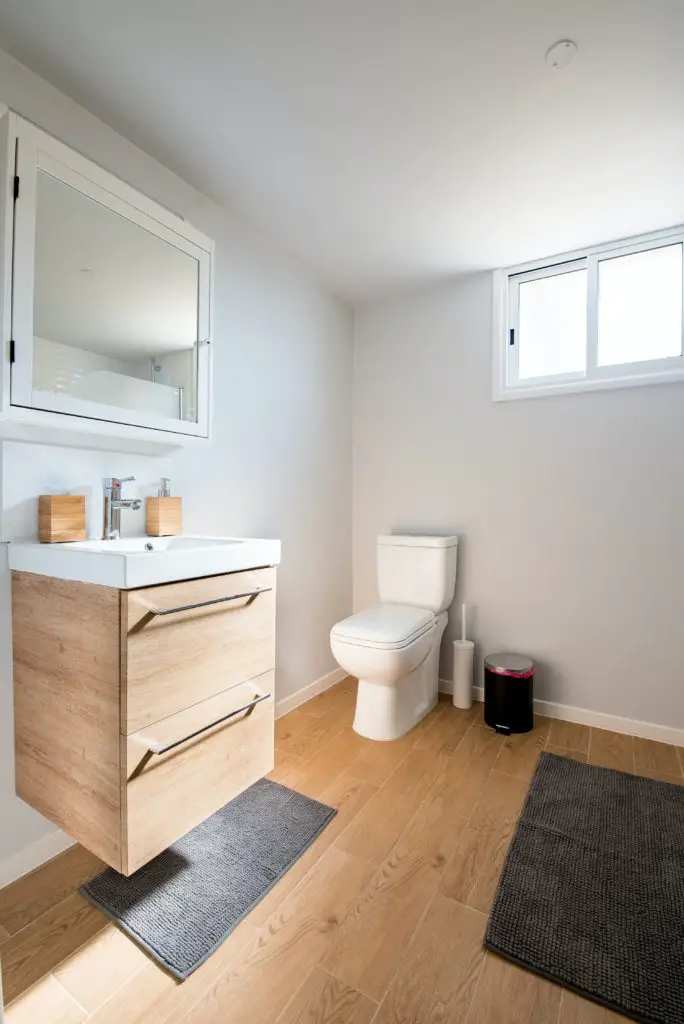 If electronics become a recurring concern in your household, you may be able to ask an electrician to install a special outlet in your bathroom as a safeguard. These outlets, called ground fault circuit interrupters, lessen the probability of an electrical injury if an appliance falls into the water.
Teaching Moments
The reality is that you can't always be around to make sure your child is safe. As they get older, their growing independence will make them increasingly resistant to parental supervision. Because of this, one of the most important things any parent can do for the safety of their child is to teach them about what are and are not safe practices in the bathroom. These learning moments will be lifelong and will help ensure the safety of your child for a lifetime to come.