This post may contain affiliate links. Please read the disclosure for more info.
Despite it being a rental, Joyce Wang thinks of her sunny San Franciscan apartment as a place that should "grow, expand, and evolve over time" just as she does. She fell in love with the south-eastern facing corner apartment 25 years ago and has been there ever since. The apartment boasts a total of 14 windows with spectacular views of the San Franciscan skyline and rooftops.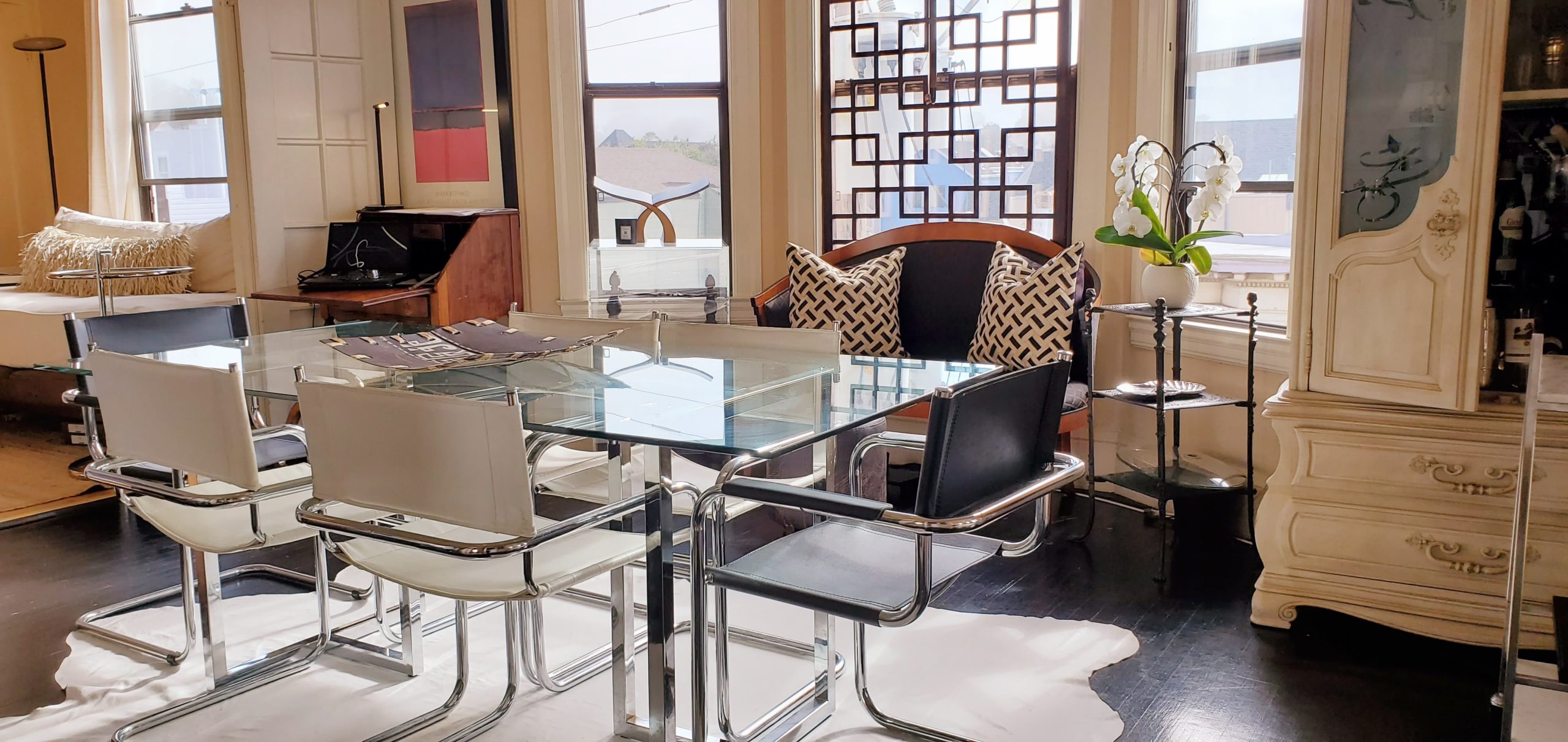 Creative Living Room Ideas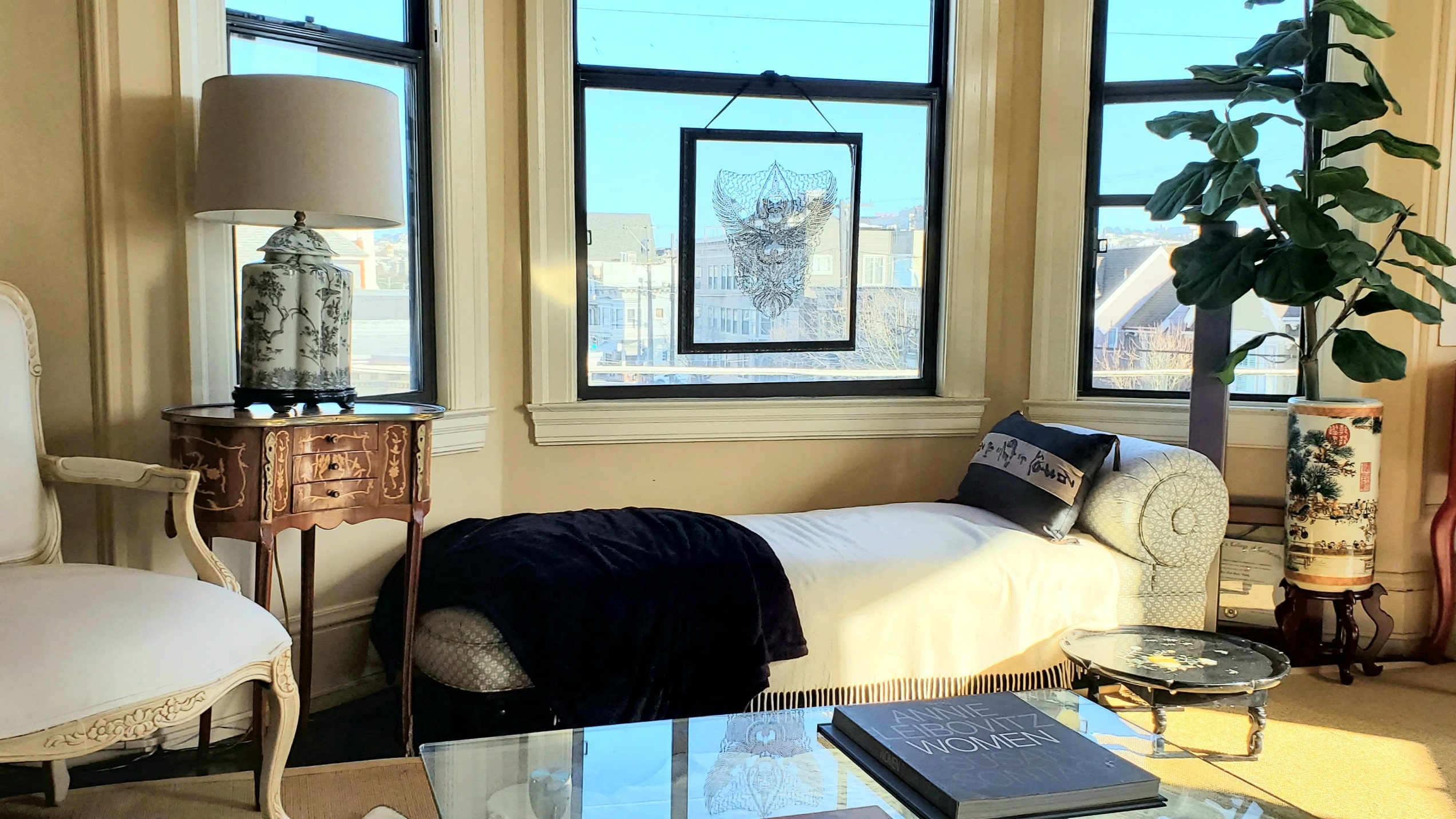 Fiddle-Leaf Fig with Sofa Bed
Yellow Gold Wall Living Room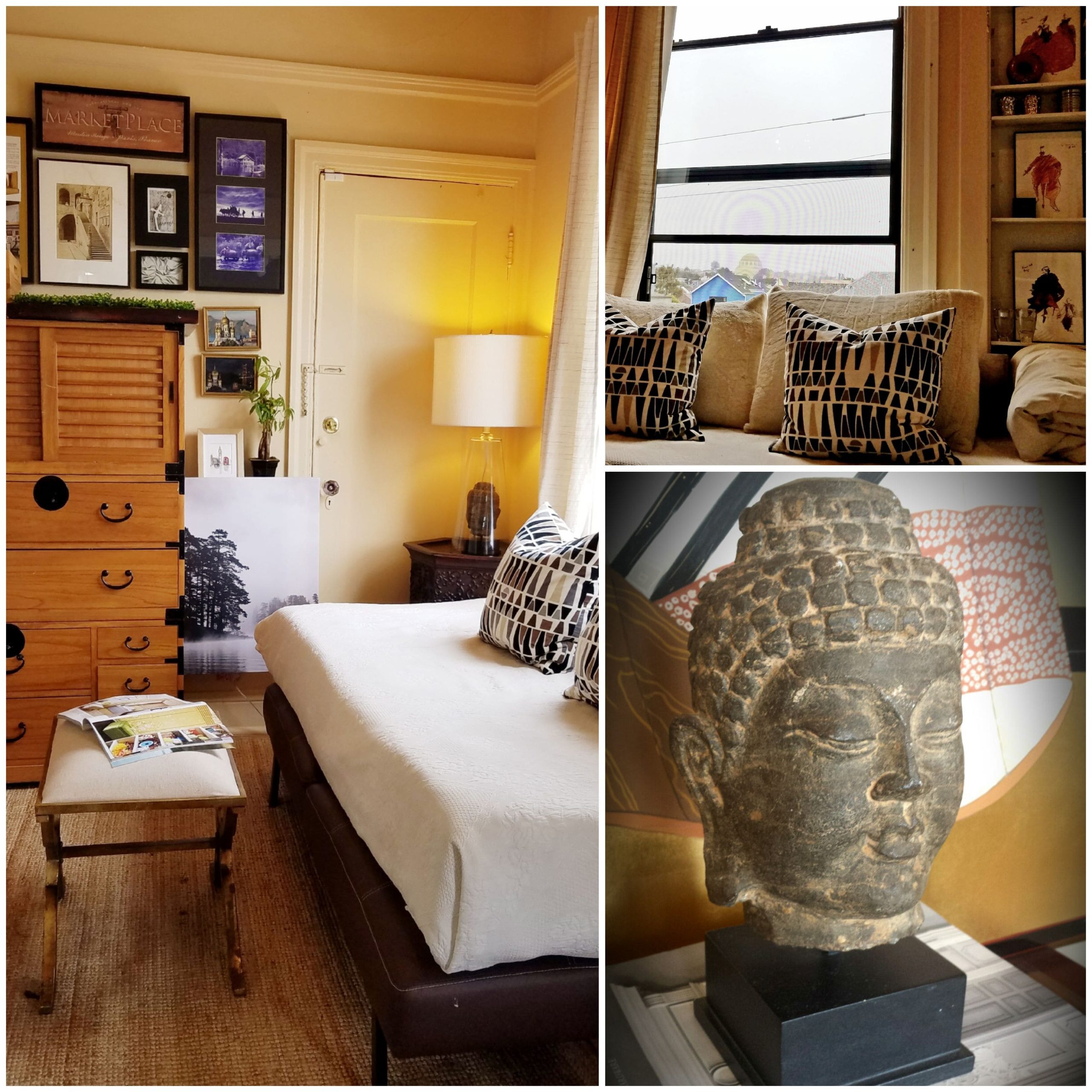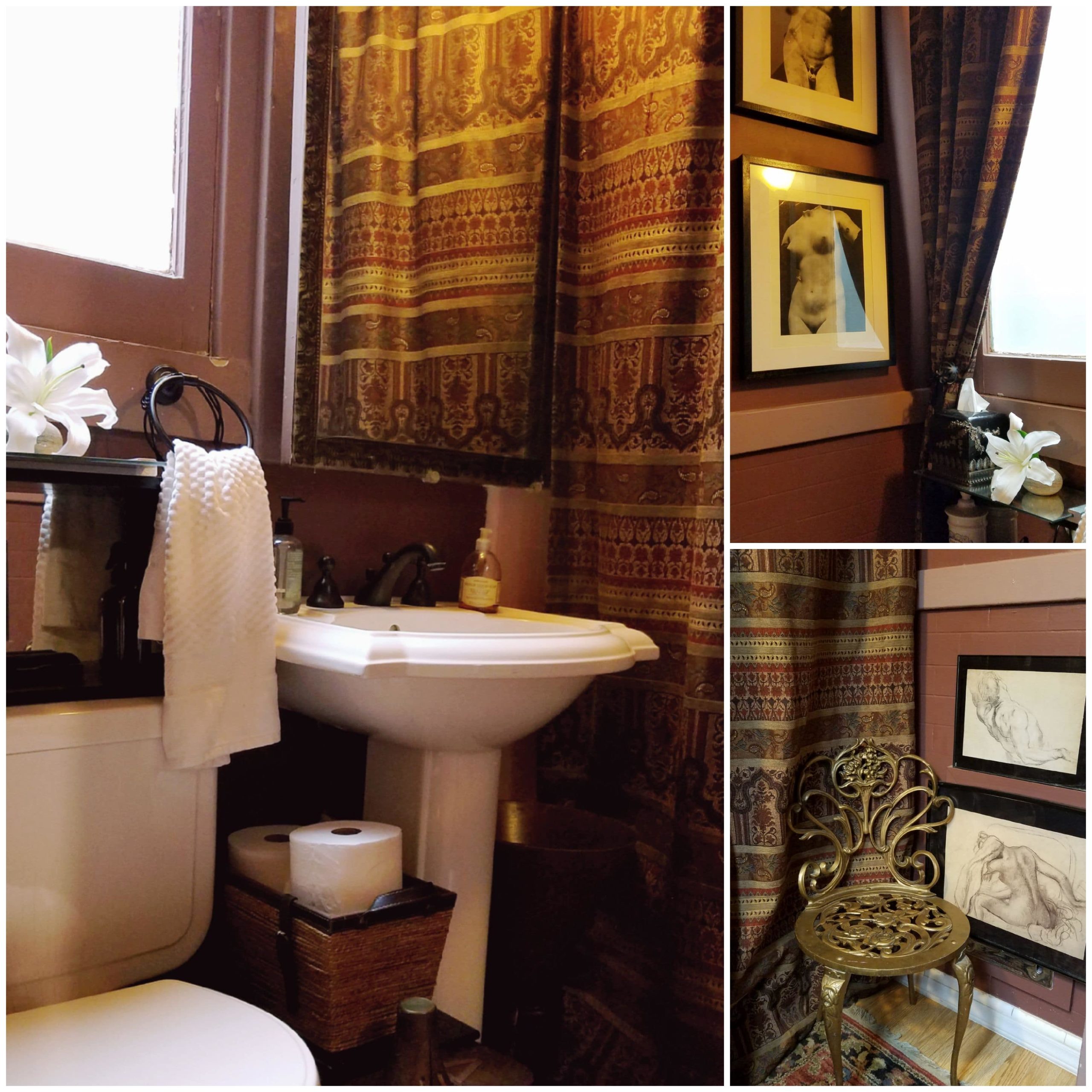 Bathroom Brown Statue Painting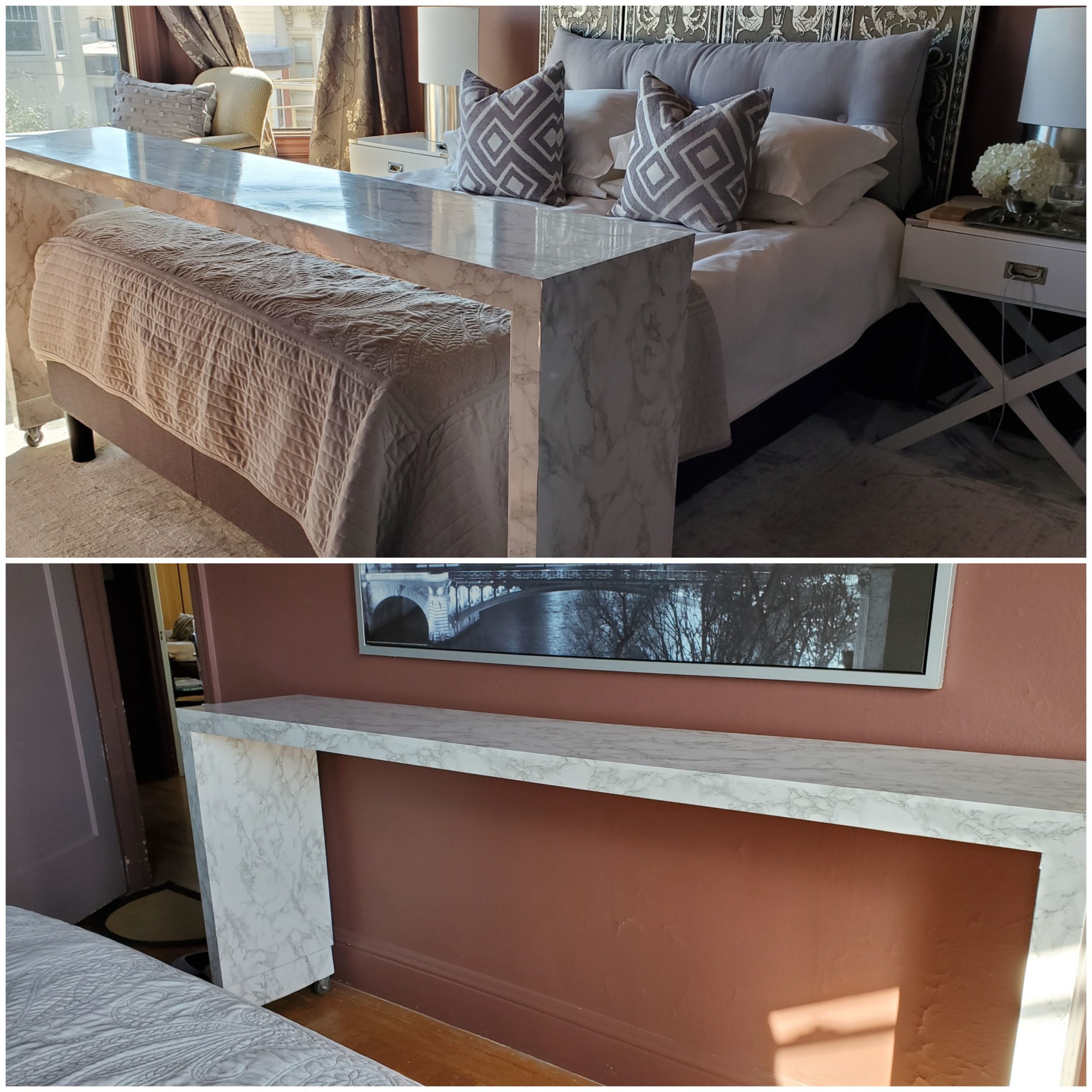 Bedroom Over Bed Marble Table Slid Out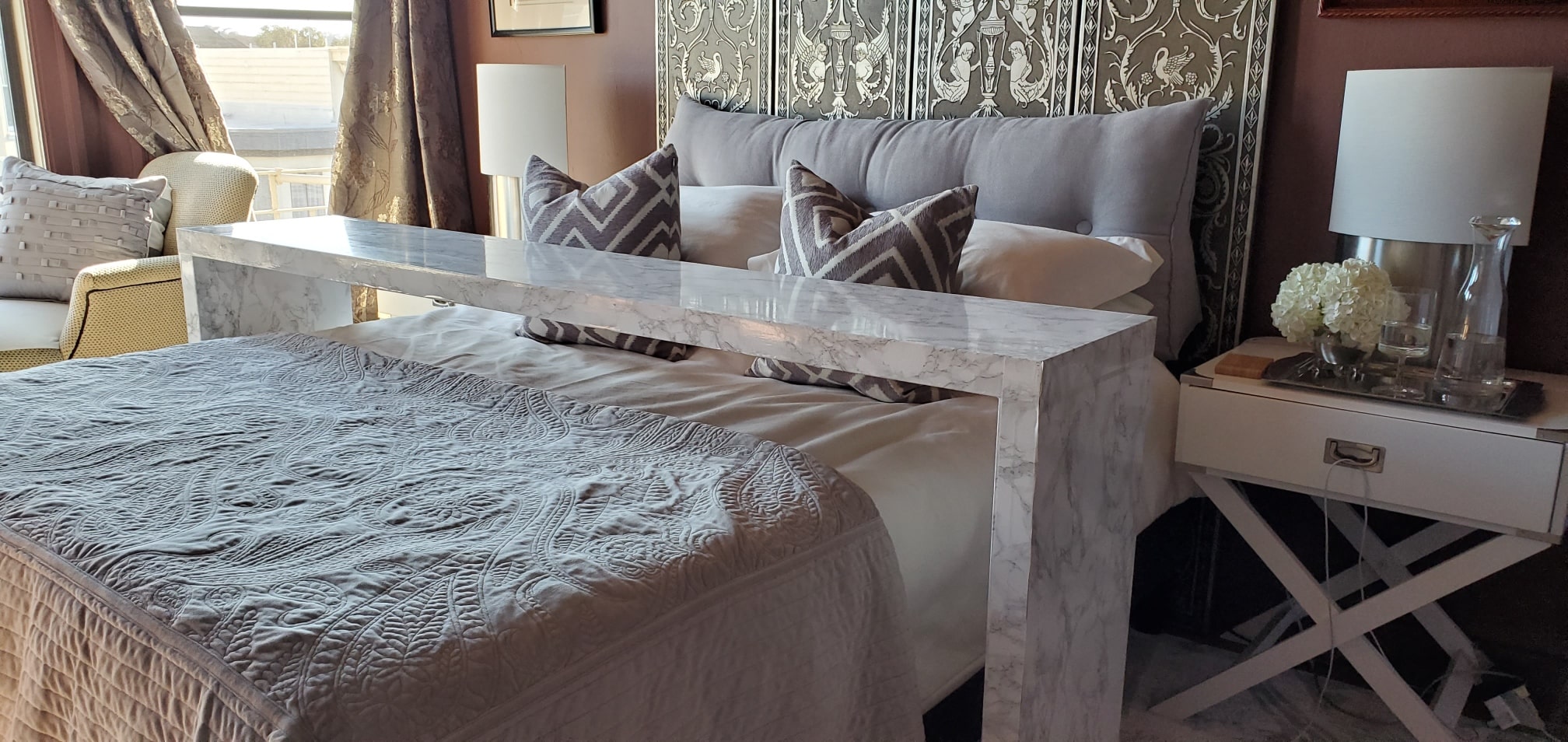 Bedroom Over Bed Marble Table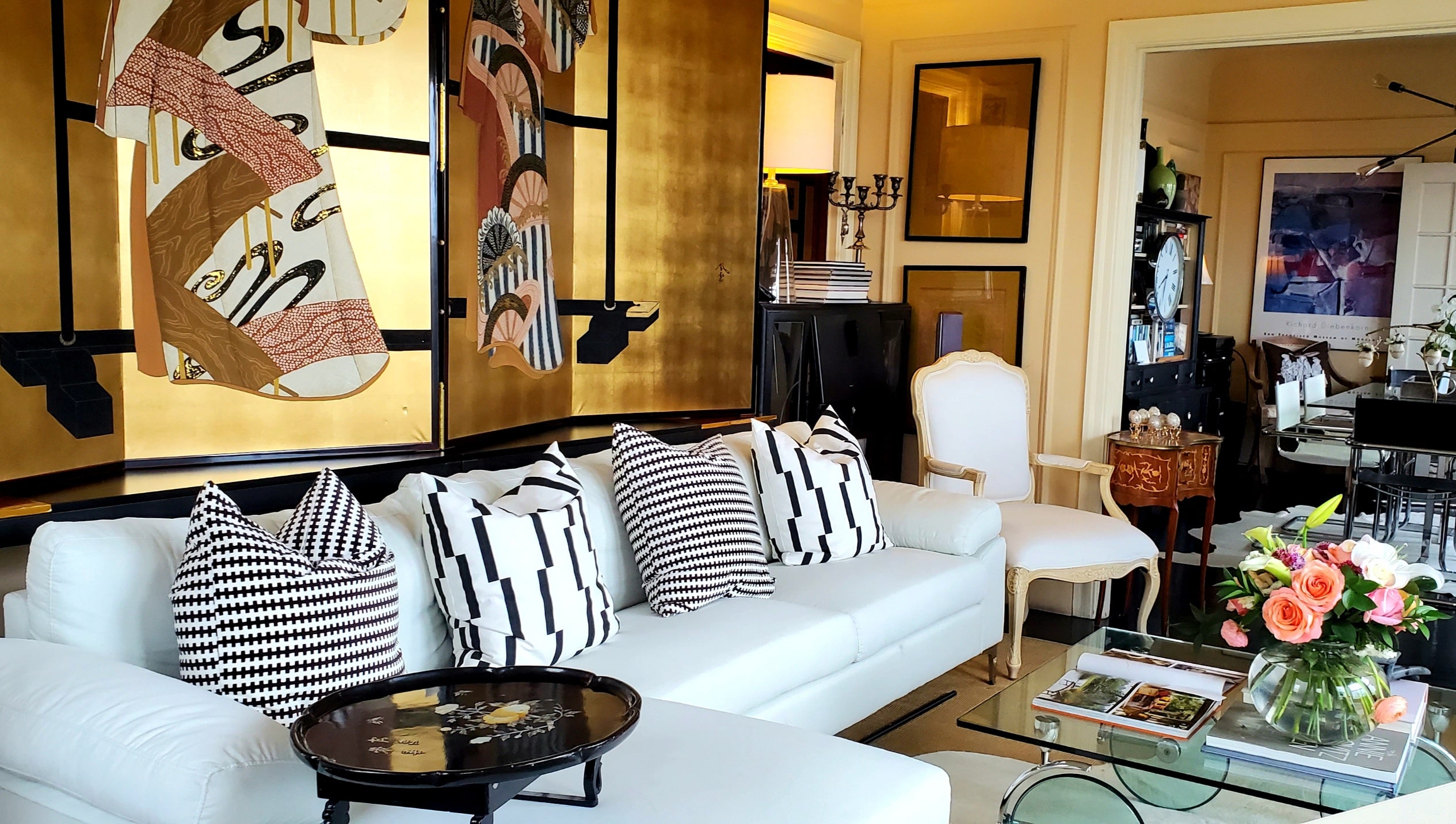 Black and White Couch with Gold Yellow Walls Premium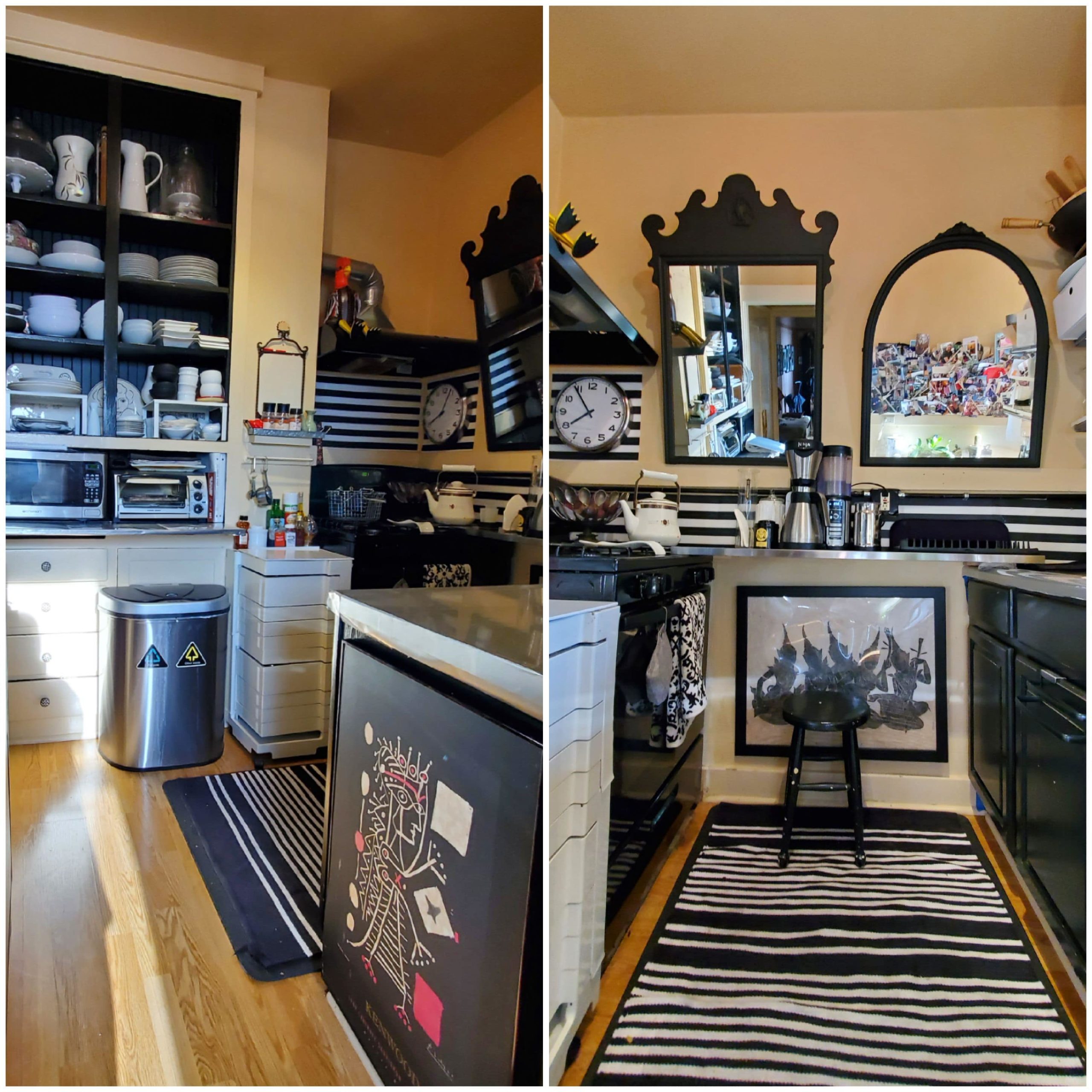 Brown and Black Kitchen Ideas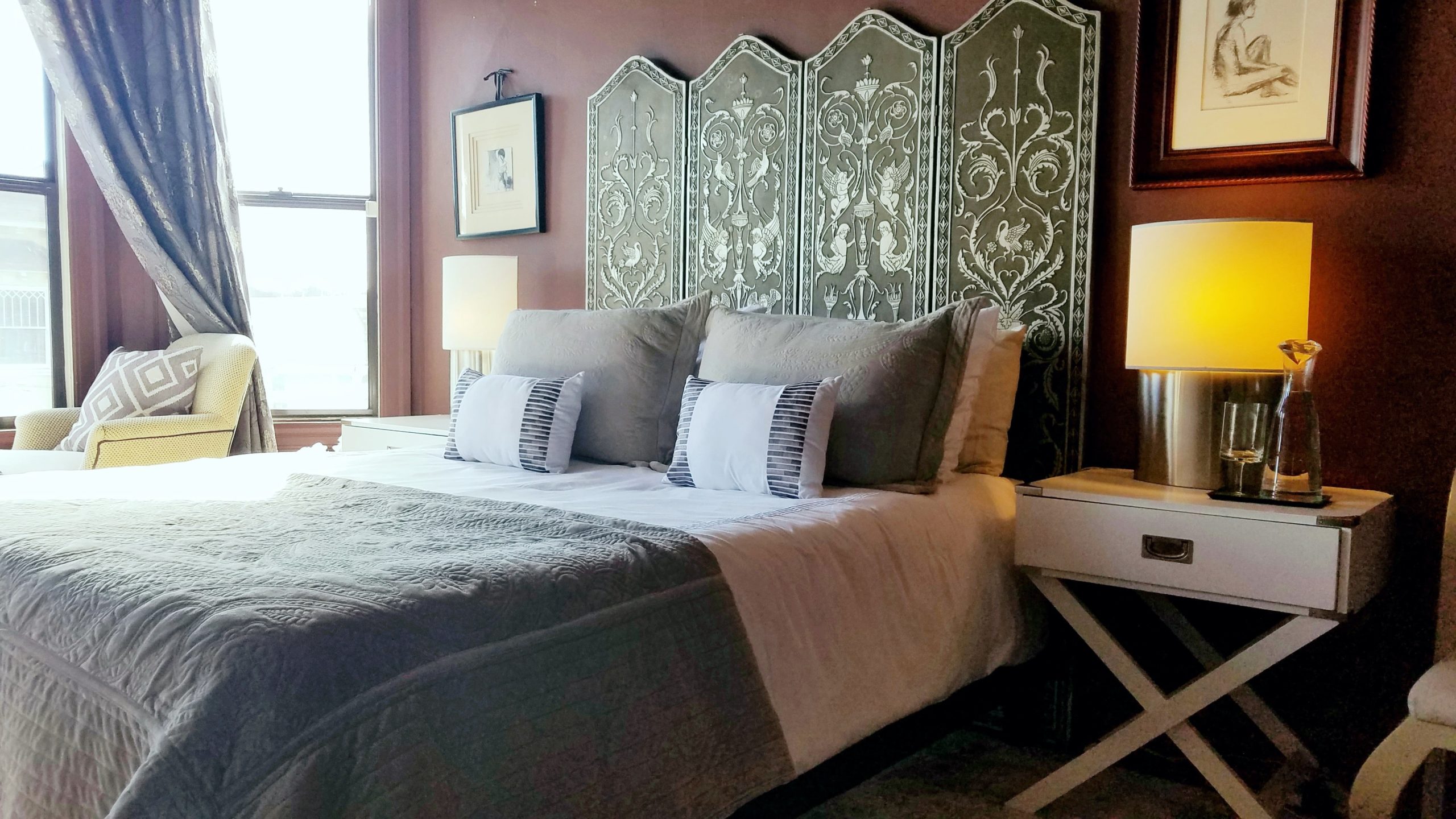 Fiddle-leafe Fig by Red Desk and Glass Table
Hello Floor Mat Wired Human Art
Plants Flowers and Beautiful Decor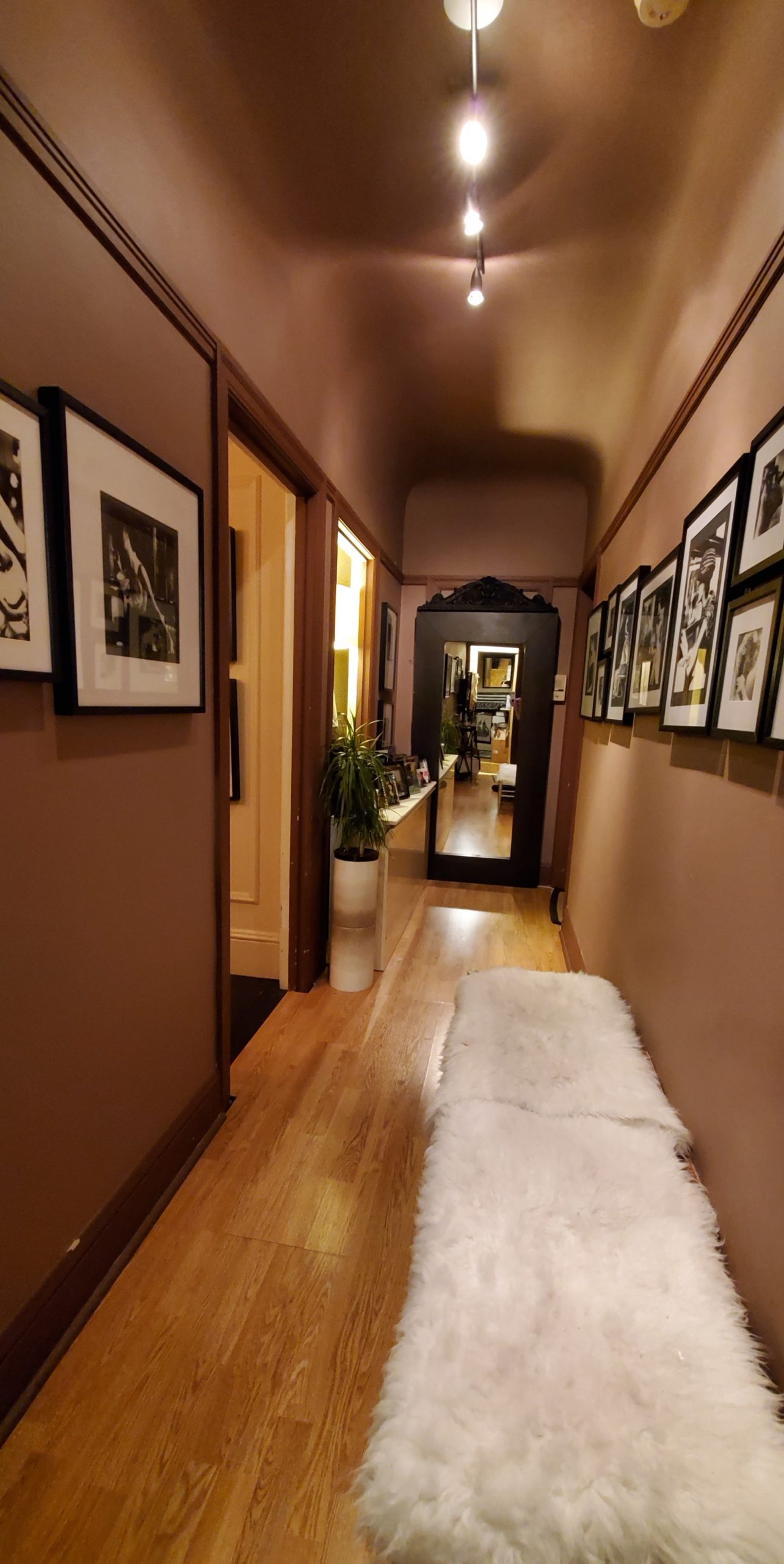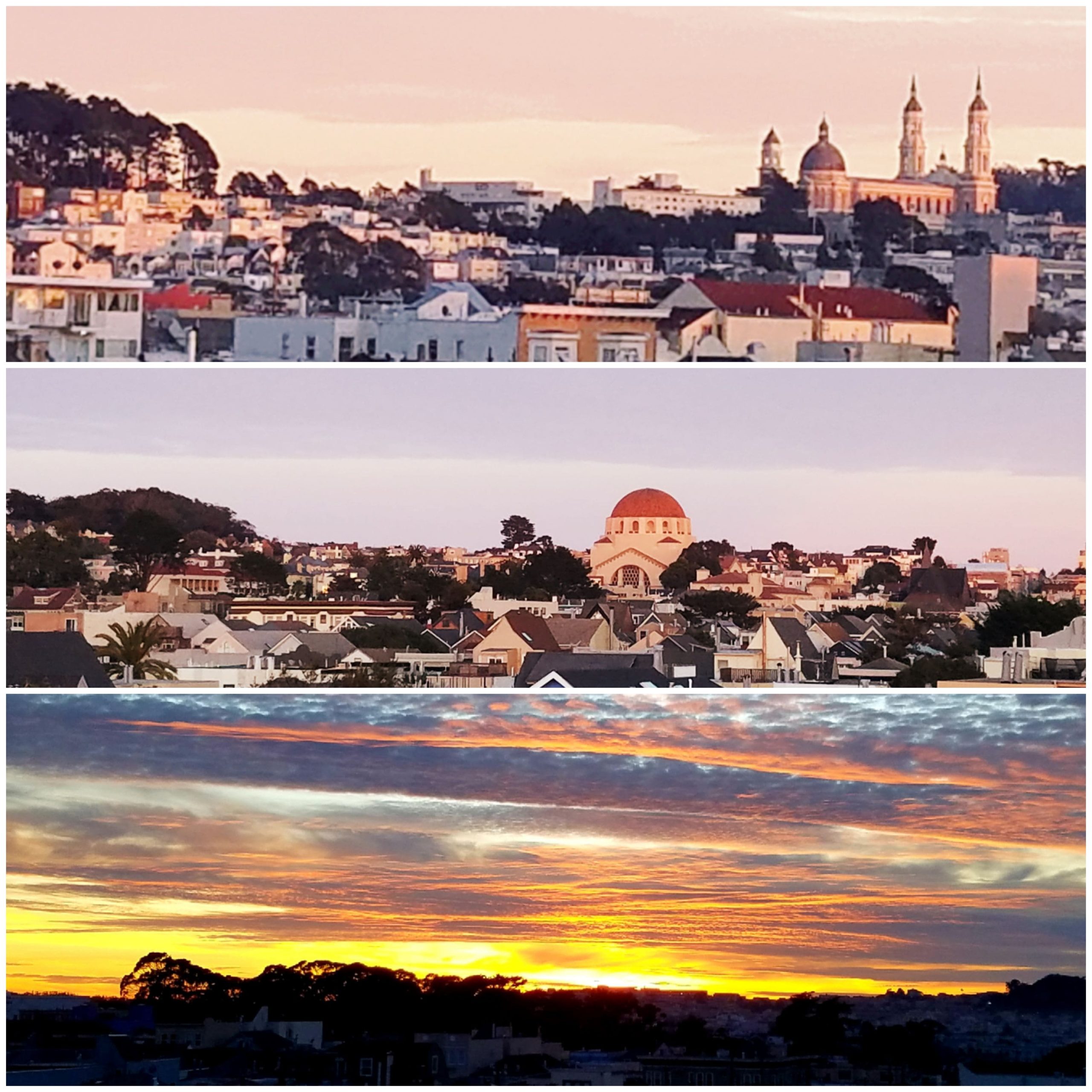 Skyline Travel Sunset Glow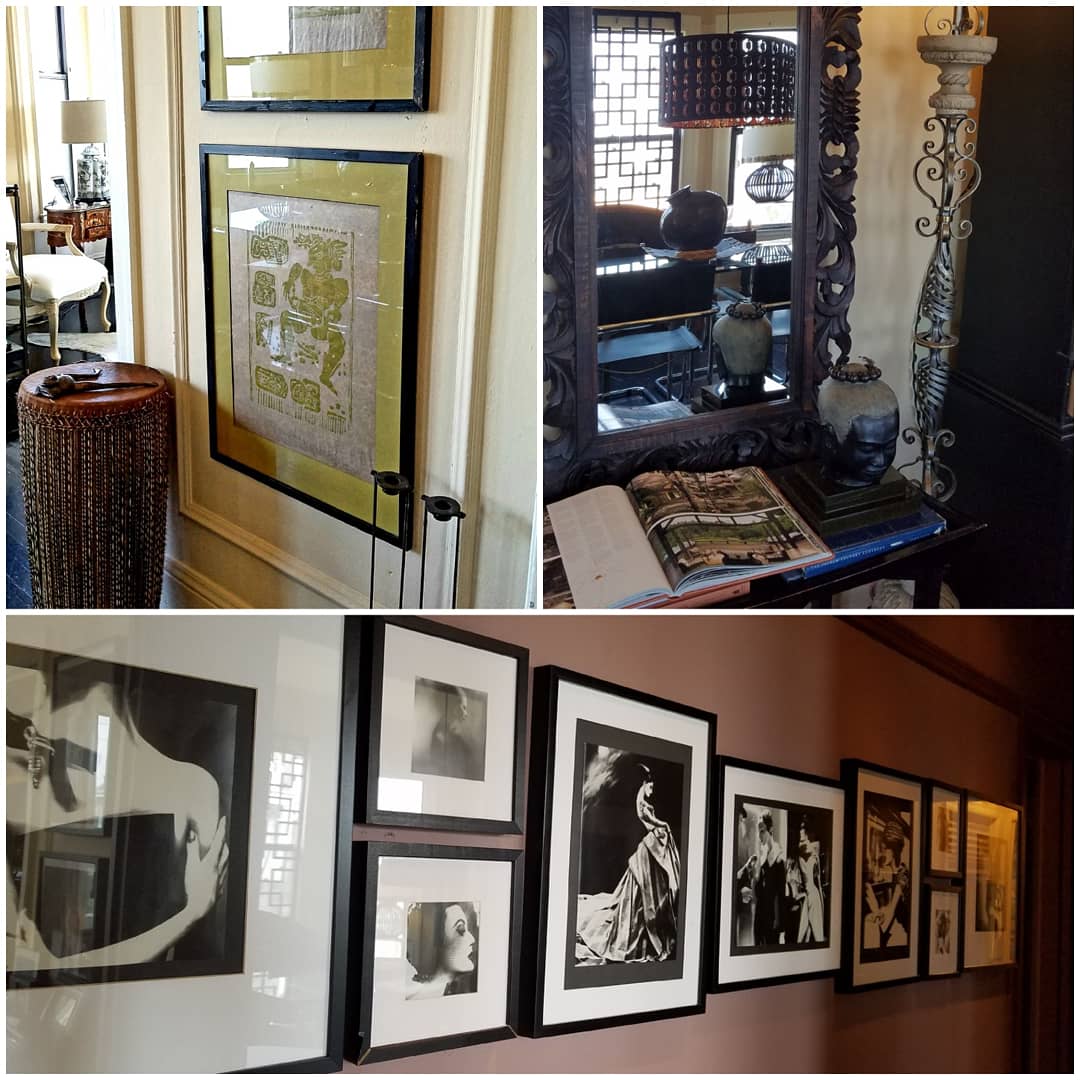 Vintage and Classic Wall Art Photos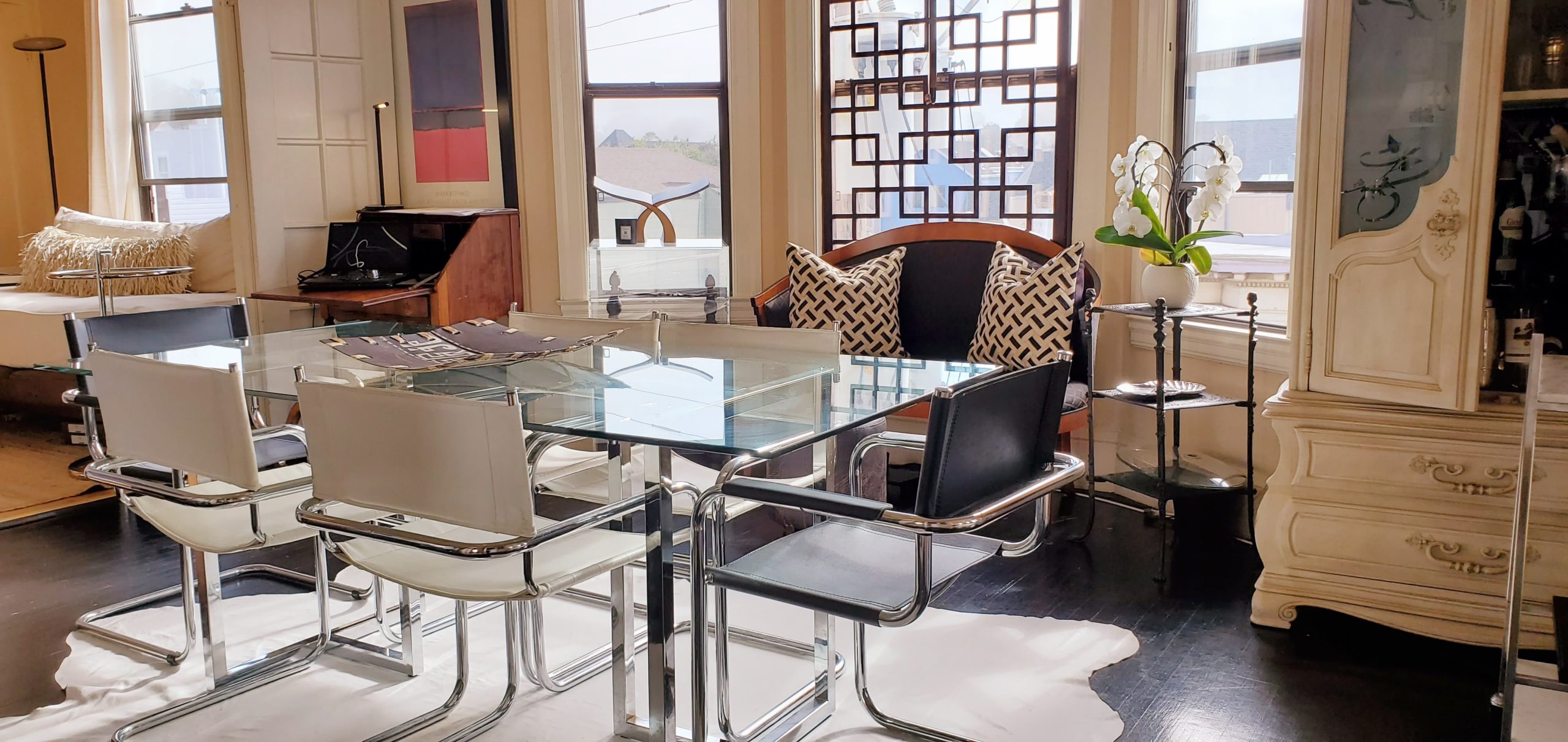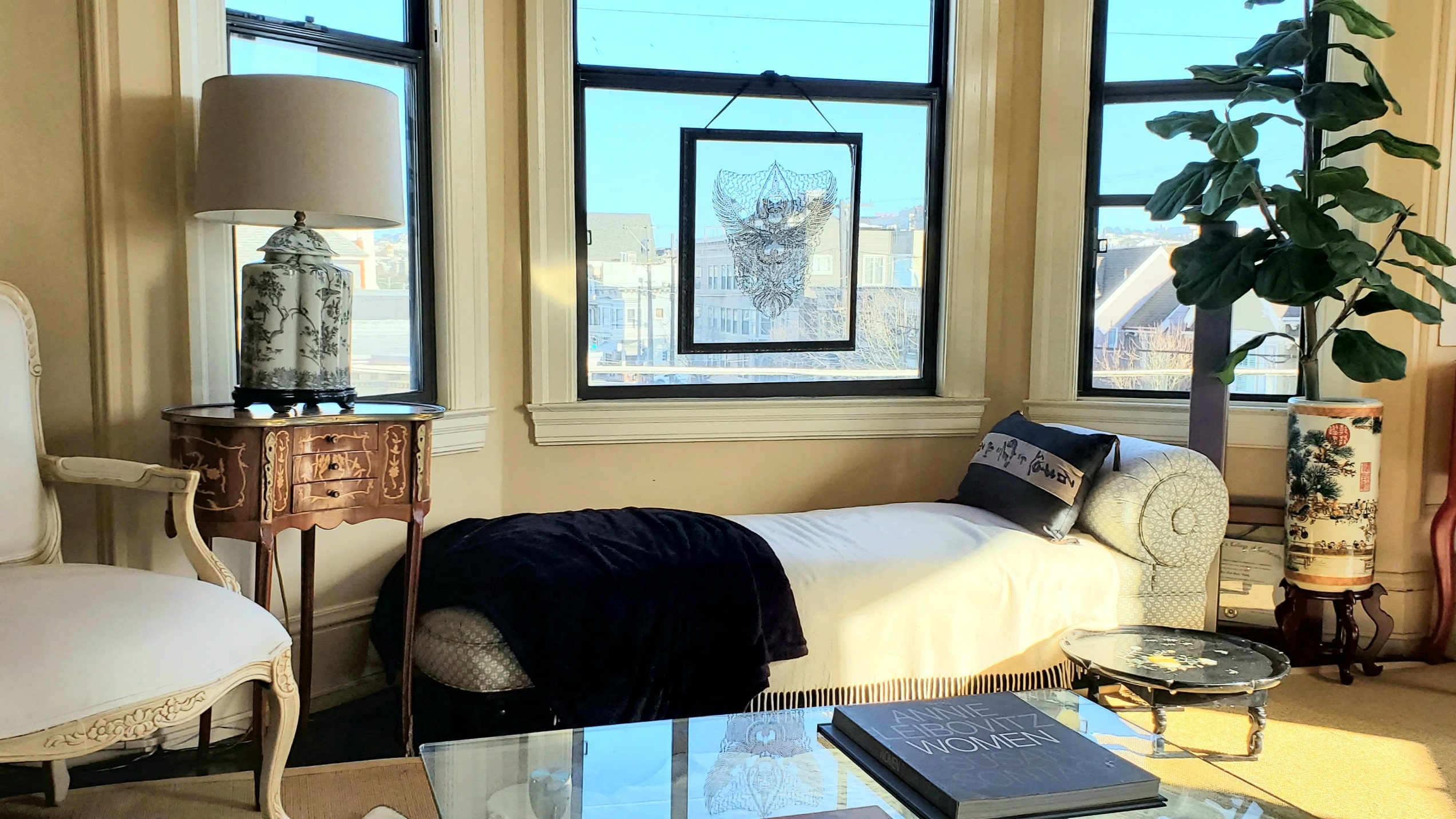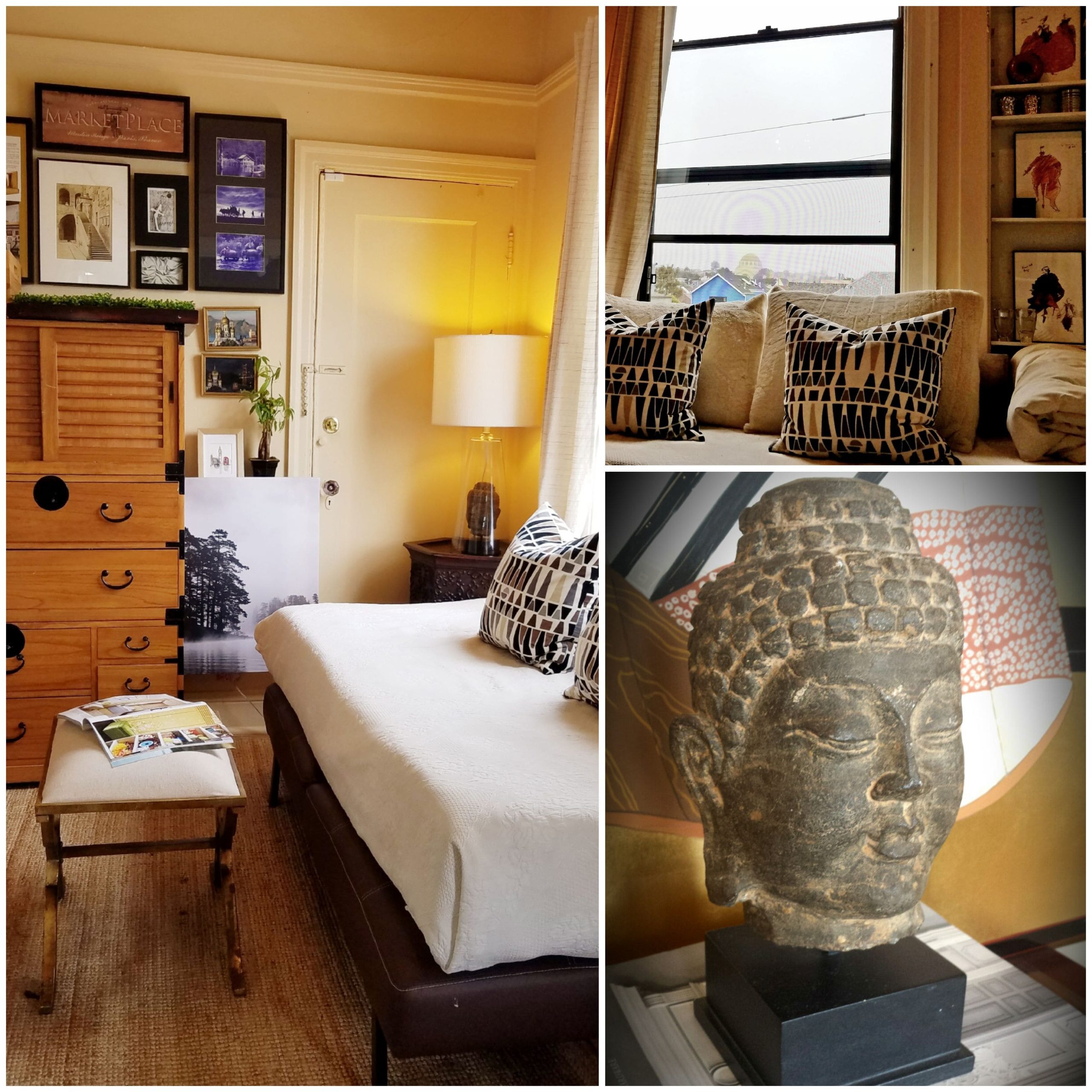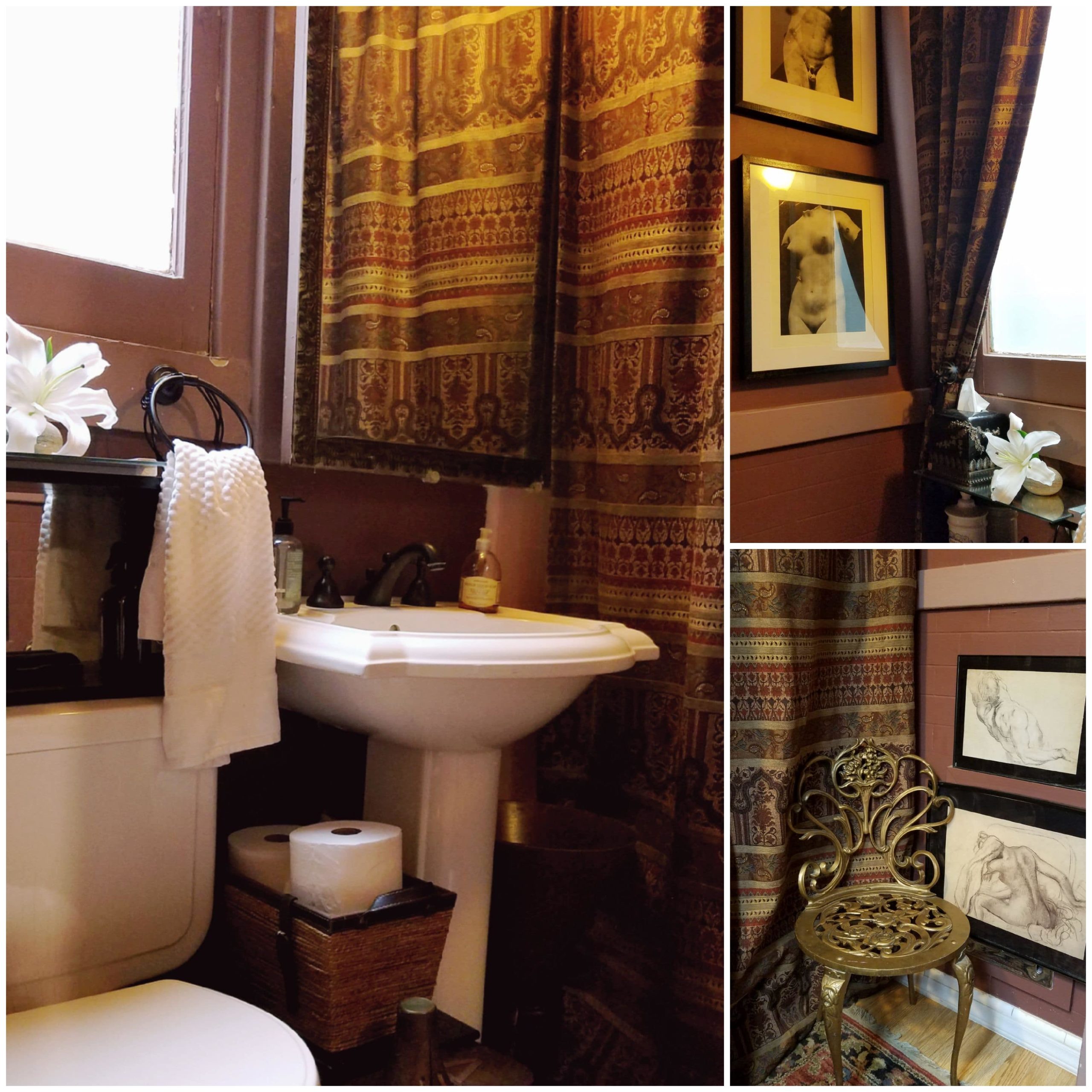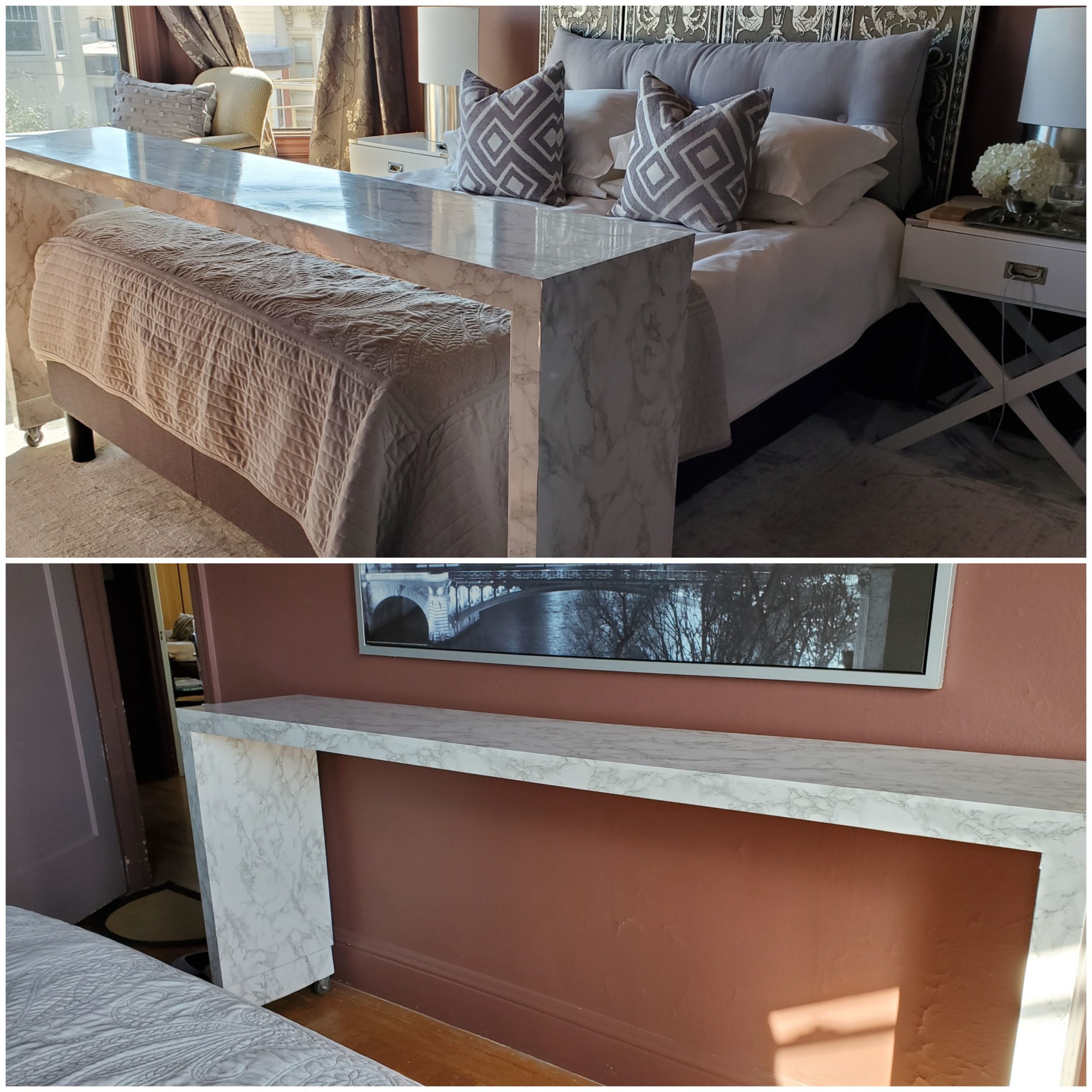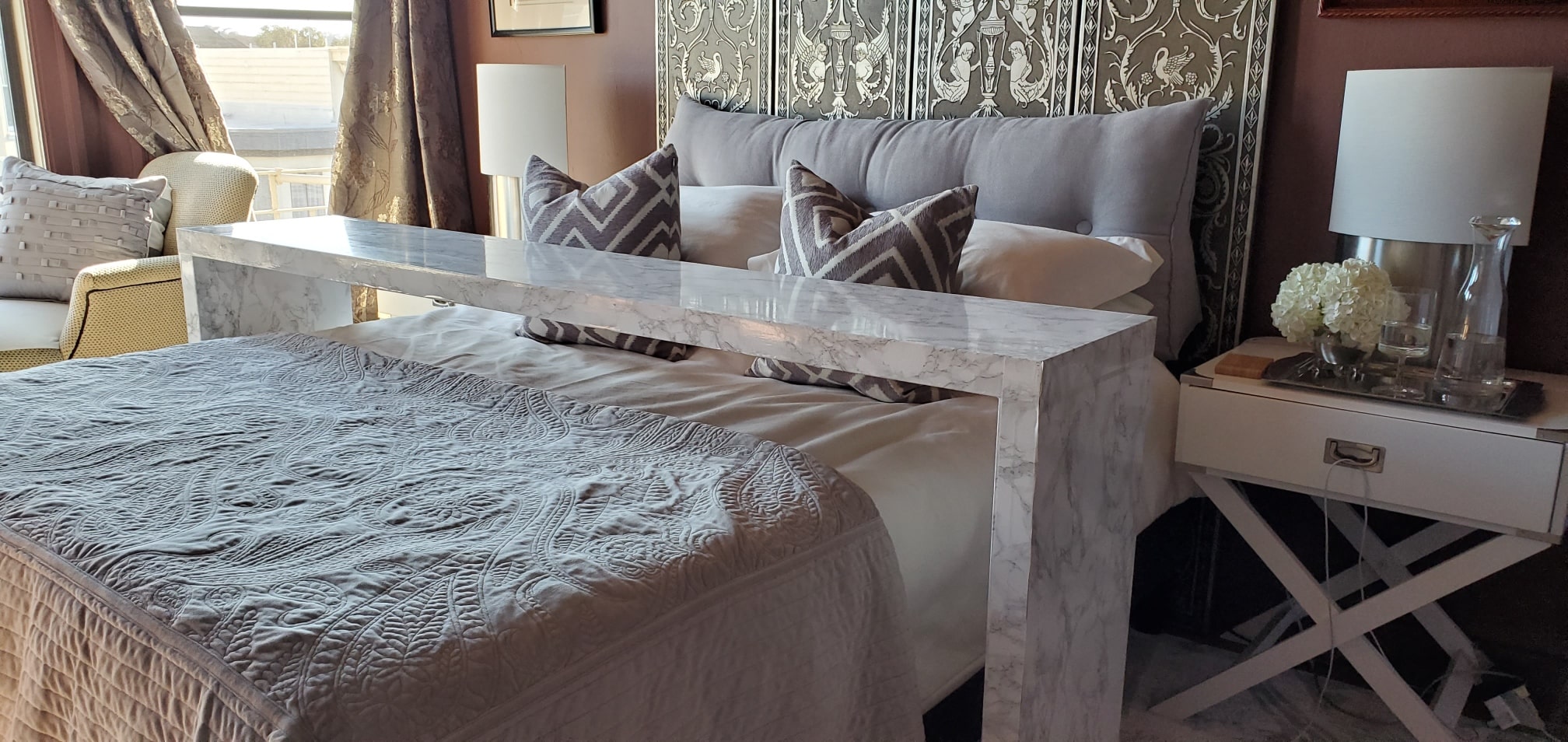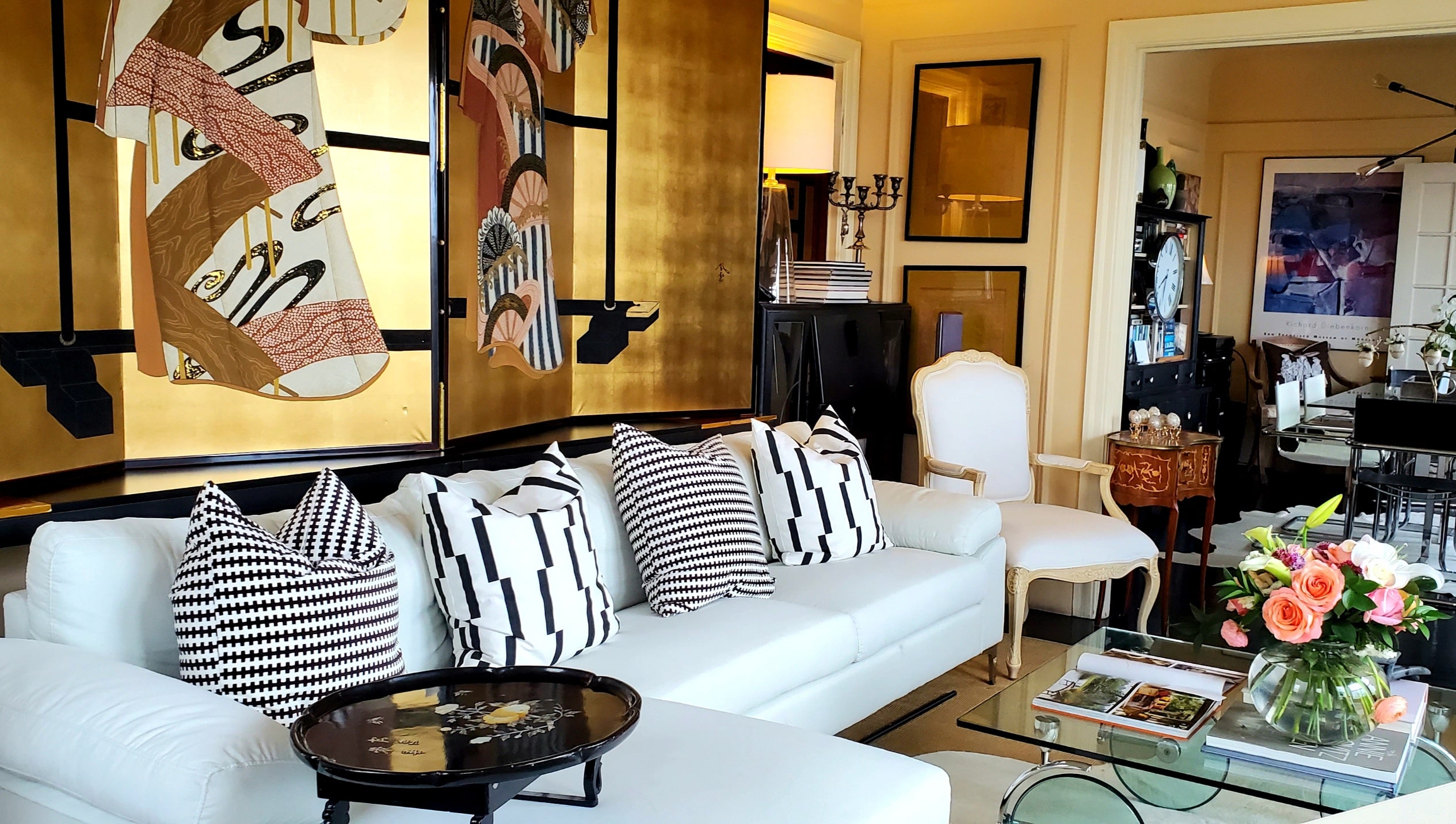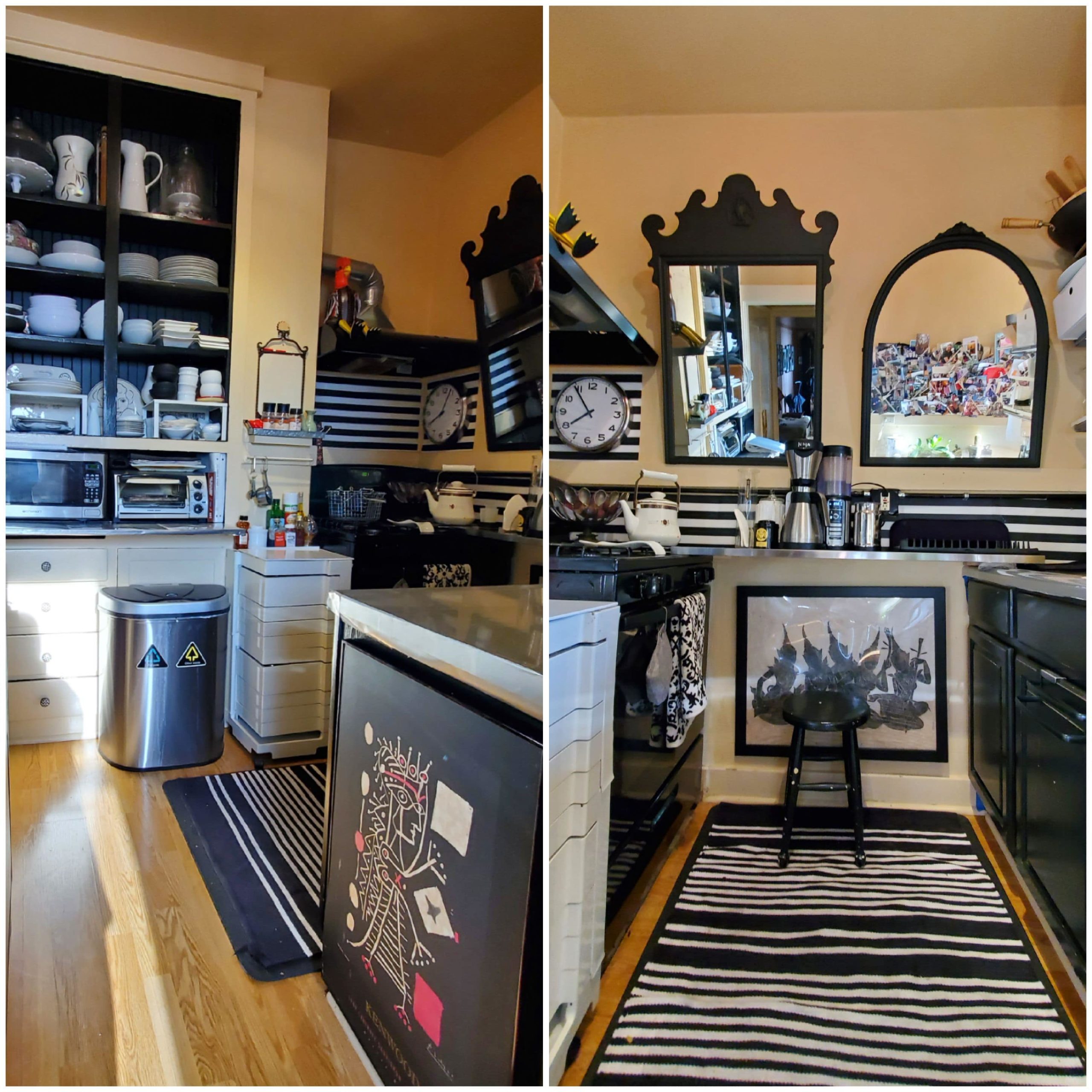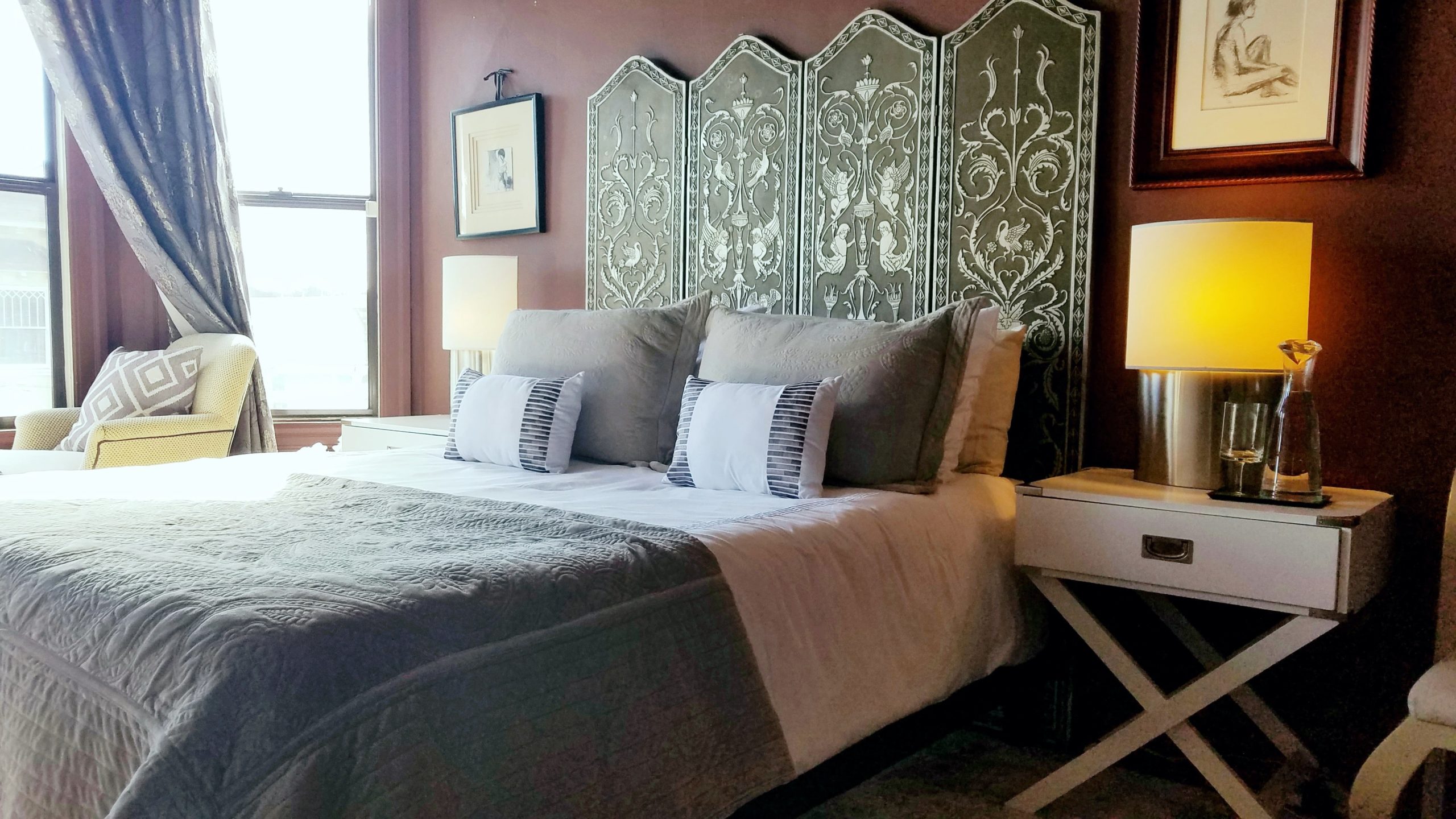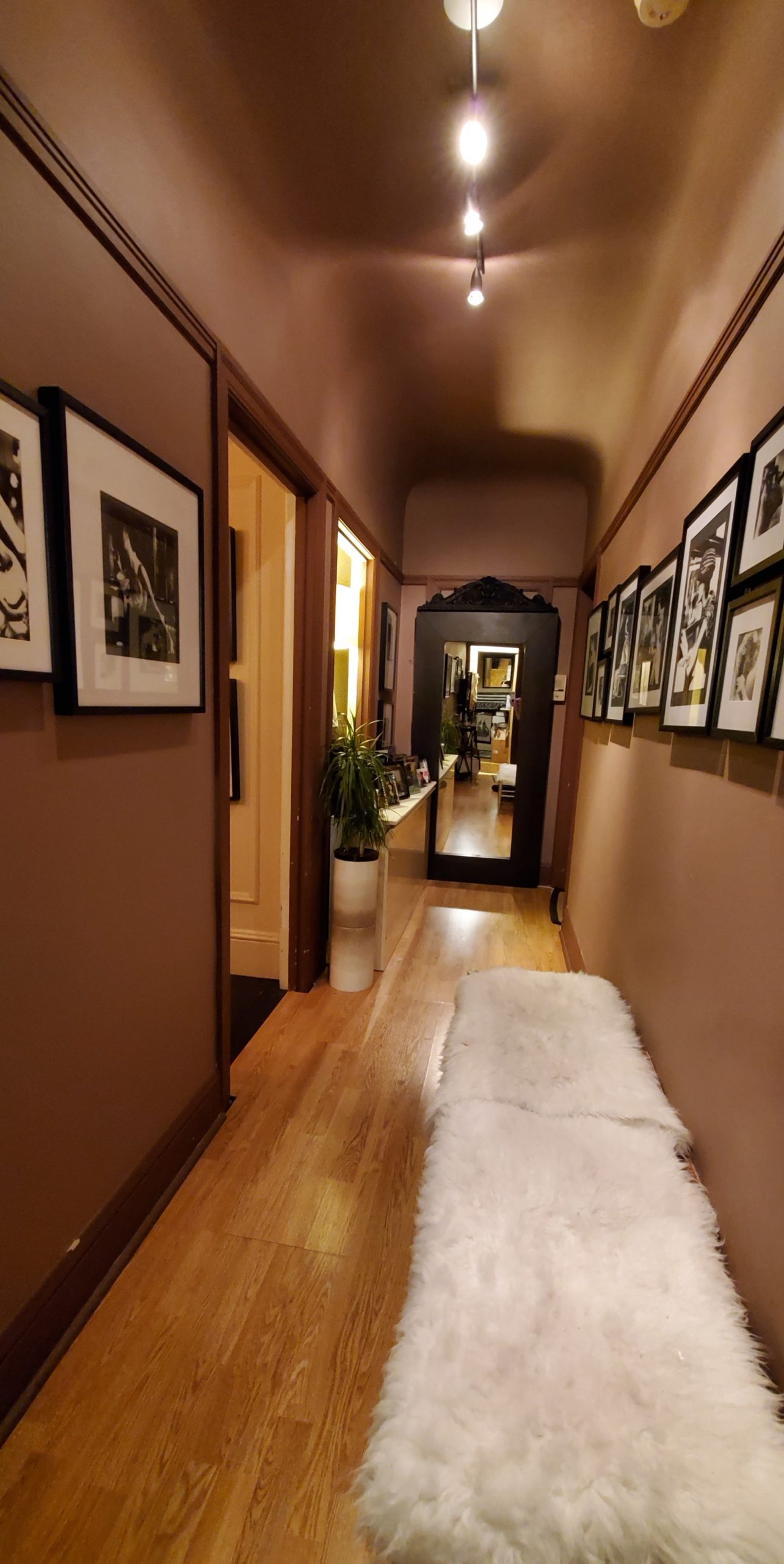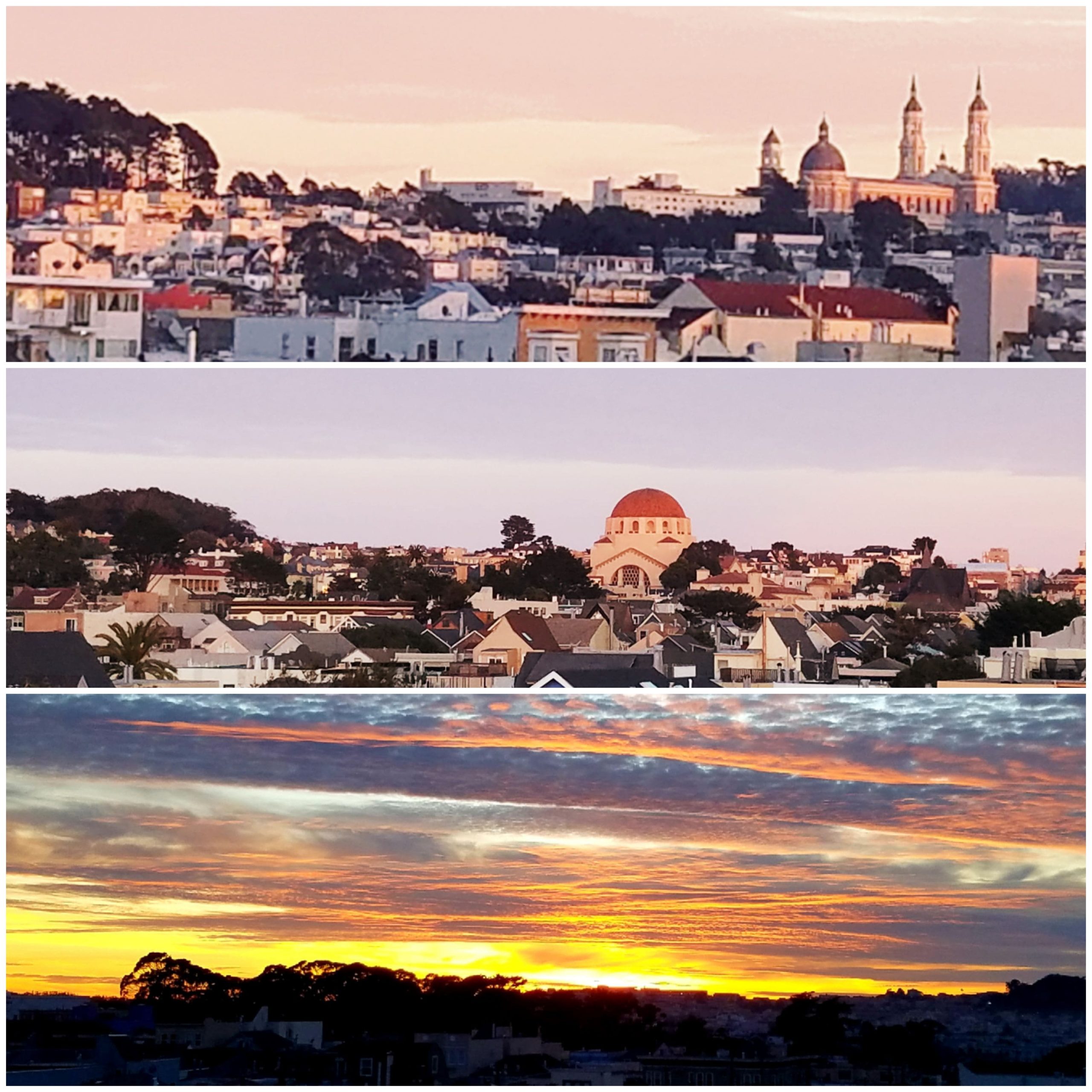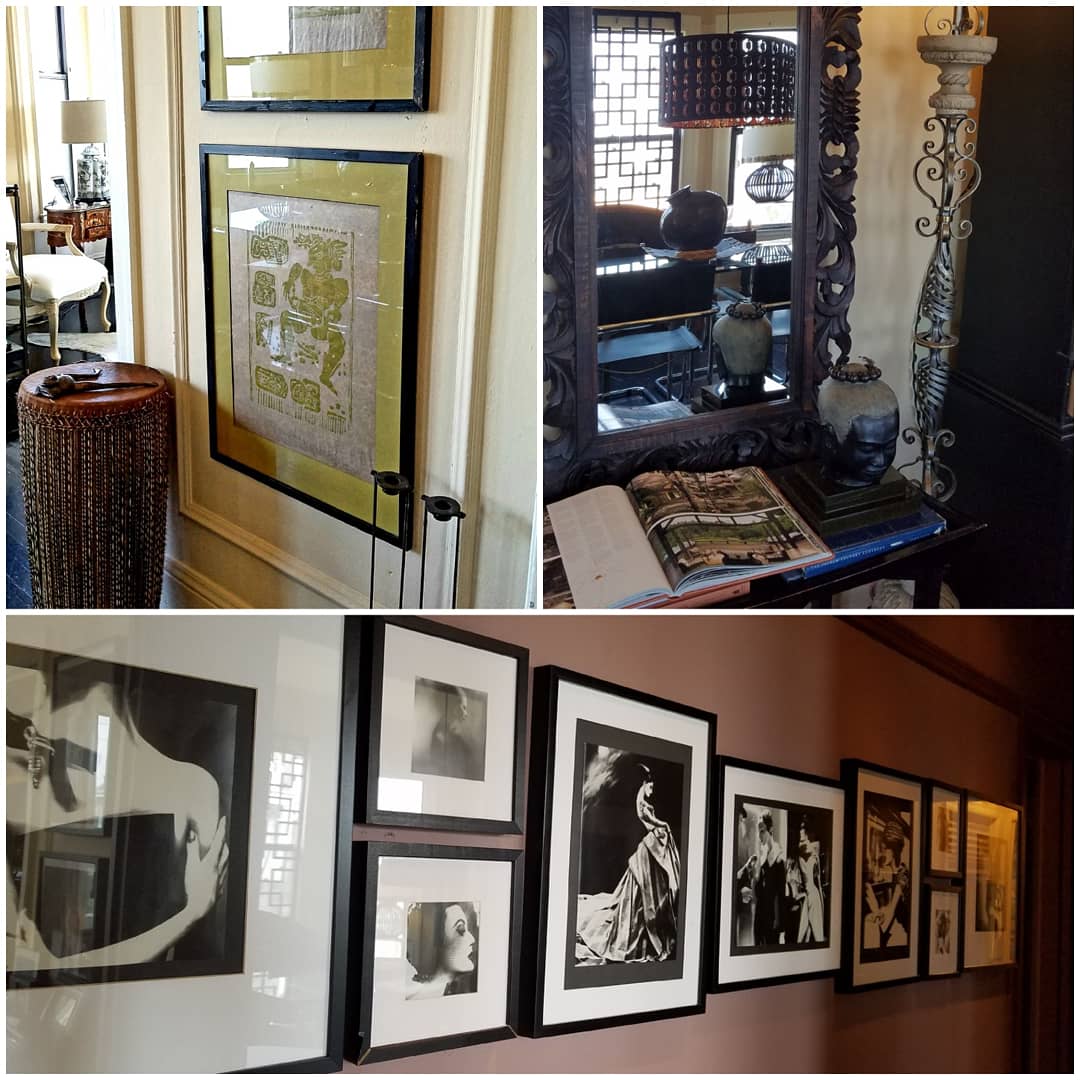 Name: Joyce Wang
Location: San Francisco, California
Home Type: Apartment
Home Status: 25 years – Rented
Size: 1000 square feet
Career: Director of Business Operations-cum-Interior Stylist
Facebook: https://www.facebook.com/rejoyceliving
Website: http://www.rejoyceliving.com/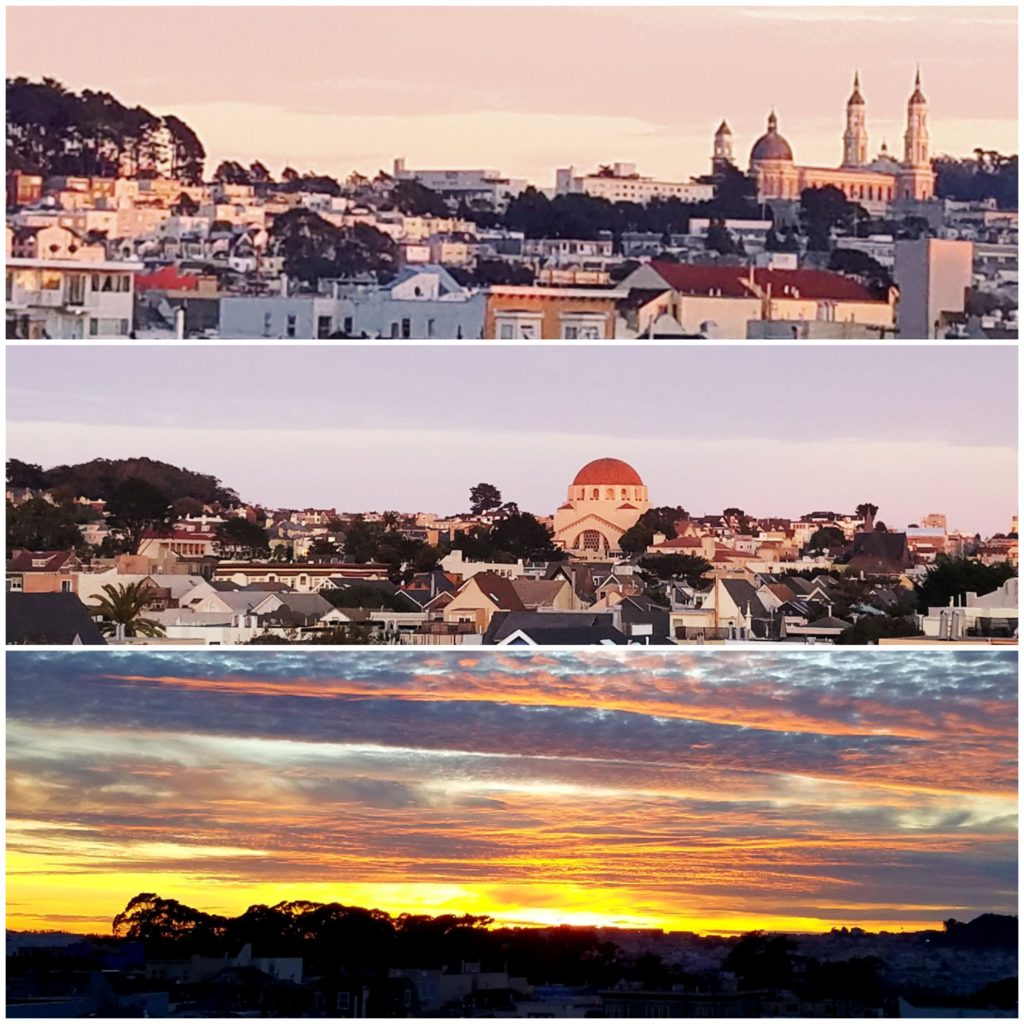 "Being on the top floor on the block, I can see the neighborhood rooftops and watch the rolling fogs coming from the ocean in the afternoon. With the exception of my bedroom, I opted out any window treatments," she says of the stunning views. Her choice to leave the windows "as is" has made her apartment a bright and sunny haven.
San Francisco Living and the Impact On Furnishing
San Francisco is known as the "cultural, commercial, and financial center of Northern California." Though the cost of living is high, it is truly an inspiring and fun place to live when it comes to art and design. But with such high living costs comes the need for budgeting. How has Joyce managed to afford the luxury of finding the perfect pieces for her home?
Well, she tells us that she has collected pieces from all manner of places: flea markets, garage sales, consignment stores, antique shows, and online marketplaces like Facebook. "I feel my home tells a complex but balanced story: chic with a lived-in appeal, elegance with cheer and warmth, boldness with whimsy. In short, I had always wanted my apartment to feel like a Parisian Pied-a-terre," she says of her unique style. By collecting pieces from so many different sources, she has been able to afford being picky about her style. She has also truly made her apartment feel unique.
Joyce Wang's Love for Interior Styling
Joyce truly fell in love with interior styling while she was in graduate school. She saw it as a perfect creative outlet that could not only give her a break from finance and economics but also earn her a bit of extra money on the side. "It kind of took on a life of its own," she says of her passion for interior styling. "Now I split my time between working as a Business Operations Director, and running a lifestyle management business in interior projects, special events, and travel planning."
Joyce's Style: Old Hollywood Glamor, Modern Art Deco, French Countryside, Asian-inspired appeal, Eclectic International
The Tour
A Welcoming Entryway
The artistic vibe of Joyce's apartment starts at the door to her apartment, spilling out into the hallway. A lovely wirework person gestures to her door, welcoming you to her home. The two potted plants add dimension and guide the eye to the modest artwork that hangs on the door and the wall. All of these elements are natural, minimalist, and earthy, which leave you feeling calm and welcome.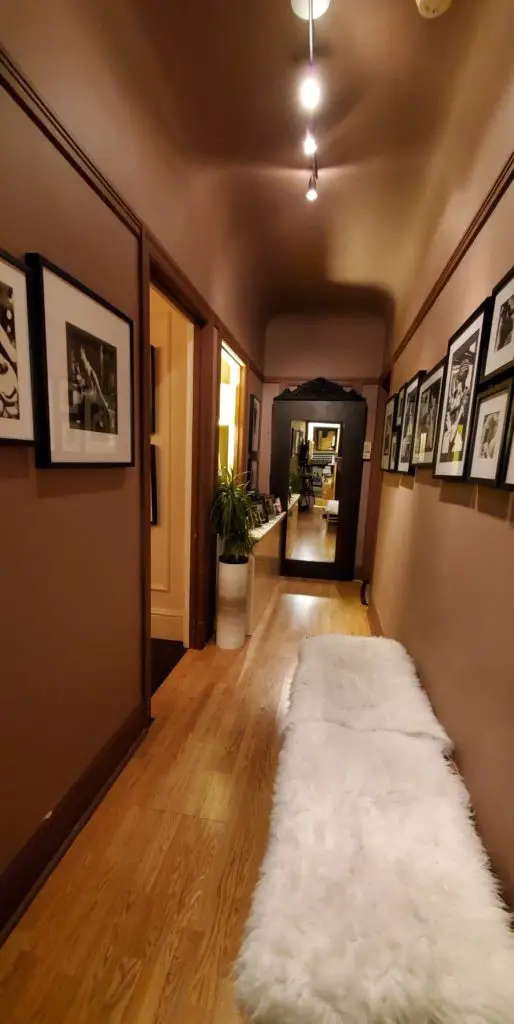 High-Ceilinged Front Hallway
The front door opens into a soft-brown hallway with lovely, high ceilings. The high curved ceilings were actually one of the selling points for Joyce when it came to choosing the place. The light fixtures on the ceiling cast the perfect amount of light to illuminate the black and white photographs that line the walls. The full-length mirror that stands near the front door helps to elongate the hallway, which makes the small space feel more open and welcoming.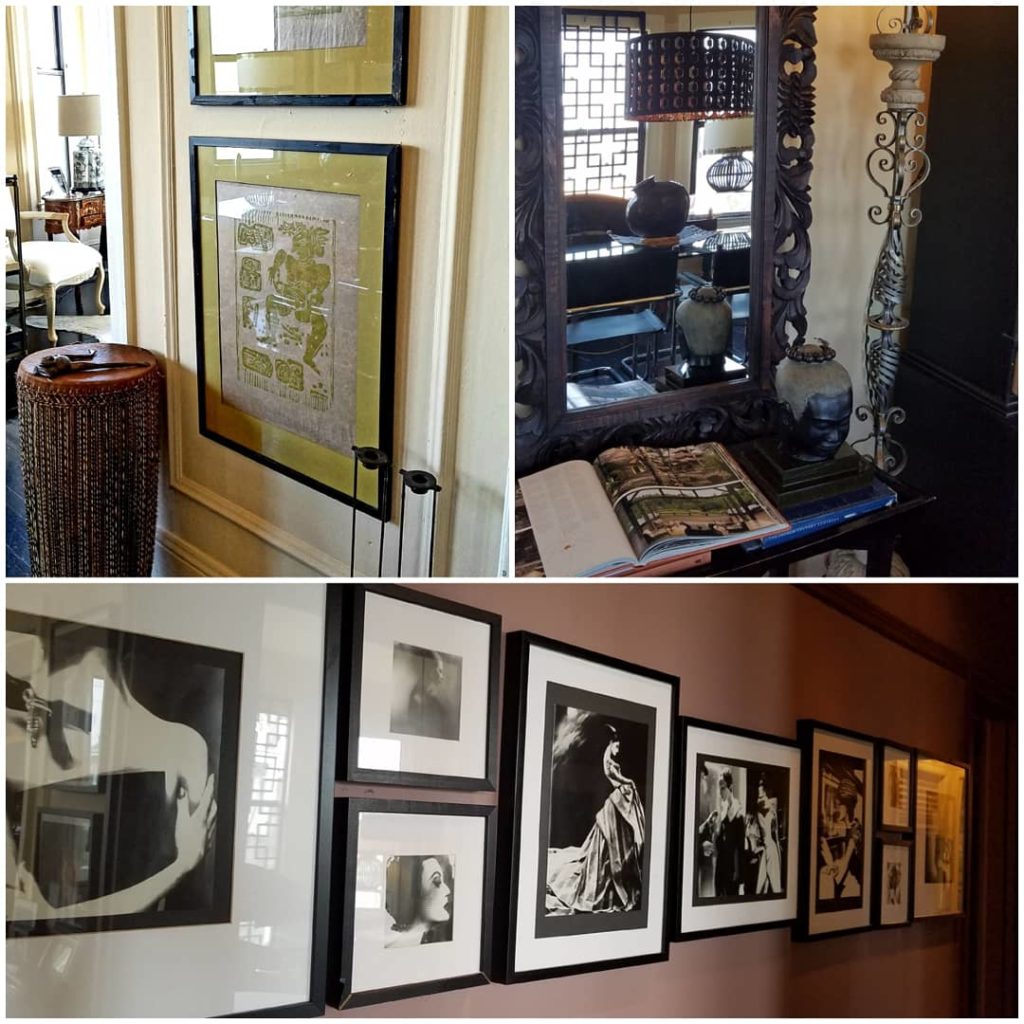 The varied art styles in her home help to showcase her favorite design styles in an impressively cohesive manner. There are Asian nods, European influences, and everything in between.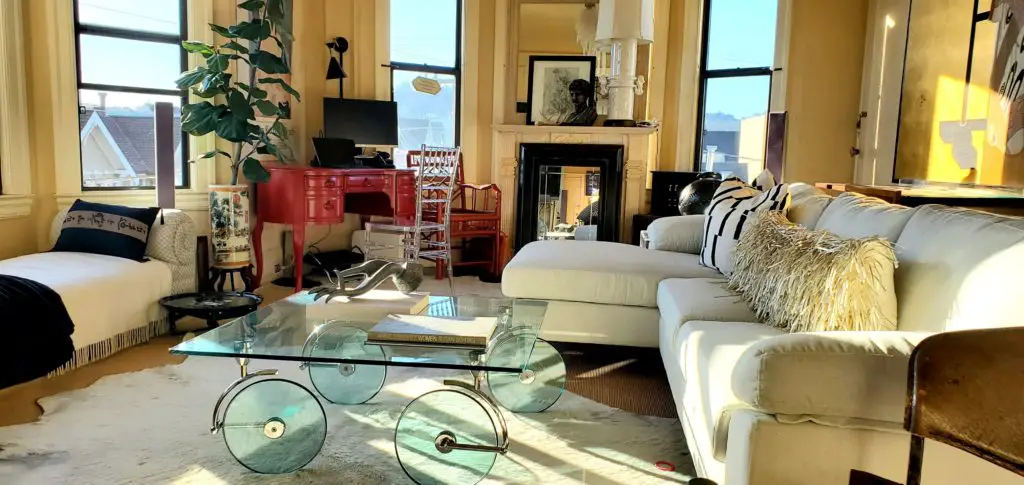 Open Space and Subtle Character
From the hall, let's continue into the living room. Joyce has taken advantage of the large, open windows and maximized her natural light. By keeping the color scheme of her living room lighter, the room maintains a perpetually bright demeanor. The white linen sectional was a more recent purchase for Joyce. "I waited for the right size, material, and price for a long time, and finally found it on Facebook marketplace," Joyce tells us of how she came across the very important furniture piece.
Furthermore, the darker pieces she has included really pop and accent the room. The red vanity desk is a perfect splash of bright color that doesn't feel jarring. Joyce found it at a garage sale for 30 USD. "I stripped and painted it in red lacquer," she describes her restoration process. The color is wonderfully bright, but not garishly so. She calls the piece "one of [her] treasures".
The clear, wheeled coffee table adds a fun element of modernism. It makes a perfect surface for fresh flowers, and books for guests to peruse.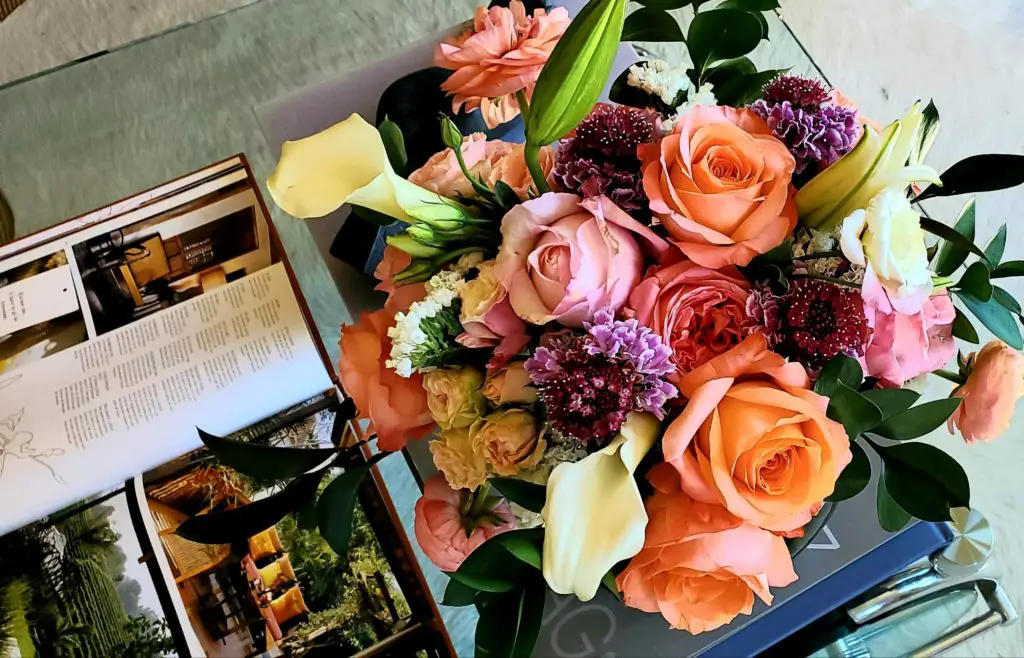 Under the mantle of the old fireplace, she has placed a mirror which, once again, helps to open up the space. Not only does it reflect natural light, but it elongates the room in much the same way as her hallway mirror. It has the added benefit of hiding the unusable fireplace.
(Take a look at our tips for how to brighten up your bedroom (or any other room) with natural light, mirrors, and lighter colors here.)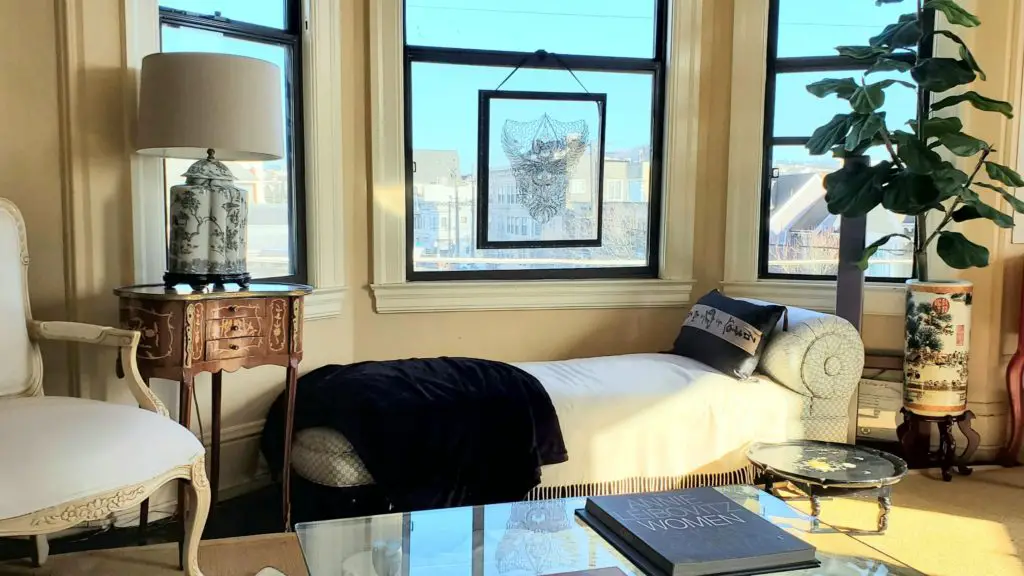 High Ceilings and Tall Accents
Joyce also makes great use of the height of her space. The tall house plant beside the vanity desk adds more dimension to that side of the room. It helps to draw the eye up to the window and the gorgeous San Franciscan view. Continuing to the right, the tall lamp on the mantle further contributes to drawing our gaze upwards.
Behind the couch are two lovely, hand-painted Japanese screens. Joyce describes them as another one of her "treasures" and a "statement piece that makes everything else look great". They were originally purchased from a famous local retail legend, Gump's. "I bought them from a friend who had fallen on hard times, so they can remain 'in the family'," she tells us. The screens have been beautifully elevated above the couch, and they are truly captivating in the space.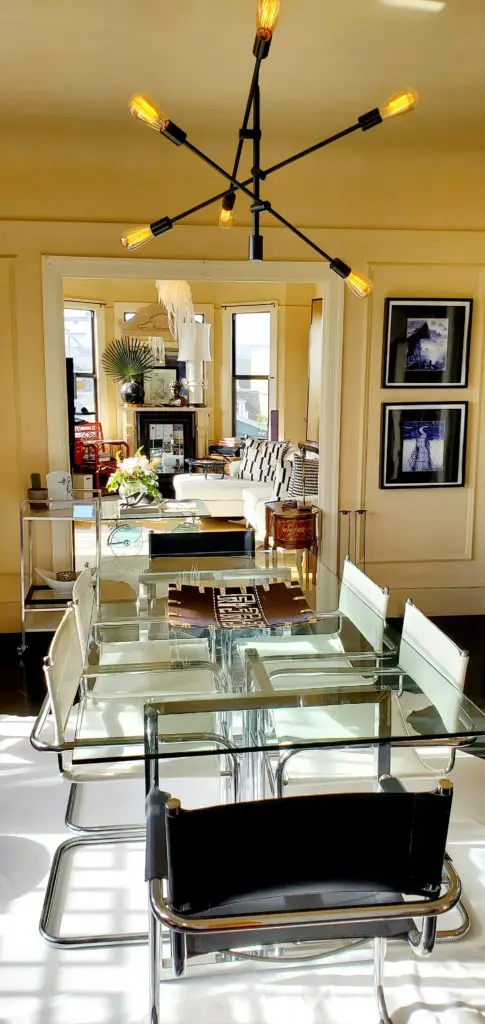 A Clear and Bright Eating Space
Joyce removed the doors which used to separate these two spaces. Now, the living room opens seamlessly into a cozy dining room. Being the " shameless foodie" that she claims to be, Joyce's dining room tells the story of someone who wants the food to be the main attraction. It is simple, but still a delight to look at. The clear dining table matches the aesthetic of the fun coffee table that we saw before in the living room. Not only does it brighten the room, but it stimulates the eye because of all the texture we can see through it. The simple dining chairs help to give the room more character without making it feel too busy.
The fun, black light fixture with golden visible bulbs really help tie the modern space together. It draws the eye upwards and is a fun contrast with the simple table and chairs below.
One of the architectural details that Joyce says she loves about her home are the wall moldings. In this room, you can see how she uses them to frame and center the black, white, and blue photographs.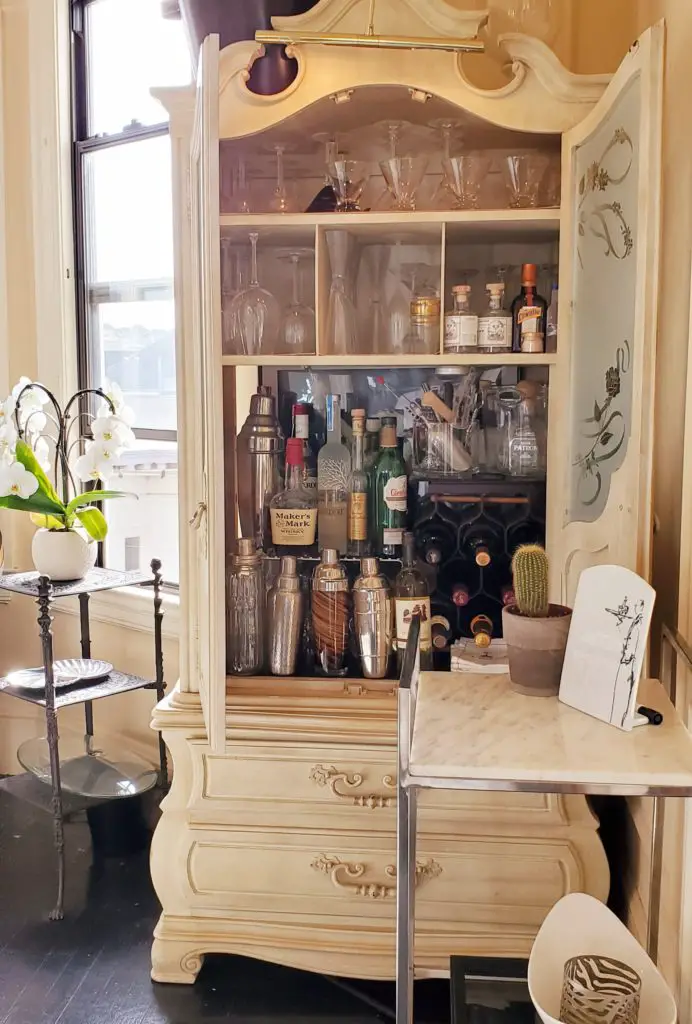 If you look to the left, this splendid liquor cabinet is both functional, and magnificent to behold. The translucent glass panels on the doors are decorated with delicate designs that mesh well with the dining table. Together, they tell a story of subtlety and elegance.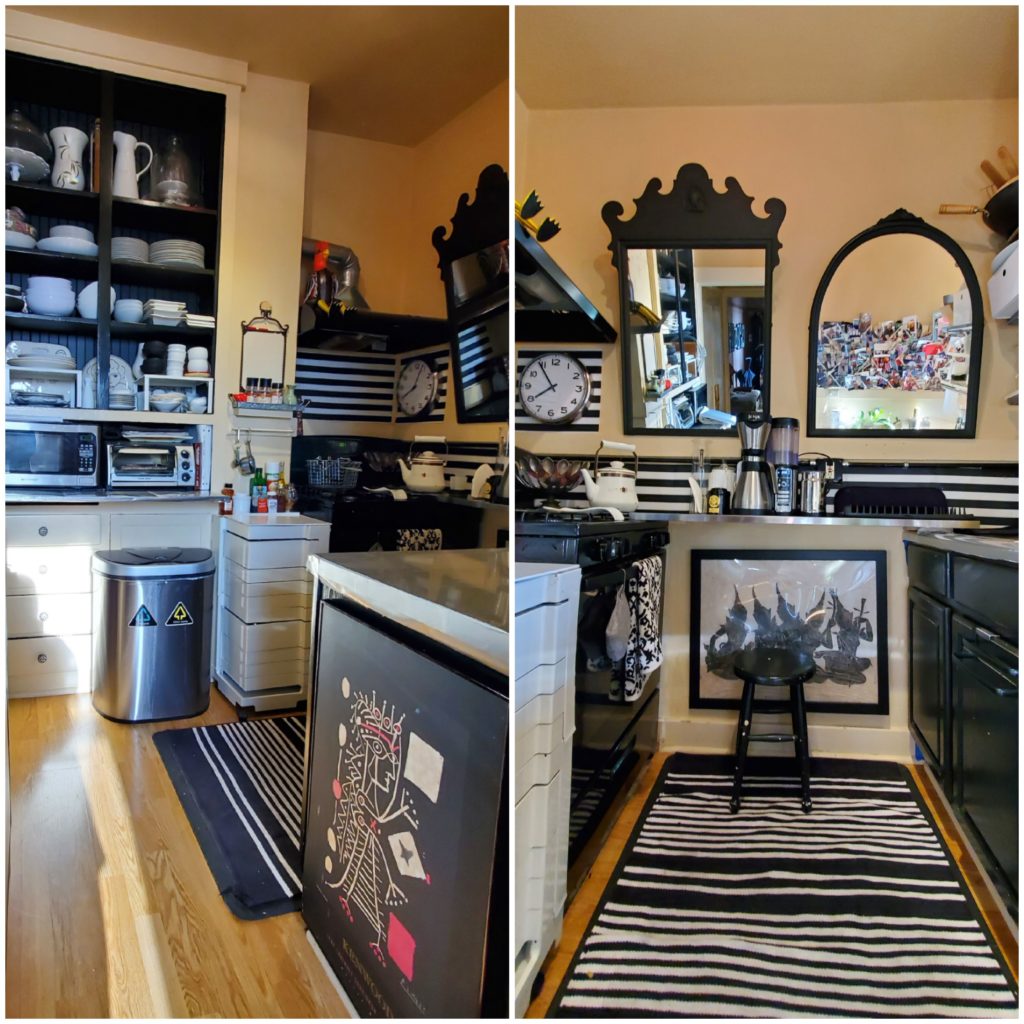 A Busy Little Kitchenette
Having been built in the 30's, the kitchen is rather small with sparse outlets. The striped carpet and wallpaper of the kitchenette help it to appear slightly larger than it is. They also give the small space a feeling of movement that reminds one a bit of Alice In Wonderland. The black and white scheme manages to keep it fun and busy without making the viewer feel nauseous. If you look between the sink and the stove, Joyce has cleverly utilized a blank space with an art piece that softens the stripe pattern. It is a nice buffer between the busy stripes on the floor and walls.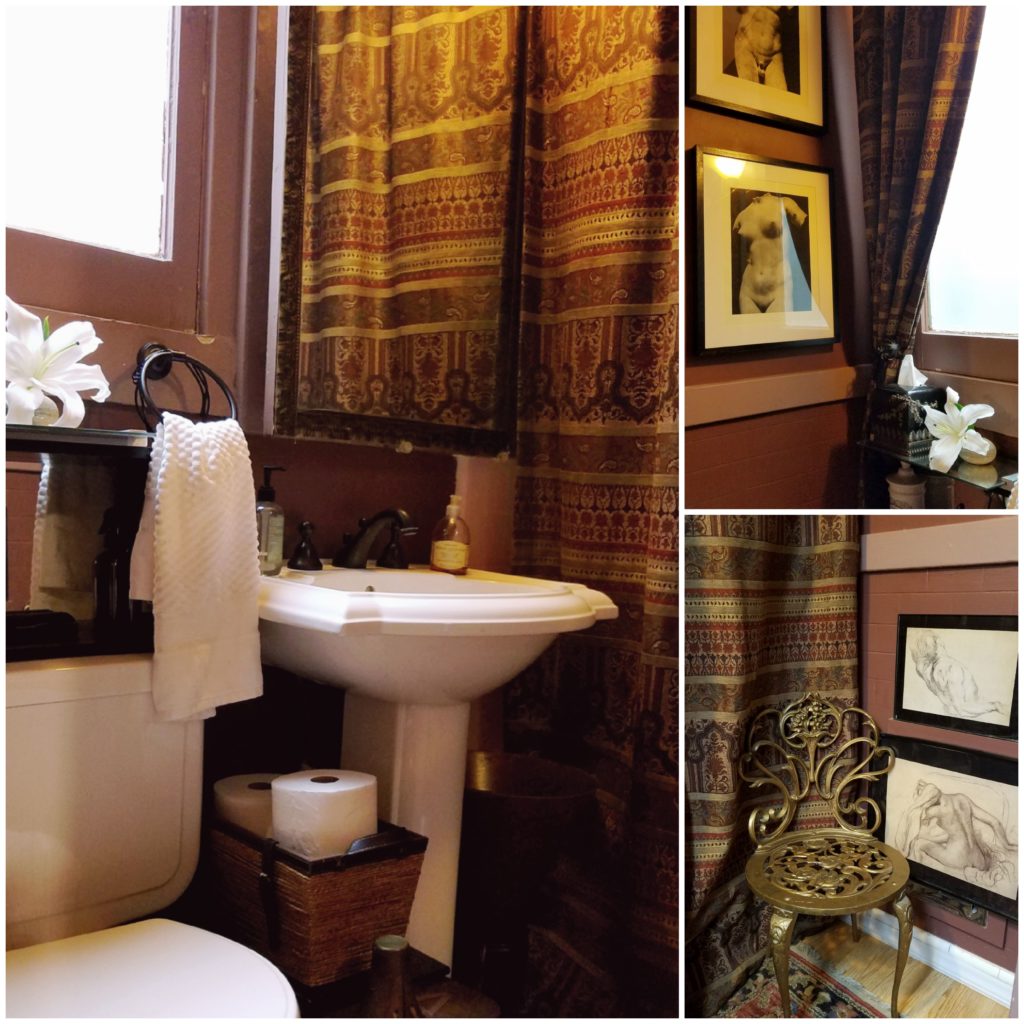 The Cozy, Artsy Bathroom
From here, let's take a look at the small bathroom. Despite its size, Joyce has managed to fit several beautiful pieces in here. The patterned curtains and golden, detailed chair give the space a feeling of royalty. They also contrast nicely with the plain white of the toilet, sink, and hand towel. Furthermore, the soft nude sketches and pictures of famous nude sculptures give the room an almost museum-like quality.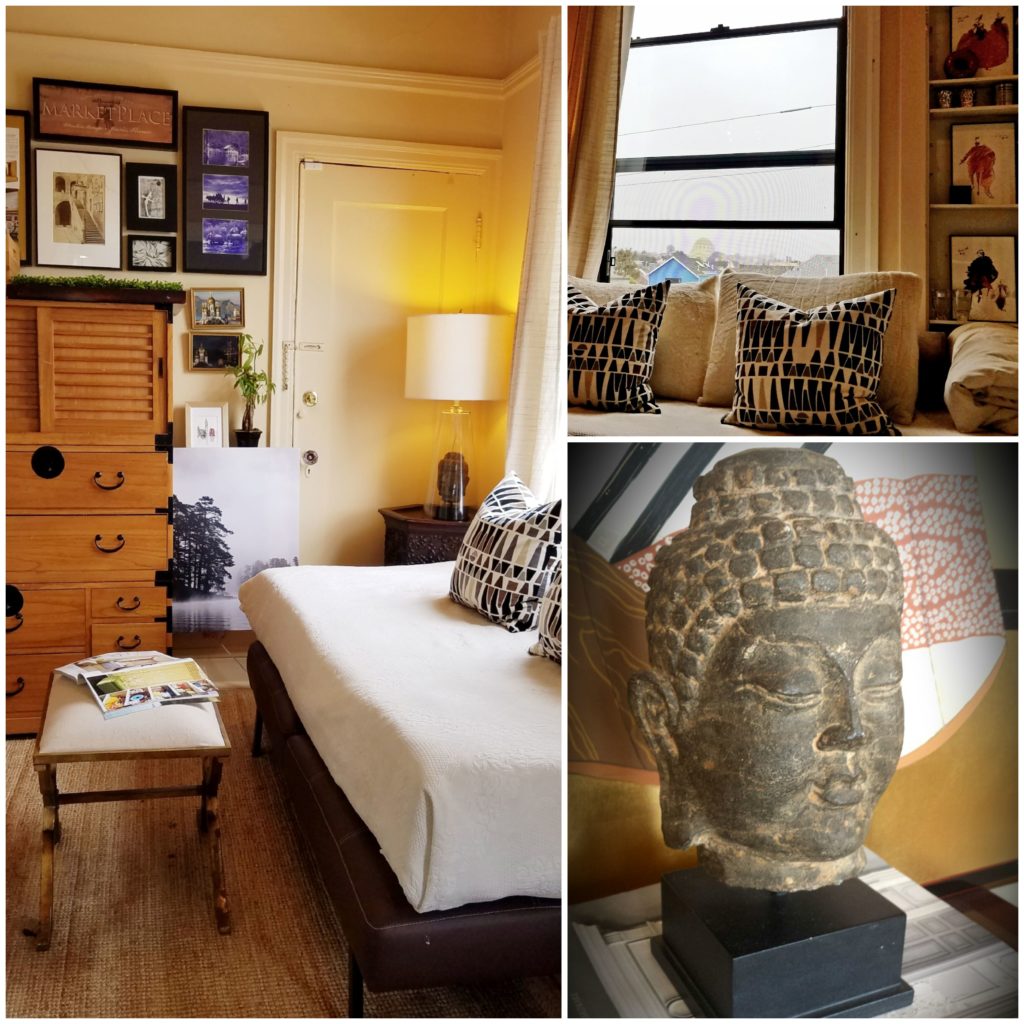 Meditative Study For Reading and Relaxing
This small room serves as a cozy little hideaway to enjoy a new book, or ponder life. It is important to have little private spaces in your home that you can spend some quite alone time in. Joyce has really captured that feeling in this room. The colors are subtle and welcoming. The Buddha bust adds to the meditative vibe of the space, encouraging peaceful deep thinking.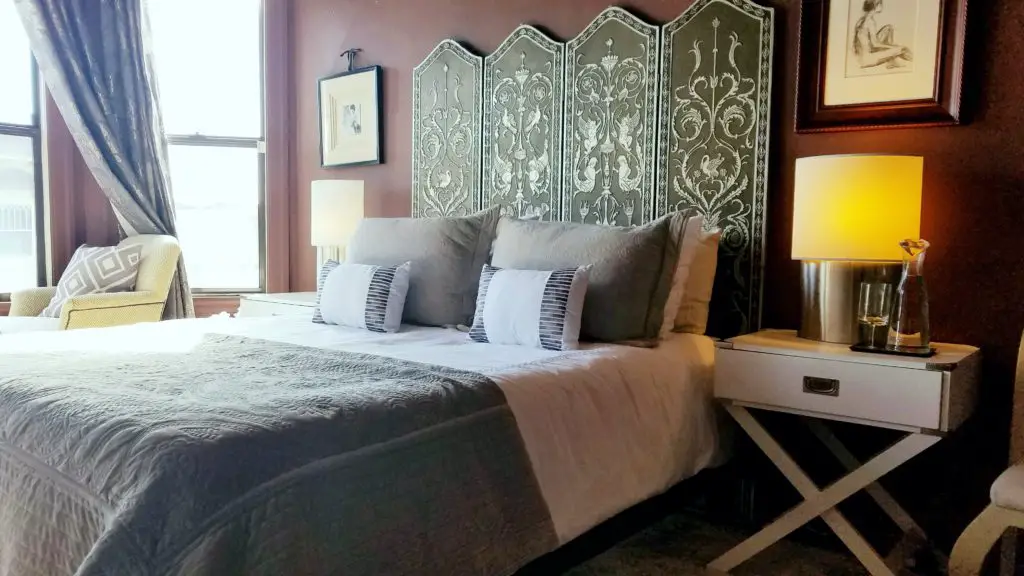 The Perfect Bedroom to Lounge in All Day
Lastly, let's lounge in this luxurious sleeping space. Joyce tells us this is one of her favorite spaces. There is a comfy chair by the windows – perfect for gazing out at the view. The green ornamental screen behind her bed was a piece that she saw on her many visits to an antique mart over the years. "Every time I visited the mart, I would hope it was still there. One day the owner told me the mart was closing and he would like me to finally take the screen home, so he offered me a deep discount; I was so touched!" she tells us, reminiscently.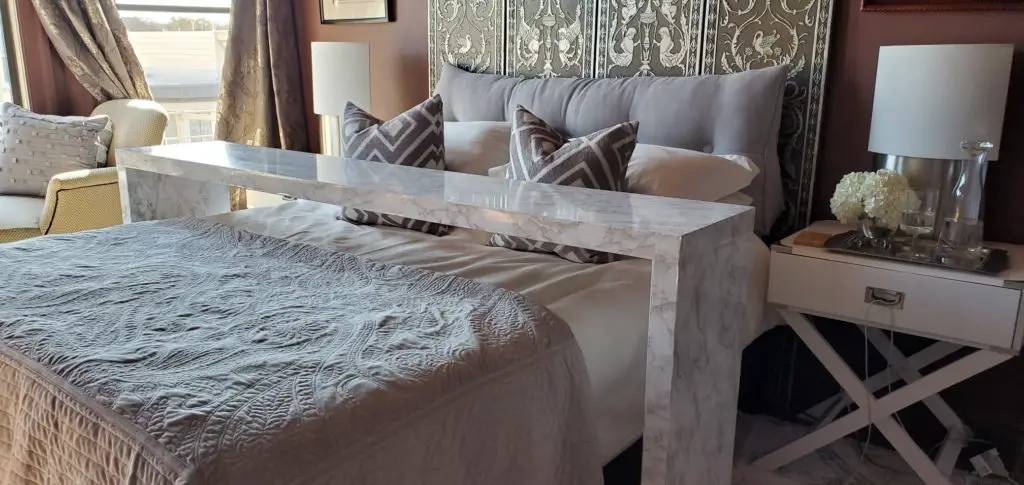 Joyce's other favorite piece in this room is her very useful and elegant over-the-bed table. If she even needed another excuse to spend all day in this room, that's it. It's perfect for working, reading, and having breakfast in bed! The best part? It was made with love by her boyfriend, increasing the sentimentality. She tells us that she covered it with peel and stick white marble paper – we didn't even notice until she pointed it out!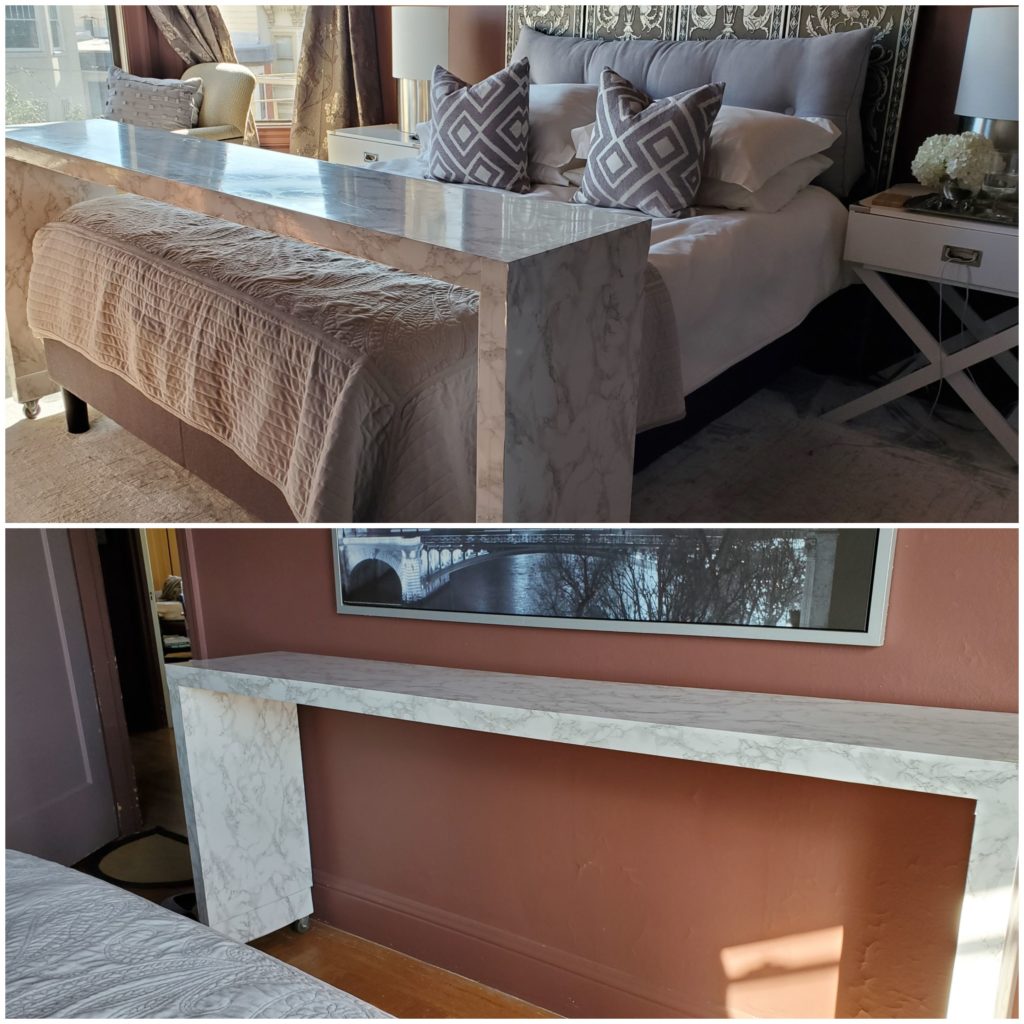 Not only is the over-the-bed table a unique and useful piece, but it's also easy to store. When she's not using it, she rolls it over to the wall where it acts as a useful and spacious mantle. Genius!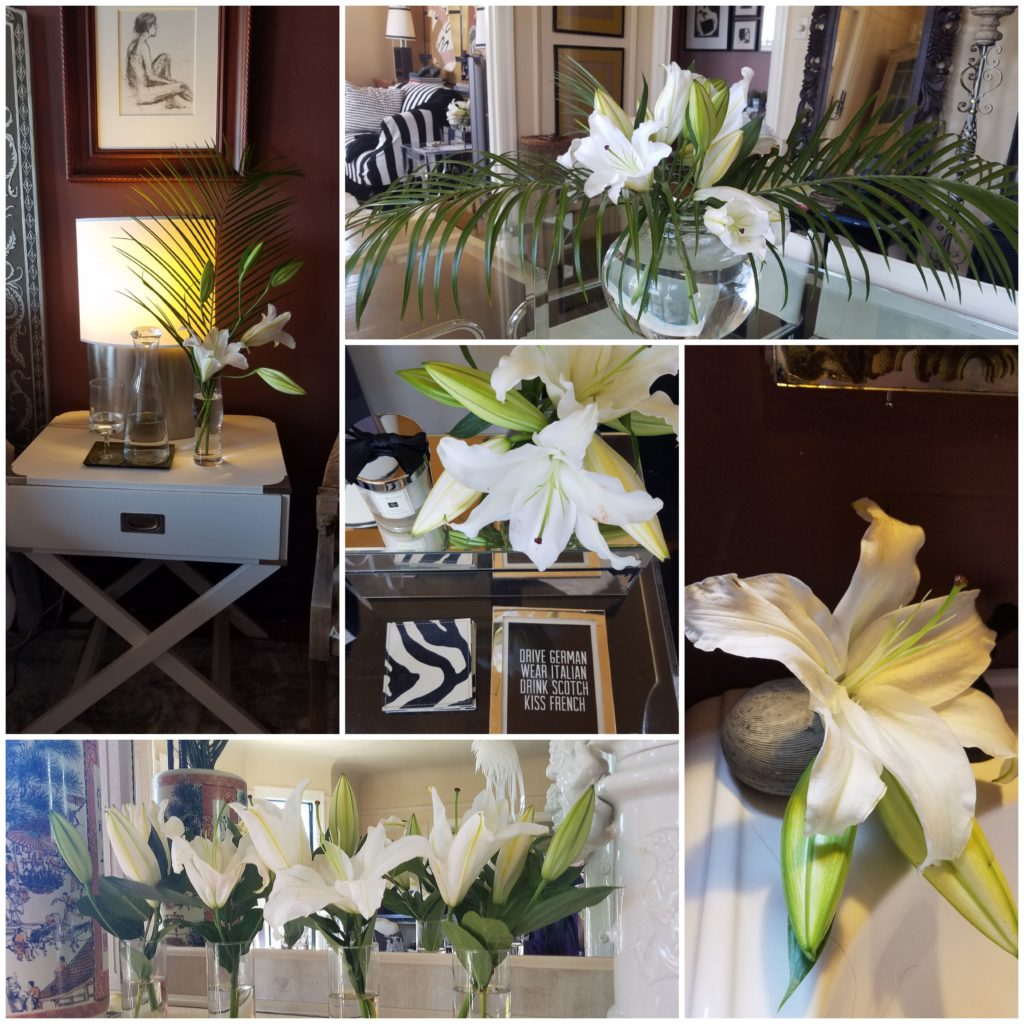 Accent Flowers
As a little tour-end bonus: Joyce places fresh flowers in the key rooms of her apartment whenever she can. This is an excellent strategy to make the rooms smell nice and give your home a more fresh and lively vibe. For Joyce's home, they also add to the earthy aesthetic of many of her pieces.
Any tips for creating a home that you love?
"I try to be open-minded when it comes to shopping and design. I don't think of my home as 'just an apartment' or 'just a rental'. Like people, your home should grow, expand, and evolve over time; but at any given time, it is at its best. Nothing is ever done or forever, so be brave, try the unusual, the unexpected, and even the unthinkable."
Lightning Round
Favorite Book: The Goldfinch
Favorite Movie: Parasite
Coffee or Tea: Coffee
Cats or Dogs: Dogs
City or Country: Both
Find out more about Joyce's interior styling business on her website or Facebook page.
Would you like your home featured here on Tutuhut? If so, fill out our Home Tour Submission Form and we'll craft a wonderful unique article about your beautiful home.