This post may contain affiliate links. Please read the disclosure for more info.
DonnaJean has always been an outdoorsy and earthy type of person. Her love for house plants started last year when she ended up buying a Pothos plant at Walmart for about $5. Since then, her plant collection has continued to grow.
Name: DonnaJean Thierry
Location: Camp Lejeune, North Carolina
Home Type: Military Base Housing
Home Status: Lived in for 12 months – Rented
Size: 1800 square feet
Career: Nursing
How One Plant Turned into Many Plants
"I ended up loving how much it brightened the space and made it feel homier, so I ended up getting more and more!" DonnaJean joyously expressed.
As her plant collection continued to grow, the amount of time she spent watching YouTube videos on plant care grew as well. She even went to nurseries to learn about different plant families and got well acquainted with the staff.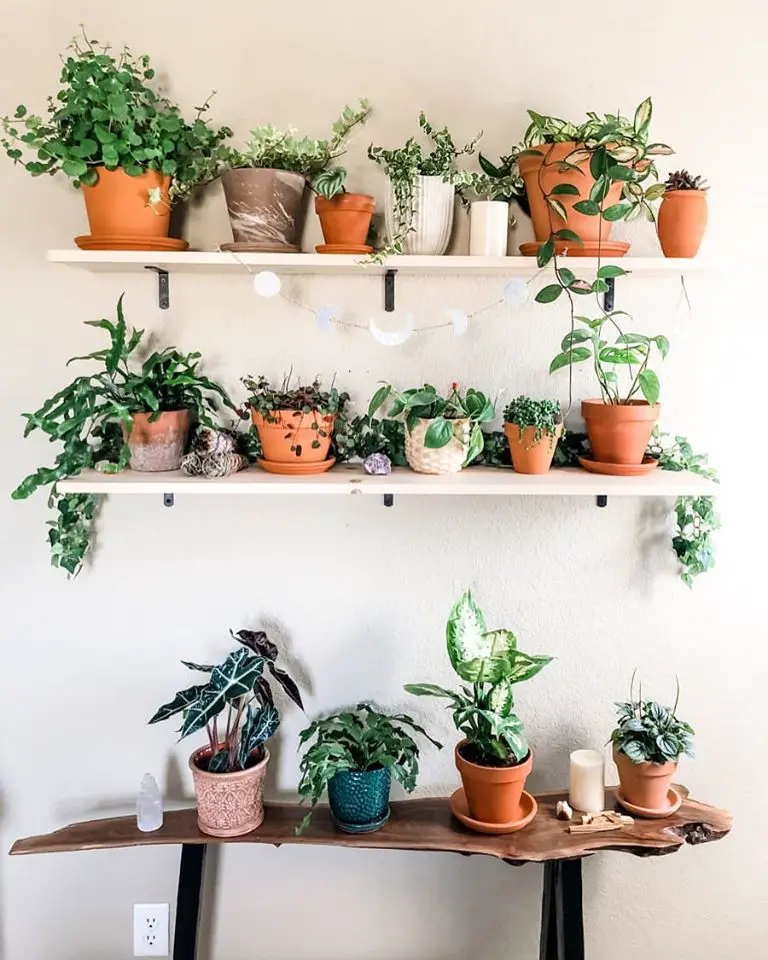 She reiterated, "Plants definitely add a certain something to a space in my opinion. Even if it's just one or two."
Her husband has also grown fond of the houseplant collection and has been able to contribute to making their space feel homier. Because of his unique craftsmanship in building shelves, tables, and other wooden furniture, he's been able to design complementary pieces for their ever-growing plant collection.
The Tour Through a Free-Spirited Plant Filled Home
A welcoming earthy aura fills the living room as you gaze over the mixed range of rich colors.
The teal wall behind the couch brightly contrasts the wooden floor and weaved baskets on the wall. From the first step you take, you can't help but notice how the room brings personality and nature into the home.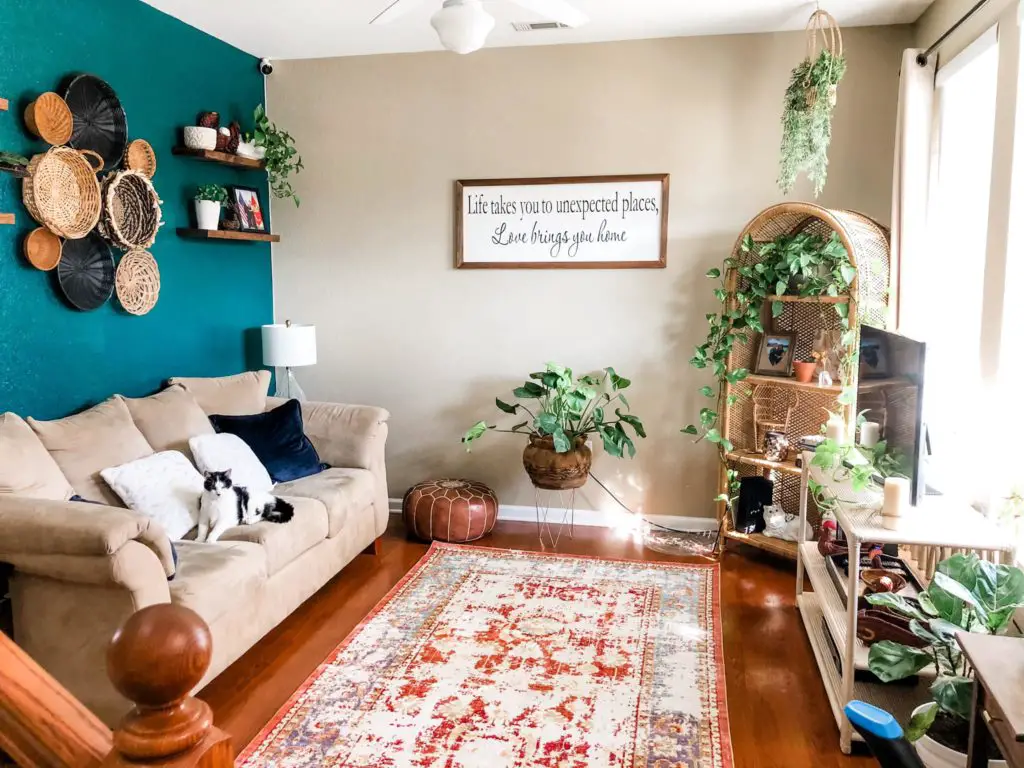 Life takes you to unexpected places, Love brings you home," is the living room's mantra that has been perfectly mounted on the wall. The range of potted, hanging, and shelved plants – including the vintage open cupboard – completes the space, making it feel homier.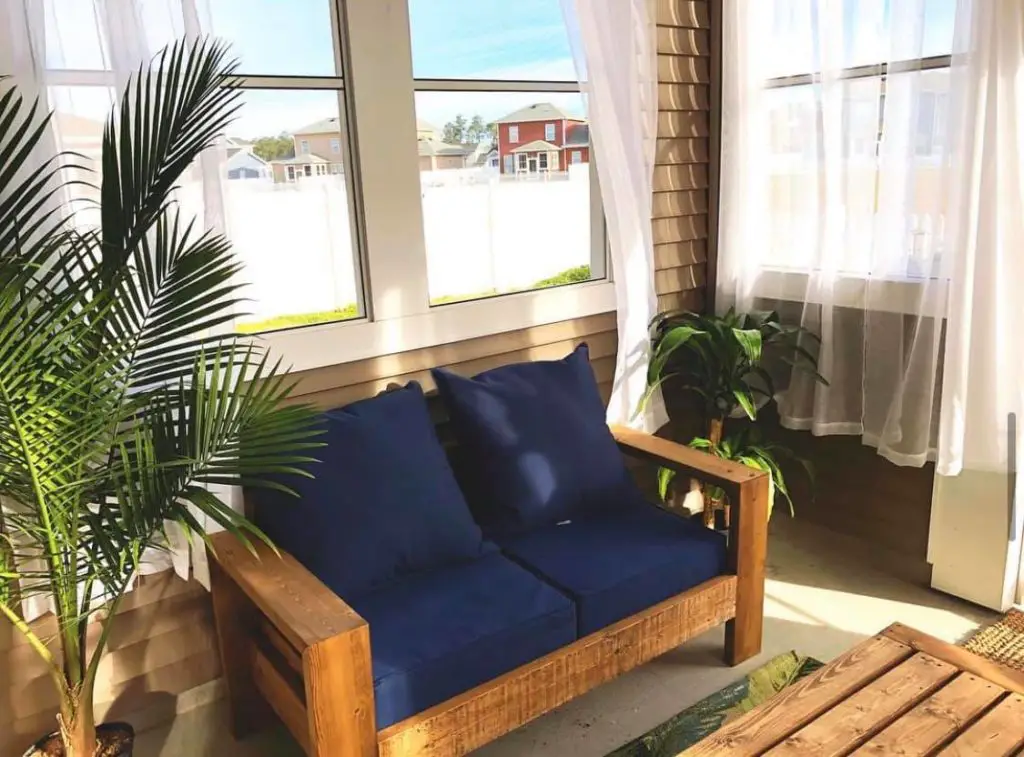 The bedroom presents a soothing mix of geometric patterned boho pillows with varying deep colors and textures, while the kitchen takes advantage of solid colors and textures.
Although DonnaJean and her husband have only been in their home for 12 months, they have been able to create an inviting home that reflects their holistic approach to staying happy and healthy.
DonnaJean Instagram: donnajean_thierry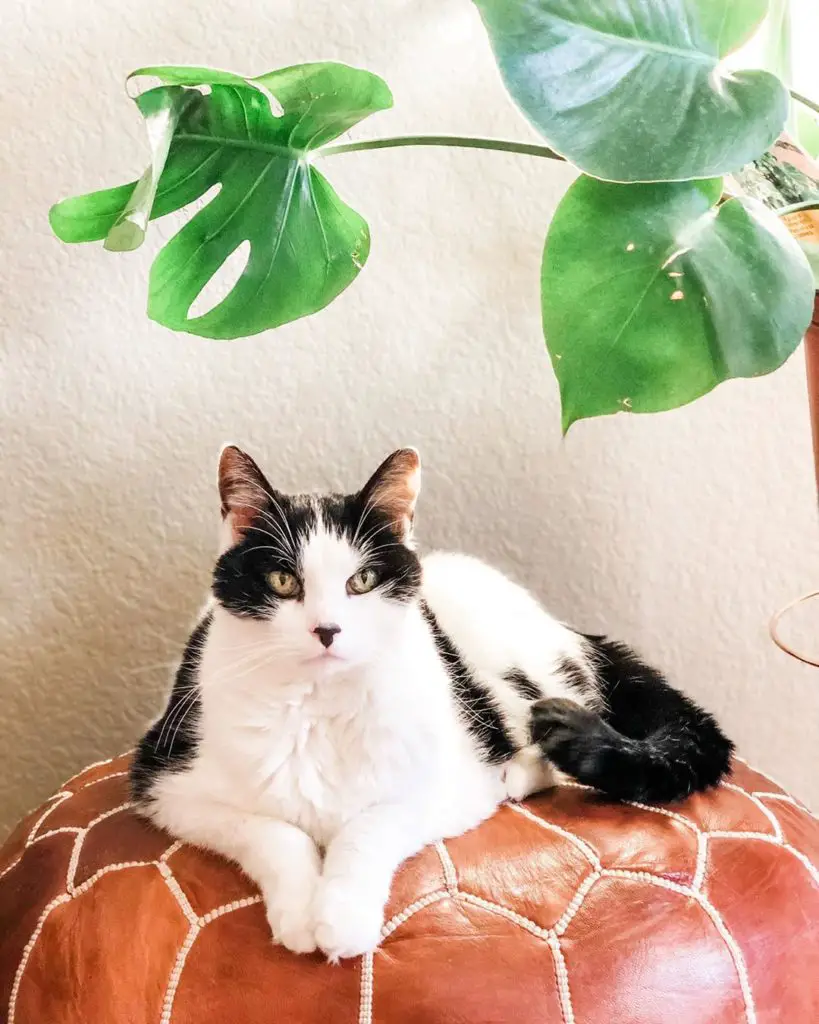 Tutuhut Talk
What's your style?
"I am a mix of boho/Scandinavian."
What's your favorite area and/or piece?
"Right now, I love my bedroom. My favorite furniture piece is this bench my husband made for the end of the bed. He's been doing a lot of woodworking lately with live edge pieces."
Any tips for creating a home that you love?
"The tip I have is to do what you love in your space. Don't just go for any type of style just because that's what it says it's supposed to be. If your home doesn't feel like a reflection of you it will never truly make you happy."
Lightning Round
Favorite Movie: Harry Potter Series
Coffee or Tea: Coffee
Cats or Dogs: Cats
Country or City: Both!
Would you like your home featured here on Tutuhut? If so, fill out our Home Tour Submission Form and we'll craft a wonderful unique article about your beautiful home.