This post may contain affiliate links. Please read the disclosure for more info.
In 1340 BC, King Tut slept on one of the earliest platform beds recorded in history. Previously a sign of prestige, platform beds were reserved for individuals that had power and status. Fast forward a few hundred years though, more individuals have access to these beds and are choosing these low-profile bedframes.
So, what's the deal with platform beds, and why are they soaring in popularity? Is a platform bed right for you, and if so, what style should you choose?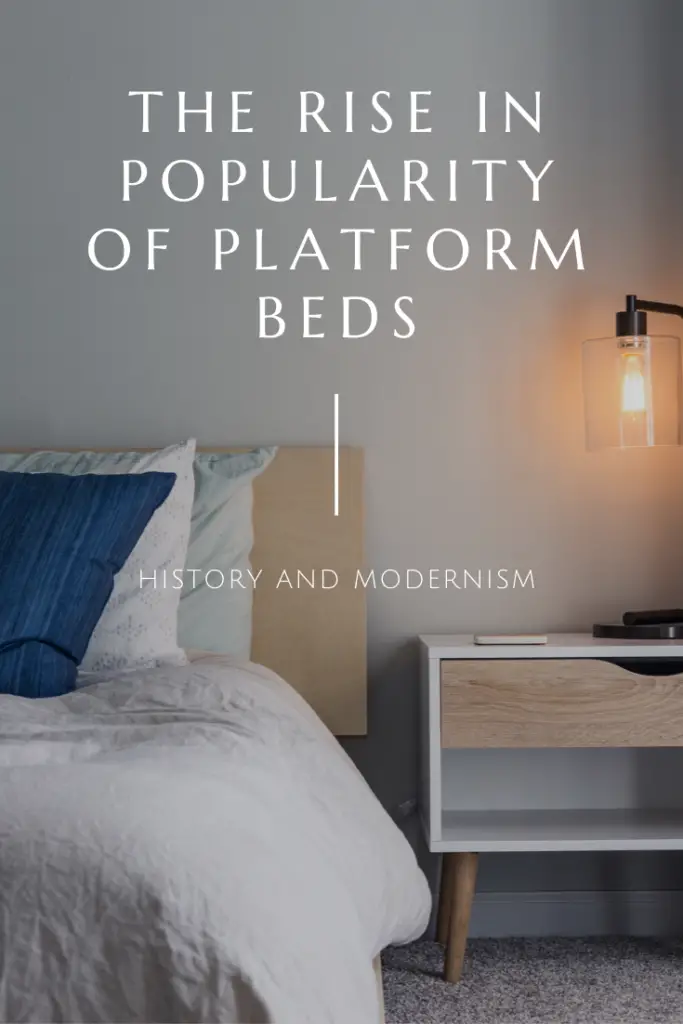 What's the Big Deal with Platform Beds?
The history of platform beds is a bit ambiguous. Studies have led us to believe that platform beds were generally reserved for people of prominence. These platform beds were usually made of rare materials and precious stones.
As technology has advanced, these beds can now be made more affordably, at scale. For this reason, nearly everyone has access to the once iconic platform bed.
But why are platform beds booming in popularity now?
Outside of mass scale and affordability, one contributing factor to the boom in platform beds is mattresses getting deeper.
Mattress technology has improved over the years. Companies are incorporating more layers of coils, foams, latexes, and natural fillings to achieve the perfect blend of comfort and longevity.
As mattresses get deeper, individuals prefer platform beds instead of bed frames that require box springs. And, with less dependency on box springs, comes the creativity, innovation, and growth of lower centered bedframes – Platform Beds.
So, what's with the actual sensation behind platform beds? That can be captured in one word, modernism.
Modernism – The Sensation Behind Platform Beds
As more homes get renovated, and new luxury apartments and condos pop up, individuals are saying goodbye to their old boring metal bedframes and introducing these low platform beds into their room.
People want modernized homes, and that includes the bedroom—a new feel, a new look, with a touch of modernism.
What's a hot trending modern style bedroom right now? Well, according to Google Trends, "Scandinavian Bedroom" searches are on an uptrend, and you can't think Scandinavian Bedroom without thinking (wait for it…) you guessed it, platform beds!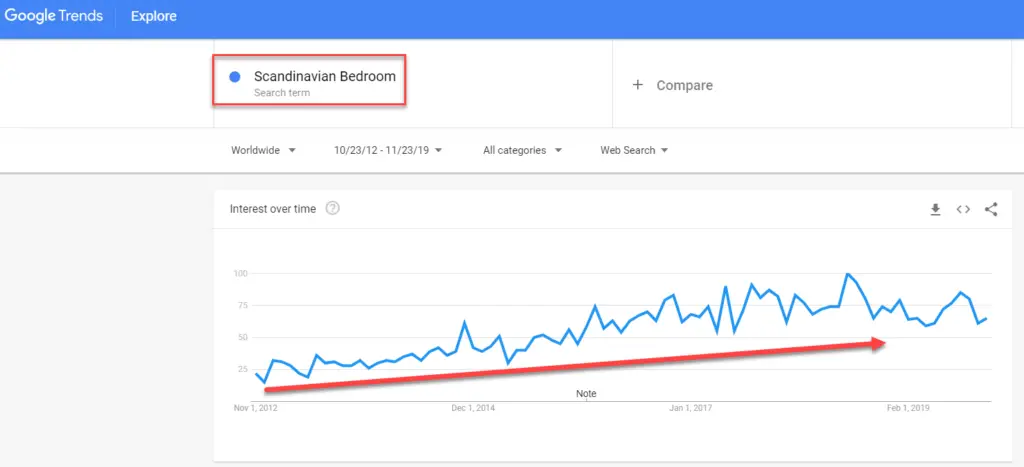 While Scandinavian bedroom designs aren't the only reason for the newfound popularity within platform beds, it's undoubtedly part of the equation.
Scandinavian design aside, modern platform beds have a clean, simple look.
One of the big draws to platform beds is they don't look too busy. The slight elevation off the ground, combined with its neat rectangular design, introduces that breathe of fresh air in modern bedrooms.
They fit perfectly in a minimalist style bedroom and provide a feeling of clarity and simplicity.
Should You Get a Platform Bed?
We've established the fact that platform beds are trendy and look wonderful. Yet, it's not for everybody, and having a platform bed in a bedroom that doesn't tie it together can be quite jarring.
Well then, what are some things to keep in mind before deciding if a platform bed is right for you?
Bedroom Spacing and Sizing – Before splurging on purchasing a platform bed, make sure that it will fit well in the space. Many modern platform beds tend to have a wider backboard, so be sure to measure all aspects accurately.
Bedroom Styling and Theme – Ensure your bedroom style or theme supports the design of the platform bed you're considering. Have a cohesive theme and really plan out how you want your bedroom to look when all is said and done. You are only limited by your personal taste, creativity, and budget here.
Form and Functionality – Consider what form factor your room will support when it comes to platform beds and also keep in mind some platform bed frames come with storage units or attached shelving.
Here are some great platform beds to consider:
If you're a bit more of a DIY type, you can always build your own as well!
The appeal of platform beds is they fit in with modern design. Yet, there are so many different styles to choose from, you will still end up with a unique look and feel.
Platform beds can be made affordably at scale and don't require box springs. On top of that, they come in many beautiful finishes, sizes, and styles while providing functionality and utilization.
Platform beds are here to stay and will continue to grow in popularity as more homes become modernized. Maybe the next platform bed might just find itself in your home.