This post may contain affiliate links. Please read the disclosure for more info.
Have a small guest bedroom that is constantly being cluttered by random junk? Or in need of turning your home office or part of a living space into a guest bedroom for visiting family members? Trying to figure out how to host friends in your studio apartment or small one-bedroom? Never fear!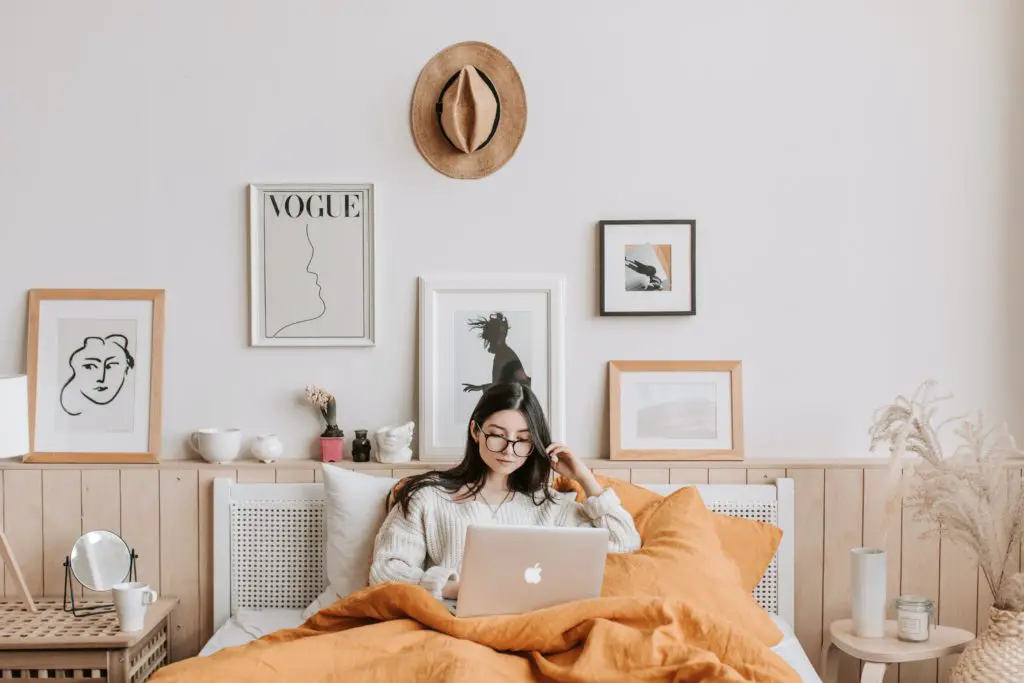 No matter how small your space is, we'll help you whip it up into a proper bed-and-breakfast level of hospitality in no time. We've got some great decorating ideas and design tips to make sure every guest you have feels comfortable — and isn't sleeping next to a discarded exercise bike or piles of clothing you definitely meant to drop off at Goodwill… for the past few years.
The key to being able to host guests in a small bedroom or home-office-turned-bedroom is to invest in space-saving furniture and make sure you've got a lot of convertible or hidden storage to make the most out of your square footage.
Get the Guest Bed Right: Murphy Beds, Wall Beds, and Fold-Out Couches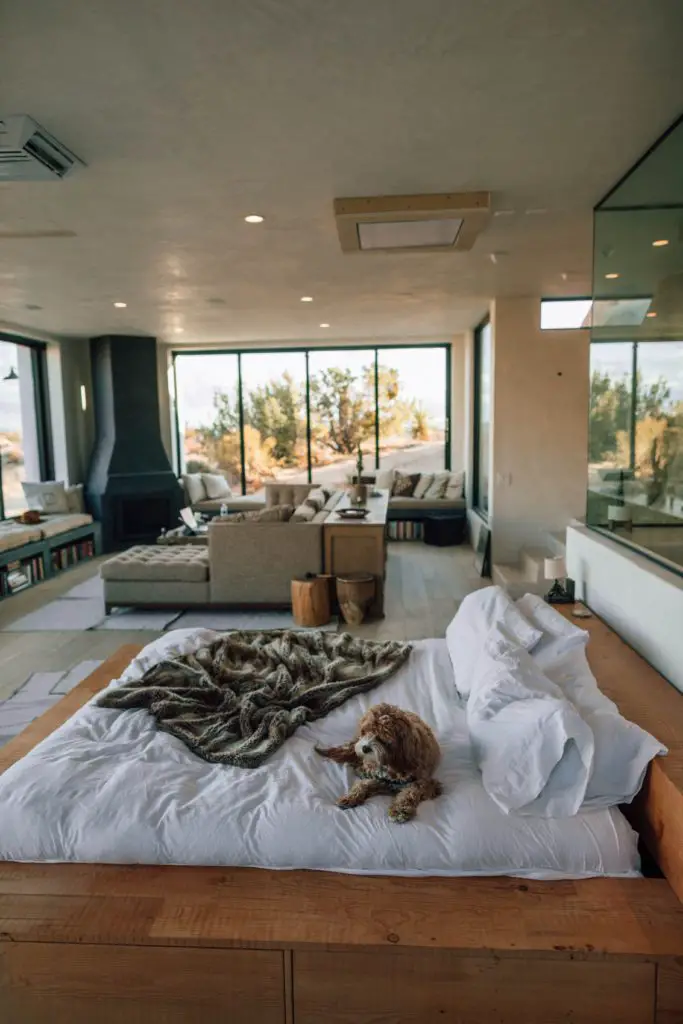 I don't know about you, but I promised myself when I was a kid that I would eventually be cool enough to have a dramatic revolving bookcase and secret passageway in my home. While I'm not there (yet!), having a wall bed or Murphy bed is right up there in terms of a magical way to save space, host guests, and have plenty of book storage still available. (Secret passageway not included!)
Typically, a bed is the focal point of a guest bedroom — or any bedroom for that matter — and thus takes up the most space. But when your guest room needs to double as your office, there are many space-saving options available to you!
Loft beds make good use of vertical space. These beds allow for desk space underneath the bed without taking up any extra floor space and are great if you have high ceilings in your guest bedroom. 
Another incredible, space-saving alternative is a Murphy bed. By having a bed that you can fold into the wall, you are able to change the function of the room in an instant. You could do aerobic kickboxing! Or a giant puzzle! What we're trying to say is that with a Murphy bed or wall bed, you now have plenty of room for activities. 
If neither of these options suits your needs or your space, you may also consider the option of futons, daybeds, or fold-0ut couches. These options not only allow your guests a comfortable, dedicated sleeping space but also can provide extra or alternative seating when you are using the room as an office. 
If you can, try and test out the guest bed before you buy it. Is the mattress comfortable? Will your guests actually have a good night's sleep? Some fold-out couches have uncomfortable springs to the point where you might as well just use an air mattress until you can save up and buy something more comfortable for your guest room.
Visually Separate Your Guest Bedroom with These Decorating Ideas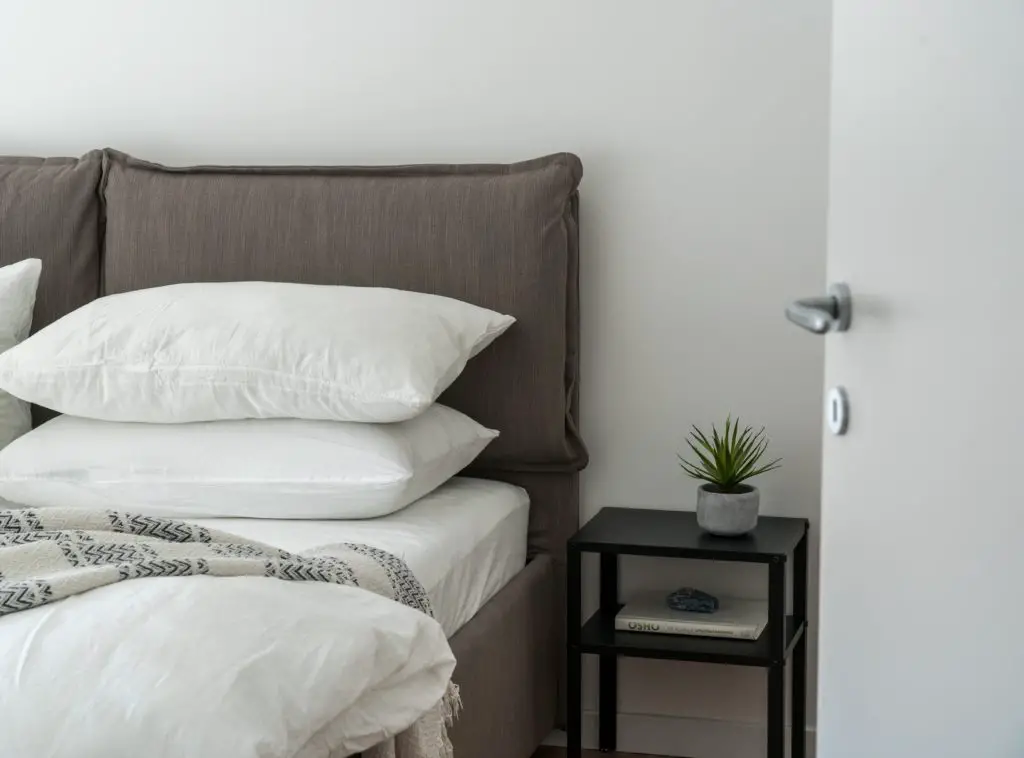 If your guest bedroom is part of a loft space, living room, or a home office, you may need to provide some extra barriers to provide more privacy for your guests. Depending on how often you have people stay over, you can opt for more temporary barriers or more permanent ones.
One simple temporary option is to use a screen or wood-paneled room divider. This decoration can also be moved around, folded up, and stored away in a closet or placed against a wall when you want to open up your guest bedroom again.
Another option would be to create an alcove for the bed surrounded by open shelving for storage. This not only elevates the bed and gives the option for drawers or shelves for under the bed storage, but also tucks the bed away to give the sleeping space a more intimate, personal feel. You can even change the lighting over the bed (like perhaps hanging up soft paper lanterns or string lights) to give it a more cozy feel.
An alternate option would be to physically separate the room. For example, you could hang curtains or set up screen partitions to keep the bed out of sight, and out of mind until you need it. This option works particularly well not only for a dual-use guest room/home office but also for studio apartments to make each facet of the space feel more dedicated to its particular purpose.
Make the Best Use of Floor Space in Your Guest Bedroom
No matter what you decide to do for the bed or the visual separation of the room, a crucial way to make the best of a small space is to free up floor space wherever possible. 
A rolling desk that can be stored elsewhere while the guest room is in use is one easy way to free up floor space when you don't need it. That way, you can convert your home office into a guest bedroom in a breeze!
If you are using a stationary desk, you can also choose to install shelves to the wall above the desk or around the bed or use open shelving with bins or containers. This allows you all of the storage space you need while keeping the room looking open and airy. Not only will this help reduce the stress of a crowded space, but it also makes the room look bigger as well. On this same note, consider putting up an extra mirror or two to keep the space feeling a bit larger than it actually is.
These options are just a sampling of the different ways you can organize a dual-use space. Use these as a jumping-off point to stir your creativity and add your own personal touches to your guestroom solutions — like a great homecooked meal for your guests.