This post may contain affiliate links. Please read the disclosure for more info.
Whether you're single, in a new relationship, or have been happily married for years, there's usually a time when you must stand back and ask yourself, "should I really have a TV in my bedroom?" This question is decades old, and countless sleep and relationship experts have weighed in heavily on both sides. We're here to help you unpack these claims and give some balanced insight on whether or not it's a good idea to turn on the tube before you hit the hay.
Couples
Pros
Enhance Bonding
There's long been the narrative that having a TV in the bedroom is the death of a healthy romantic relationship. Evidence on this is mixed. However, it's hard to deny that there isn't an element of bonding that happens when you and your partner lay down to catch up on your favorite reality show or share a beloved movie with your SO. There is, of course, a difference between using TV as a tool to share and bond over quality entertainment, and relying on it as a crutch in place of nightly conversation.
Com

fort
Let's face it, cuddling on the couch while watching a movie is always a better idea in theory than in execution. Couches are great for vegging out alone, but when you add another person, space is bound to become an issue. The ability to watch TV from your bed simply ups the comfort level of this beloved activity. There's more room, more pillows, and room to stretch out. This way, nobody will end up with pins and needles in their arms or legs crushed against the back of the couch.
Doing Your Own Thing
Not everybody unwinds the same way. If you and your partner have different nighttime routines, having a TV in the bedroom is not actually the end of peace and quiet. In the last ten years, wireless headphones have made the once impossible a reality. We now have the ability to read a book undisturbed while our significant other catches up on their favorite Netflix original. Wireless headphones come at all different price points and often enhance the sound experience of your favorite movies and shows. Think surround sound level audio, without disturbing your SO. Here are some of the best rated wireless headphones of the past year. 
Alone time
Let's face it. Sometimes you just need to escape. Whether it's an hour away from the screeching of kid's cartoons, or just a small amount of time to decompress and watch an episode of something funny, having a TV in the bedroom can be a lifesaver. Sometimes your spouse doesn't want to be privy to the latest on your favorite sports team's stats, or maybe you just don't want The Voice playing in the background of your SO's important work call. As long as it doesn't become a method of isolating yourself, a TV in the bedroom can be a great way to have some uninterrupted time to yourself.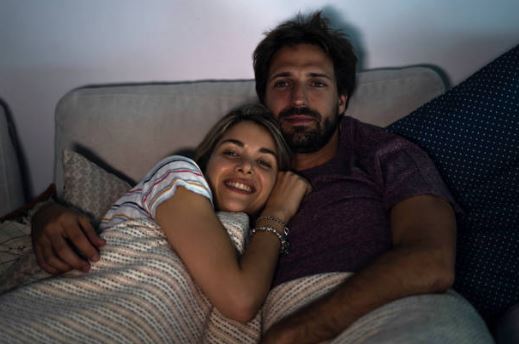 Cons
Conflicts in Sleep
It's well recorded that watching TV before bed can interrupt and decrease the quality of sleep. Even if you feel rested when hitting the hay after an hour or two of Stranger Things, it doesn't mean your partner feels the same way. Research has shown that even just the light of the television can create significant disruptions in sleep, and may have a notable toll on the body's circadian rhythm. This is the natural process that regulates our sleep-wake cycles. Lack of sleep, for one or both individuals in a relationship, can equate to higher irritability, stress levels, and general strain on a relationship that may not exist without the presence of a TV.
Alternative to Conversation
We all know how it goes: You start a new series or documentary, and suddenly hours have passed without moving or saying a word to anyone who may be watching with you. Every once in a while, this level of zoning out is humorous, even relaxing. However, if it is happening regularly, it could be putting a considerable strain on your relationship.
In the present day, many busy couples have little time to see each other until the evening. Ideally, partners use this time to catch up on daily events, share thoughts and feelings, and facilitate communication. Using a television in the bedroom presents the danger of avoiding these conversations, and switching straight to zone-out mode, which can lead to couples feeling isolated from each other. 
Intimacy Interference

 
Here's the one you've been waiting to read. For as long as TV's have been prevalent in the bedroom, experts have been stressing the adverse effects on romantic aspects of relationships. And by this, yes, we do mean sex. Study after study has shown that couples who watch TV in the bedroom have less sex. A recent study of 4 million people from the National Bureau of Economic Research showed that couples with a TV in the bedroom have roughly 6% less sex than their counterparts. The numbers vary, but the consensus is that the more TV couples watch, the less likely they are to be in the mood. 
How To Make It Work
Talk it Out!
Make sure you and your partner are on the same page. Assuming that you both agree on whether or not a TV is a welcome presence in the bedroom can be highly damaging to any relationship. Some people have had a TV in their room their entire lives, and others can't imagine having one at all. Finding common ground before making an individual decision about the topic is an excellent place to start. 
Set Limits
Moderation and balance are crucial in nearly every aspect of life, and having a TV in the bedroom is no exception. Set limits on the amount of time you invest in watching media with your partner before bed. Alternating days, putting TV's on a timer, and agreeing on total screen time can all help in preventing problems down the road.
Singles
Pros
Establish Your Own Space
For singles living with roommates, it's not always possible to have full dominion over the living room TV. Some smaller apartments may not have room for a common space television at all. Ideally, all roommates would recognize a duty to share spaces or TV privileges, but as we all come to find out at some point in our lives, not every roommate is respectful. For many singles, especially those living with others, a TV in the bedroom may be less a choice and more of a requirement in having access to a TV period. Having an area where you feel comfortable, don't have to worry about bothering others, and don't need to fight for screen time is highly beneficial. 
A Way To Unwind
In a relationship or not, there's no denying that these are particularly stressful times. Anything you can do to make your space one that brings you distraction or peace can be, ultimately, beneficial. Having a TV in the bedroom has the potential to provide a diversion from many of the day to day stressors that may keep you up at night. A funny movie or an hour of video games can go a long way to keep your mind off of work, looming deadlines, and other worries. Like anything, though, TV and media should never become a coping mechanism
Keeping You in the Loop
On the flip side, as well as letting you relax, a TV can be an excellent way to stay connected and up to date on current events. Many of us have little time in our busy schedules to check current events throughout the day. I'm sure many of us spend time scrolling through headlines on our phones in bed at the end of the day. Having a TV in the bedroom allows you to watch the news and stay informed concisely without being glued to your phone.

Cons
Circadian Rhythm
As previously mentioned, too much TV before bed can throw a wrench in your circadian rhythm, the natural cycle that regulates your body's sleep and wake routines. Staying up later watching your nightly shows may lead to later and later bedtimes, leaving you exhausted the next day. The blue light emitted by television screens may also delay the onset of REM sleep, throw off REM cycles, and lead to increased drowsiness the next day. Without a partner to tell you it's lights out, many people fall victim to falling asleep with the TV on, or simply watching into wee hours of the morning.
An Easy Distraction
In this new age of working from home, nothing is more tempting than blowing off work duties to veg out in bed and binge-watch the latest season of Queer Eye. If your room also doubles as your office, it may be essential to build a space that is relaxing and free of potential distractions. Defining the purpose of your room can immediately put you into the correct headspace upon entering. If your desk is in your bedroom, consider leaving the TV outside.
Can Be An Eyesore
No one would argue that the best piece of decor, or finishing touch to a bedroom is a huge, reflective, electronic rectangle. TV's can easily be unsightly, take up significant amounts of space, and be altogether unyielding. Designing around your TV definitely takes creativity, but we have a few tips that might make the process a little bit easier. 
Designing Around a TV in the Bedroom:
If you've decided a TV in the bedroom is the right fit for your lifestyle, then the next step is deciding what to buy and where and how to place it. Here are a few of our favorite design tips and tricks to make sure your TV fits into your space.
Size Matters
When choosing the right TV for your space, it might be tempting to go bigger. However, large screens command attention and aren't the most visually appealing for small spaces. It's worth being conservative on the size of your TV so that it doesn't become a focal point in your room. If possible, try to avoid bulkier options.
Keep It Hidden
It may seem like common sense, but the best way to disguise a TV in your bedroom is to keep it out of view, if at all possible. We've all seen those videos of celebrities with TVs that emerge from the floor through what seems like a hidden passage. However, for the rest of us who may not be able to afford such pageantry, there is a classic, far more affordable option. 
TV, or media cabinets, come in all styles and sizes and can be stylish ways to make sure a television doesn't moonlight as a permanent decoration. Modern media cabinets come in large varieties of finishes, and it's simple to find something that works in your space.
Hang It Up
With the invention of slimmer, sleeker television units also came the rise of wall-mounted televisions. If space is an issue, try choosing a slimmer model. Mounting a flat-screen TV creates less obstruction, and when kept to a modest size, allows the eye to bounce over it as another piece of wall decor. Choosing to mount your television also enables you to keep dressers and nightstands clear, creating a less cluttered, overall cleaner feel to your bedroom.
Location, Location, Location
Like anything else, the placement of the TV in the bedroom ultimately will play a significant role in how much attention it demands. Try not to make your set the focal point or center of the room. Offsetting your television, or choosing lower profile corners or positions will help a TV feel more like a subtle accessory, and less like the star of the show.
What do you think?
Are you pro TV in the bedroom, or do you believe in banishing television sets to other spaces entirely? Or do you fall somewhere in the middle? Let us know below!