This post may contain affiliate links. Please read the disclosure for more info.
You don't need a sprawling backyard to enjoy the outdoors. Trust me: I have a small balcony, and I was able to design a sweet little oasis with a space-friendly garden and soft battery-powered string lights. Space is at a premium in city living, but good design doesn't have to be. You can design your small patio or balcony in a way that feels cozy — without breaking the bank!
So if you're ready to turn your small patio or balcony into a welcoming space you'll actually spend time in, you've come to the right place.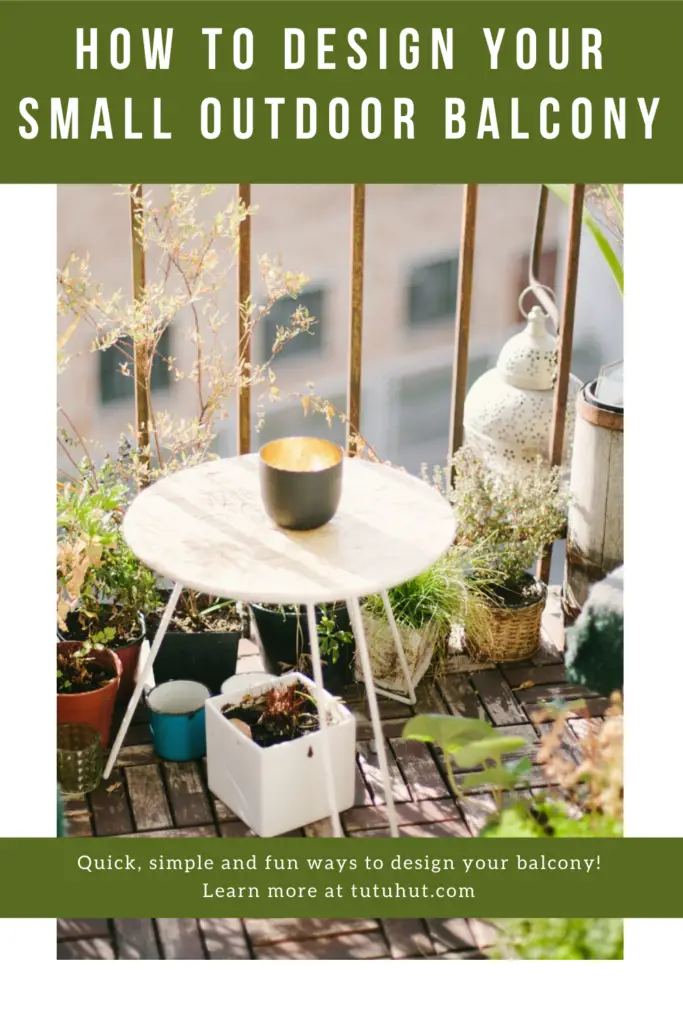 Design Comfortable Balcony Seating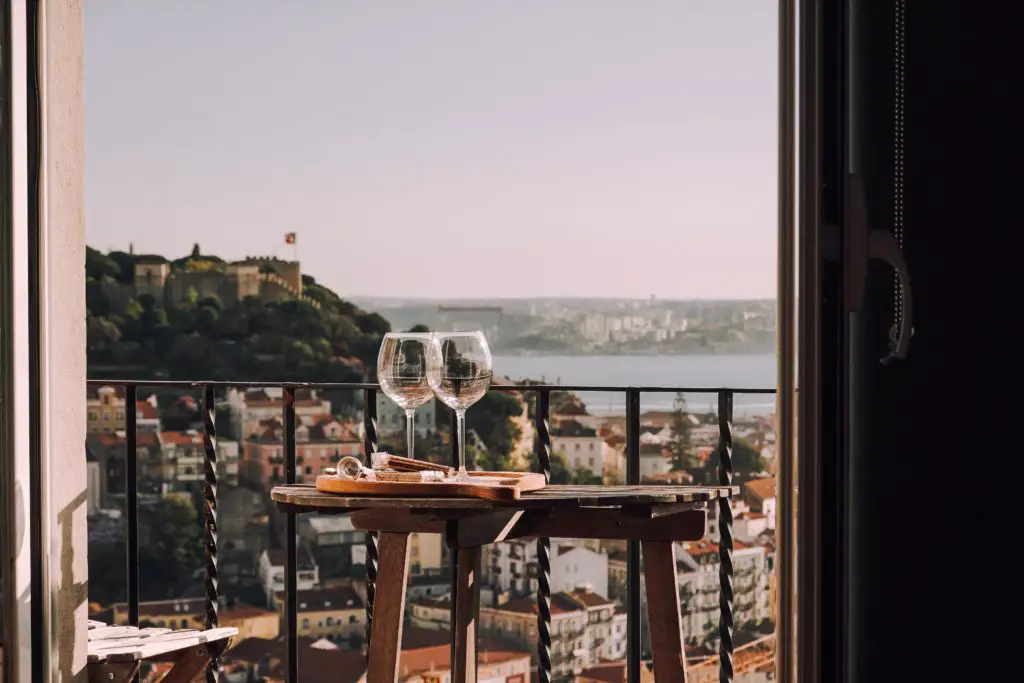 If you don't have a comfortable place to chill and birdwatch or read on your patio, you're not going to spend any time out there. You don't have to spend a zillion dollars on expensive outdoor furniture, either! Most of this stuff probably won't even fit in smaller balconies, anyways.
Instead, use what you've got and make it cozy. I had some crates lying around, so I put them together and topped them off with a comfy, brightly-colored cushion and set of pillows and a throw blanket for a DIY bench. Even better, I can stack the crates if I want to make more room on my balcony to work on my garden or do a craft. If you don't have any crates available and don't want to go to your local hardware store to buy them, you can also order them online.
I had two (boring, uncomfortable) fold-out chairs from Ikea. I got seat cushions to make them a little more comfortable. Now, my patio can comfortably seat two or three people in a way that allows us to hang out and chill in style.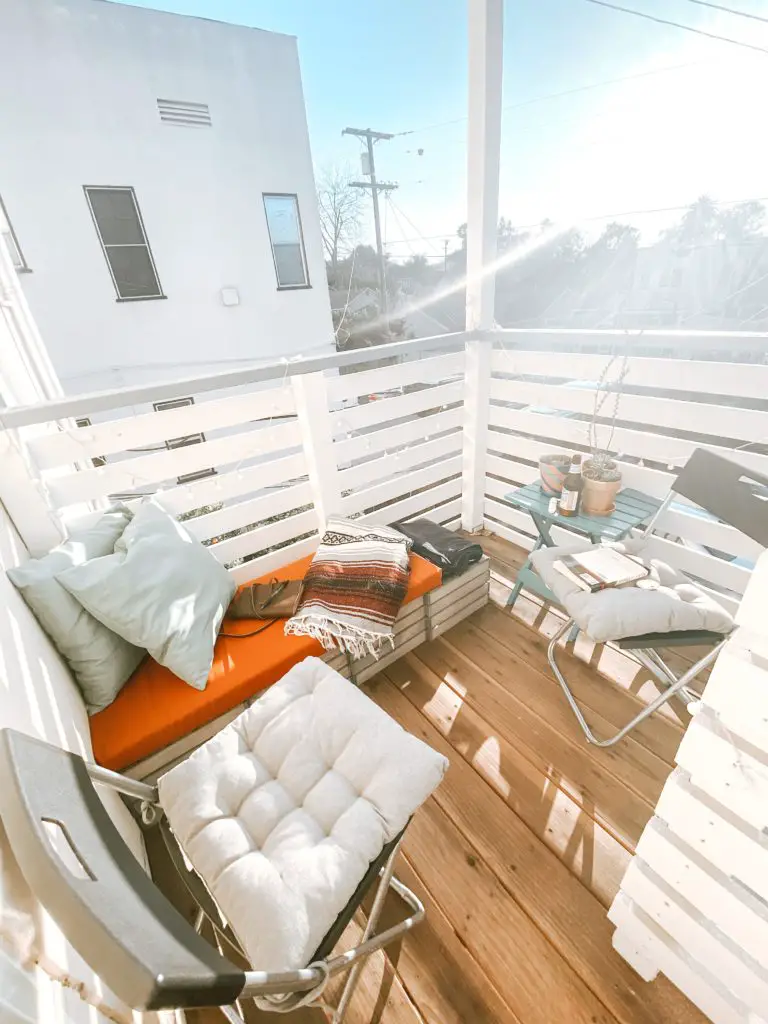 You can also turn things like pallets into seating or outdoor lounges. Get creative! Maybe a hammock that you can affix to posts and remove when you want more space could be a relaxing way to spruce up your outdoor space and also allow for a comfortable place to read a book or stargaze.
Small Balcony Design Ideas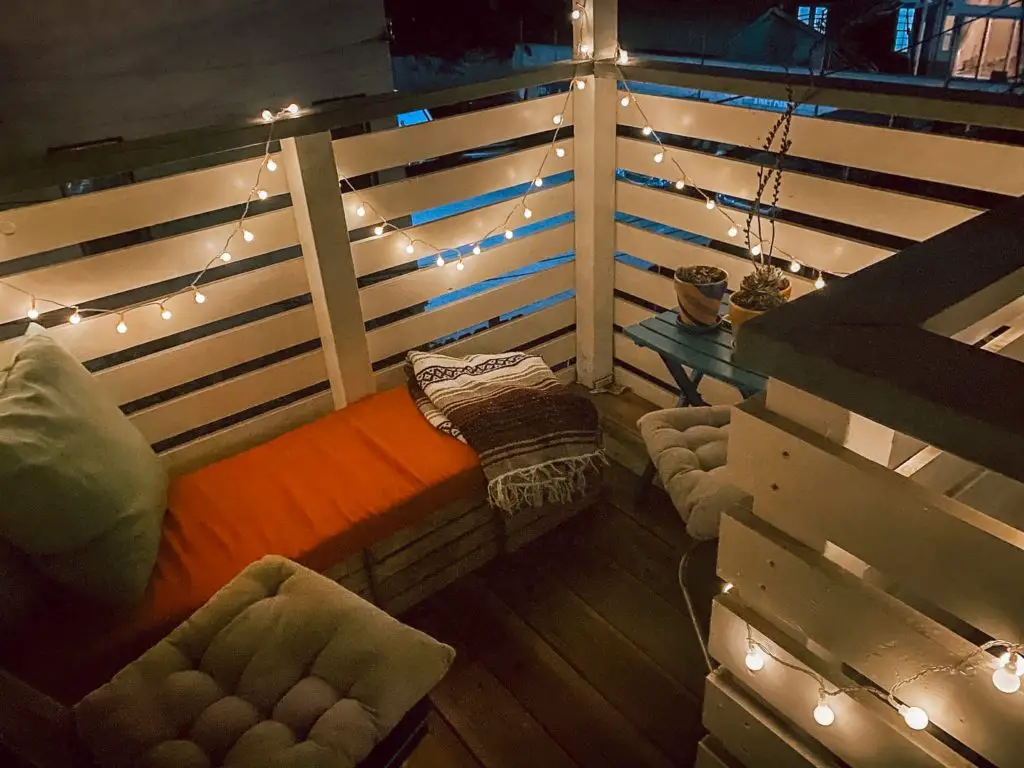 It's no secret: I adore string lights. They're the epitome of soft, flattering lighting that elevate any kind of space. I got these battery-powered string lights on Amazon, which are great because I don't have any outlets on my balcony. They also operate on a timer and have a bunch of different settings, which creates a lovely outdoor ambiance.
If you need more lighting options, you can also get battery-operated candles that flicker like real candles to bring the coziness of your home out onto your patio or balcony. If you want a more classy feel in your decor, you can put real candles or battery-operated candles in oversized lantern holders or candle holders for a more sophisticated touch. Warm lighting can help elevate your patio decor and design game in an instant.
Throw pillows and throw blankets are also a must for cooler spring and fall nights. Another bonus of building a crate bench? You can store all of your blankets and pillows in one of the crates, and bring the crate inside to keep your nicer throw blankets from getting dirty and covered in bugs.
If you need some privacy on your balcony — especially if you live in an apartment complex with balconies right next to yours — then consider purchasing a privacy screen. Or, you could make your own out of climbing plants and chicken wire! Get creative with the ways in which you make your balcony feel like a private oasis.
Home Balcony Garden Ideas
I see good design as a way to solve problems. Does your balcony face a street, and is there a lot of traffic noise? How about putting up a small wind chime to help add some outdoor ambiance? Or what about a small fountain? Small touches like wind chimes and soothing fountains can help a small patio feel like a lush garden landscape.
This is also where building a small garden for your balcony comes into play! There's a lot of plants (like mint!) that can thrive in a small space without too much extensive care. Succulents are also a great patio plant that adds some greenery without the stress.
When creating your balcony garden, take into account how much sun you get as well as what kind of plants thrive in your region. You can start small with a few pots — or you can dive right in and create a whole planter's box. To help save space on your small balcony, you can hang a planter box off the side of your balcony, too.
Personally, I'm building my small balcony garden around all of the cool cocktails I want to make. I'm getting a few different kinds of mint plants to spice up my mint mojitos and mint juleps. That way, I can enjoy a homemade cocktail on my freshly designed balcony and watch the sunset.
Cheers!