This post may contain affiliate links. Please read the disclosure for more info.
Succulents are a huge trend in home decor. These tiny plants are adorable and easy to care for, but the right environment will allow them to thrive and show off their best colors. This guide will help you pick the right succulent for you and help you care for your new plant friend.
What is a Succulent?
Succulents don't fall into exactly one family of plants. They generally are drought-tolerant plants that store water in their leaves or stems. Their unique appearance comes from the plant's evolutionary ability to use lower amounts of water than non-desert plants and use other parts of the plant, besides the leaves, for photosynthesis.
The medicinal aloe vera plant, used in a gel form to treat sunburns, is the most familiar type of succulent. The gel in commercial products comes from the leaf of the plant. If you happen to have an aloe vera plant at home, you can cut open a leaf to use the all-natural gel inside for your next sunburn.
Most succulents sold commercially are grown in nurseries and distributed at the peak of their aesthetic appearance. Many plant owners may become concerned when they grow taller and become less compact. However, this is a natural progression of the plant.
What Environment Do Succulents Like?
Many succulents are native to desert locations and thrive on limited water resources. This makes them great houseplants for new or forgetful plant parents.
Most succulents will be quite happy with indirect light, as long as they get a full day's worth of sunlight every day—for example, a north-facing windowsill or a bookshelf in a living room with south-facing windows.
When you purchase your succulent, it will likely have vibrant colors. These colors typically come from very bright, direct sunlight. Over time, the colors will fade, and new leaves will be paler.
Your succulent will tell you if it doesn't have enough sunlight. Without enough sunlight, the plant will grow taller and less compact. Move it to a spot with more sunlight, and you'll start to see tighter clumps of leaves growing.
How Do you Care for Succulents?
Again, since succulents originate from desert climates, they prefer well-draining soil and need little water. If you purchase your succulent in a plastic pot and transfer it to something that fits your home decor, make sure that pot has a drainage hole at the bottom.
Succulents will only need just enough water to moisten the soil. Check the soil often to make sure it is dry below the surface. If the soil is still wet about an inch down, wait a little longer to water.
Depending on what type of succulent you buy, it might grow taller with a stem or stalk. This is perfectly normal for many types of succulents. If you want to return to the compact look, you can trim the stalk. Simply cut the stalk to the height you desire, then let the stalk dry for a few days before sticking the base of the stem back into the soil. Drying the stalk is vital because if it stays too wet, it could rot and the plant will die.
Which Succulent is Right For You?
Succulents come in a huge variety of shapes and forms. Here are a few options:
Crassula Ovata:

Jade Plants have quarter-sized, flat leaves that grow on stalks in a bush or tree form. They can get quite large, but it takes a long time. They are super prolific. Mine has been knocked over, and branches were broken off of it, but I was able to replant them into a whole new plant.
Gollum Fingers, like the picture above, resemble strange fingers with their tubular leaves that grow on stems in bush form. Like the Jade Plant, they are very hardy and hold up to neglect very well–perhaps even preferring it.
Echeveria

These plants are symmetrical, round plants that will grow from a single stalk. Many forms resemble cactuses, with spines on the points of each leaf. Some versions have fleshy, rounded leaves.
Agave

The same plants that give us tequila are actually succulents! This class could alternatively be called cactuses, and typically have more flat, symmetrical leaves around a single stalk. They also tend to have prickly edged leaves.
Senecio Mandraliscae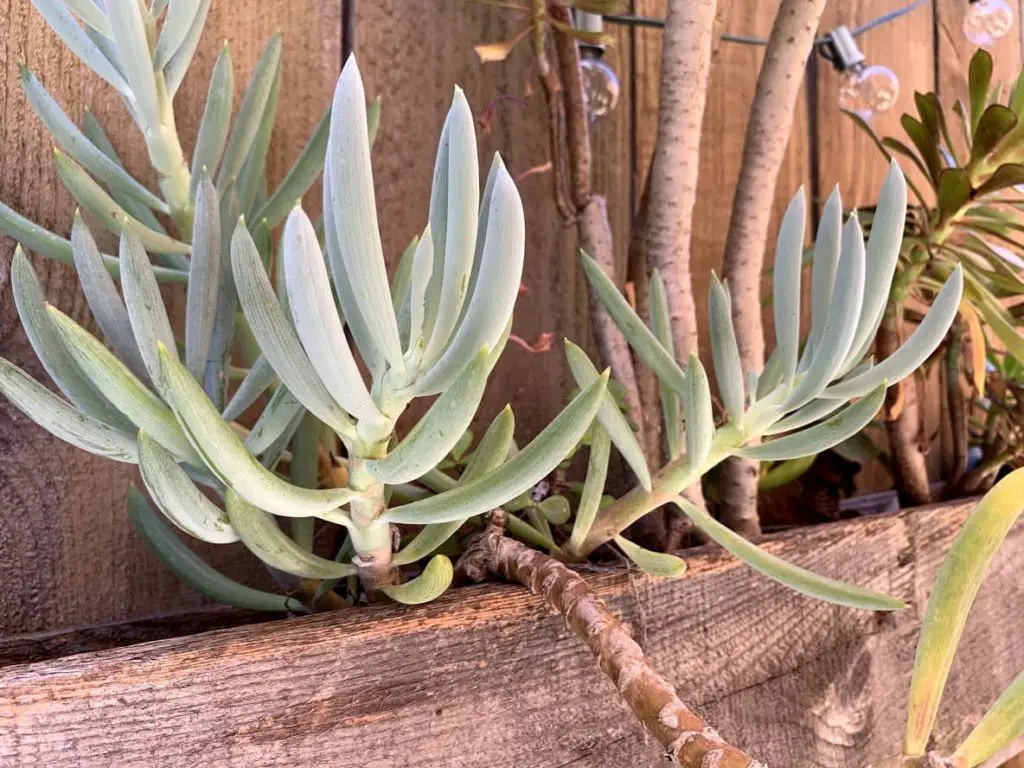 Otherwise known as Blue Chalk Sticks. These plants have long, fat, finger-like leaves. They are often used for ground cover along California freeways. The blue tinge gives them a unique color.
Euphorbia Tircalli
Fire Sticks glow an orange-red when they have enough sunlight. These plants grow as a bush of straight sticks, without any leaves. When happy, they'll grow for decades. I've seen some taller than me!
Haworthia Cooperi
Haworthia Cooperi succulents are the most alien-looking variety, with a compact structure of plump leaves. Some Hawortia variations resemble agave or aloe vera, while others have almost translucent, puffy leaves. However, I've found these types to be very picky about watering and sunlight and, even with the most diligent care, I've lost three plants.
Lithops
Also called living rocks, or splitting rocks, these succulents typically have just one fat stump of a leaf. When ready to grow a new leaf, the stump will split open, sometimes flower, and then shed the old leaf. While these living rocks look so cool they have also been super temperamental for me, and I've lost several.
Hopefully, this guide will give you an idea of what types of succulents might be right for you and help you to keep your new plant happy in its new home!