This post may contain affiliate links. Please read the disclosure for more info.
Convenience, breathtaking views, and stellar amenities all encompassed in a luxurious experience were a few of the main criteria Nathan wanted when he finally decided what apartment he would proudly call home. Nathan came to Minnesota from Ghana with his parents at the age of 7. "The Minnesota cold hits different when you've never experienced it. It chills you to the core!" Nathan enthusiastically expressed as he recalled first coming to the US. Despite the dramatic weather and cultural change, he is delighted to call the little city of Minneapolis home. It's here that he fell in love with the digital world of technology and pursued a career in cybersecurity.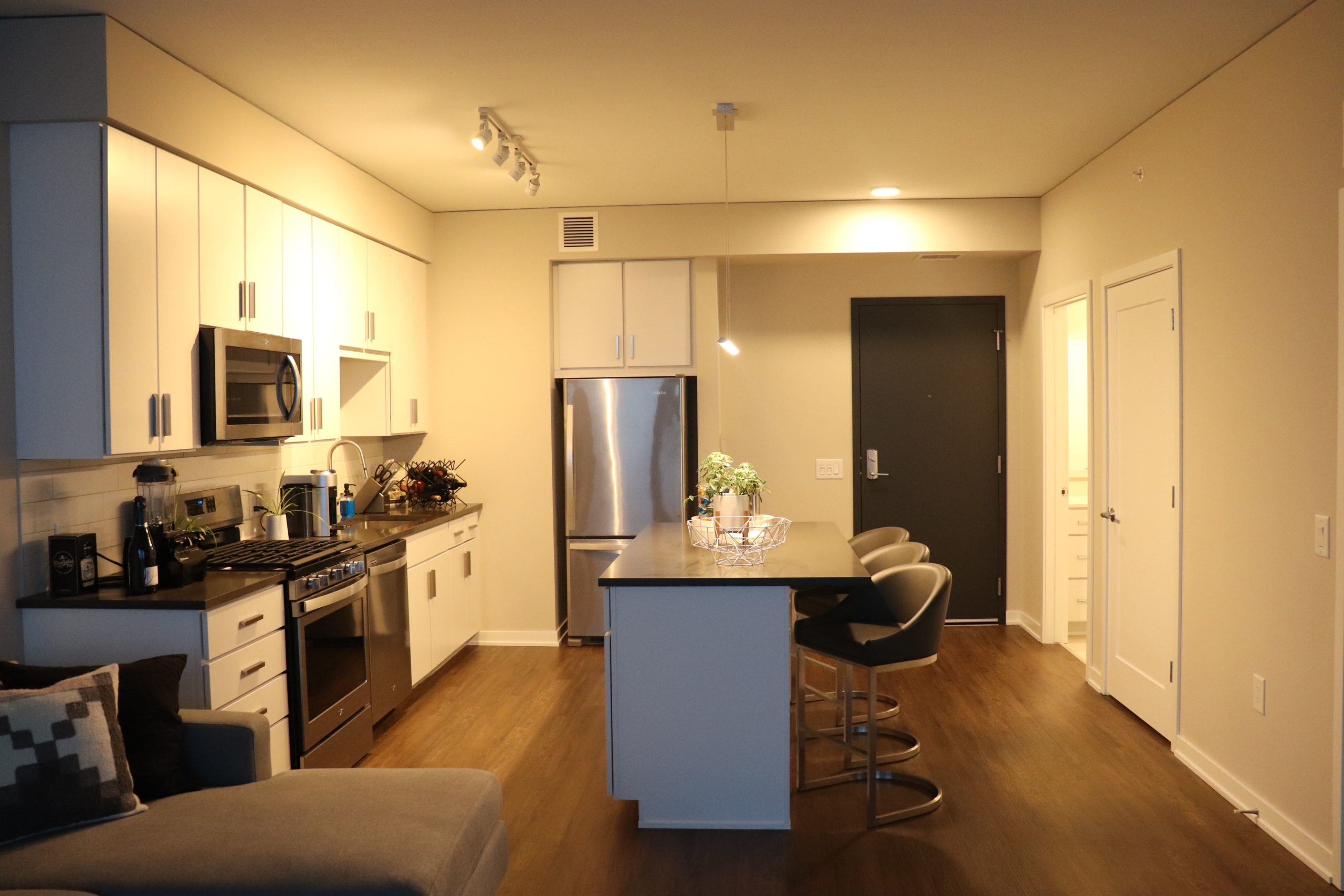 Kitchen Island and Gray and White Kitchen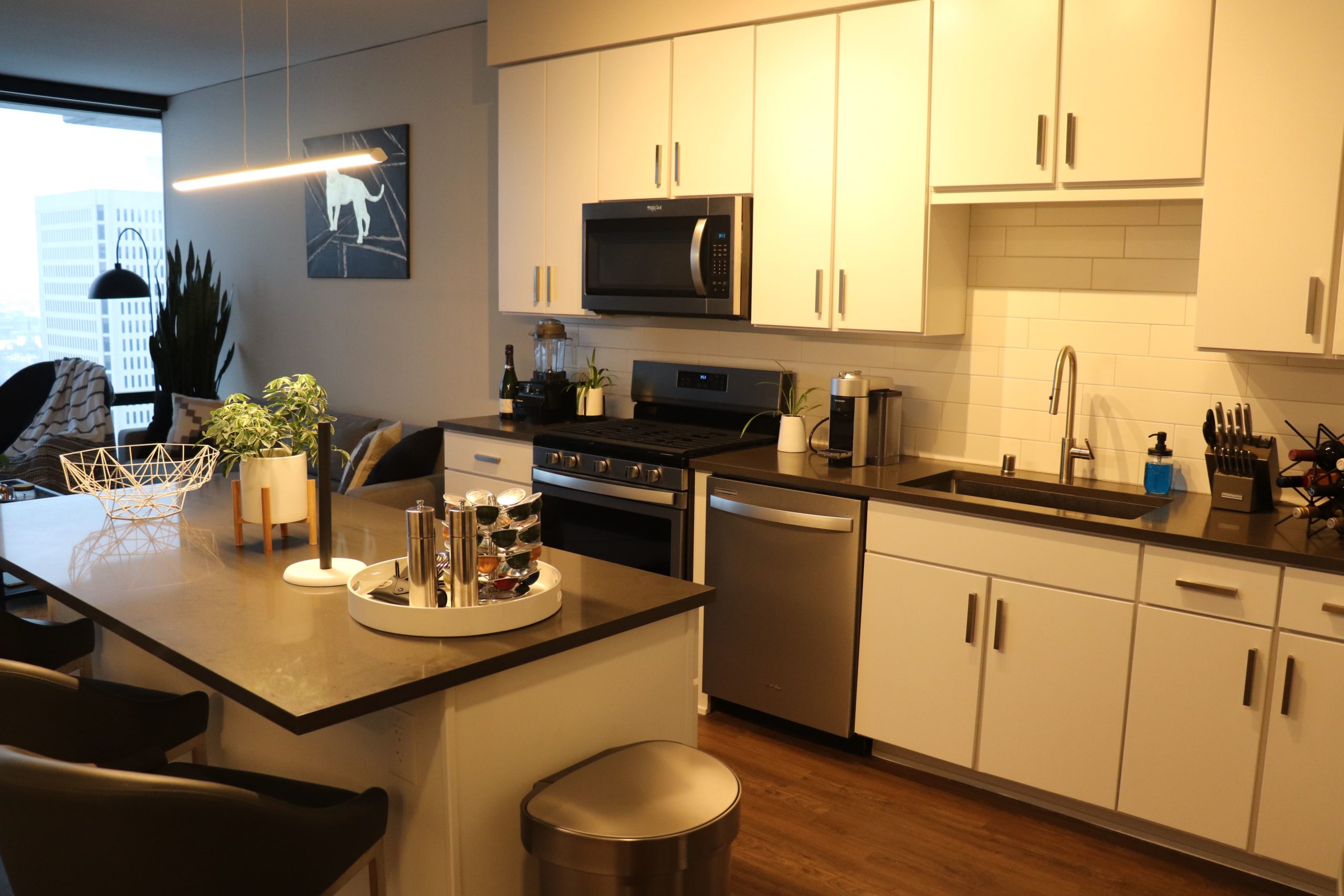 3 Kitchen Plants Gray Countertop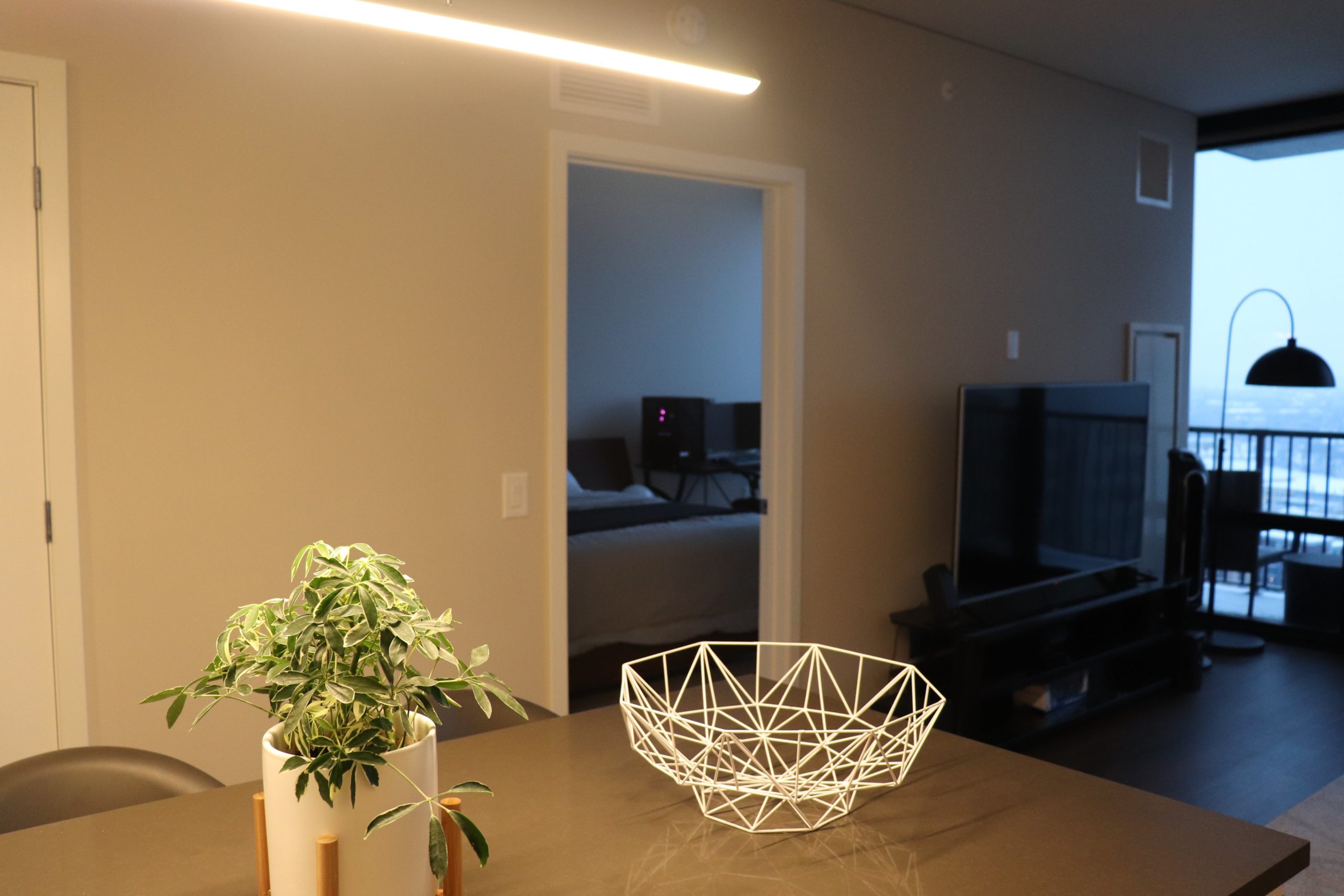 Kitchen Island Planter and Fruit Basket
Main-Entrance-Floor-to-Ceiling-Windows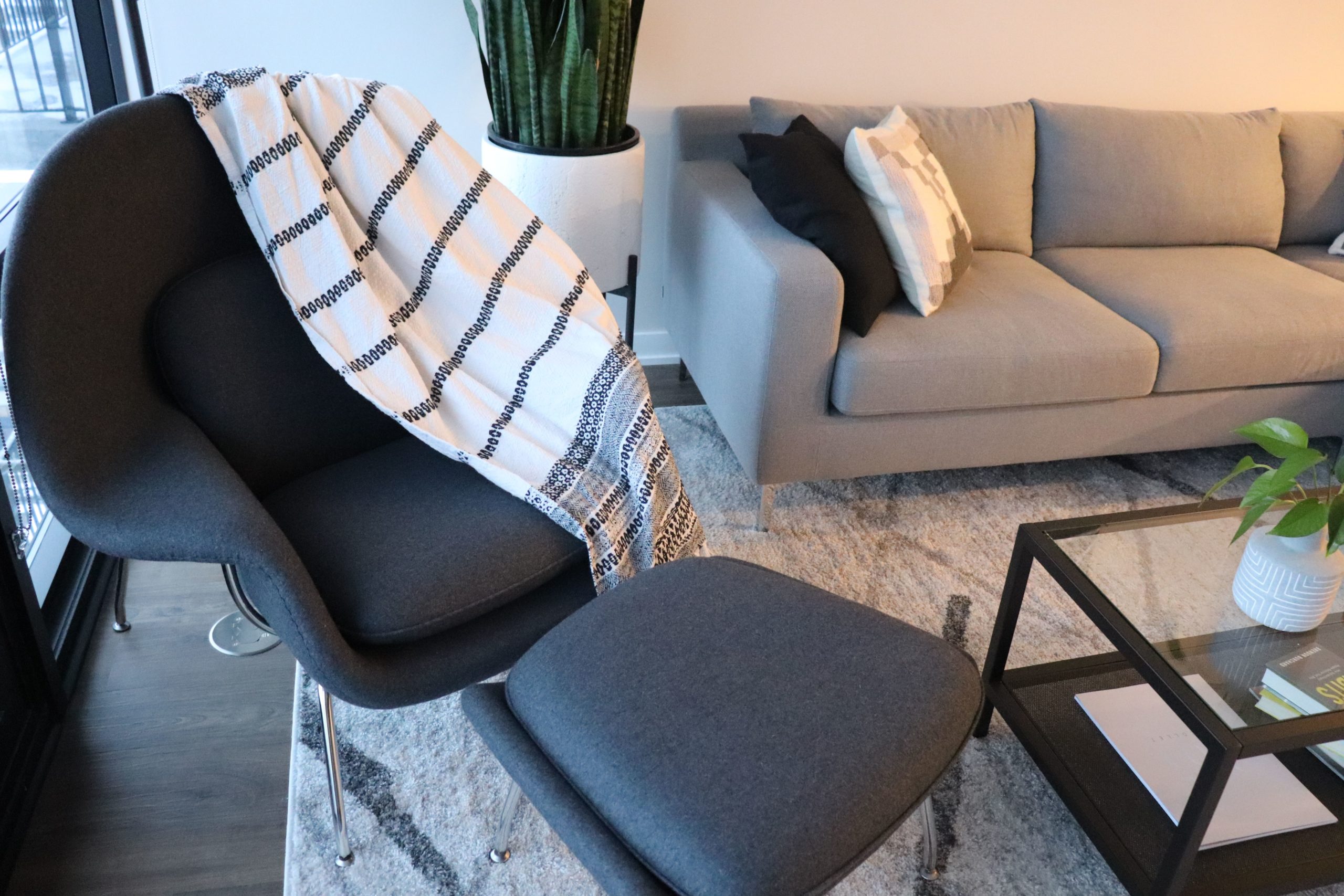 Womb-Chair-Gray-with-Throw-Blanket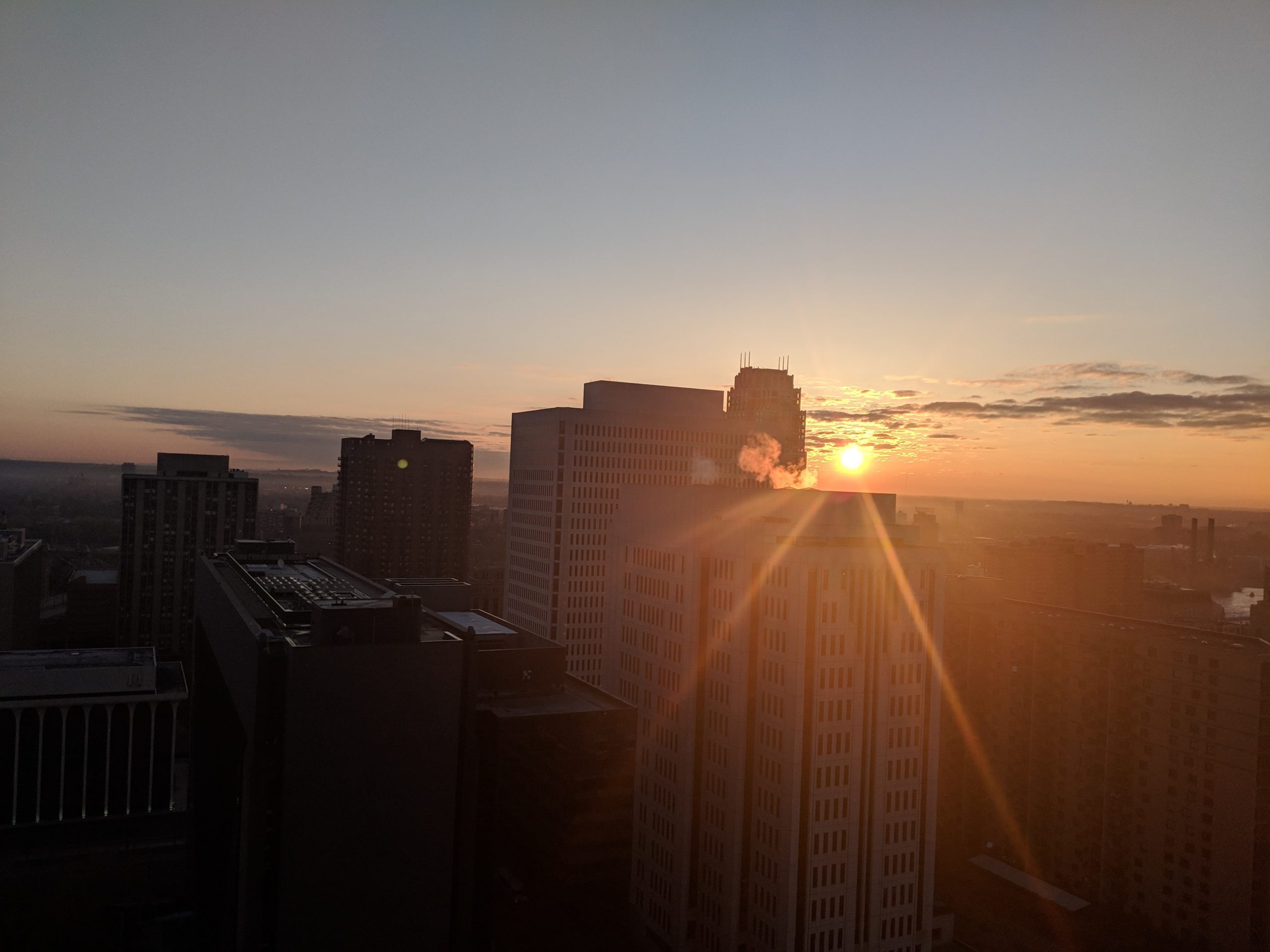 Downtown Balcony Sun Rise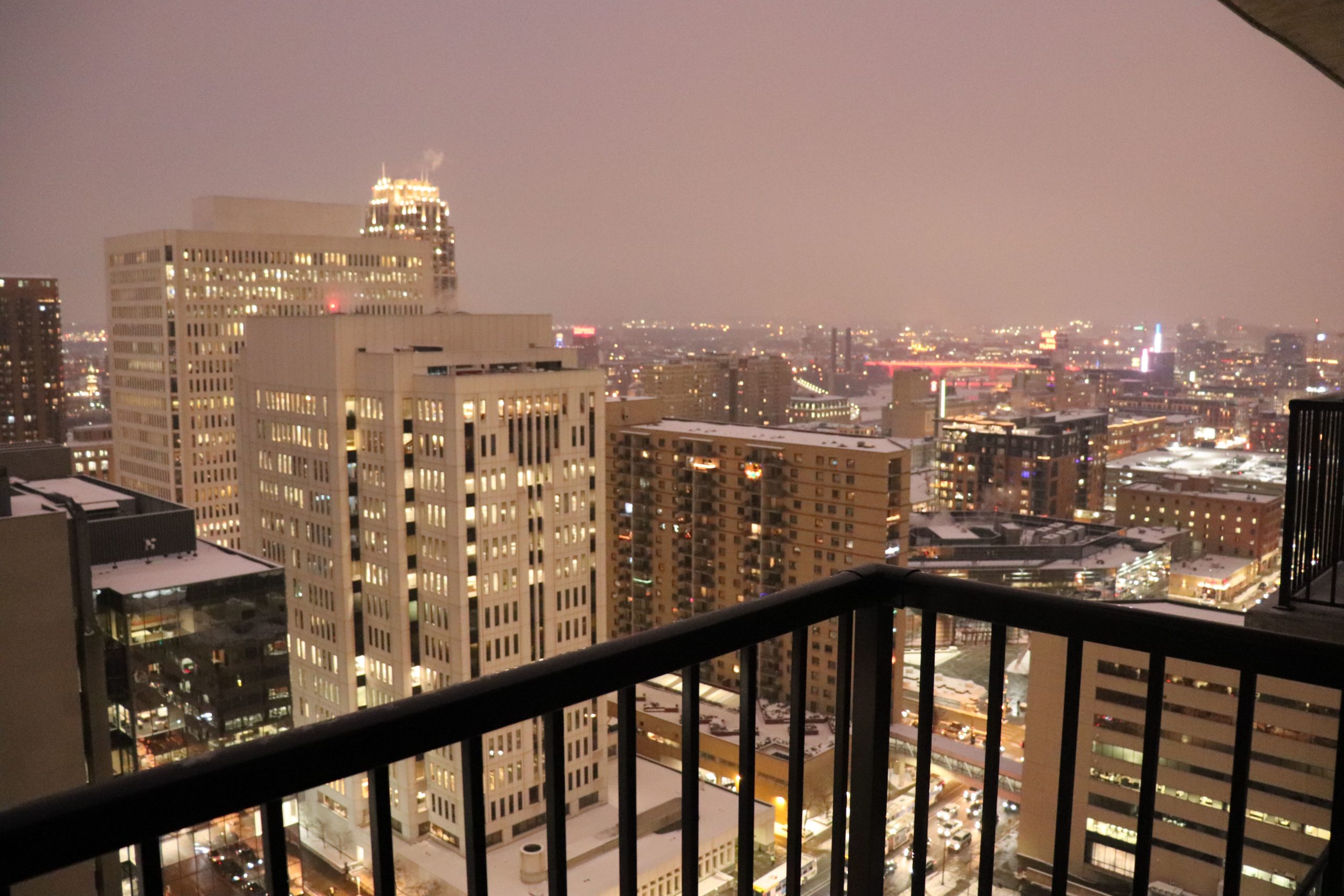 High Rise Balcony View Night Time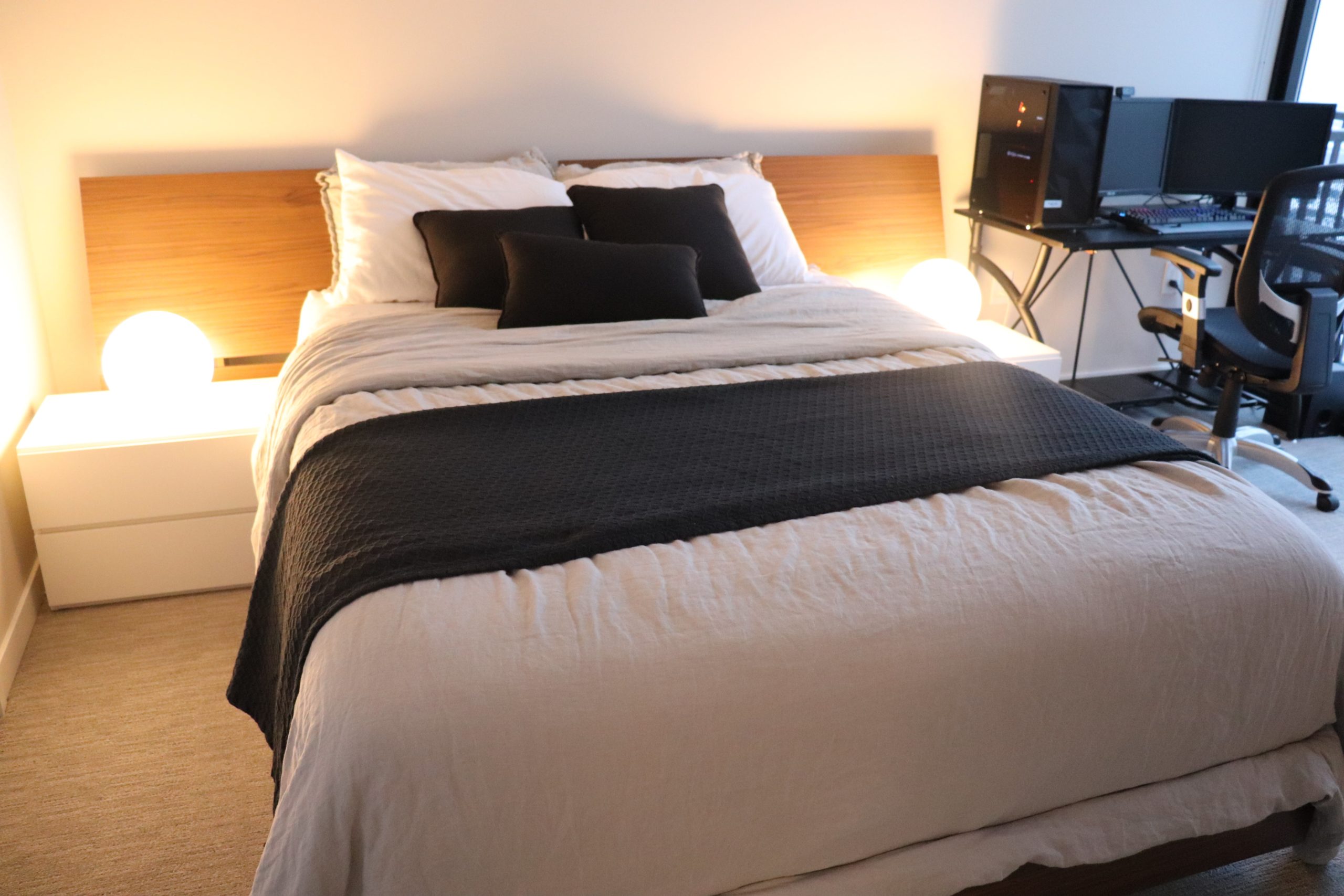 Cozy Bedroom with Lights and Computer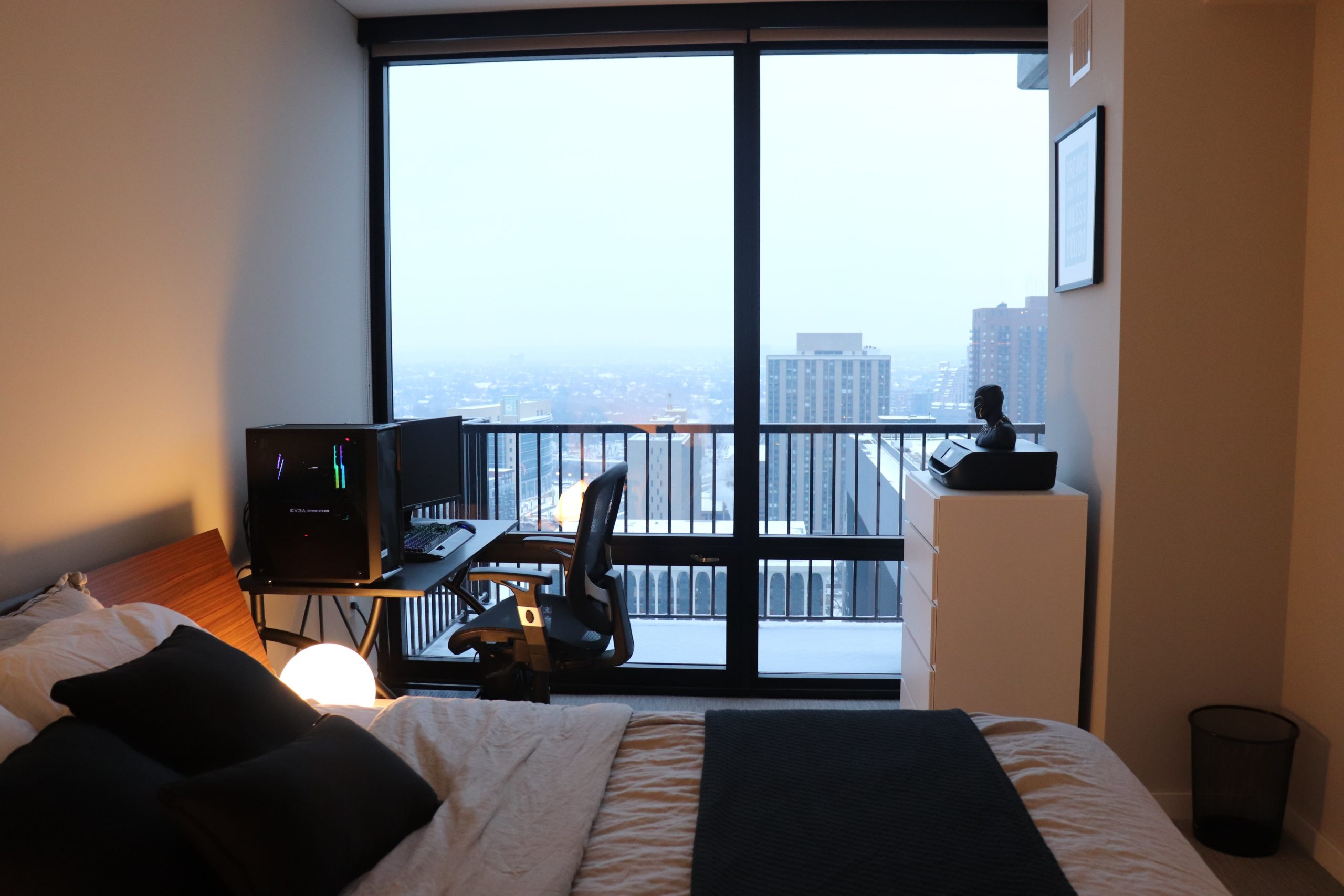 High Rise Luxury Apartment Floor to Ceiling Windows Downtown Bedroom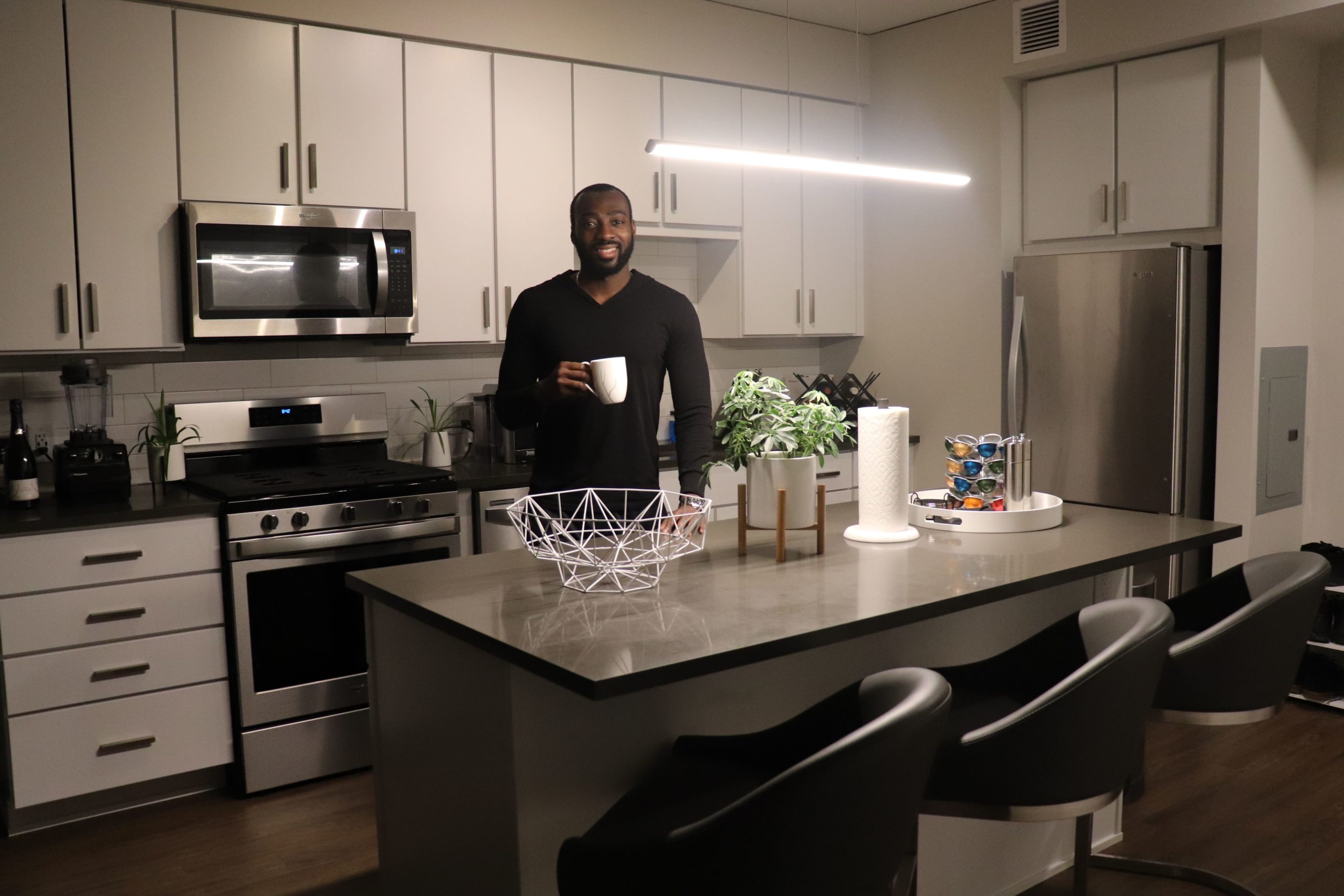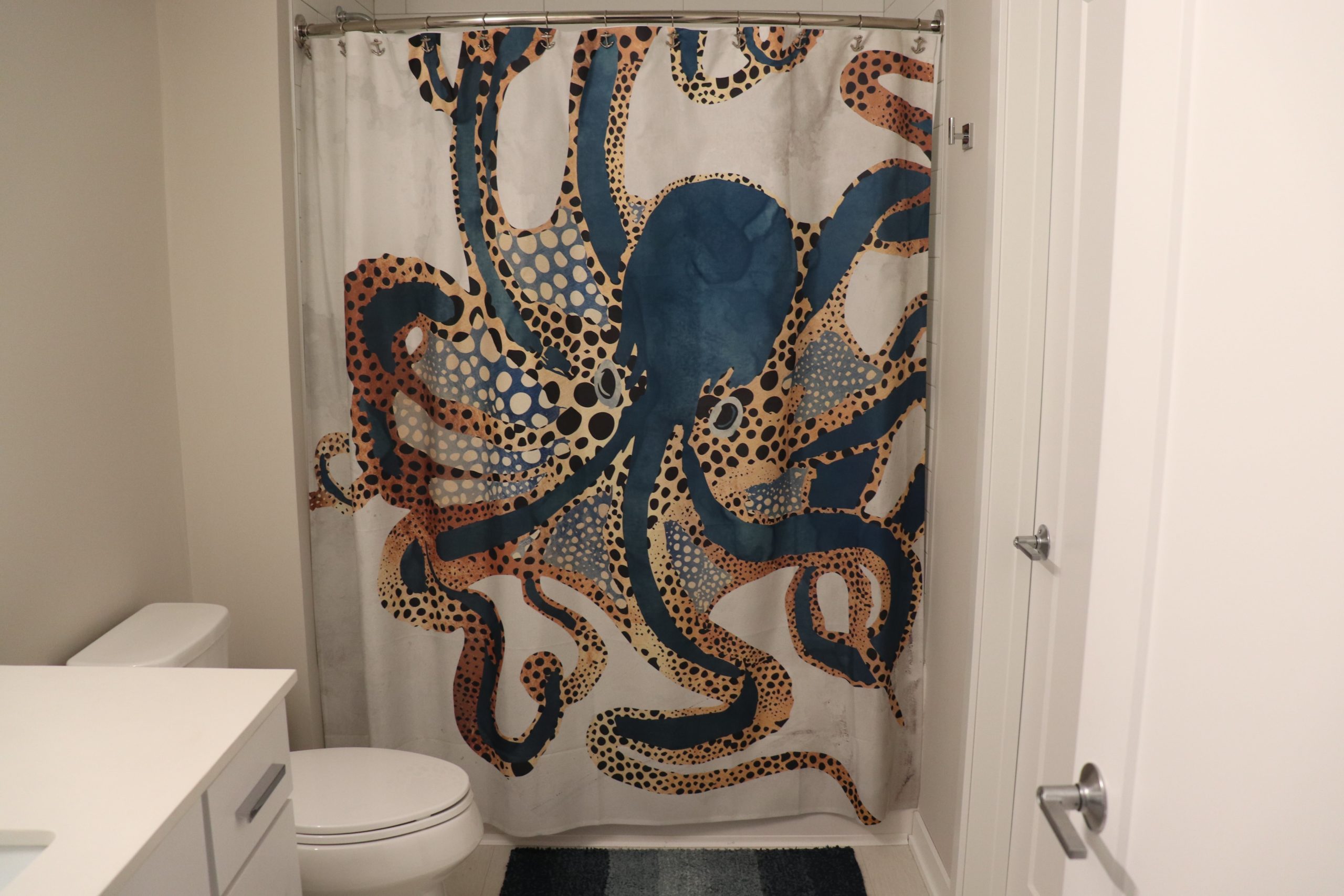 Blue and Gold Octopus Shower Cover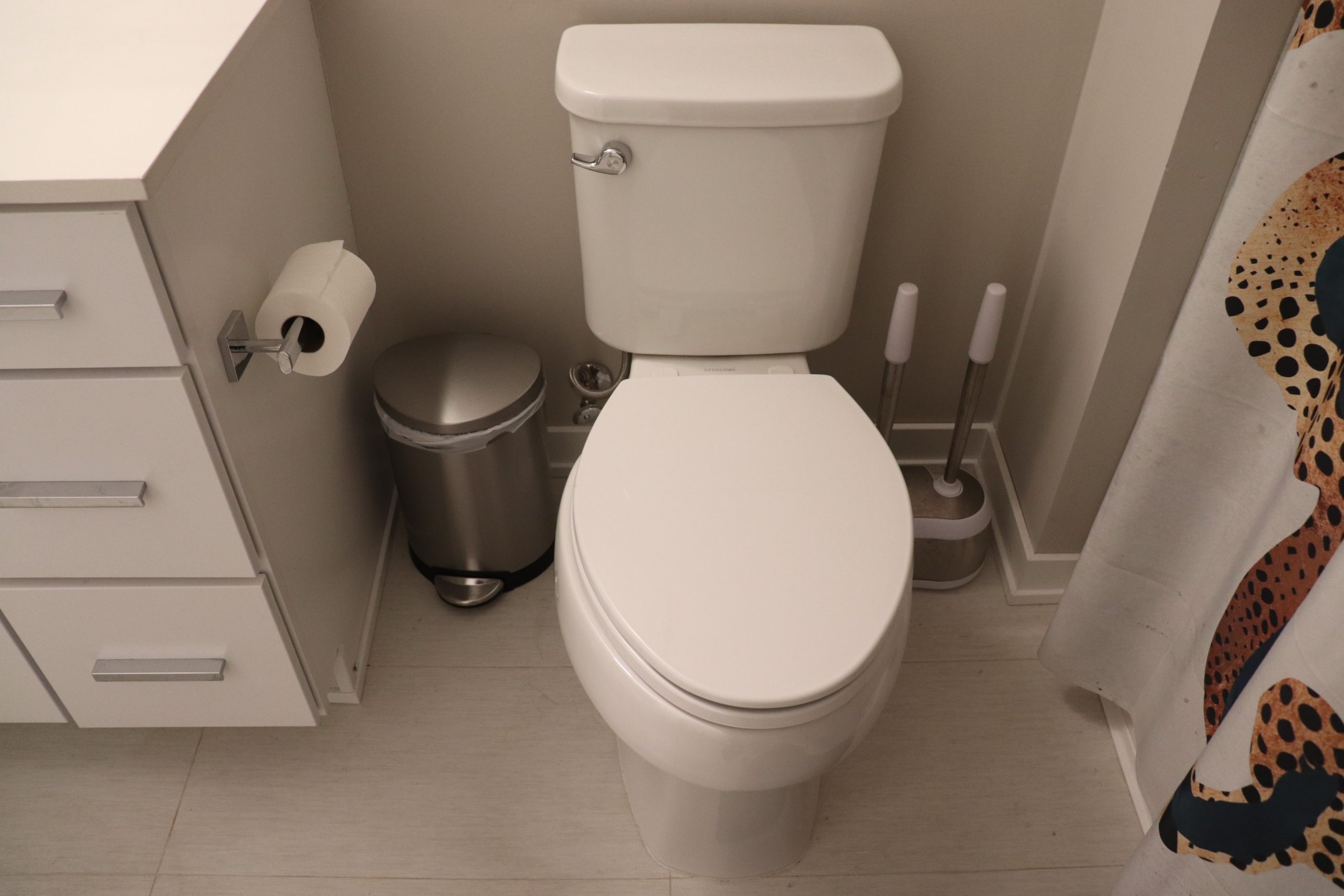 simplehuman Bathroom Garbage Bin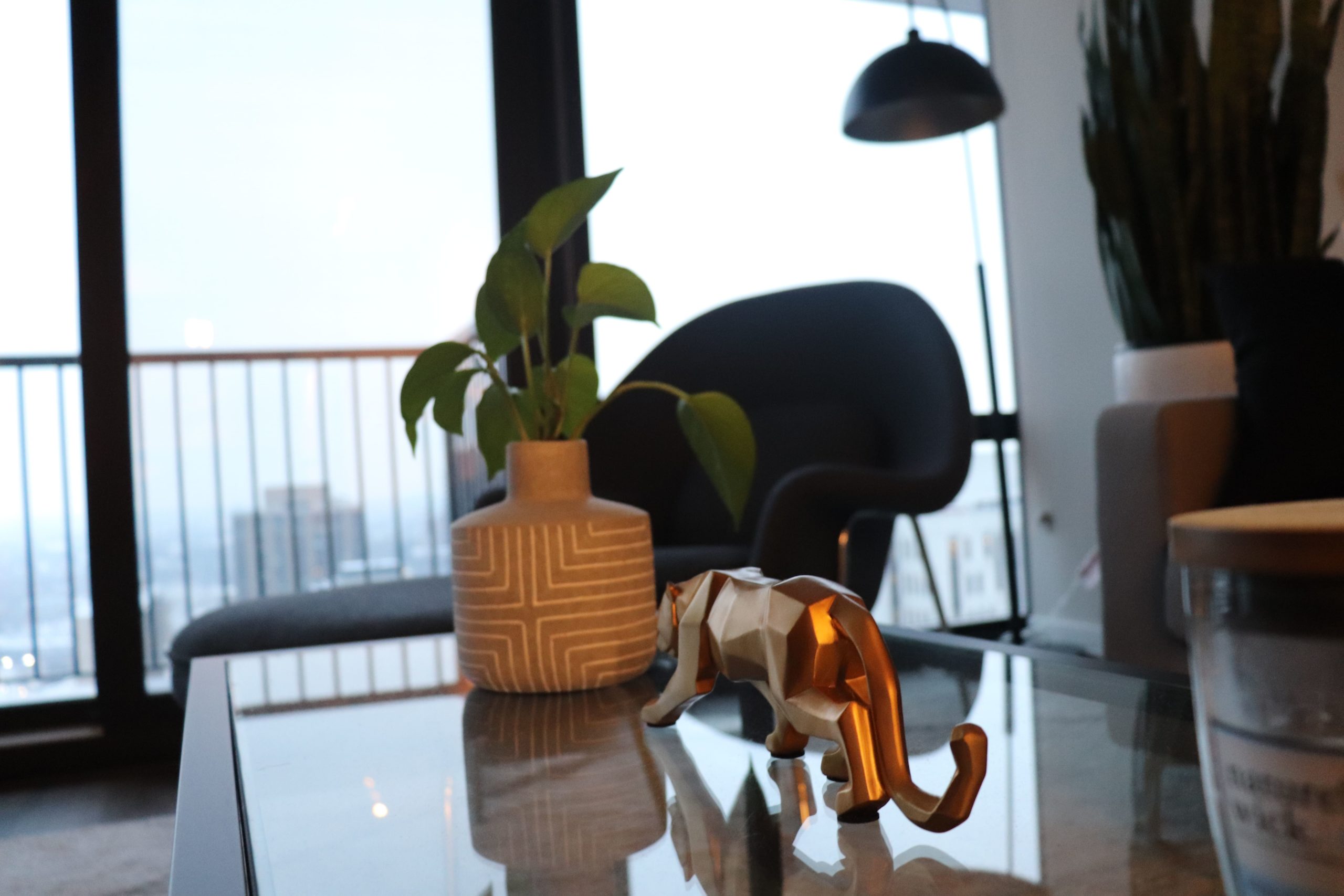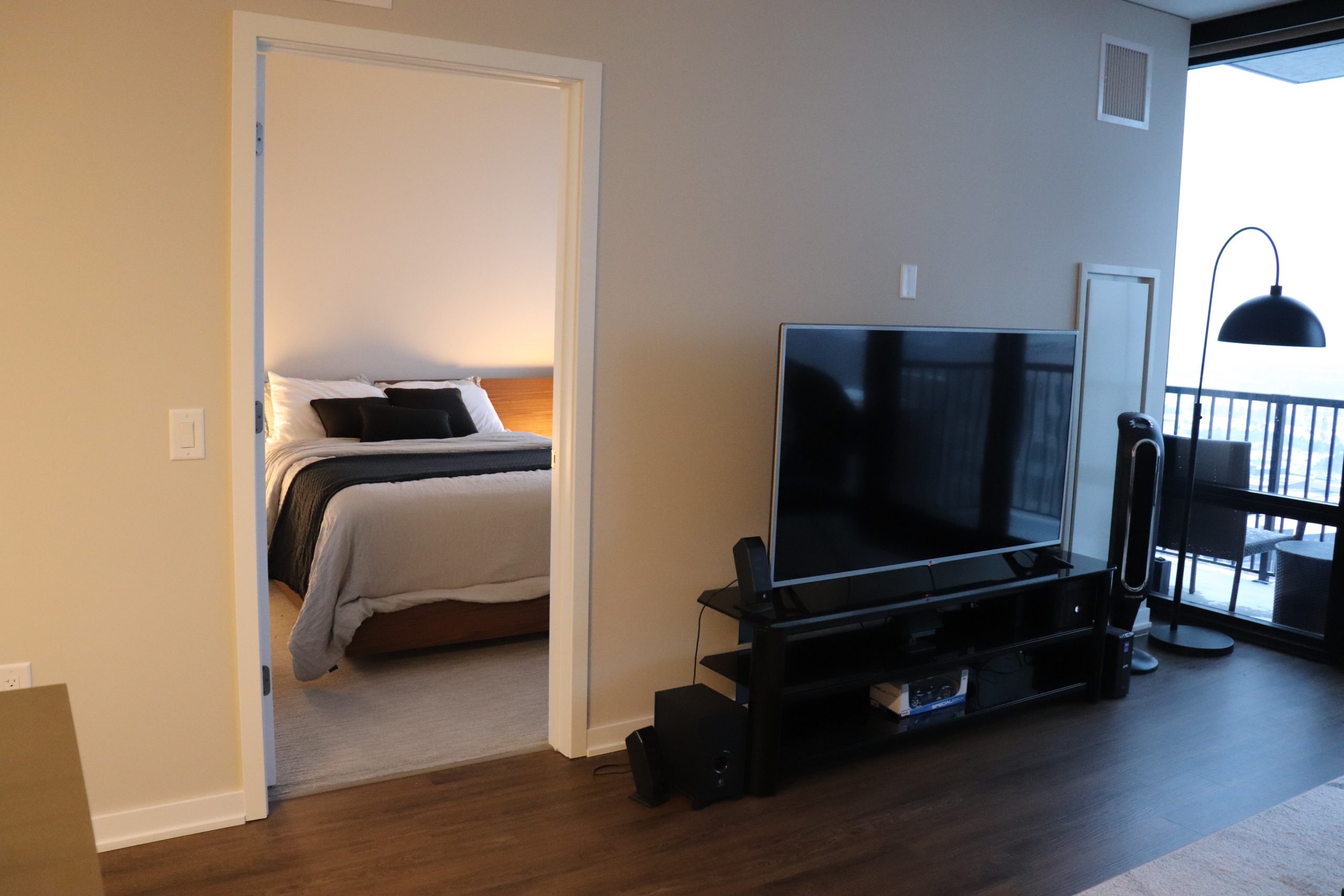 Living Room TV High Rise Setup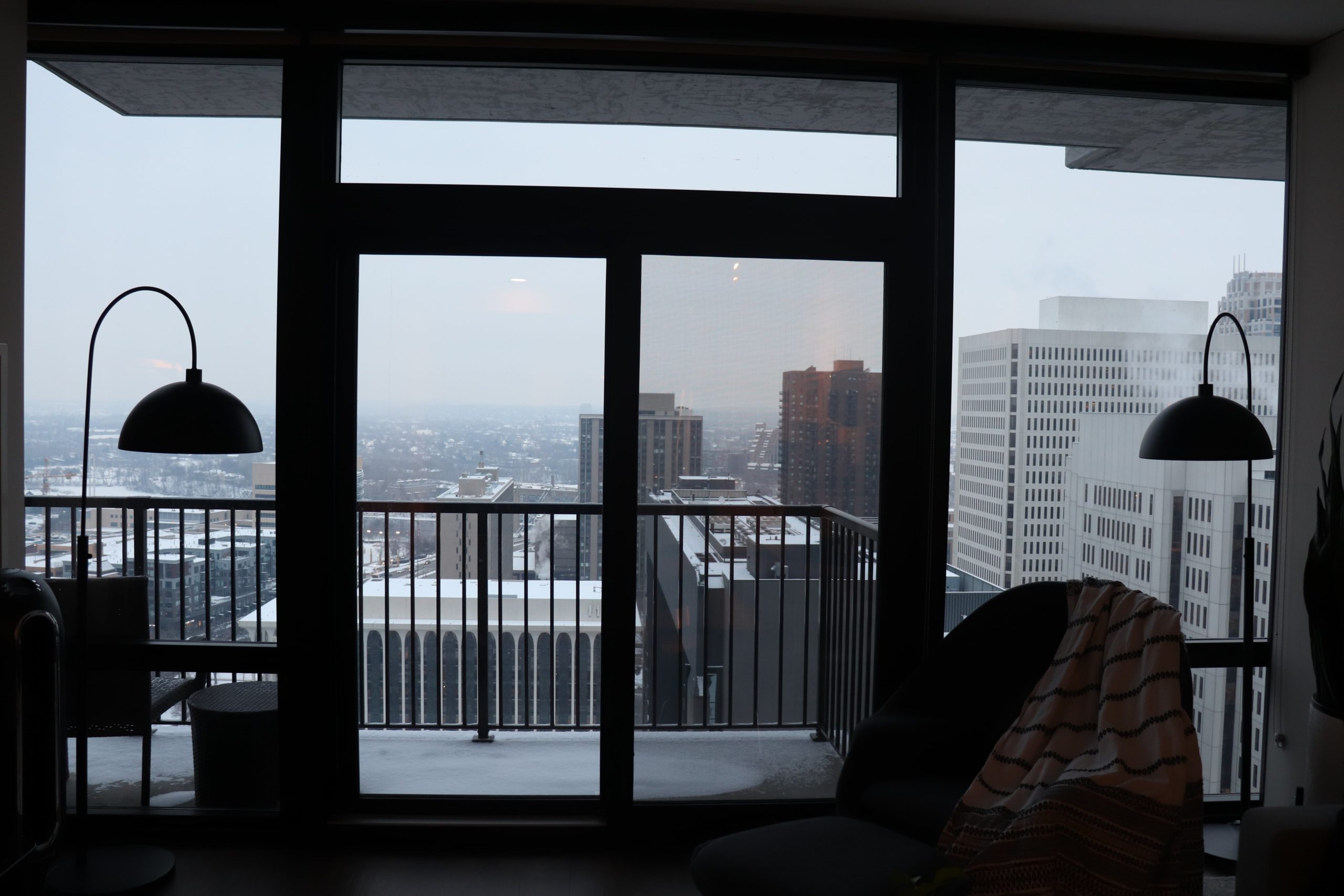 High Rise Luxury Apartment Floor to Ceiling Windows Downtown Living Room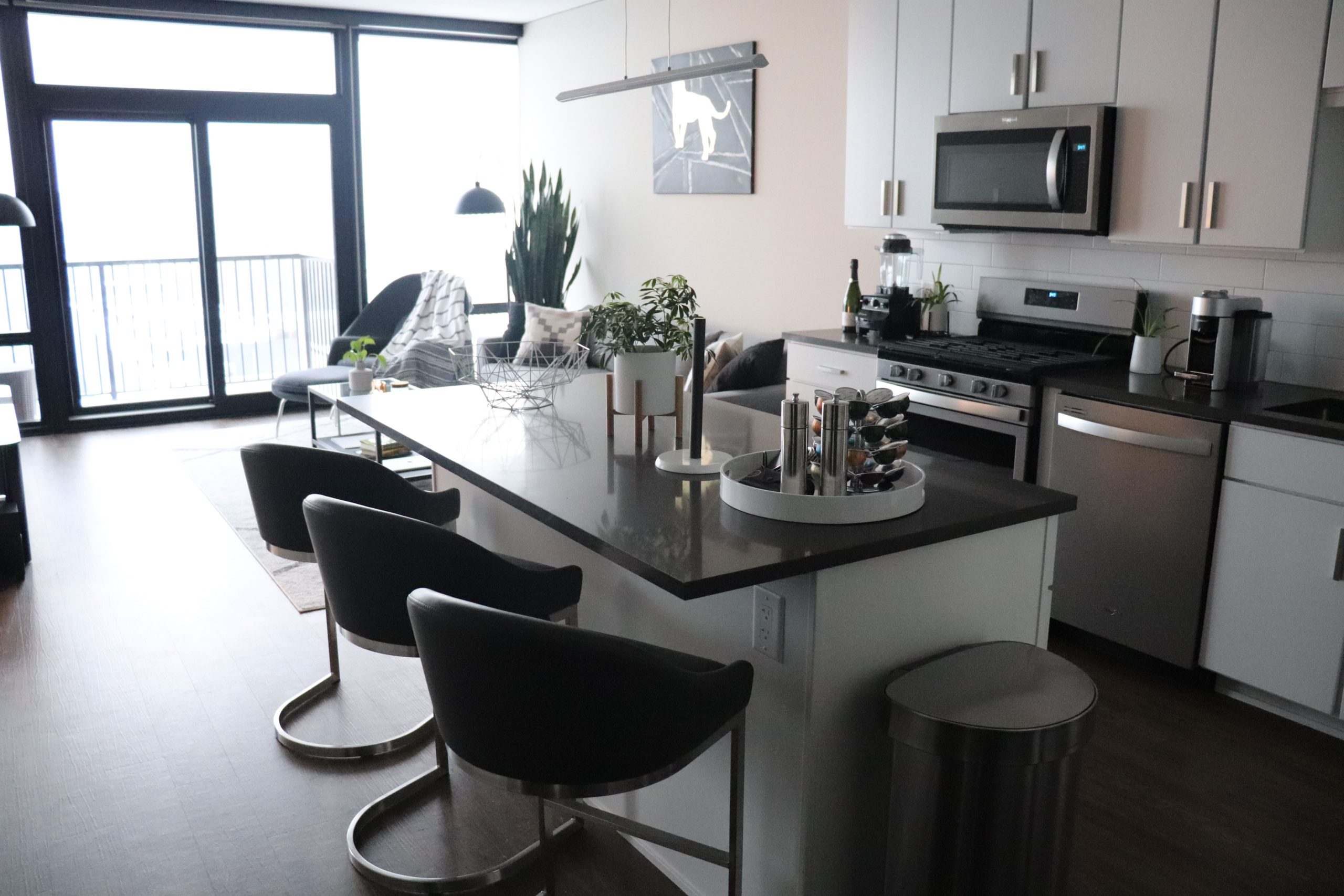 Living Room Kitchen Gray Sectional Womb Chair Natural North Lighting Floor to Ceiling Windows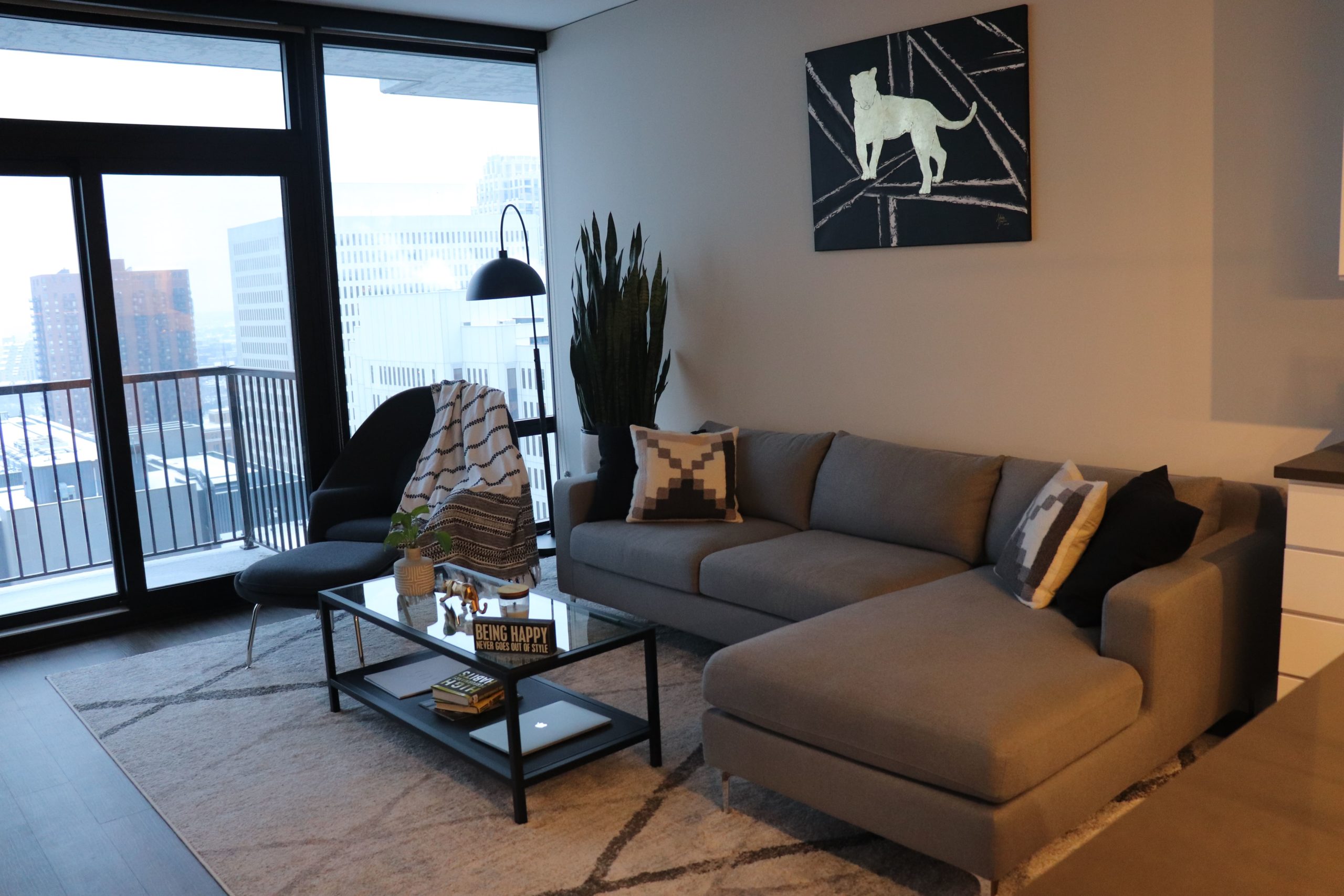 Womb Chair Gray Sectional Downtown Floor to Ceiling Windows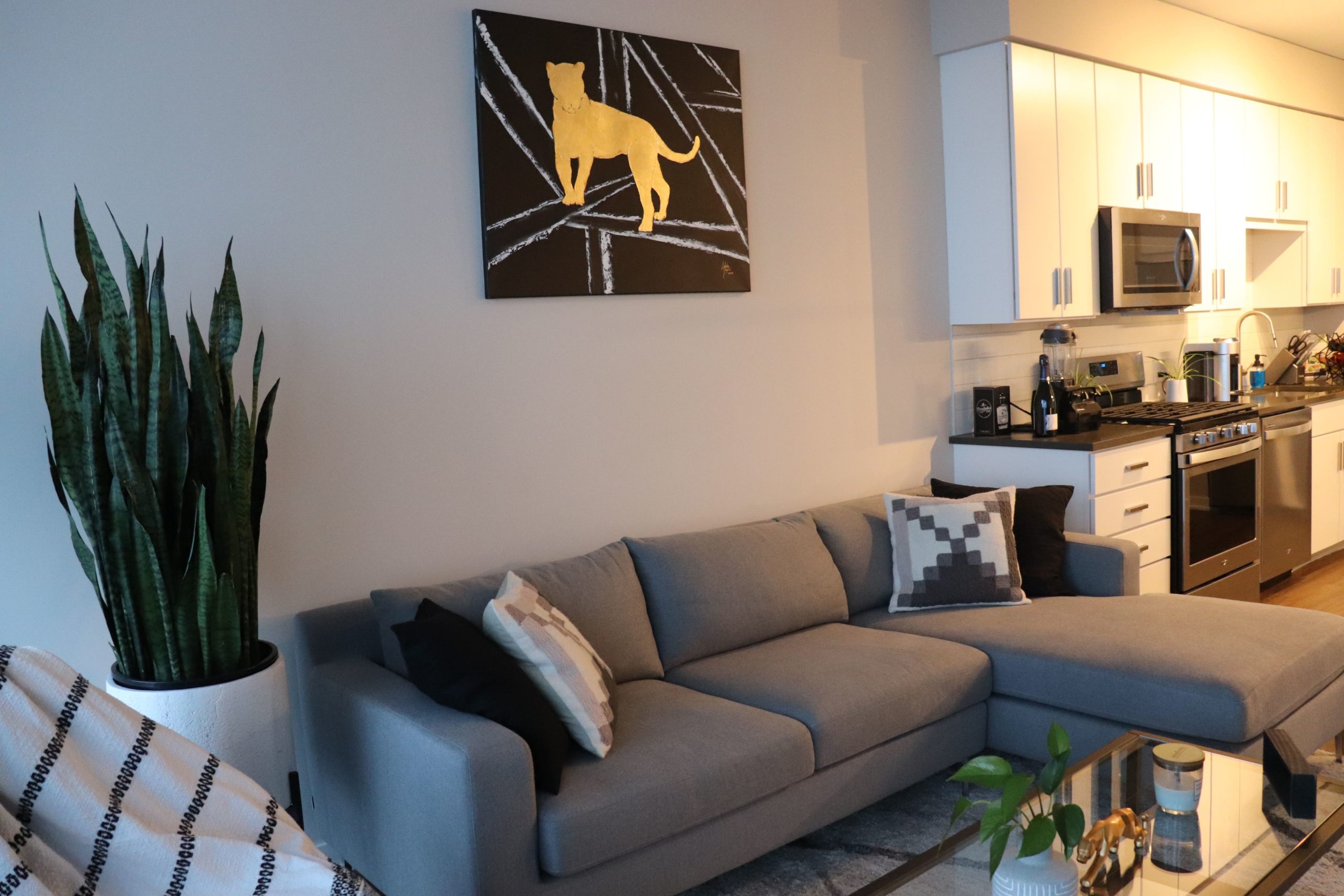 Etsy Painting in Gray Living Room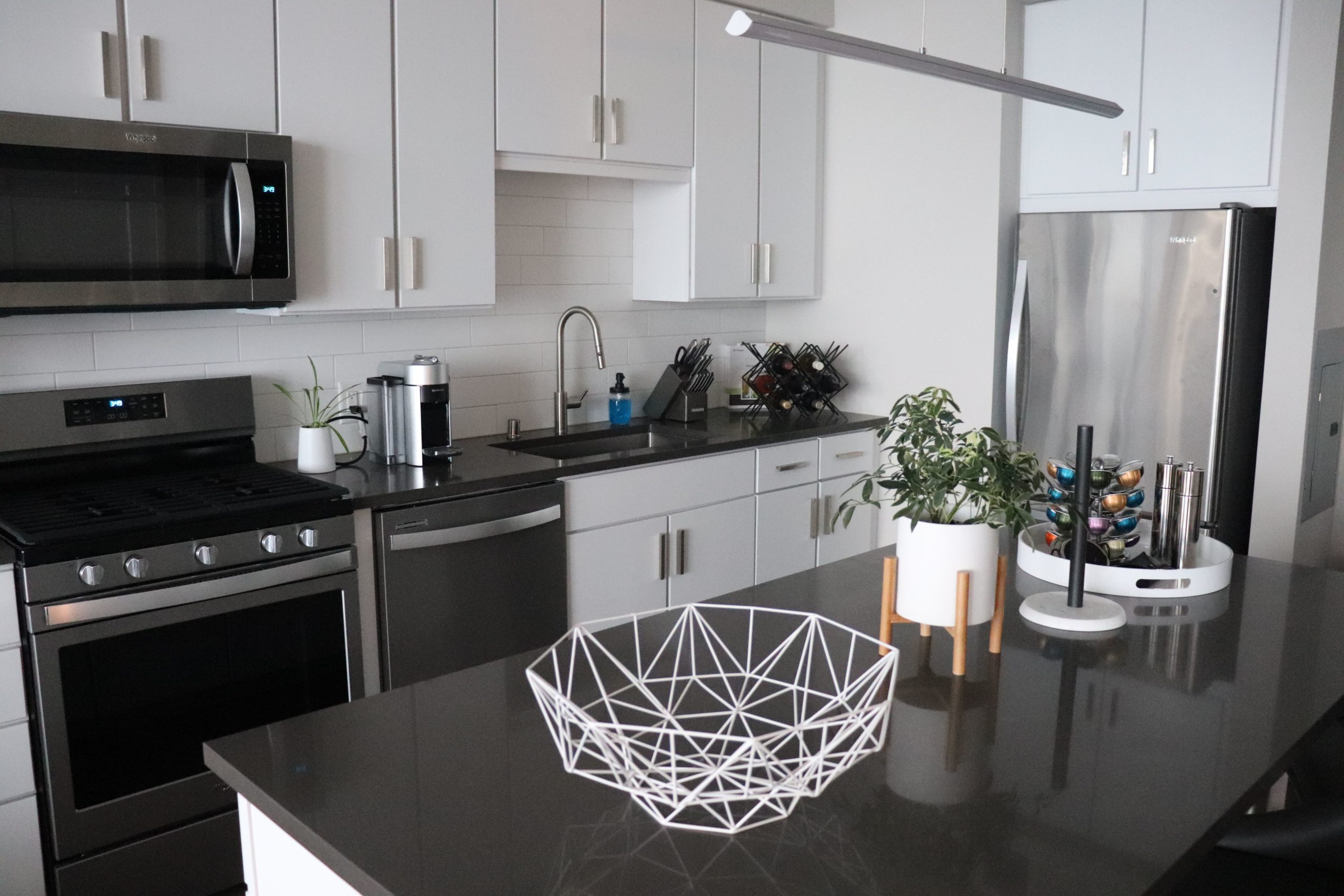 Gray and White Kitchen and Kitchen Island Natural North Light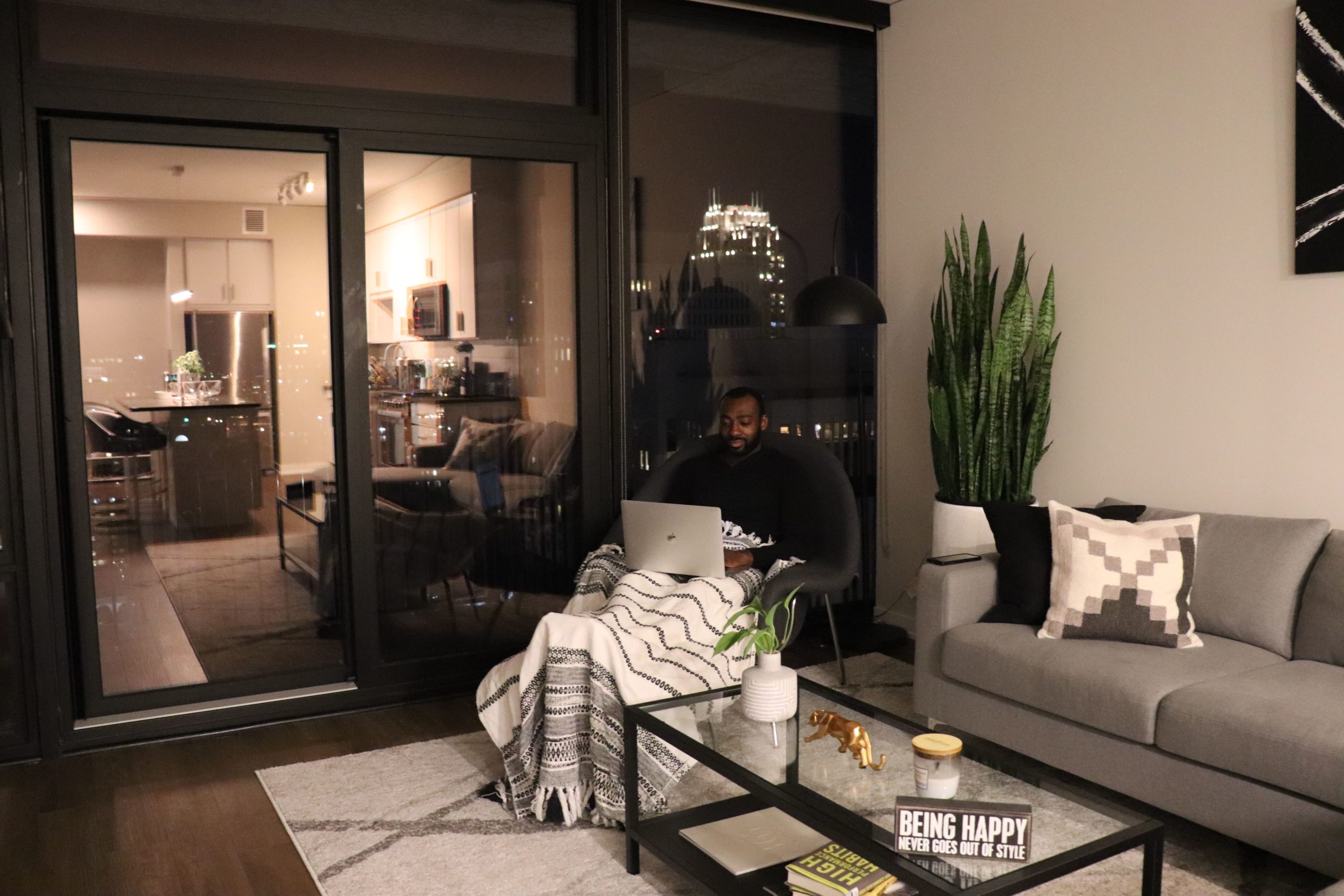 Rove Concept Snake Plant Gray Couch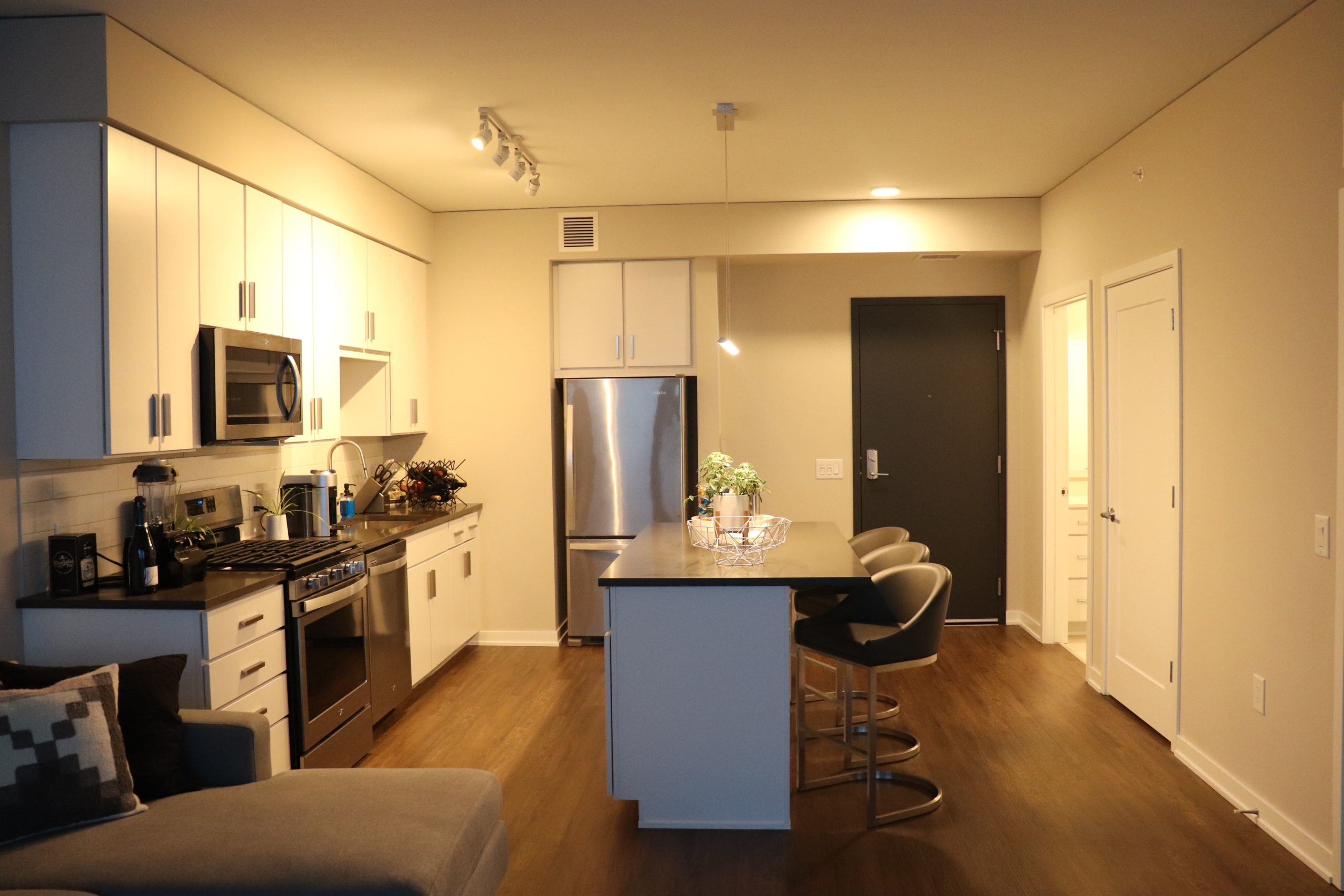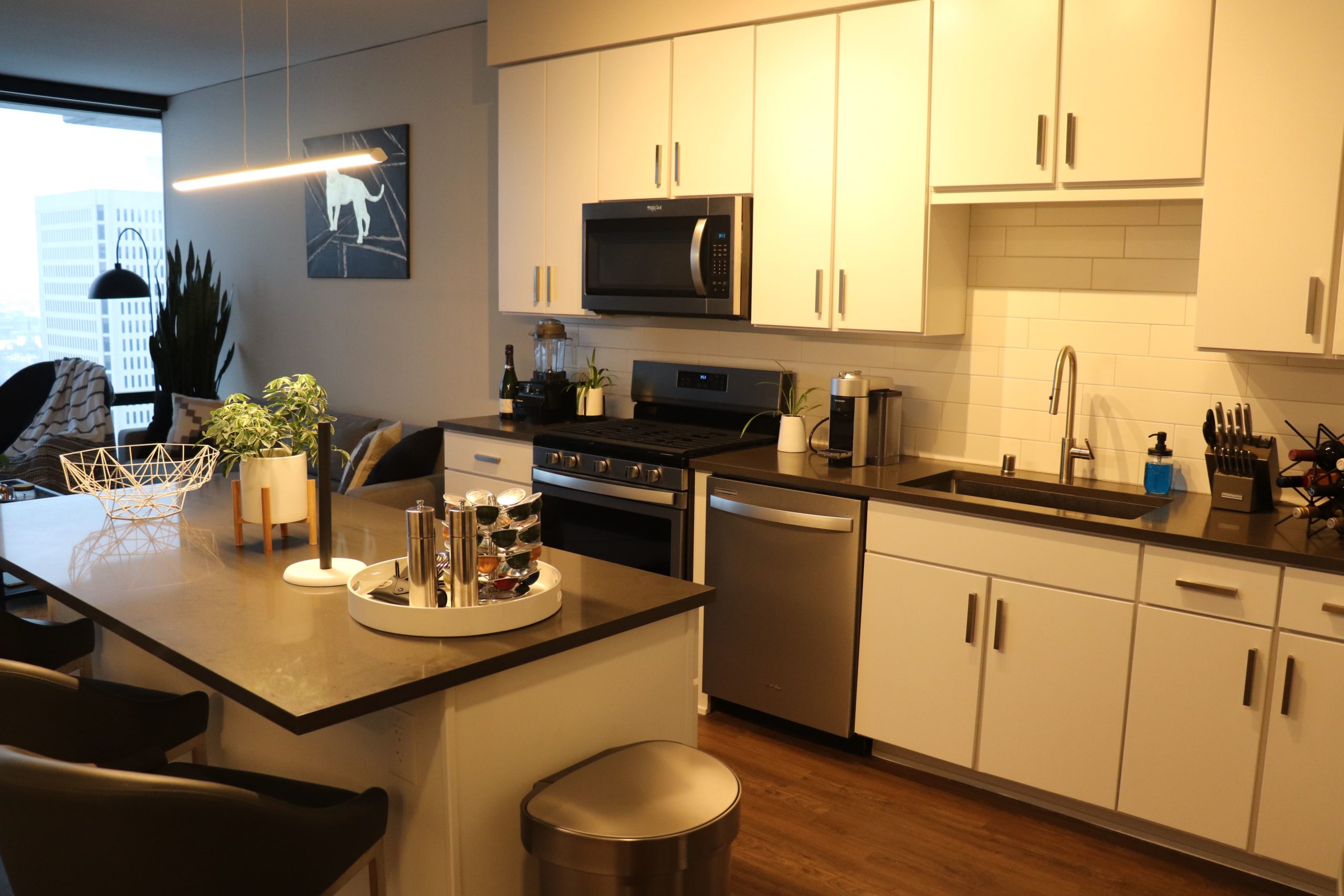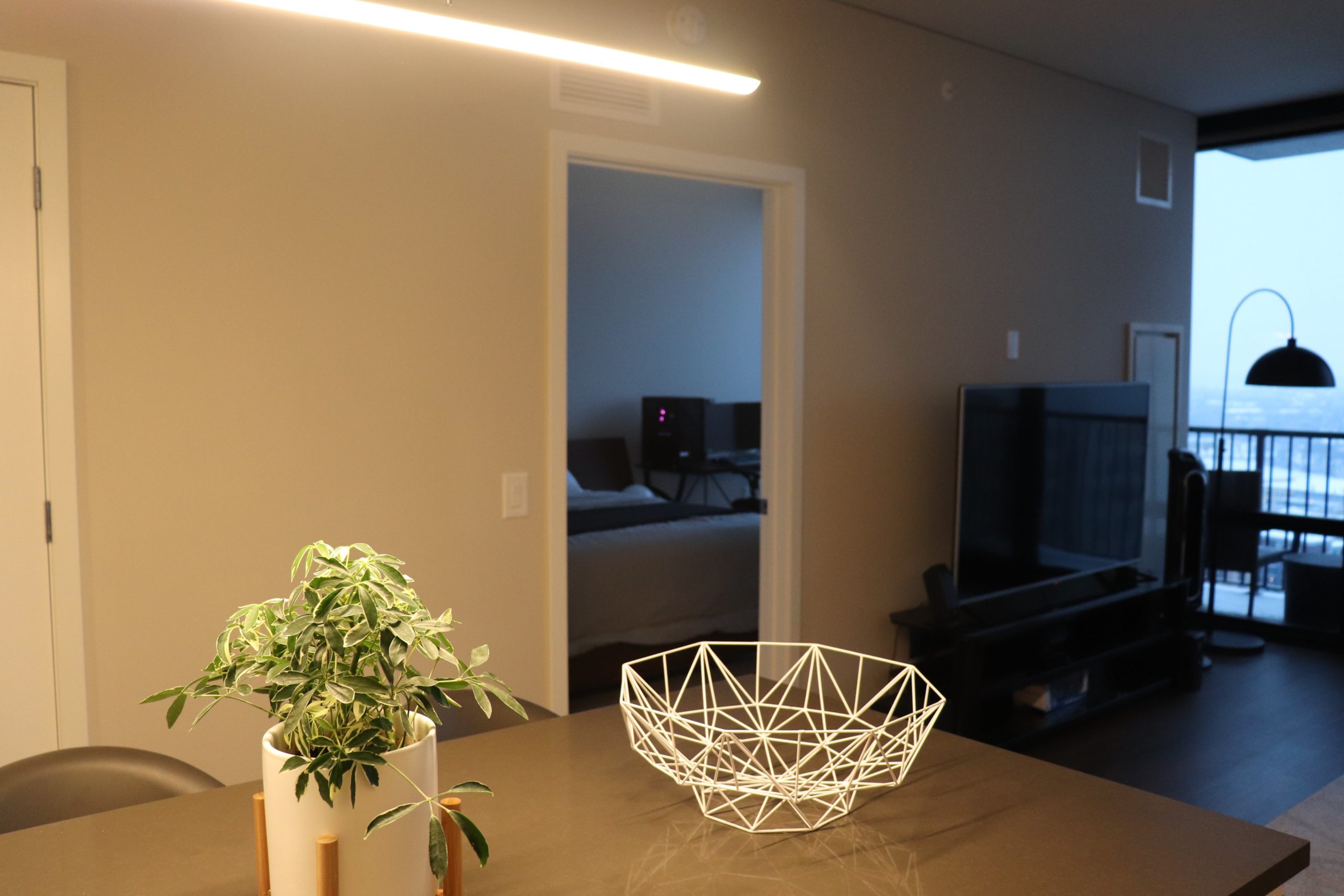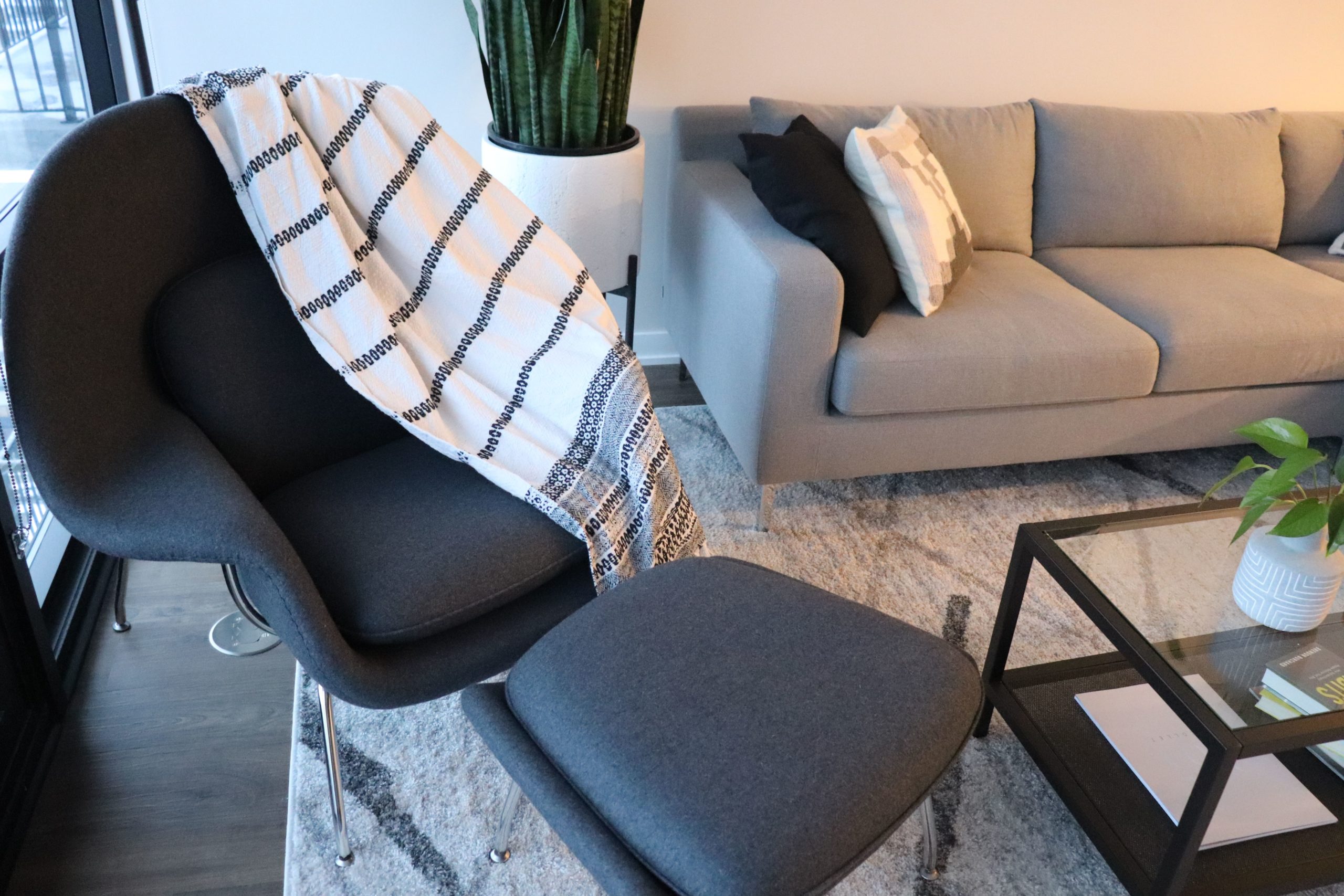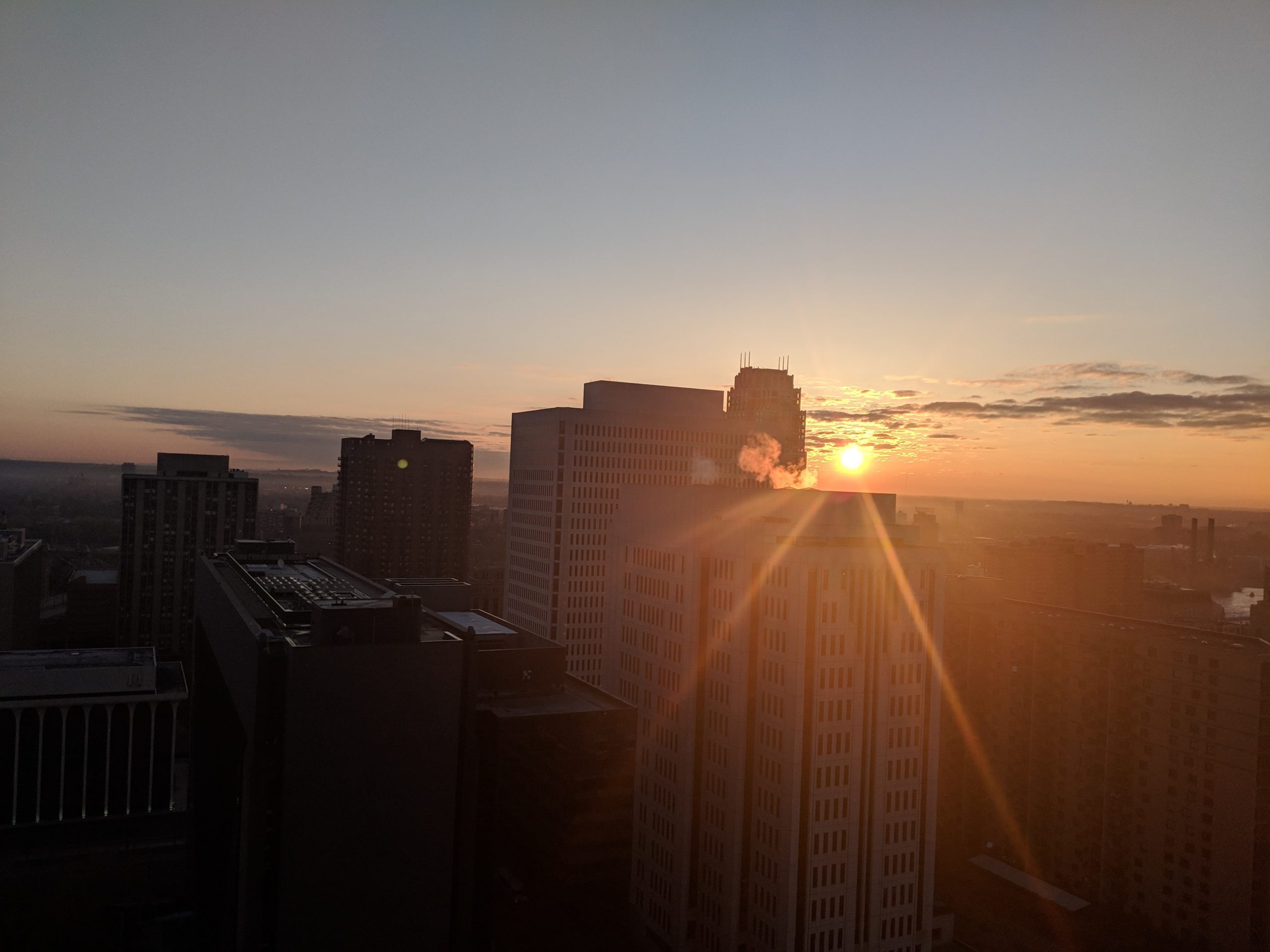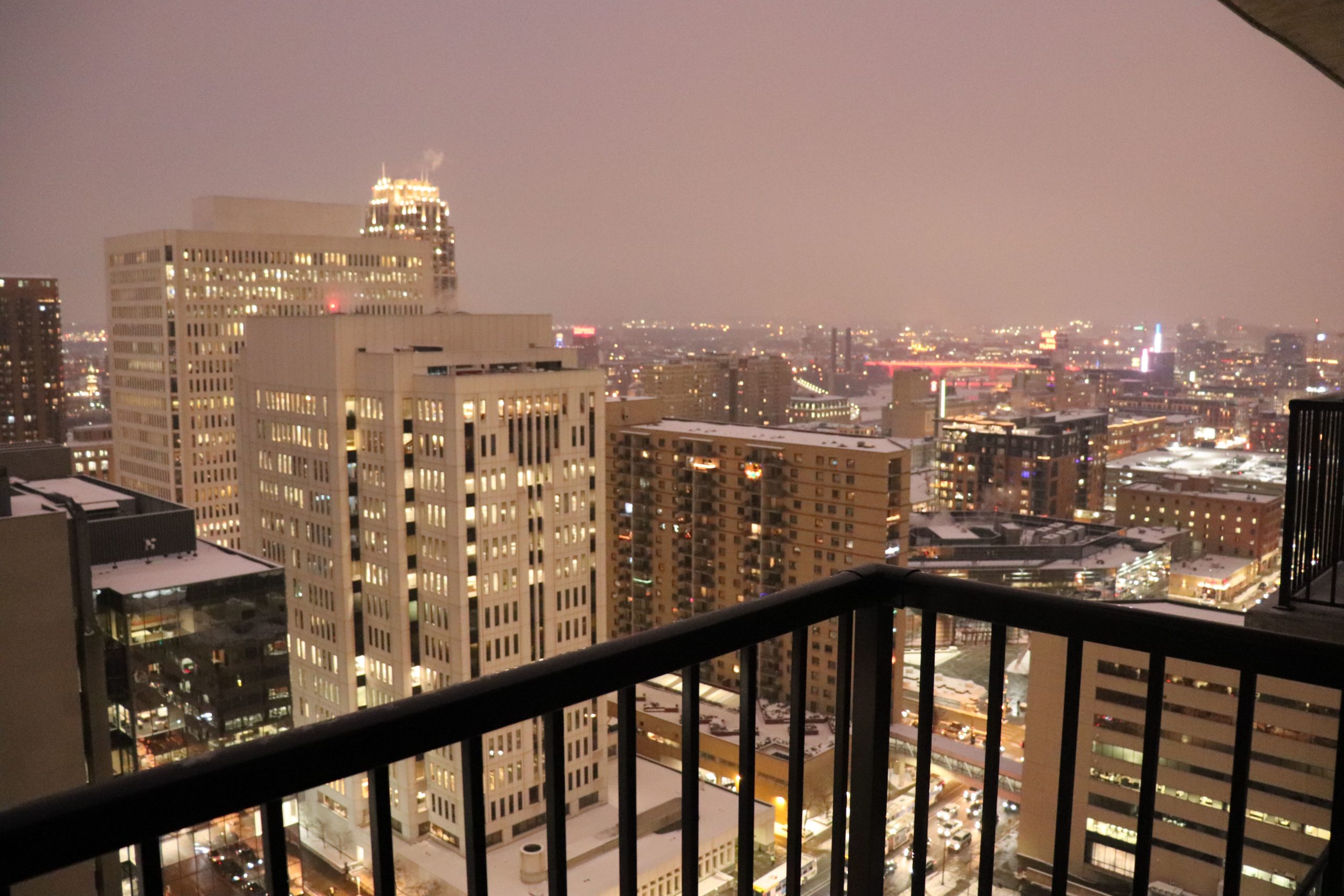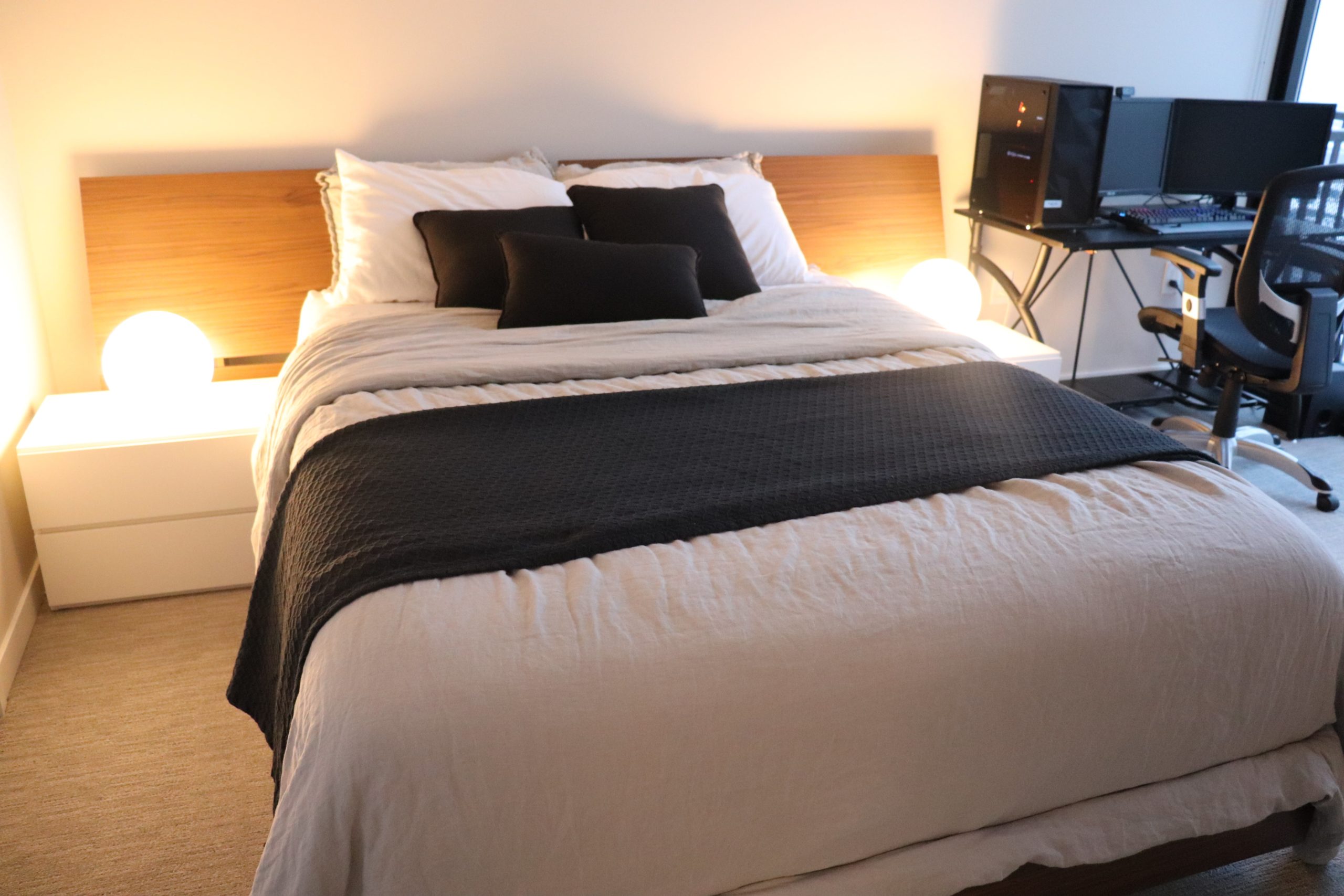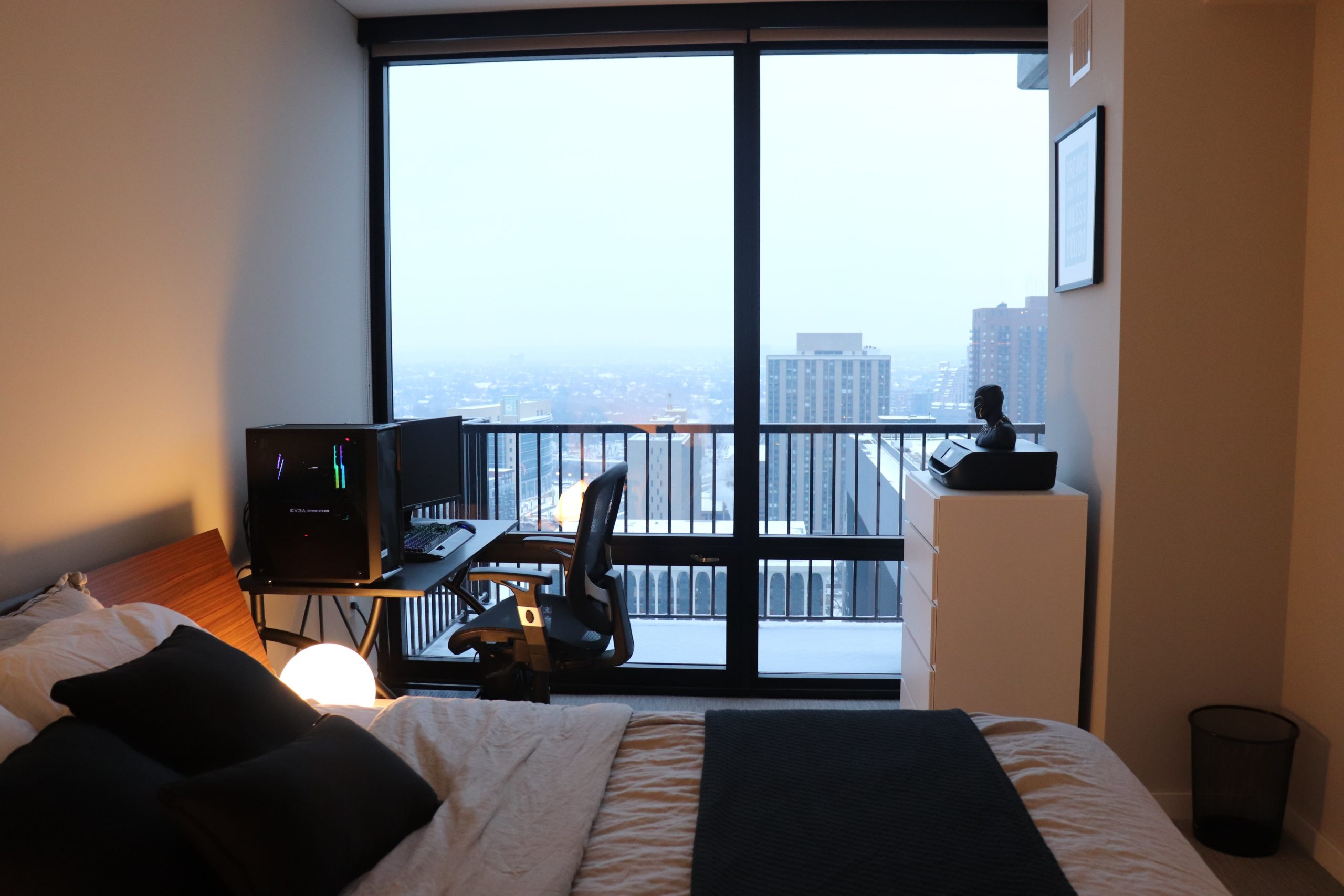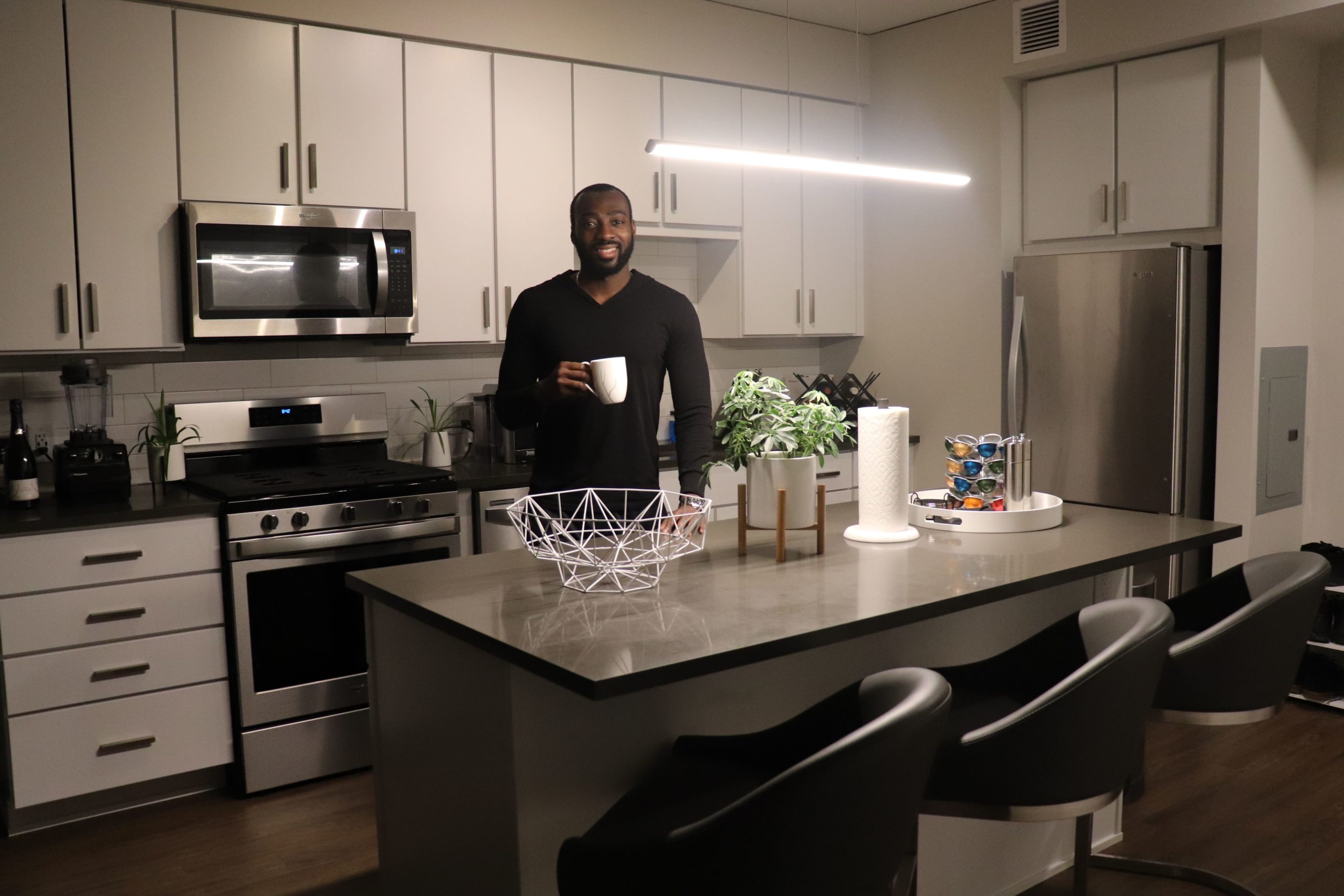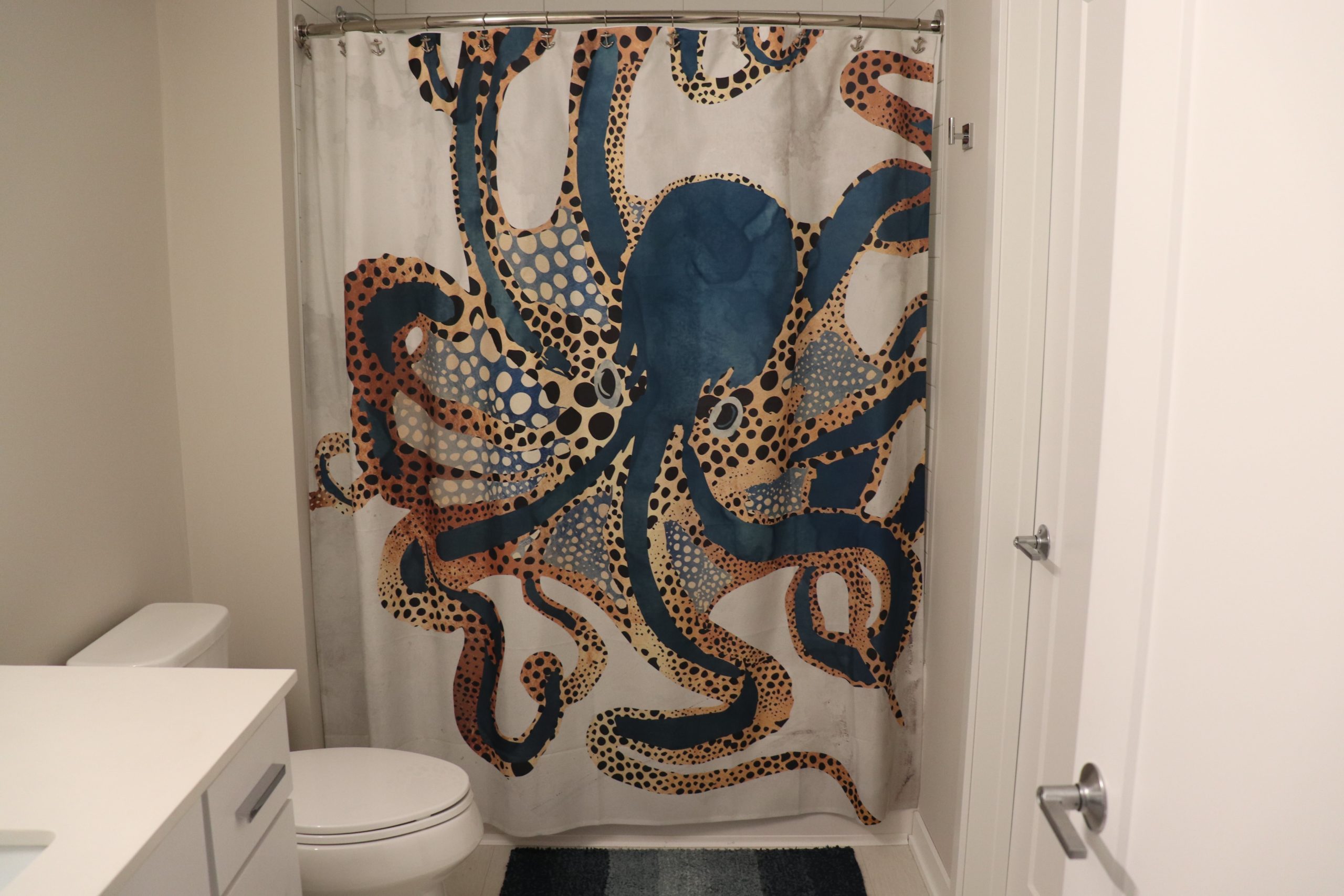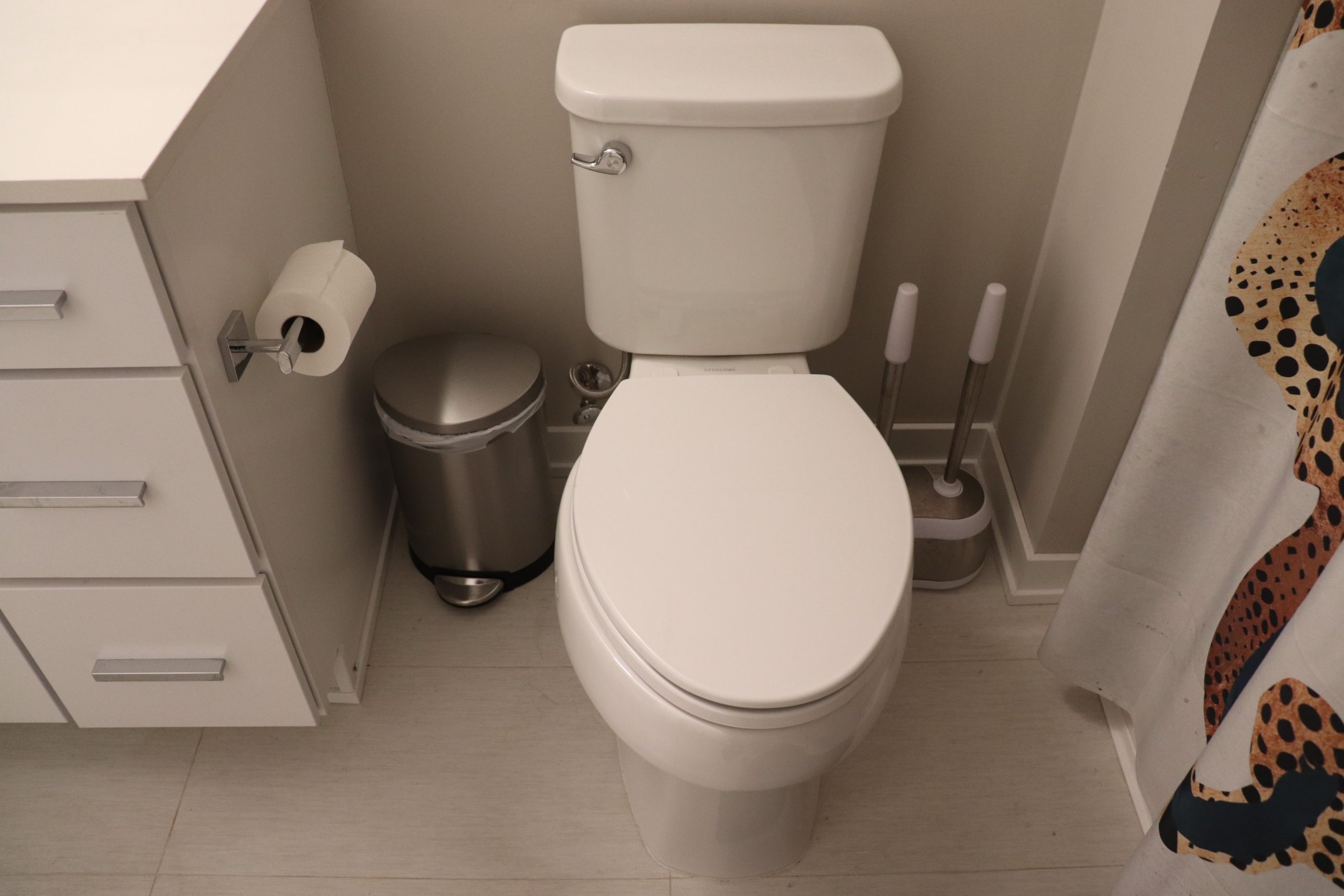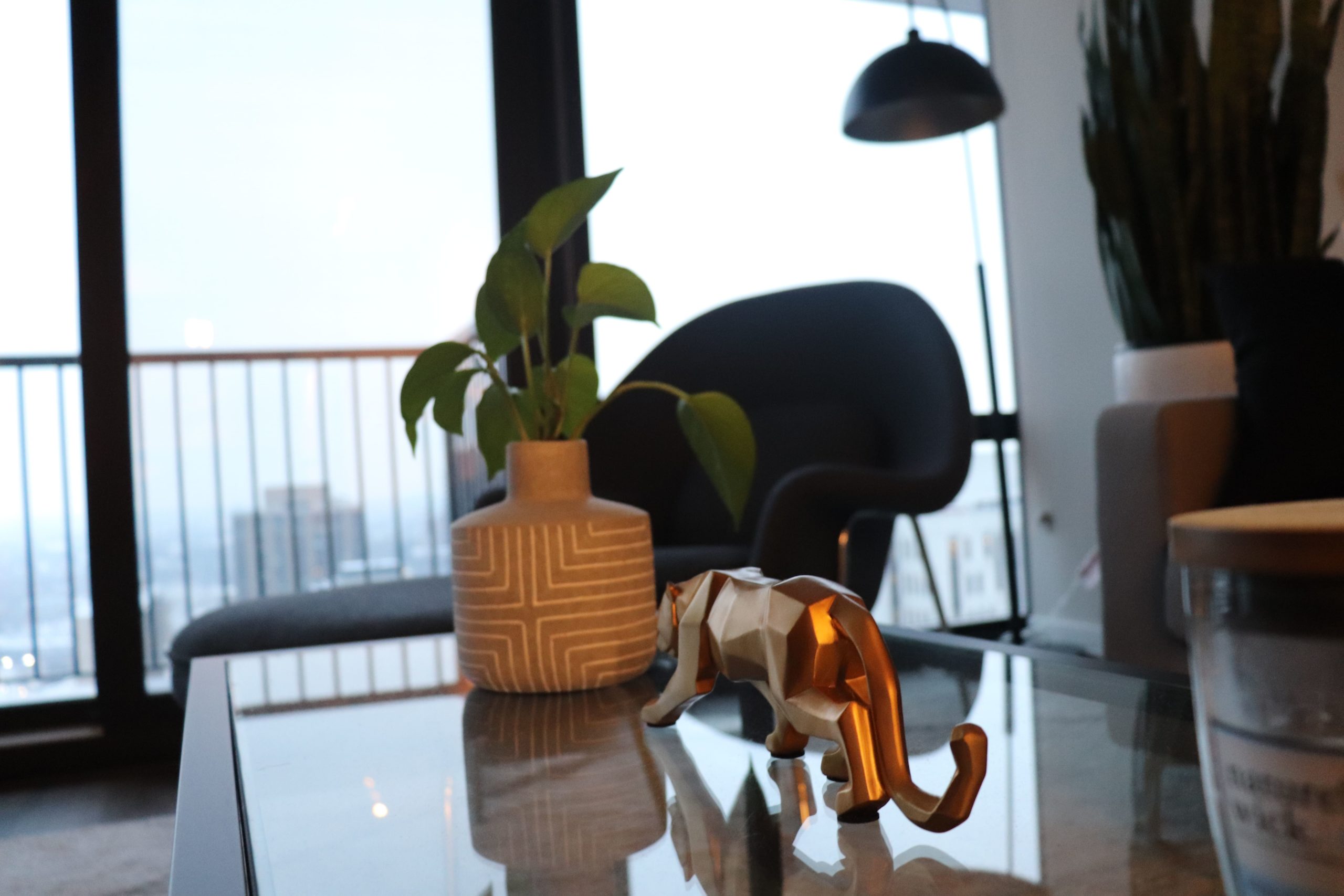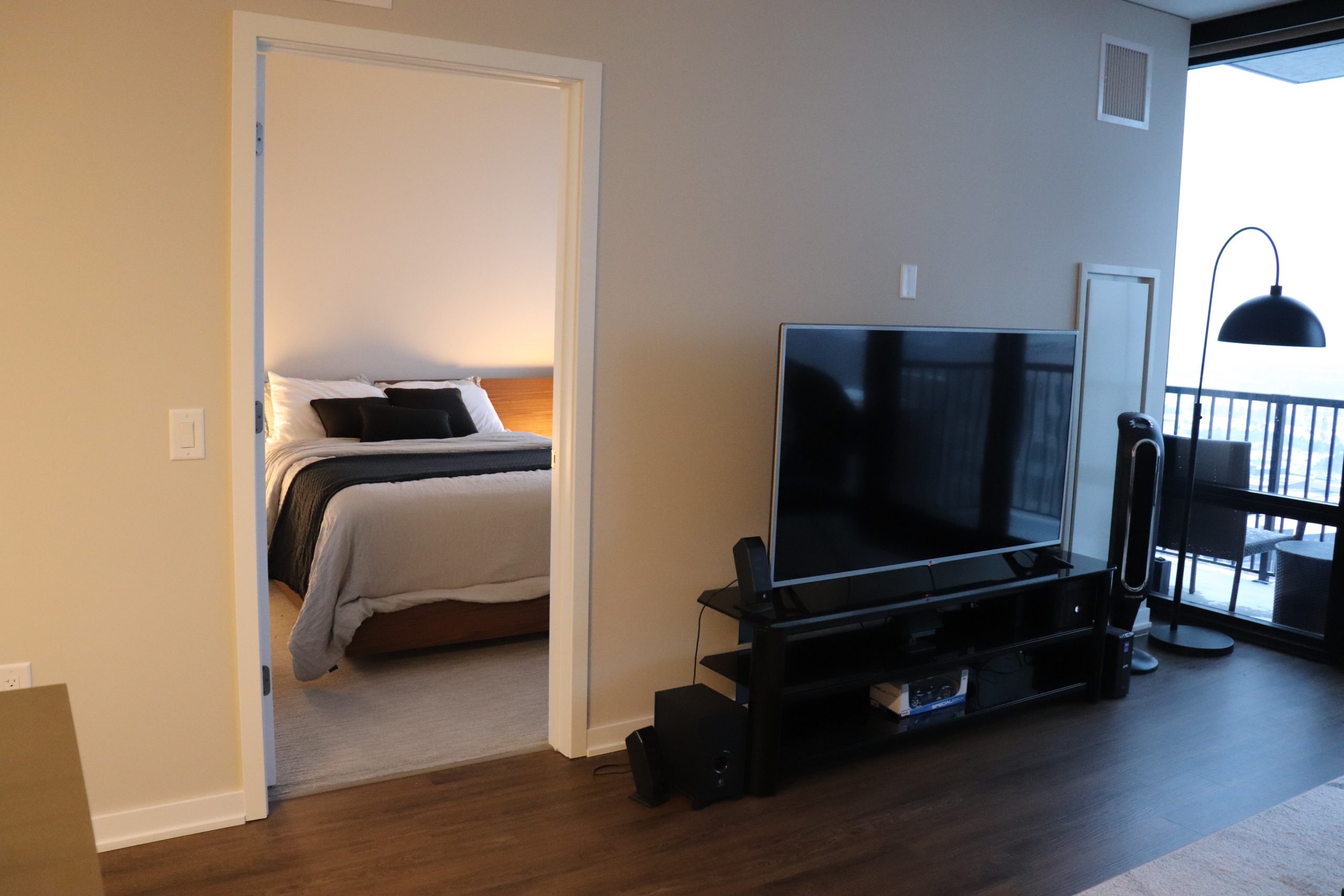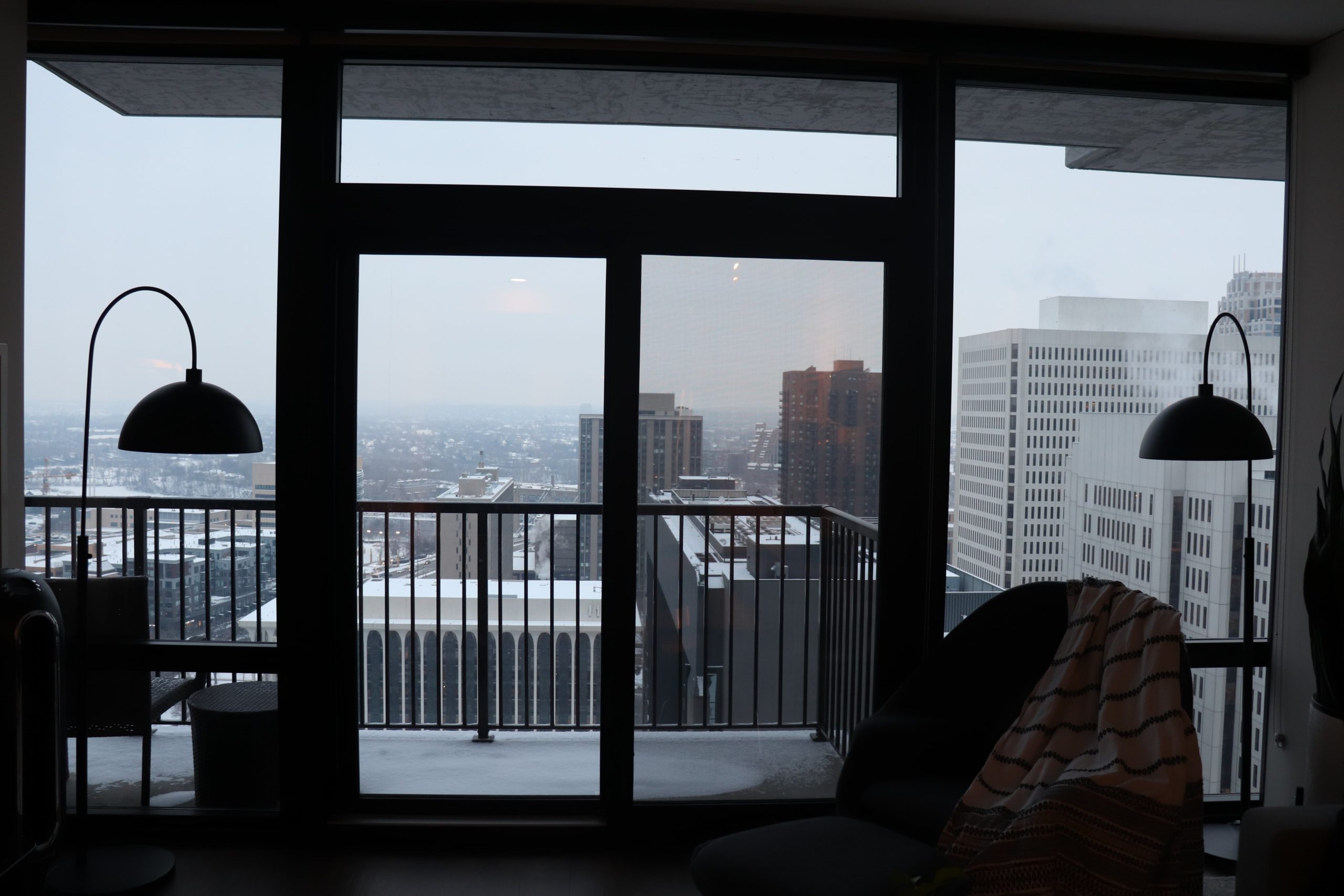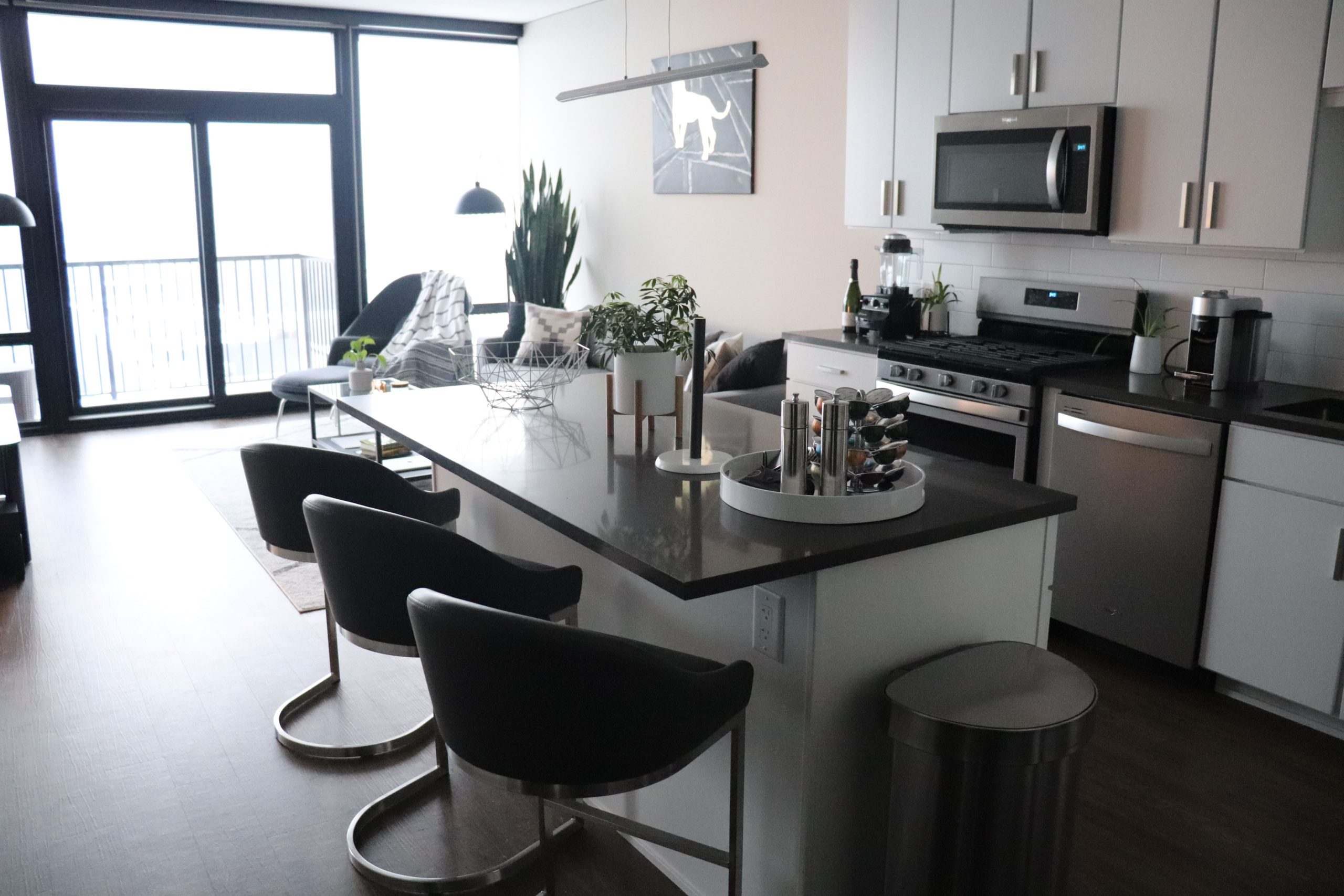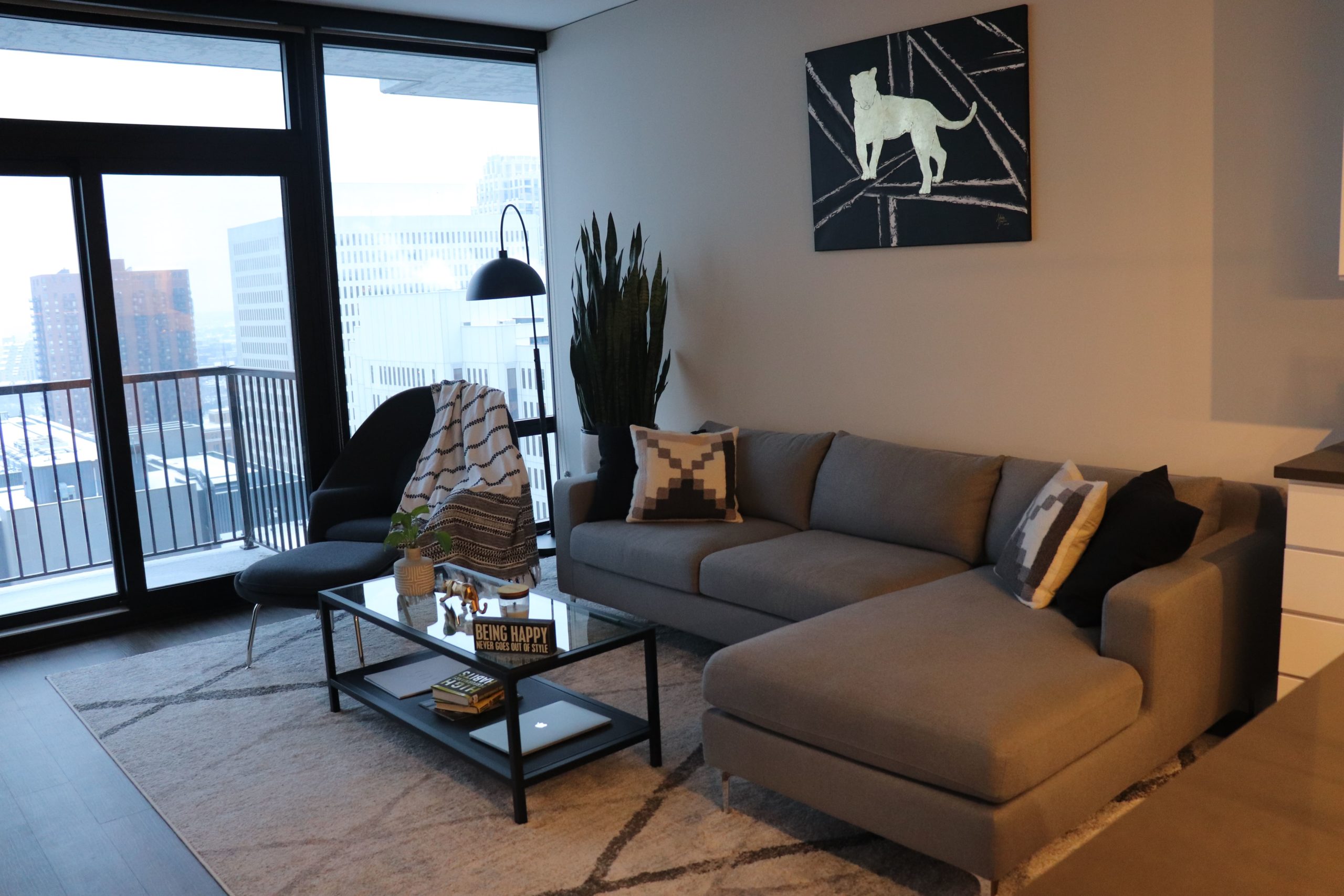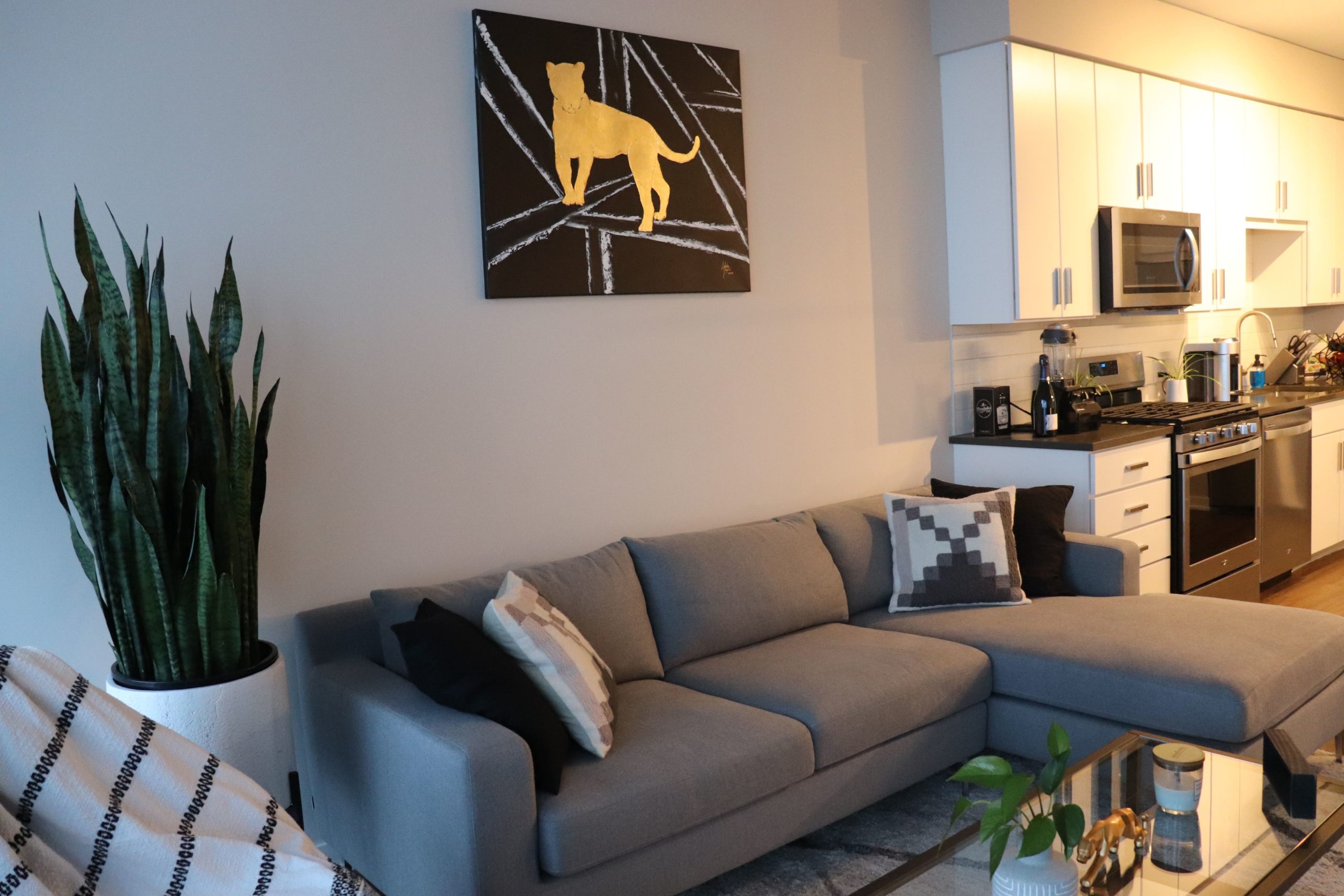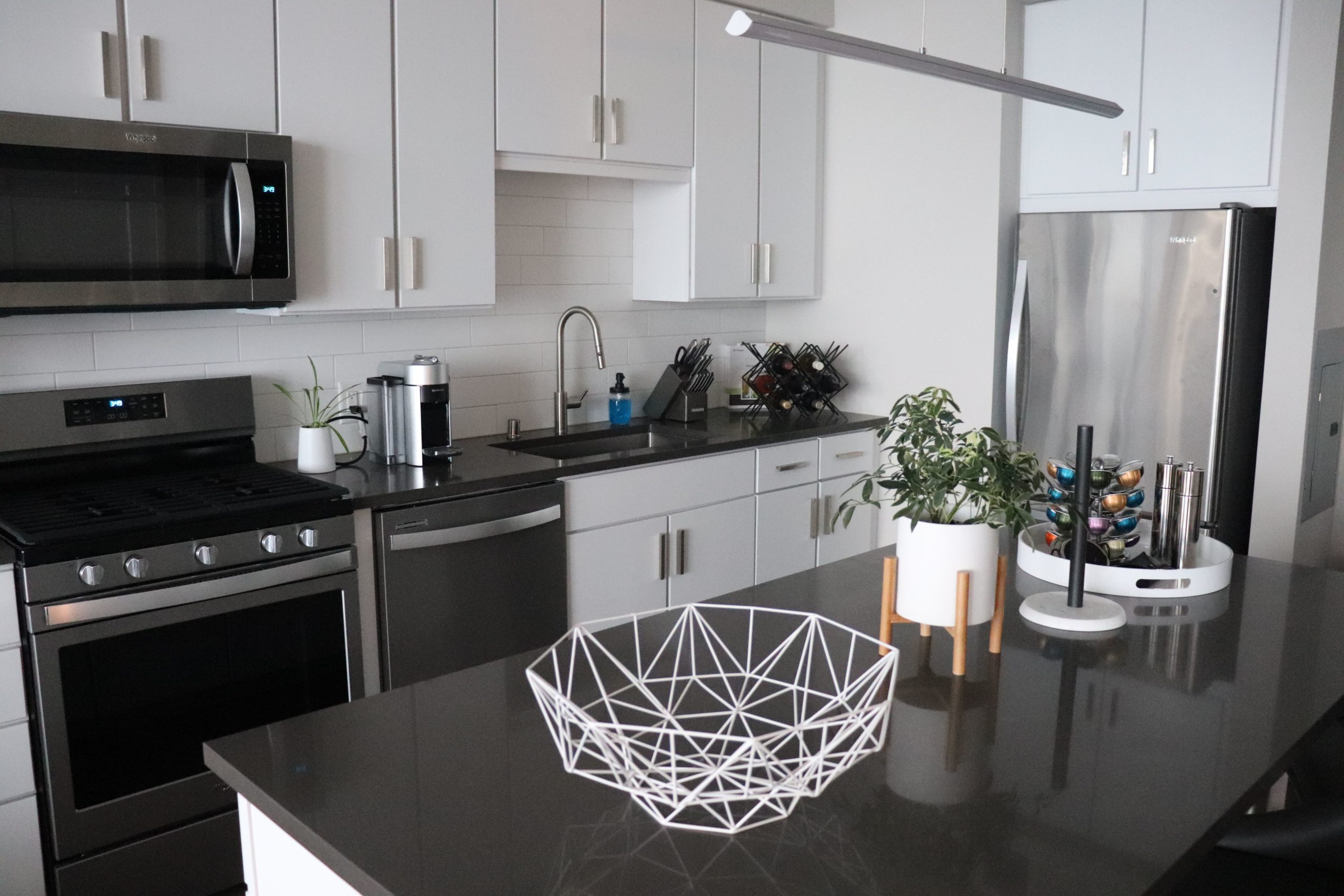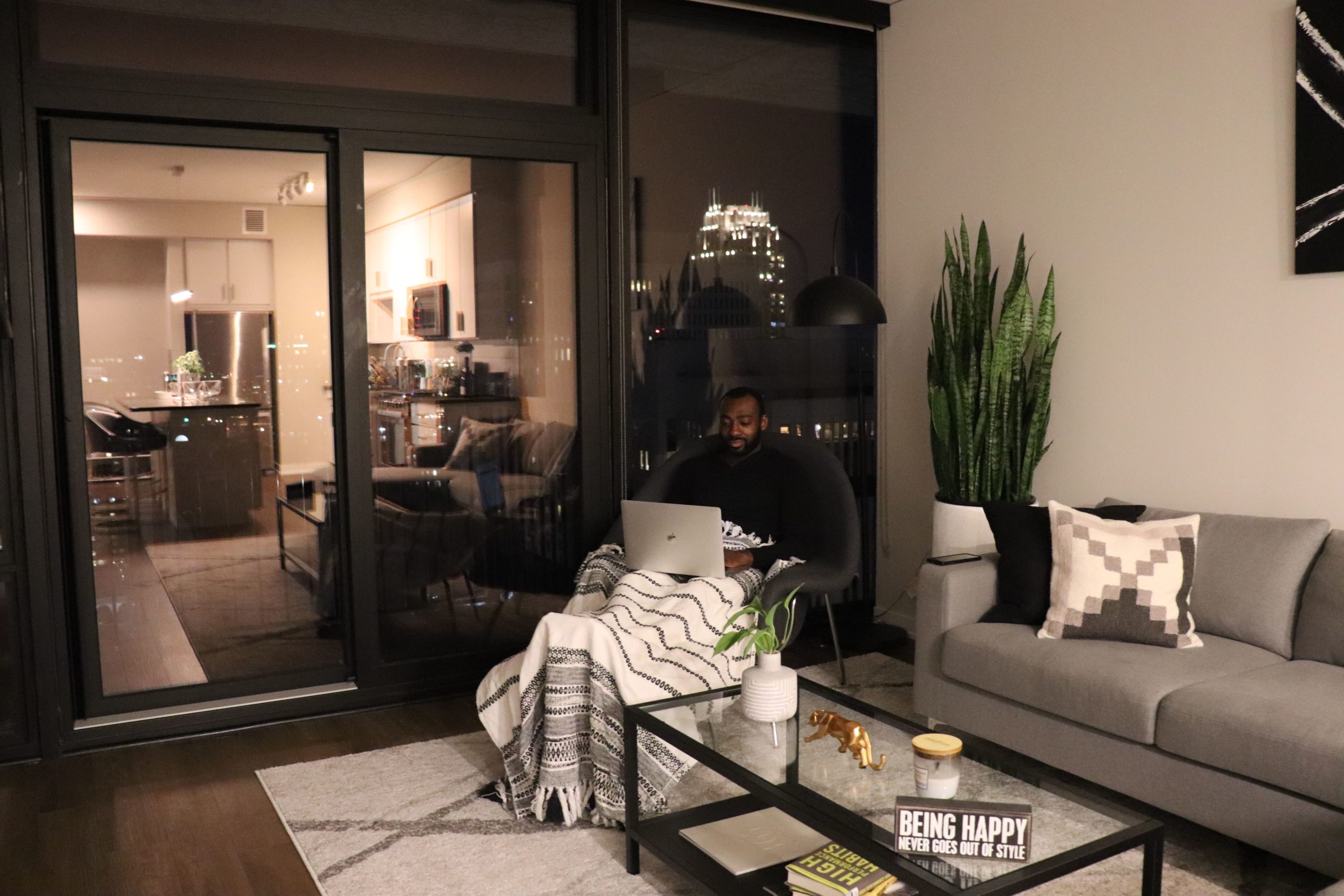 Name: Nathan Mensah
Location: Minneapolis, Minnesota – Downtown
Home Type:  Apartment
Home Status: Lived in for 4 months – Rented
Size: 700 square feet
Career: Cyber Security
The Tour
As soon as you enter the unit, you're greeted with a spacious open floor plan that lets you see right over the gray quartz countertop kitchen island. Go a little further and you will find yourself in the living room filled with neutral colors such as grays, blacks, and whites. At the end of the living room stands large 10 feet floor-to-ceiling windows with a view that makes you feel like you're in Gotham City.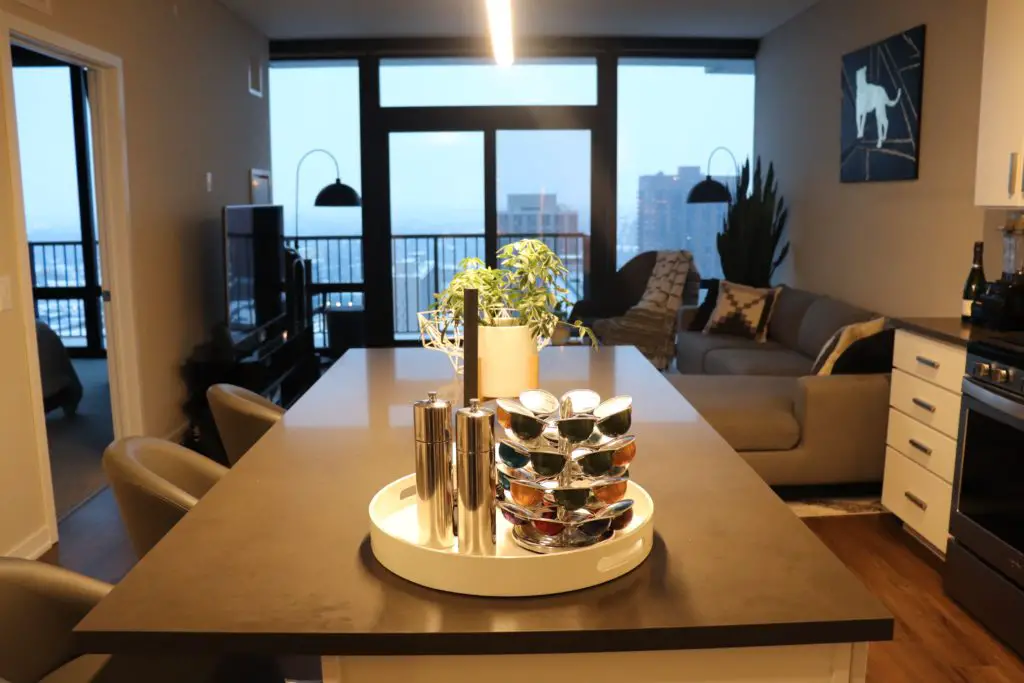 Right away, it's apparent Nathan cares about keeping things organized, clean and simple. "Balance is important to me. I really like consistency even when it comes to decor colors. This way things don't feel too busy."
Nathan chose to contrast his gray kitchen countertop with accents of white and black starting with the kitchen island and working its way around beneath the cabinets. Because of the strong use of neutral colors, he added 3 plants he received as gifts, to give his kitchen a bit more life. He considers himself a proud plant dad as he's managed to keep them alive and healthy since receiving them.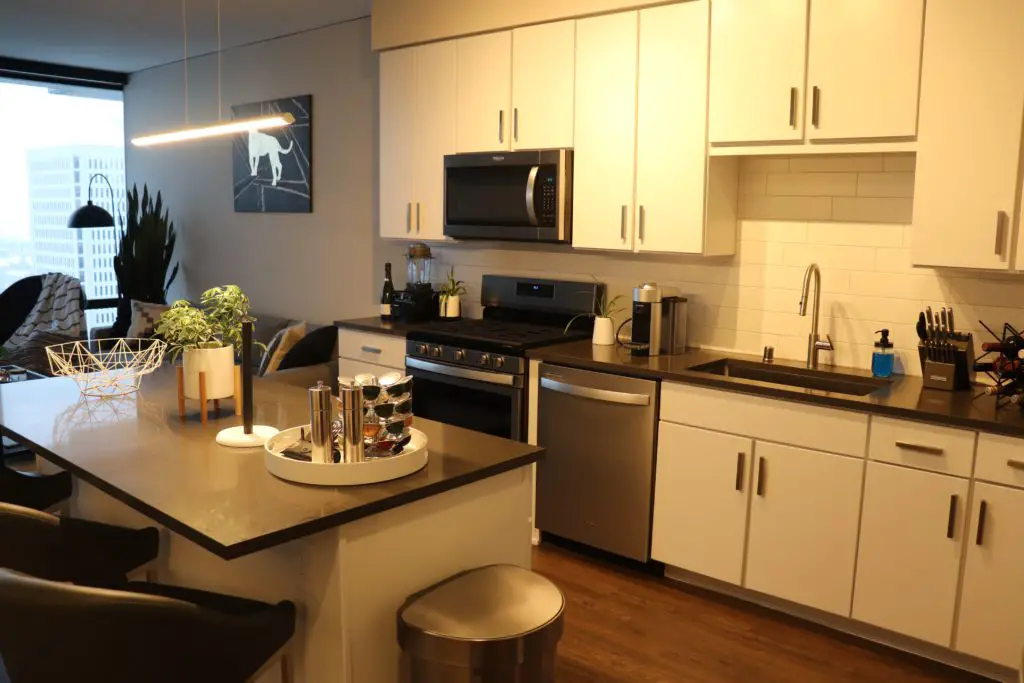 In the living room, the coffee-colored wood floor creates a satisfying contrast against the soft white and gray rug in the living room. Loving animals, he chose to make the golden panther the central focus. A large beautiful canvas of a golden panther permeates the room with a glistening shimmer. The canvas was custom made by Adela who lives in Cluj-Napoca, Romania. She also states that a portion of the money made from her paintings goes to supporting painting workshops made with abandoned children.
On the coffee table, a golden panther is the ornament of focus, providing that dash of personality and pop of color to offset the neutrality of the room. Alongside the golden panther ornament, is a wonderful quote "Being Happy Never Goes out of Style" and a plant to give the room a breath of fresh air.
The performance weave sectional below the painting was custom made by Rove Concept, a Canadian based company, upon request. Nathan decided to add balance to the sectional with 4 pillows using solid and diagonal pattern pillows, thus tying everything together.
Tucked right next to the sectional is a large 14" Snake Plant boldly perched on a modern Scandinavian planter.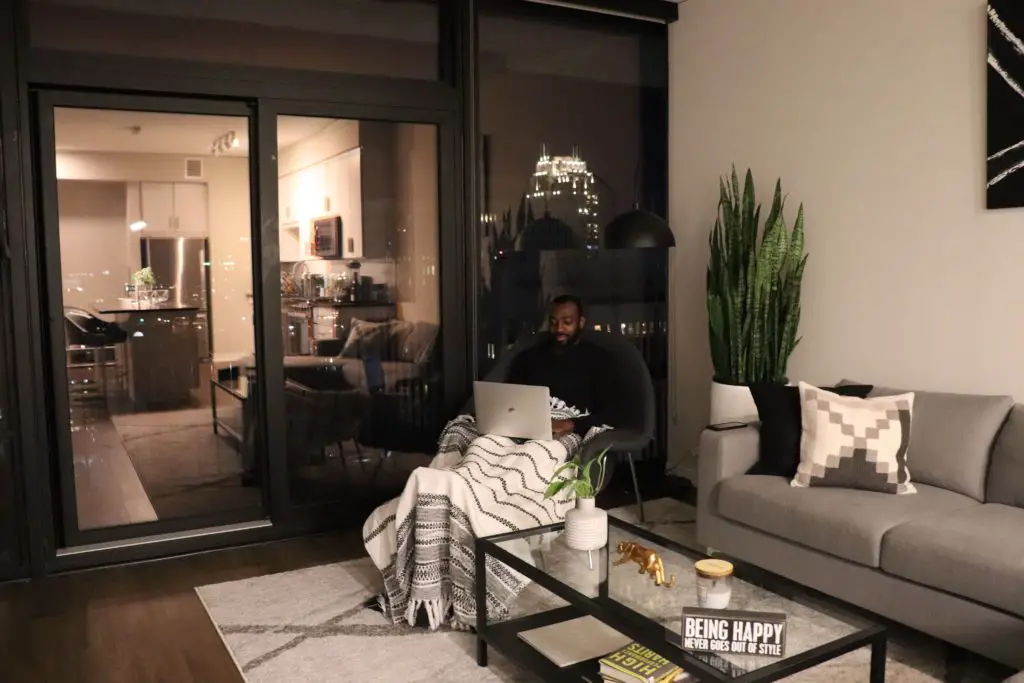 The comfy cashmere wool Womb Chair finishes the symmetrical balance of the living room while providing a perfect place to relax and watch TV or take in the beautiful view.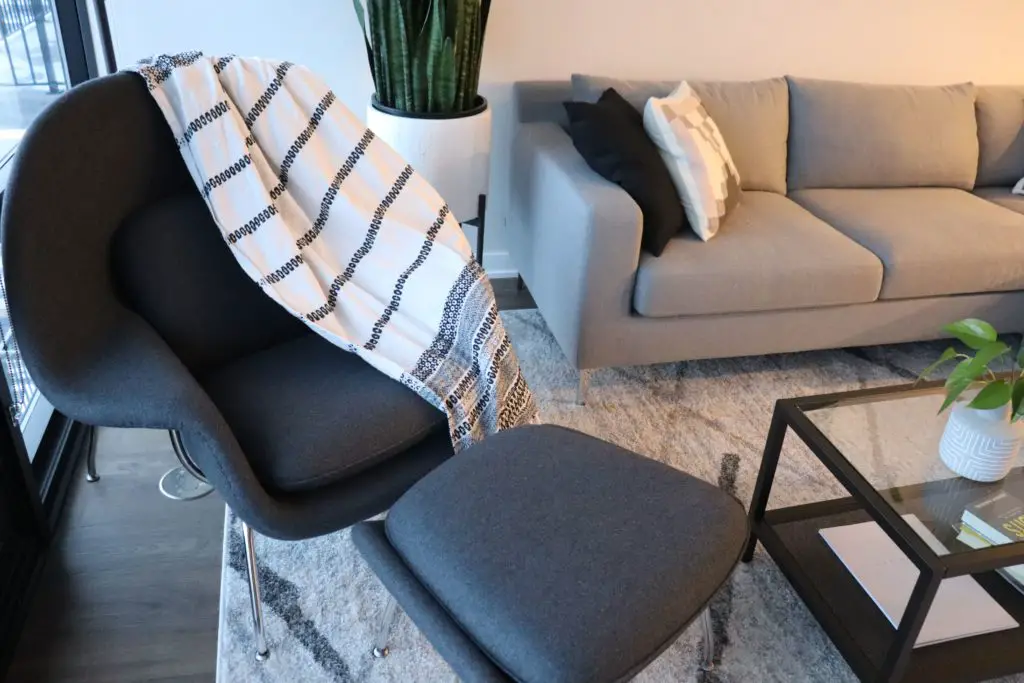 Strolling along to the bedroom, Nathan makes great use of this space ergonomically. Because the space serves multiple roles (work, sleep, and relaxing), he approached it with the mindset of convenience and minimalism. "I strongly dislike clutter and excessively furnished bedrooms" replied Nathan when questioned about his bedroom décor.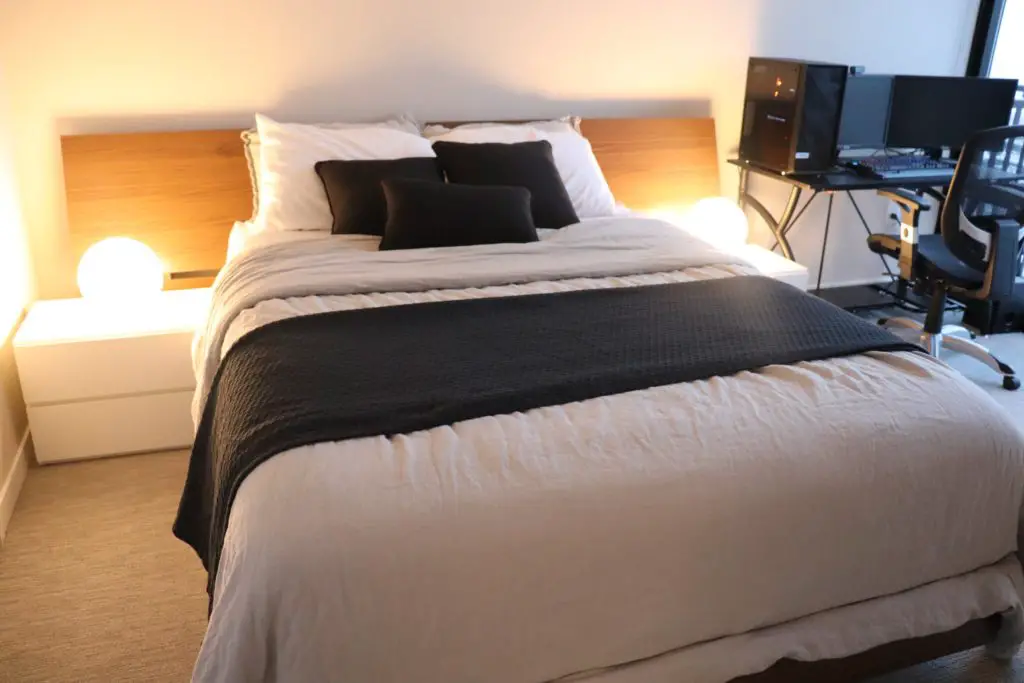 Connecting the bathroom and the bedroom is a walk-in closet where he has an in-unit washer/dryer, and where he keeps his clothing, documents, and home essential items organized. To disrupt the white finishes in the bathroom, a bold blue and orange octopus serves as the art on the shower curtain cover.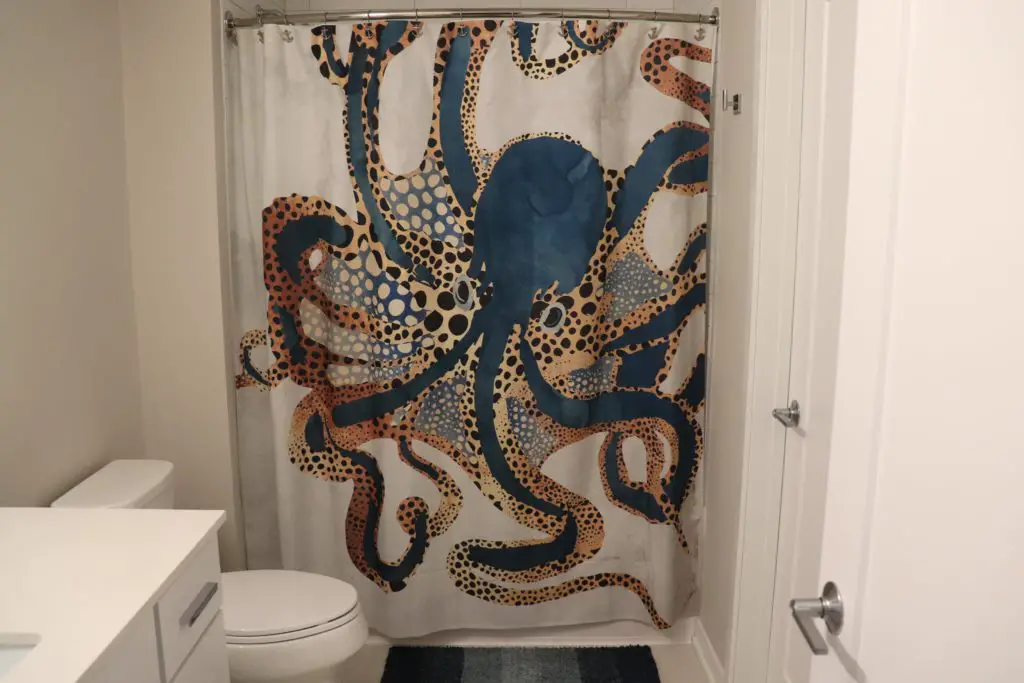 "I'm absolutely loving this apartment along with all the amenities. The convenience, design, and views make it enjoyable for me to come home every single day," says Nathan.
Tutuhut Talk
What's your favorite area and piece?
Nathan: "100% the Womb Chair. It's so comfy and provides so much utility. I love to sit there and read, watch YouTube videos, look out the window, work, or have a drink with friends occasionally. My friends know that's my seat haha".
Any tips for creating a home you love?
Nathan: "YES! Even if you're moving into an apartment, make it feel like home. I used to have the mindset that since it's not permanent, why bother with décor? I will say after being on both sides of the fence, getting the décor and making my apartment feel welcoming definitely helps. It's more relaxing, helps with creativity, and has helped make me happier overall. Don't underestimate what your space can do for you!"
Lightning Round
Favorite Book: Atomic Habits by James Clear – I'm a huge believer in self-improvement and always striving to be the best version of you."
Favorite Home Appliance: "This is a tie between an in-unit Washer/Dryer and a Dishwasher – These things are life-changing!"
Coffee or Tea: "Tea! I do love coffee from time to time though. This isn't a fair question!"
Cats or Dogs: "I love cats! I love dogs! Can I pick both?!"
Country or City: "City, no question about it! I've always wanted to live in the cities since I was a kid."
Resources
Kitchen
Garbage Bin: simplehuman Semi-Round Step Trash
Bar Stool Seats: Wade Logan Bar Stool
Wine Rack: CB2 Geometric Wine Rack
Coffee Machine: Nespresso: Nespresso Vertuo
Coffee Capsule Holder: Nifty 5515 Nespresso Vertuoline Carousel
Tray:  CB2 Hi-gloss Round Tray
Fruit Basket: CB2 White Fruit Bowl
Blender: Vitamix Professional Series 500 Blender
Planter (Kitchen Island): Tang CN Indoor Planter
Planter (Sink Countertop): Target White Indoor Planter
Living Room
Rug: Porch & Den Iris Trellis Stripes Grey Rug
Sectional: Rove Concepts Sophia Sectional
Lounge Chair: Rove Concept Womb Chair and Ottoman
Planter: CB2 Fiore Planter with Stand
Bedroom
Bedframe: Franco Platform Bedroom Set
Computer Desk: Origami Folding Computer Desk
Lights: FADO Table lamp
Bathroom
Shower Curtain: Society6 Underwater Dream VI
Garbage Bin: simplehuman 1.2 Gallon Round Bathroom Trash Can
Would you like your home featured here on Tutuhut? If so, fill out our Home Tour Submission Form and we'll craft a wonderful unique article about your beautiful home.