This post may contain affiliate links. Please read the disclosure for more info.
If you're lucky enough to have a spacious master bedroom, it may be only a matter of time before all of that space begins to make your room feel a little empty. It can be difficult to figure out what to do or how to fill extra space in your bedroom. Bed, dresser, nightstand… If you've checked all the boxes on your list and are at a loss for what to do with the leftover room, don't worry. Read on for some of the best ways to maximize the space, functionality, and design of your master bedroom.
Add Seating
If you've got some extra space on your hands, one of the most useful ways to fill it is to add seating. Seating in the bedroom turns your room into a place where you can not only sleep, but read, talk, and relax. The type and size of seating you incorporate into your space are contingent on the amount of room you're working with.
For an empty corner, try a single armchair with an ottoman to turn the area into a reading nook.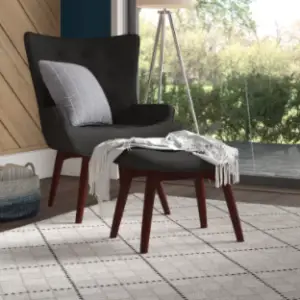 For a long wall, a chaise lounge can provide a relaxed feel and a space to lay down with a cup of coffee or a good book.
If you have quite a bit of extra room, consider designing a larger seating area. Multiple chairs, a chaise lounge, or even a loveseat centered around a table or placed on top of a rug creates separation within your room. Use this space as an area to relax and catch up with your partner or to enjoy a drink at the end of a long day.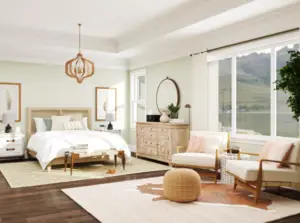 Whether you're into something ornate, cozy, or minimalistic and chic, seating can add function and style to your bedroom.
Light It Up
Extra floor space, but not much overhead lighting? That sounds like a perfect recipe to have some fun with lamps. Floor lamps come in so many shapes, styles, and sizes. Not only will additional lighting help fill space in your bedroom, but the extra light will help brighten it up and highlight any focal points of your room.
A lamp with built-in shelving can help double as storage and act as a place to put photos, figurines, or other hard to place items that you'd like to keep in view.
Have Fun With Drapes
Barren windows can make your room feel empty, cold, or incomplete. If your room is feeling a bit too open-ended, try investing in some drapes. Fuller or floor-length drapes can add dimension and texture to a room that's falling flat.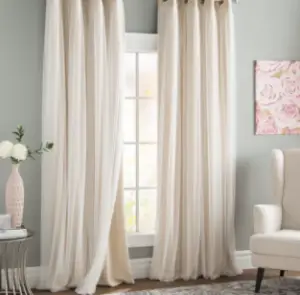 Play with opacity. The denser and more opaque the drape, the more presence they will have, and the more space they will seem to take up. More floaty or translucent curtains will add dimension to your space without feeling overbearing. 
Drapes have the added benefit of functionality. Not a fan of waking with the sun? Invest in a blackout curtain to sleep on your own schedule. 
Upgrade Your Bed
If you've been waiting for the right moment to upgrade your sleeping situation, a big bedroom is a perfect opportunity. Going from a full to a queen or a queen to a king will provide you with notable floor coverage. 
If you're into a unique look, trying a new shape for your bed can be a fun way to change things up and add more dimension to your room. Round or custom shaped beds can be unique solutions for spacious bedrooms, though it may be a journey finding one that works for you. Not to mention, bedding might be a challenge. But if unique is the name of your game, this may be an option to look into.
Shelving and Storage
Shelving is a perfect way to utilize extra space in your bedroom. Whether added as a wall suspension or as a standalone unit, shelving is an opportunity to maximize storage in a way that fits your style and needs.
Wall suspended shelving is perfect for displaying souvenirs, knick-knacks, photos, or other precious mementos or decorative items you love.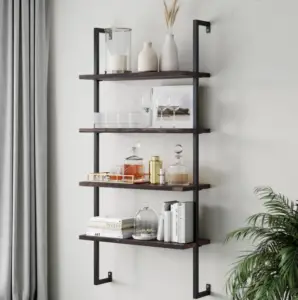 Bookworm? Invest in a quality bookshelf to store your own little library. 
From books to blankets and everything in between, shelving is one of the most practical and customizable ways to use additional space in your bedroom.
For extra storage, consider adding a chest or a hollow bench to the foot of your bed. This addition is a great place to store extra pillows or out-of-season clothing like jackets or bulky sweaters that would otherwise take up room in your closet.
Add Functionality
If you're like many of us, maximizing the functionality of your space is paramount. So, if you're facing the dilemma of extra space in the bedroom, the answer may lie in turning your bedroom into a multi-purpose space.
With the simple addition of a desk and an office chair, you've given yourself a home office space, all in the comfort and proximity of your bed. To make this space feel more distinct, consider investing in an area rug or even a partition to improve focus.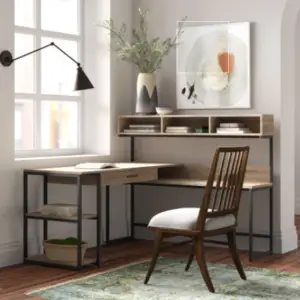 Cozy is Key
Adding cozy touches to your bedroom can not only make your space feel homier and more relaxing, but it can also reduce the feeling of emptiness throughout. Adding rugs, plush ottomans, or a fabric wall panel are all options that will soften your space and take up some extra room. Find throws or pillows you love in statement colors or patterns, and decorate your bed or chairs! When it comes to making your bedroom your own, it's all about the finishing touches.
Go Green
Love plants? Does your bedroom have good light as well as some extra room? Bring the outdoors in by filling extra space in your bedroom with some greenery. From large, freestanding floor plants to hanging baskets, houseplants are a fantastic way to add a natural, relaxing feeling to any space.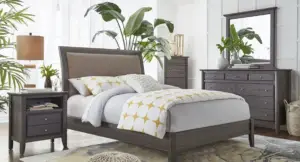 Make Your Space Your Own
If you're lucky enough to have some extra space in your bedroom, then you'll be happy to know there are endless possibilities! From added function to seating to a few extra cozy touches, there are ways to make your bedroom the space you've always dreamed it could be. Assessing what options work best for your lifestyle and decorating or furnishing accordingly will have you sleeping soundly in your big bedroom for years to come.