This post may contain affiliate links. Please read the disclosure for more info.
Picking the best direction to face in a high-rise apartment or condo can be tricky. Do you want to catch the sunset or the sunrise? Do you prefer an open view of the skyline or being surrounded by a concrete jungle? Which view will have less noise pollution? Many factors play a role in which direction best suits you. The truth is it depends on your needs! Let's go over the key aspects of what to think about when deciding which view best to choose you.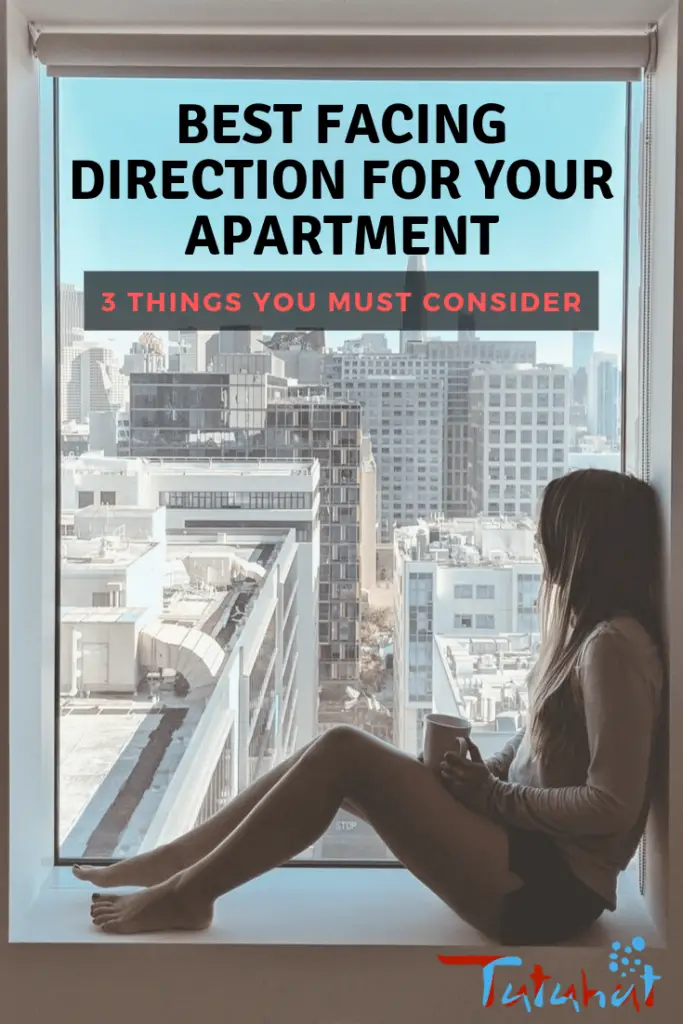 Since there's no "one size fits all" solution, it's vital to give some thought to three key criteria.
Key Aspects:
The location and view
Your lifestyle
Features and pricing
When it comes to picking which direction to face, your location, surrounding view, lifestyle choices, features, and pricing all play a significant role.
The Location and View
Before deciding to move into a high-rise, have some clear expectations of what type of view you want and where your ideal location is. Use the guide below to give you an idea of what to expect when facing north, east, south, or west. (This direction guide is from the perspective of being in the US.)
North Direction
A north-facing view will not provide any direct sunlight. Yes, that means you're not going to get direct sunlight from sunrises or sunsets. That said, the north view has been commonly called "The Artist's Light" because of its consistent lighting throughout the day. Despite not getting direct sunlight, you will receive crisp, clear light (7.5k – 10k Kelvin) without the glare that comes from facing other directions.  You will get an extended period of consistent light from morning to evening, as well. Keep in mind having large windows when facing north will be very beneficial due to the lack of direct sunlight.
East Direction
An apartment that faces east will give you direct sunlight in the morning. Because the sun rises in the east and sets in the west, an east-facing apartment or condo will provide you with a beautiful sunrise if nothing is obstructing your view. This is fantastic if you're an early bird and enjoy starting the day by watching the sunrise. If you're not a morning person, though, the direct sunlight pouring through your windows may be a nuisance in the morning. Having an east-facing view will also mean that your space will be darker throughout the latter part of the day.
South Direction
A south-facing unit will provide you direct sunlight throughout most of the day. This makes it easier to brighten an entire room, even with smaller windows. It will also help lower the dependency on electric lights during the day since you have a longer period of natural light pouring in. That's not to say there aren't downsides, though. A south-facing view lets in very bright sunlight if you have an open view. This can damage certain furniture and materials over time. You may also find yourself pulling the shades down more often than you'd like to.
West Direction
A west-facing view will provide you with the least amount of sunlight in the morning but a gorgeous sunset in the evening. This is great for relaxing in the evening or getting your tasks done since you will be maximizing the amount of sunlight you get towards the end of the day. Unfortunately, because of the nature of sunsets, the bright flood of orange light into your room can become an annoyance if you're trying to watch TV because of glare. You just might have to keep the shades down during the evening if sunsets aren't your thing.
Tip: If you are moving into a condo or high-rise with multi-directional options, try your best to schedule multiple tours at different times of the day. This will allow you to see how well lit that particular unit is throughout the day.
What to Consider When Picking a Location
Let's talk about location. It's essential to get this right because the last thing you want to do is sign a lease only to realize the location is horrible. Picking the right location will also help you better understand which direction will be ideal.
Here are four impactful things to consider when it comes to picking your location.
Your distance and traffic to and from:
School and/or work
Retail and grocery stores
Family members and friends
Entertainment and restaurants
If being close to family and friends is your primary focus, you may need to compromise on an apartment that has your ideal view, to be closer to them. On the flip side, maybe you care more about accessibility to entertainment and restaurants. Prioritize what's most important to you.
Neighborhood and Vibe
Have you ever been to a hangout, gathering, or party and felt utterly out of place? You didn't know anyone there, and no one seemed to care enough to start a conversation with you. You end up standing by the food while awkwardly gazing at everyone else. Well, that's not the feeling you want when you move into a new area. If you're moving into an apartment complex or condo, take note of the type of people that are there. Is it an older or younger crowd? Are there families, couples, or singles? Does the unit have diversity? These things are less apparent initially, but become a glaring concern after a few months from move-in day.
Tip: If you want to get a general idea of the neighbors and vibe, check reviews on Google. While you should take those reviews with a grain of salt, it will provide you with some insight into what you can expect.
Construction and Development
If you're going to move to a new area, you should definitely check out what's new as far as development and construction are concerned. When moving into a high-rise, the last problem you want is for your view to be obstructed six months out because of new developments you weren't expecting. Inner cities are expanding and growing fast. For example, downtown Minneapolis saw a 14.5% growth in 2019; there are projections that these gains will continue.
A great website to help you stay up to date with local development and expansions is SkyScraper City. This is a forum with many great contributors to help you understand current and future development projects.
Lifestyle Choice
Your lifestyle choice is the ingredient that ties it all together and should be given the most thought. Are you a make-up artist that needs natural lighting to show off your work? In that case, the north-facing view will provide you with that natural crisp "Artist's Light" for taking those selfies. On the flip side, maybe you work from home and prefer to get a lot done inside, including cooking and cleaning. The south-facing view provides the longest amount of daylight with direct sunlight. How often do you commute? Do you have a vehicle? Do you provide care for a family near you? Before beginning your hunt, you need to put these answers into perspective.
Features and Pricing
By now, you've hopefully narrowed down your search to a few apartments within the area that you're interested in living. Great views, friendly neighbors, and an ideal location. So, how do you pick the right building and unit?
Simple, you compare features and pricing. When determining the pricing for your specific unit, it's a good idea to know how much you're paying per square footage and understand what features you will be getting. You can calculate the price per square footage by dividing the rent price by square footage. I.e: $2500 (monthly rent)/750sqft = $3.33 per square foot each month.
Note: Denser areas such as downtown will generally charge more money per square foot. In essence, you will be getting less for more, but for some, it is entirely worthwhile.
Also, consider what floor you will be on because that will have a direct impact on your view. The general rule of thumb is the higher the floor, the more breathtaking the view. Being on the 20th floor or higher will usually give you a phenomenal view of the skyline in a city or the feeling of tranquility and freedom outside the city. Most luxury apartments and condos will charge more of a premium the higher up you go.
Features such as in-unit washers, balconies, dishwashers, and kitchen islands will generally cost a bit more of a premium but provide a ton of value and utility. Consider what you're getting, determine if they are features that you care about, and then make your decision based on what you can afford.
Consider the amenities you're getting and factor it in if you'll actually use them. Do you see yourself using the swimming pool and hot tub? Will you stay caffeinated using the free coffee machine? Is the additional work area valuable to you? If you see yourself using these amenities, then the extra cost can certainly be worth it.
Let's Recap!
Picking the best direction to face will differ from person to person.  The critical aspects of making a sound decision involve considering the location, view, lifestyle, features, and pricing. When considering your location, it's essential to think about the neighborhood, traffic, and convenience.
When it comes to picking a fantastic view, that will be dependent on your lifestyle and preferences. A north-facing view has no direct sunlight while facing south will have the longest period of direct sunlight. An east-facing view will give you a gorgeous sunrise while facing west will provide you with a calming sunset.
Finally, you will need to get specific with the features and pricing. Make sure to stick to a budget, but also remember it's OK to splurge on a little bit more if you find the additional amenities, features, and conveniences worthwhile. After all, home is where happiness begins.